Maple Mountain
Distance: 4.5 miles
Elevation Gain: 3,900 feet
Summit Elevation: 9,089
Access rating: Level 1
Maple Mountain is Y Mountains big brother. He doesn't get much respect, especially because his summer route is usually a brushfest. Doing this trip in winter, I found it to be an enjoyable snowshoe trip with zero brush to deal with. Because the start of this route is popular year round, you can usually count on foot tracks in the snow up to about 7,000 feet inside Slide Canyon. If you have all day and are in good shape, you can combine this peak with Y Mountain. The map at the bottom of the page shows the route I took combining the two.










The first mile of your hike is going to be on the Y trail. If you haven't done this trail, it's a steady swithbacking hike up a jeep road to the Y. At the Y, or past turn 11as the signs indicate, you'll see a trail cutting south up into the canyon. This is the Slide Canyon Trail. Follow this to a good rocky point where the trail enters the canyon. From here, the trail works its way up canyon, sometimes swithbacking. If you loose the trail, just work your way to the canyon floor where the trail eventually goes. Around 7,700 feet, I went up the SE pass where the summer trail was to access the North Ridge of Maple from the east side. You can access this ridge well before this point but the route shown on the map seemed easiest while I was on the ground snowshoeing. Gaining the ridge was easy in an aspen forest. Once on the ridge, it was a very nice snowshoe through conifer and aspen forests to the summit. There were few areas of avalanche danger over the entire route.
The Route:
www.WillhiteWeb.com: Your online resource for hiking, climbing and travel
Access:
From the SE end of the campus area, take E 820 North towards the mountain. This will become Oakmont Lane as it curves north. Take the first right onto Oak Cliff Drive, then right onto Terrace Drive. Signs should get you up the last road from there.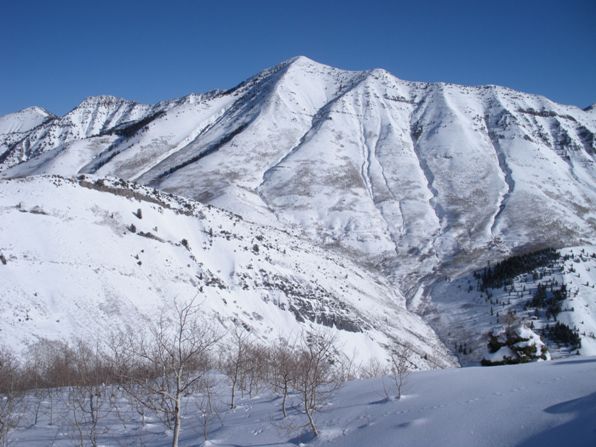 Buckley Peak
Looking south to Loafer Mountain & Nebo
Provo from the summit
Nearing the summit of Maple Peak
Views from the north ridge
North ridge snowshoe
Y trailhead
The Slide Canyon trail is just after Turn 11
Provo Peak from the summit of Maple Peak
Looking west from the summit
Maple from Y Mountain