Stetattle Ridge & Stetattle Ridge North (also called Mis-kai-whu Mountain)
One of the most accessible and enjoyable alpine ridge day hikes in the North Cascades is along Sourdough Ridge. Because it is a 5,000 foot trail climb just to reach the ridge and the historic Sourdough Mountain Lookout, you will find few people venturing further along the ridge west in seek of more adventure. For those that do, the scenery only becomes more stunning, assuming smoke doesn't appear suddenly and ruin your chances for some great photos as it did in these pictures. Because the ridge heads directly into Picket Range, you get a good flavor of these amazing mountains. Numerous other classic Cascade peaks could be mentioned as well. Follow the ridge as far as you like but the end goal would be point 6,728 which has two unofficial names, Stetattle Ridge North or Mis-kai-whu Mountain. A trail exists most of the way as this ridge is used when traversing far into the Picket Range.
WillhiteWeb.com - Washington Hiking
Access:
Drive State Route 20 to mile 126, then turn left at the sign for Diablo, on Diablo Street. Park next to the river and tennis courts at the signed trailhead.
Route:
From the ridge where the Sourdough Mountain Lookout trail tops out, go left instead of right which goes to the lookout. Follow a narrow path past tarns, meadows and granite. Eventually gain a highpoint before dropping a few hundred feet to a saddle at the head of Sourdough Creek. A shortcut described below can avoid this whole section. Now the terrain is easier and a trail just meanders around alpine meadows and tarns for a few miles. There are two highpoints. The first is Stetattle Ridge at 6,495. Its summit is a bit deceptive as several knobs mark the area. A cairn should mark the point with a noticeable drop to the west. To reach the Stetattle Ridge North Peak, make the drop and follow a climbers trail to the base of the peak. The final few hundred feet is an easy scramble with the least brush on the right before you hit the cliffs. No trail ascends here as the traverse to the pickets doesn't need to go over the top of this one. From the summit, Elephant Butte is the next peak but it is a significant drop (1,788 feet) to its base, best done if doing a multi-day traverse into the Picket Range.

Distance: 18+ miles with lookout
Elevation Gain: 7,000+ feet from Diablo Trailhead
Summit Elevations: 6,495 & 6,728 feet
Access: Paved
A forest fire broke out in Cle Elum on this morning blowing smoke over 100 miles directly into the area.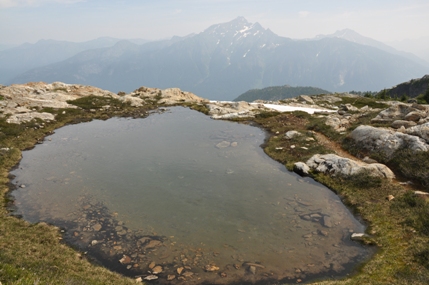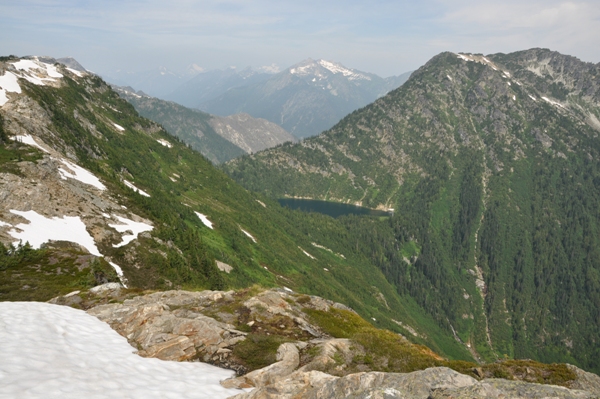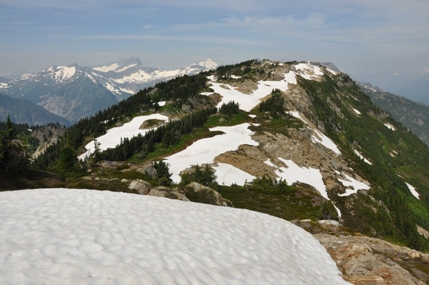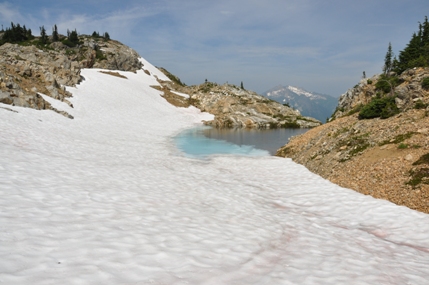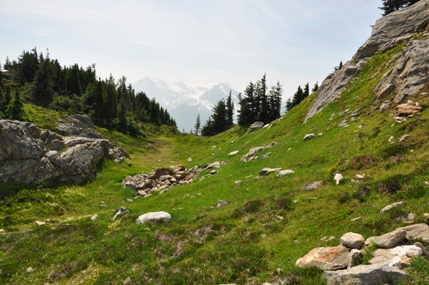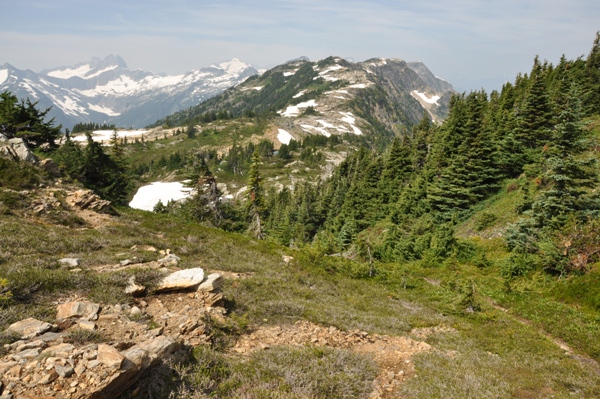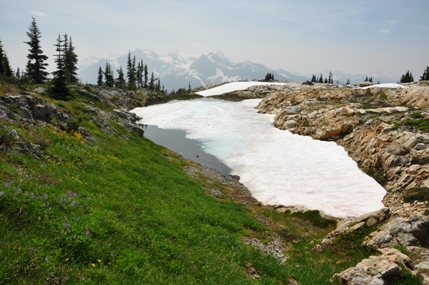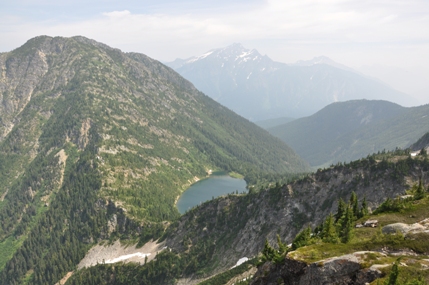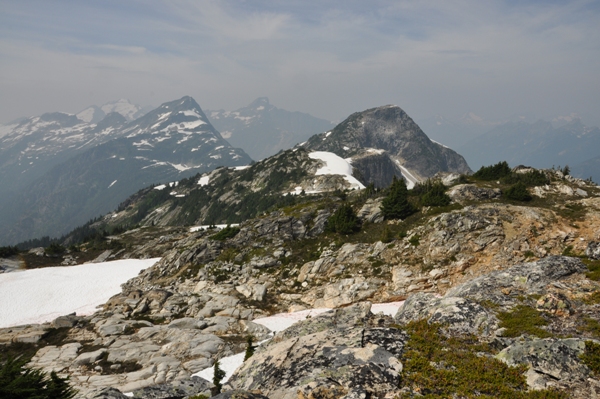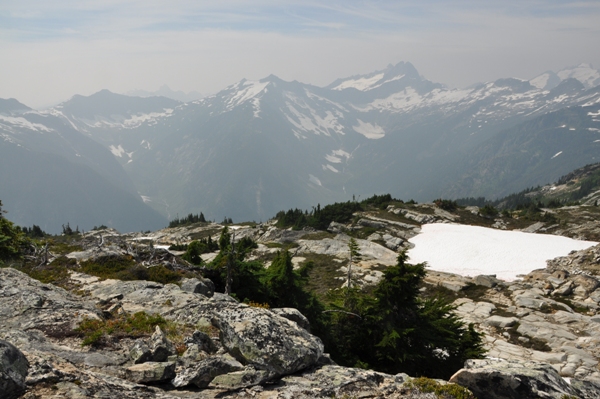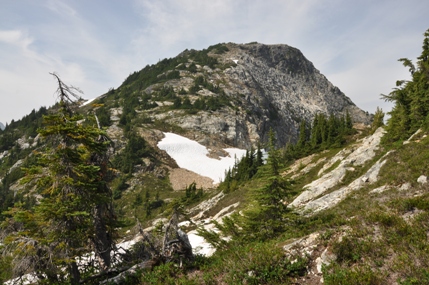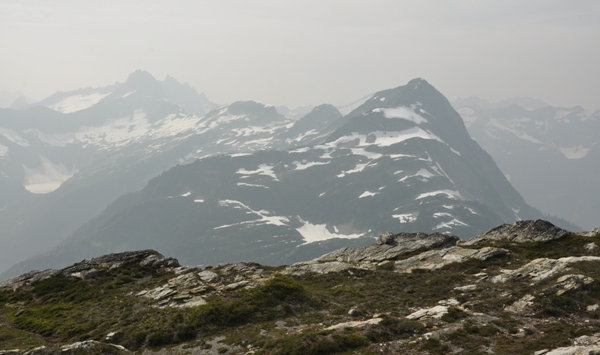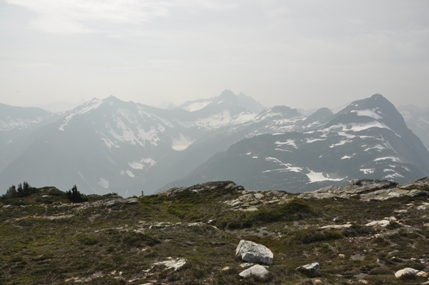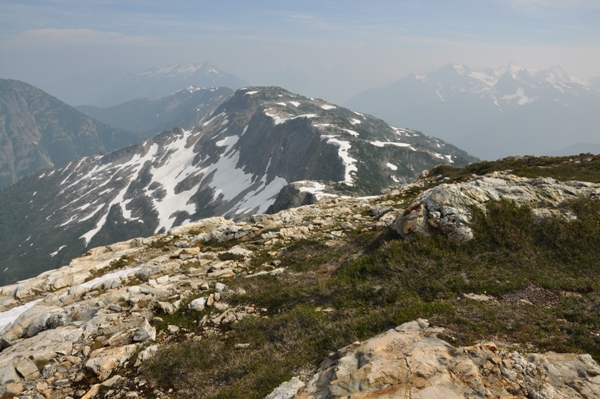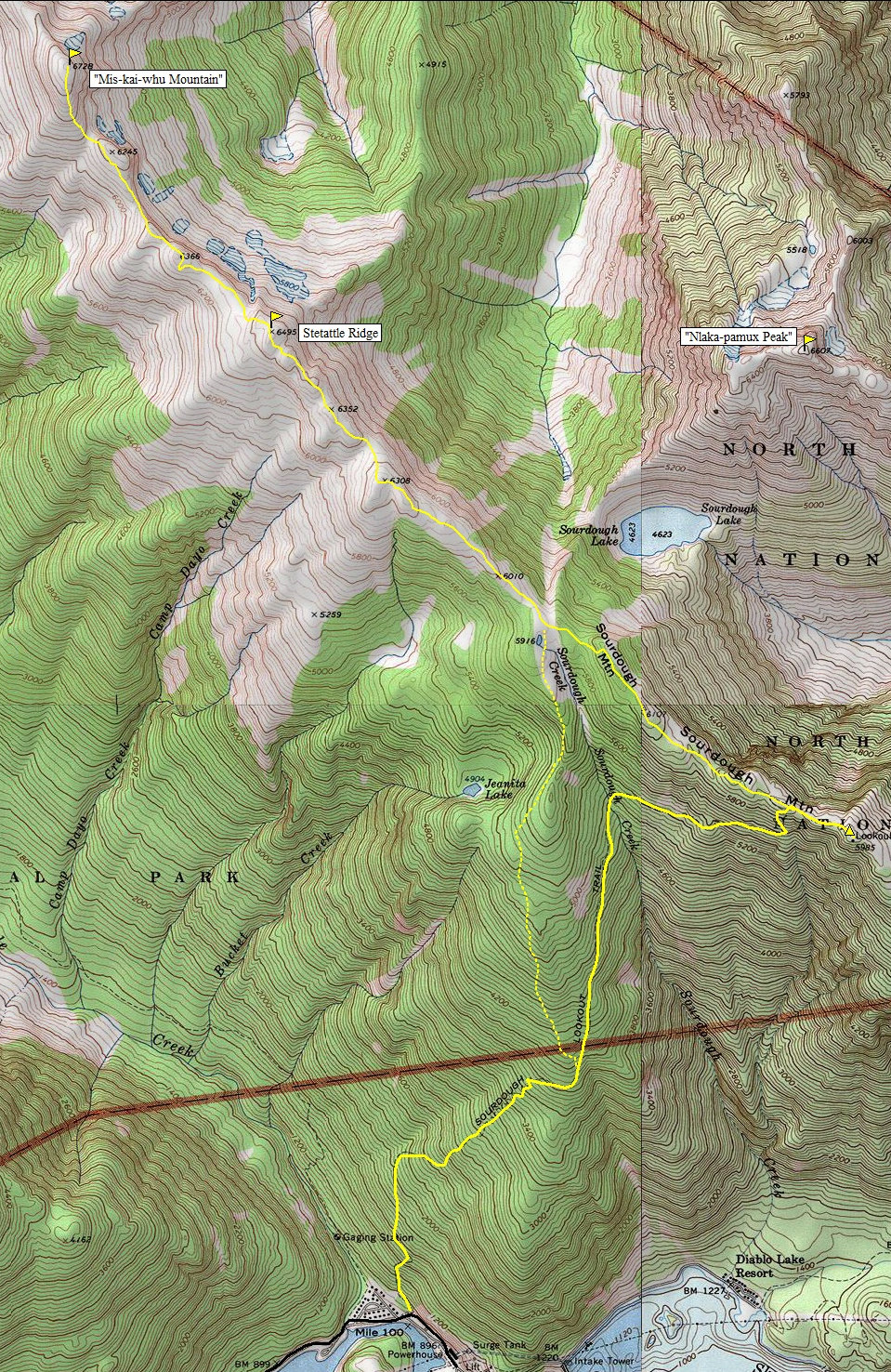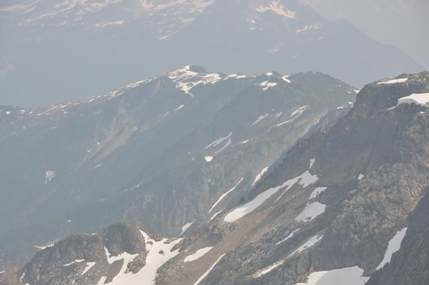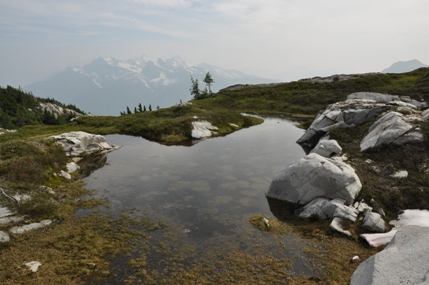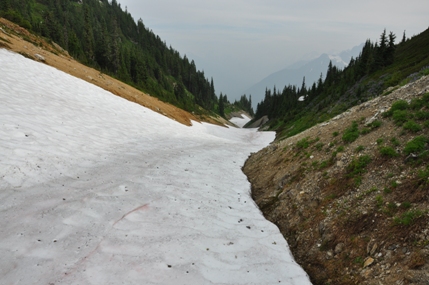 Zoom back to the lookout spot
Sourdough Lake & Point 6607 from the west
Sourdough Lake & Point 6607 from the south
Dropping down Sourdough Creek from the ridge (don't do this)
Heading to point 6107 northwest of the lookout location
The route to Stetattle Ridge
From Stetattle Ridge looking to the north peak (Mis-kai-whu Mountain)
Reaching the base of the north peak of Stetattle Ridge (Mis-kai-whu Mountain)
Mt. Terror to Elephant Butte
Mt. Terror to Elephant Butte
Picket Range
Stetattle Ridge from Mis-kai-whu Mountain
Winter\Spring Route