Lookout Peak is a high peak quite visible from all around the Salt Lake Valley yet it is tucked back a bit, hiding in the shadow of Grandview. There isn't much higher north or east so views extend as far as Wyoming and the Uintas. With a trail to the summit, it is a popular objective although I doubt it gets nearly as much traffic as the peaks in the Cottonwood Canyons. Grass was overtaking the trail in a few areas. I have read reports of people starting from 6 different points to reach this peak. Below are 2 good starting points. They meet up at a trail 4 way intersection. Beyond there it is a simple trail up the eastern ridge of Lookout Peak. Views are great, expect several false summits.
Drive up Emigration Canyon from Salt Lake City or over Little Mountain Summit from Highway 65 (East Canyon exit off I-80). At a hairpin turn before the road climbs out of Emigration Canyon up to Little Mountain Summit, take Pinecrest Road for 0.4 miles to a Y intersection. Go right for 0.5 miles to the end of the road and trailhead. Parking is limited. Shortly up the trail is a split, follow the sign...everything is to the right. Work has been done to improve this trail but it doesn't go too far before it turns really bad. I was there a day after a big rain so the trail was a creek and very muddy.
Lookout Peak
Distance: 3.6 miles from Killyons Canyon Road
Elevation Gain: 2,700 feet
Summit Elevation: 8,960 feet
Access: Paved
Utah Hiking
Killyon Canyon Access & Route
Take the East Canyon Exit off I-80, follow toward Big Mountain Pass. In early season, even through May, the gate on Highway 65 might be locked well before Affleck Park. Once they do open the gate, there is another gate right off the highway restricting access into Affleck Park. I've seen it open mid summer only. Park out of the way of the gate or up the road a bit at the Quaking Aspen Grove Historic Marker. Make your way down into the campground, crossing over the creek to the west side, then follow the right fork road going north. Near the end of the road on the left is the trailhead. Maps are on kiosks throughout the campground. The trail climbs in the brush and a few meadows until reaching the pass and 4 way trail junction with the Lookout Mountain Trail.
Affleck Park Access & Route:
From Little Mountain Summit area
Sign at the first trailhead split
Gaining the ridge above the 4 way
Route traverses up to ridge and over to summit on left
Central Wasatch Mountains and Mountain Dell Canyon
Grandview Peak & Great Salt Lake
Central Wasatch Mountains from summit of Lookout Peak
South Salt Lake County
Looking north from summit
Looking northwest to distant Frances Peak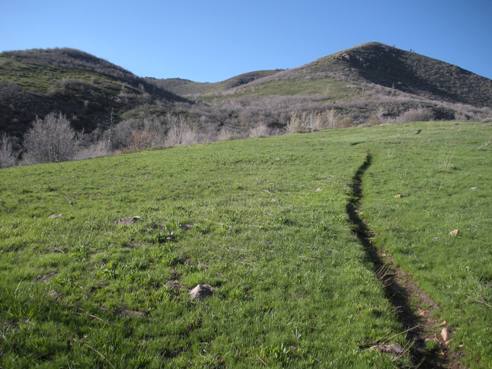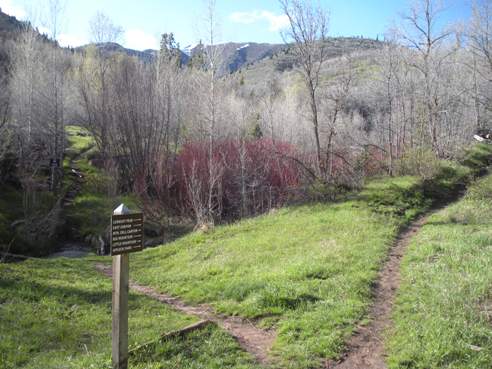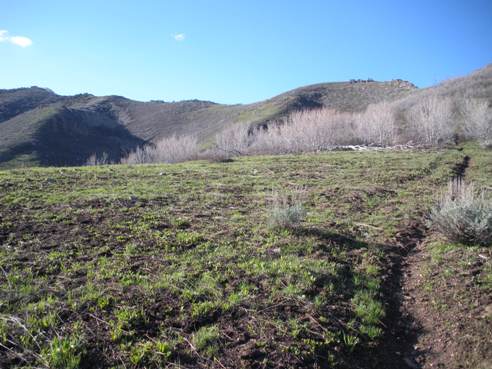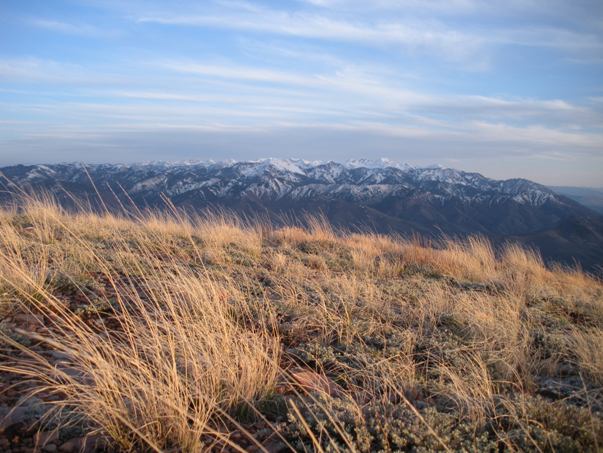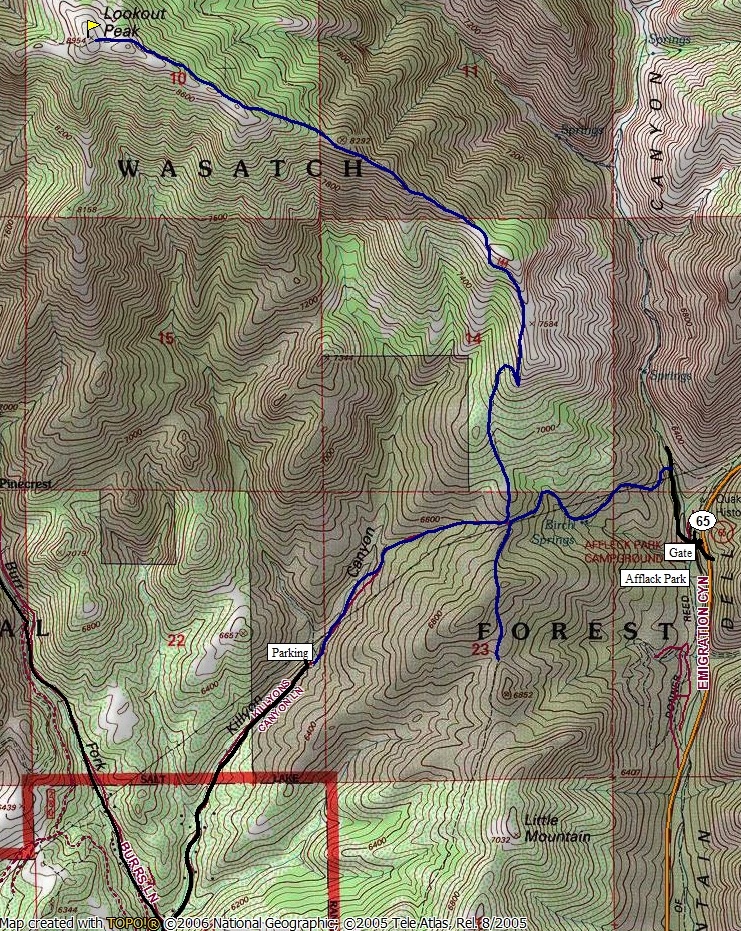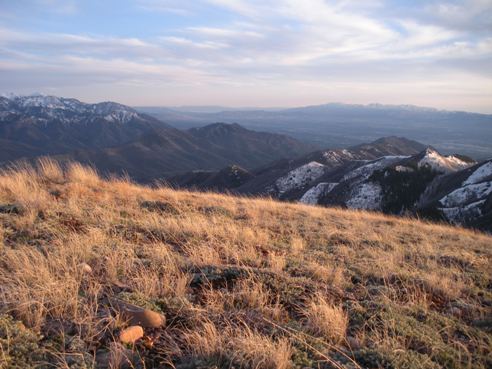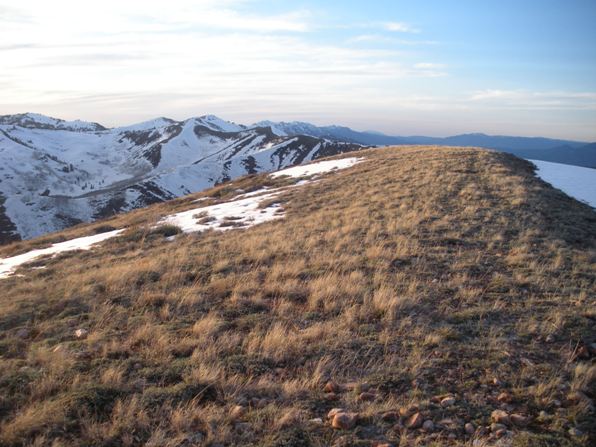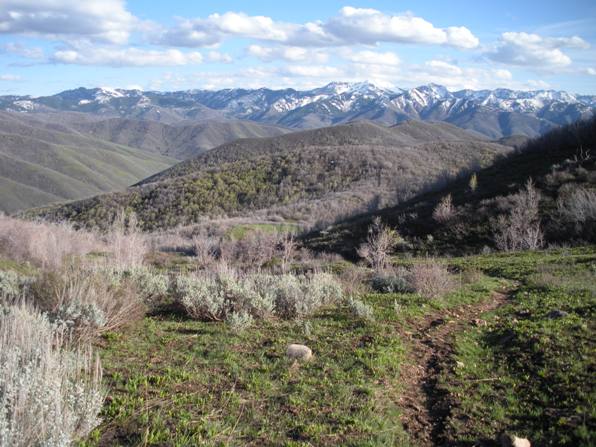 Looking south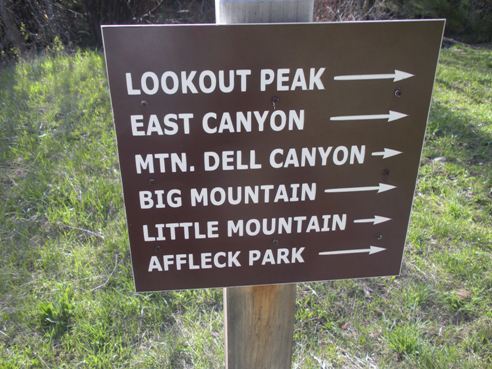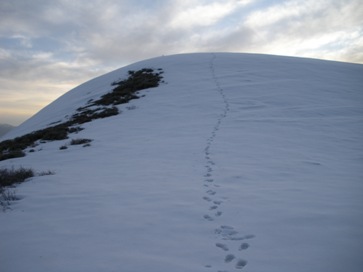 Summit area