On the I-215 Belt Route about 2 miles south of the I-80 Interchange is an exit for 3900 South. Take a left at the top of the exit ramp and head east. Proceed just a few hundred yards to Wasatch Boulevard, the first light. Take a left and head north 1 block to the light at 3800 South. Take a right on 3800 South and head east through a neighborhood and the canyon. After about 1 mile, is an entrance station where someone will charge you money. The trailhead is at the top of the Church Fork Picnic area, about 3.2 miles up from Wasatch Boulevard. In winter, the picnic area will be closed and people park off the side of the road on Mill Canyon Road, hiking up through the picnic area to the summer trailhead.
Church Fork Peak is the highpoint located between two popular Wasatch Peaks, Grandeur Peak and Mount Aire. To the north is the I-80 corridor and to the south is Mill Creek Canyon. Church Fork is reported to have 2 trails up to the summit although the one from Church Fork is very overgrown to nearly non-existent. Due to good winter access, it also makes for a challenging snowshoe trip.
Church Fork Peak
Distance: 3 miles (Church Fork Route)
Elevation Gain: 2,700+ feet
Summit Elevation: 8,306 feet
Access rating: Level 1
www.WillhiteWeb.com: Your online resource for hiking, climbing and travel
Access:
Route:
The first part of this trip is hiking the Grandeur Peak trail. This is an extremely popular hike so chances are you will not need your snowshoes for this section. Shortly after the summer trailhead and signs, you'll cross the Pipeline Trail. Follow the signed route to Grandeur Peak. At 1.6 miles at the top of the switchbacks at 7100 feet, the trail starts it's long traverse directly toward Grandeur. In summer, after the last switchback, count somewhere between 100-150 steps west and that is the start of the overgrown trail marked on many maps that goes to the summit. Twice in snow cover I didn't notice any trail. My route shown just climbs above the switchbacks to the ridge saddle. About 200 vertical feet of this was scrub oak and very unpleasant. Slopes to the west looked a bit nicer from below. Once on the ridge, it's nice snowshoeing all the way to the summit. There are several knobs to work around trying not to gain any extra elevation but inevitably, you'll be doing some ups and downs. There are some cliffs west of the summit that can be passed around by wrapping around the north side of the summits west ridge.
Church Fork Peak after just finishing the bushwhack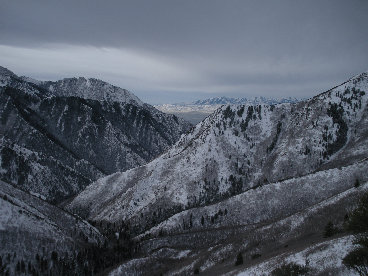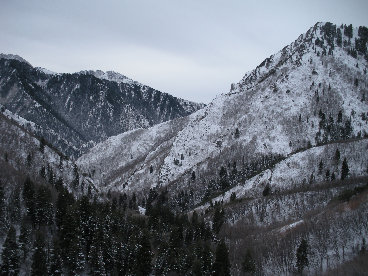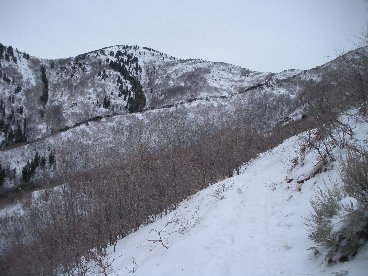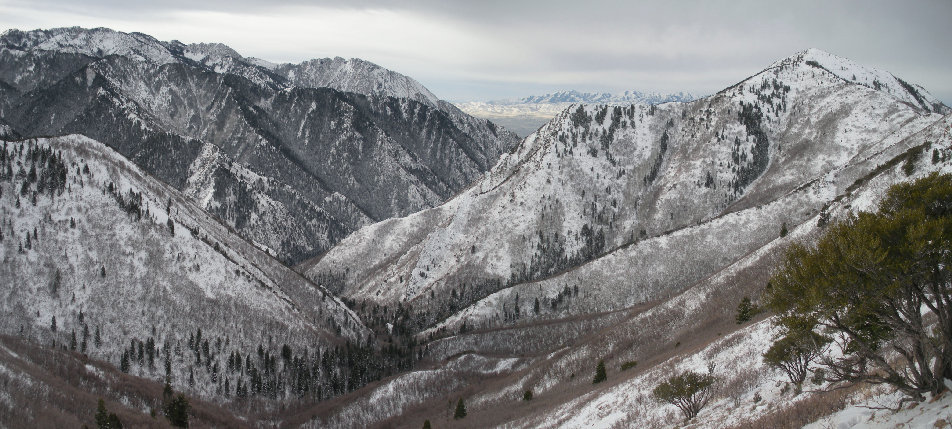 Church Fork Canyon
Trail and Grandeur Peak
Church Fork Canyon
Grandeur Peak on right, Mt. Olympus in center and Oquirrh Mountains in the far distance
Southwest from the summit of Church Fork Peak with Grandeur Peak in center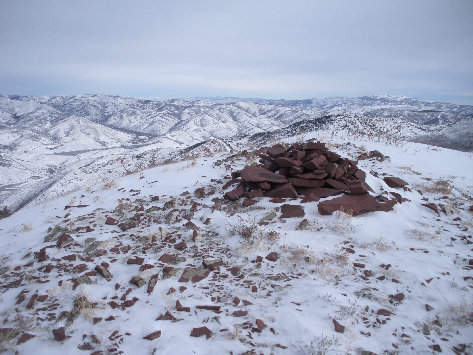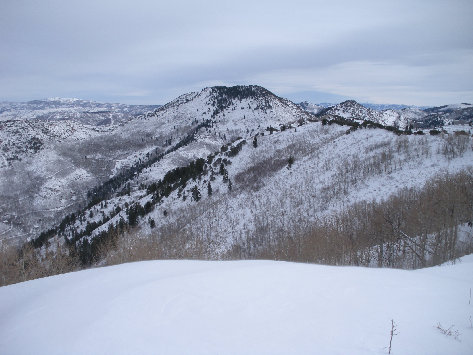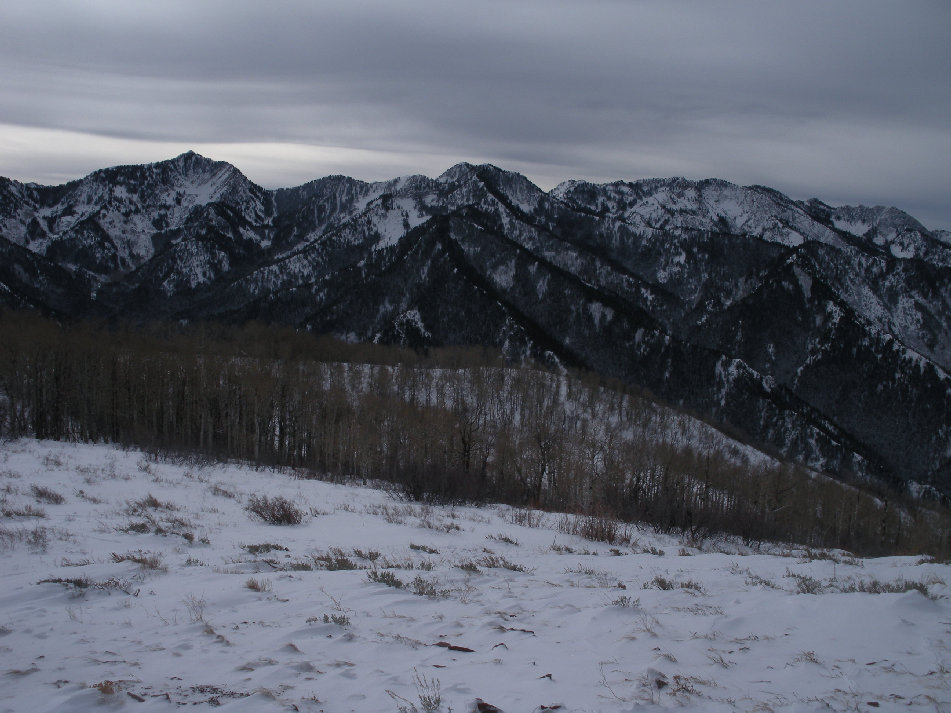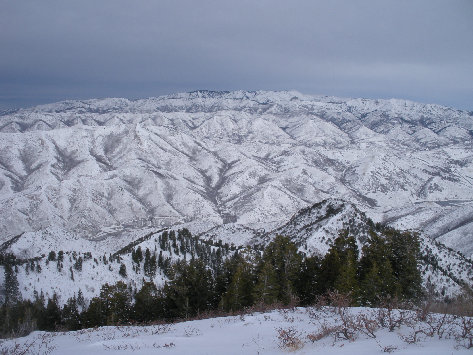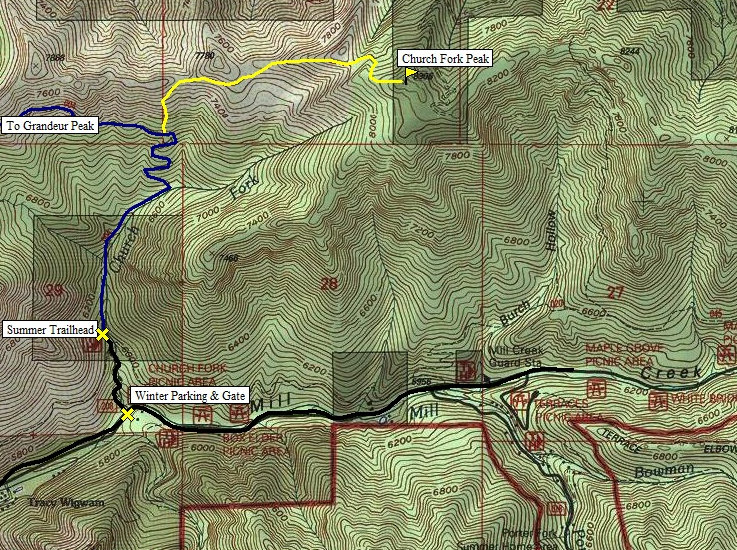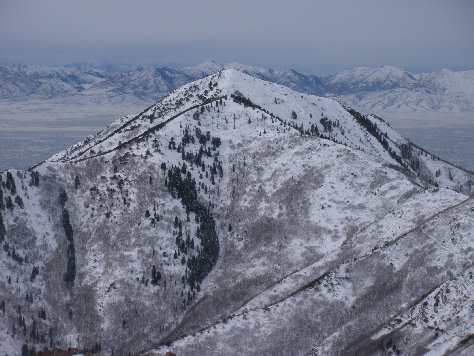 Summit Cairn
Mount Aire
Grandeur Peak, 7 feet lower
Views north to a distant Grandview Peak and Lookout Mountain
South to Mount Raymond, Thayne Peak, the Wildcat Ridge Peaks and Mount Olympus