Round Mountain & Twin Peaks
With a nice maintained forest road leading to the trailhead, Round Mountain must be an outstanding destination. Well, that depends on who you talk to. The views really don't come out until you are standing on top, so many complain about that kind of thing. The trail is a nice walk in the woods that never gets too steep for very long. Considered gradual, the trail does climb 1,700 feet in 5 miles. Round Mountain once had a lookout on top, with a commanding view of the nearby valleys. Just before hitting the summit, the trail continues deeper into the Goat Rocks Wilderness, passing right over the top of Twin Peaks, before finally reaching the top of White Pass Ski Area and the Pacific Crest Trail. This would be an alternate route.
WillhiteWeb.com
Access:
From US 12 six miles east of White Pass turn right onto Tieton Road. Follow the paved Tieton Road for three miles. Then turn right on FR 530. Follow this good gravel road for 4.3 miles to the end where you find the trailhead.
Distance: 2.5 miles plus 1.5 if doing Twin Peaks
Summit Elevations: 5,970 feet for Round, 5,940 for Twin Peaks
Elevation Gain: 1,700 feet for Round, plus 600 more if doing Twin
Access: Good Gravel Road
Route:
Follow the trail to the split below the summit, then turn left going uphill. The issues with side trails that confused previous hikers during the first half mile are a no longer a problem. On the summit, after visiting the former lookout area with its views east and south, follow a small trail 2 minutes to the west where better views of the Goat Rocks await. If your destination is to do Twin Peaks, there is a trail that follows the ridge between the two peaks. But, it is overgrown in places and burned over so this trail will be lost at times. Still, the terrain is mostly brush free and saves you a lot of extra dropping and climbing in elevation on the official trail.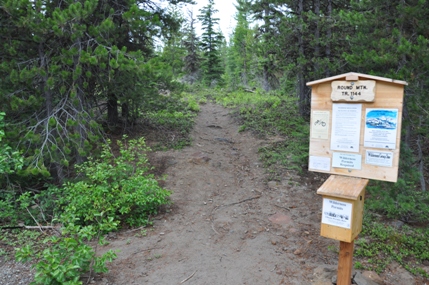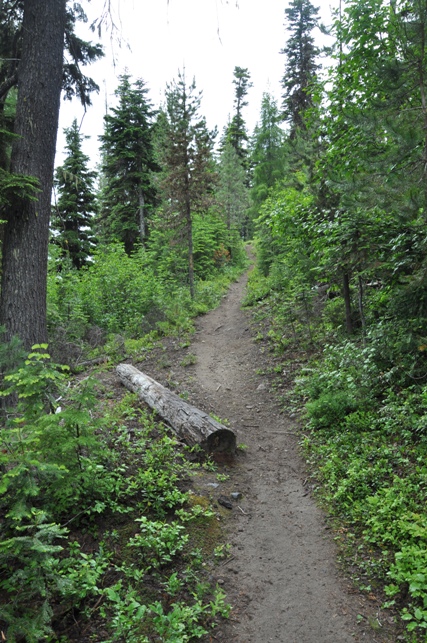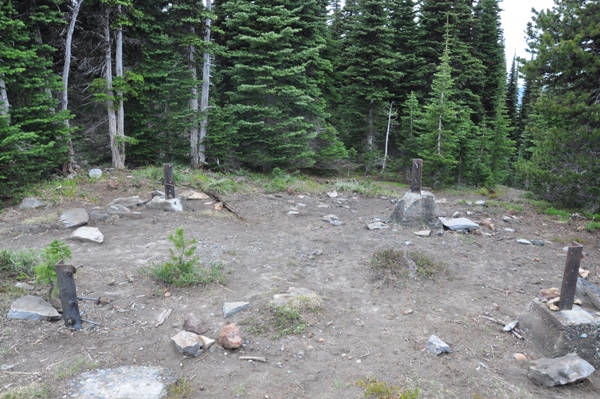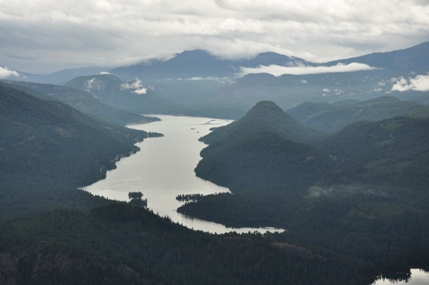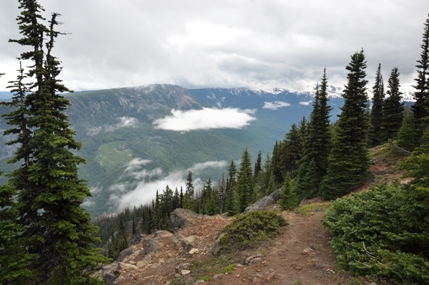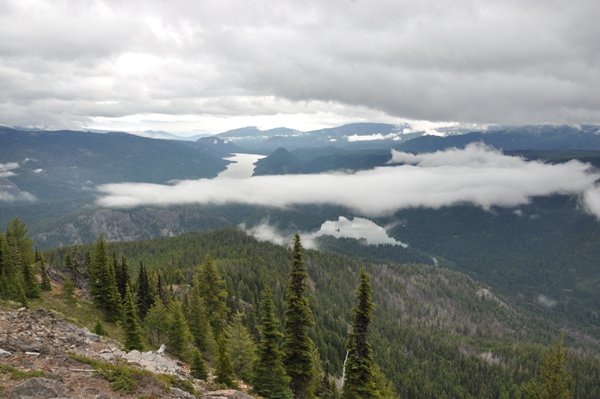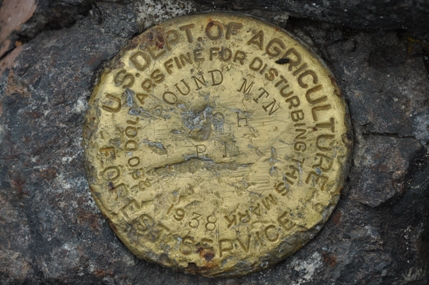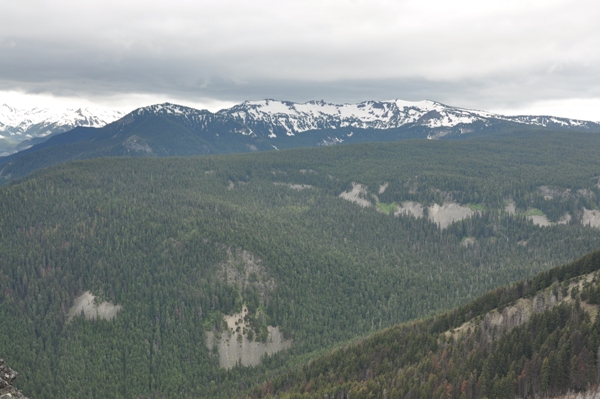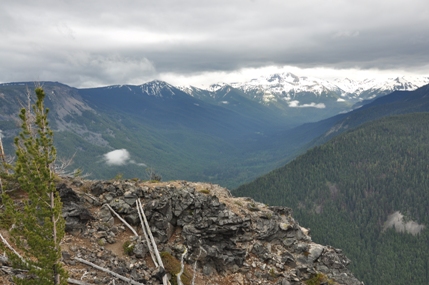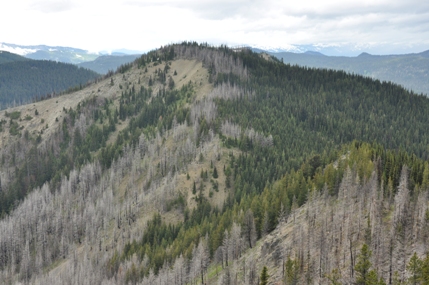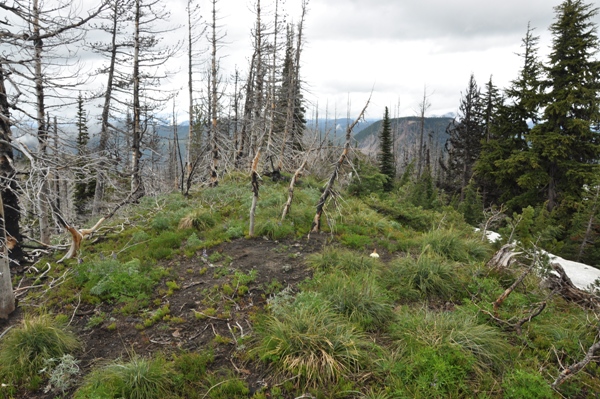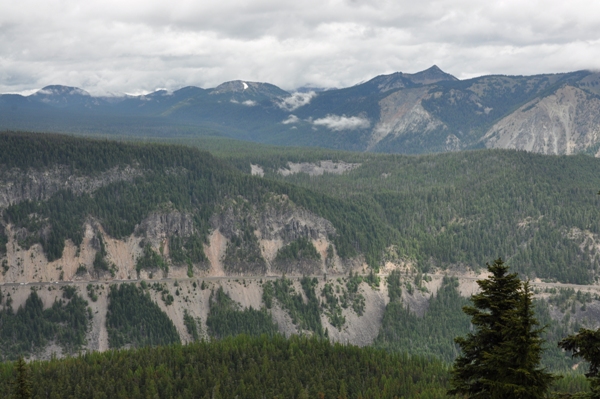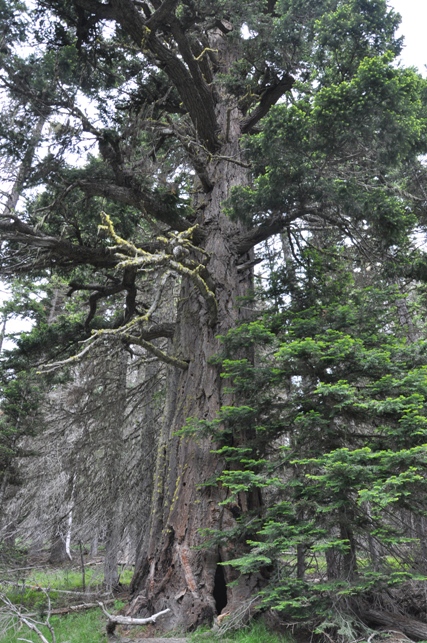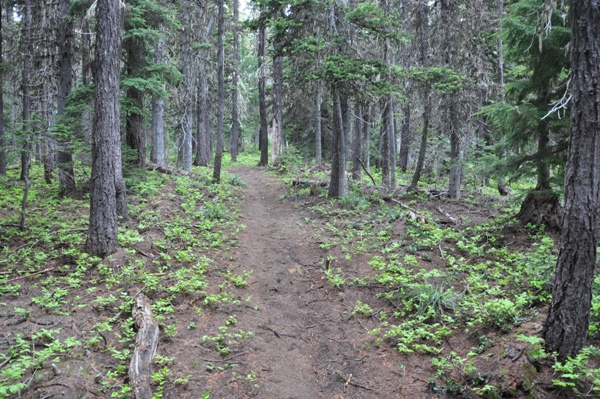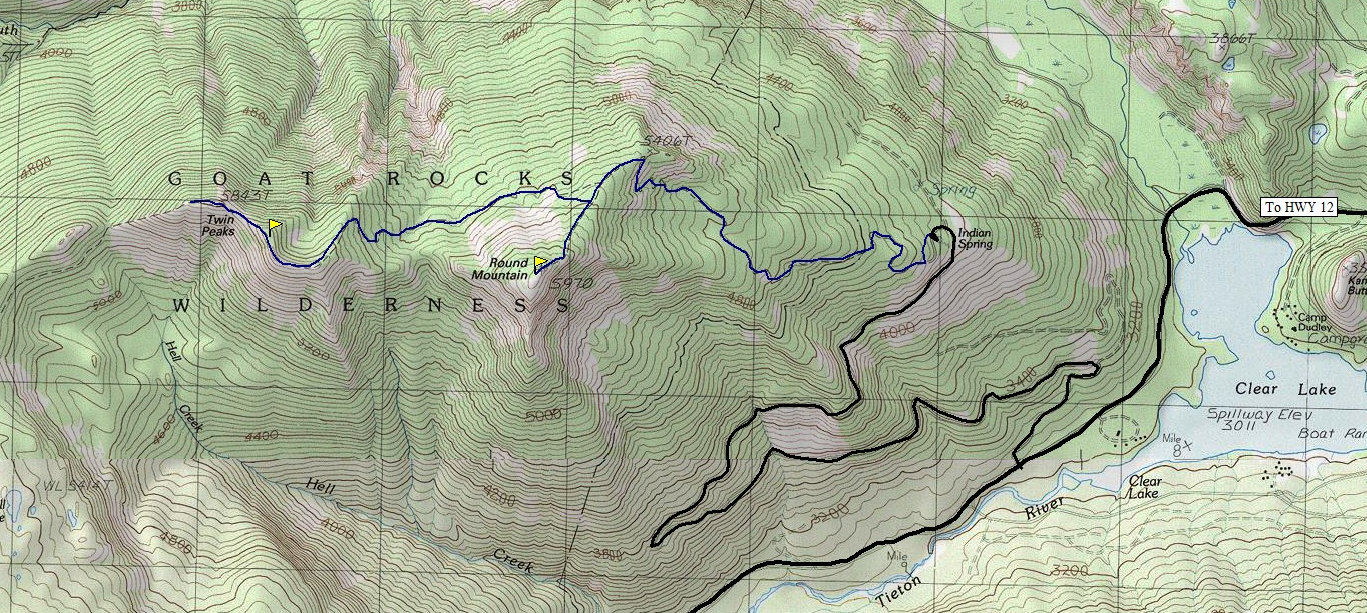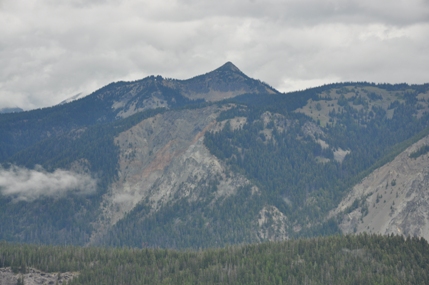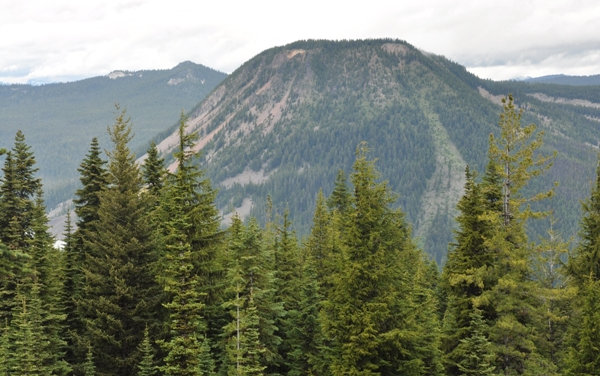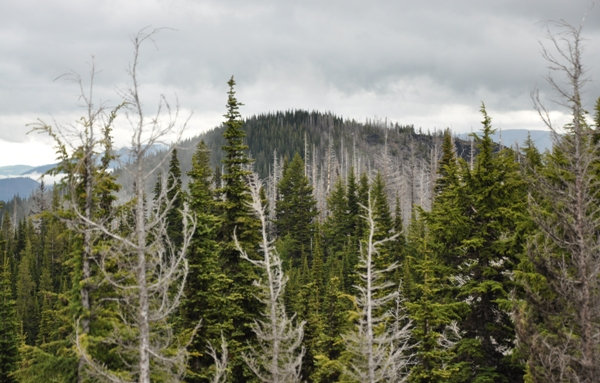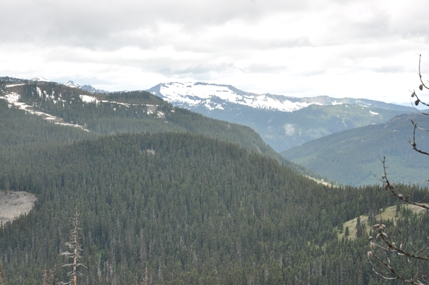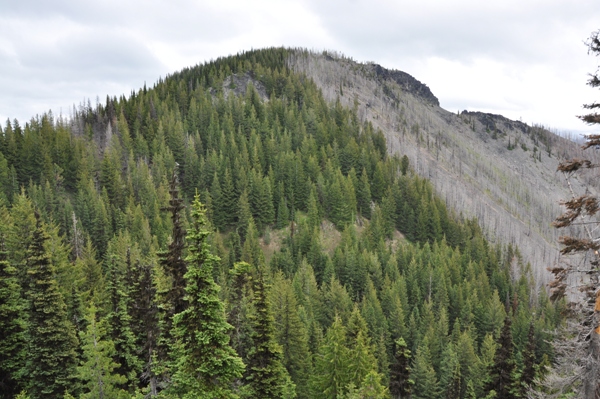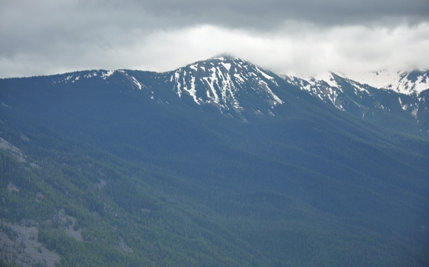 Round Mountain Trailhead
Round Mountain Trail
Avatar Tree
Highway 12 road cut from viewpoint in route to summit
Looking east from the summit of Round Mountain
Rimrock Lake
Round Mountain Lookout posts
Round Mountain brass benchmark
North Fork Tieton River Valley
Hogback Ridge
Twin Peaks Summit
Spiral Butte
Twin Peaks from Round Mountain
Arnesons Peak
West to Coal Creek Mountain
South to Bear Creek Mountain
Looking up at Round Mountain from saddle area between Round & Twin
Round Mountain from Twin Peaks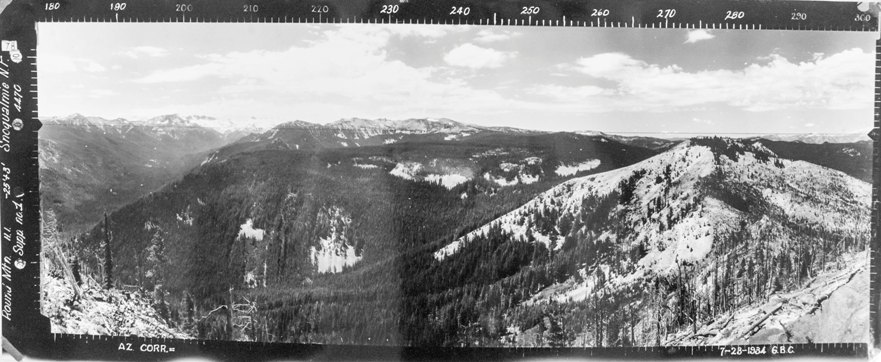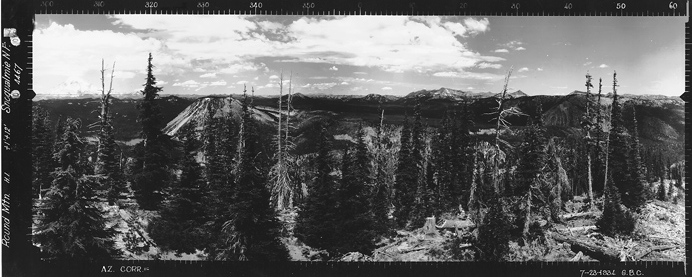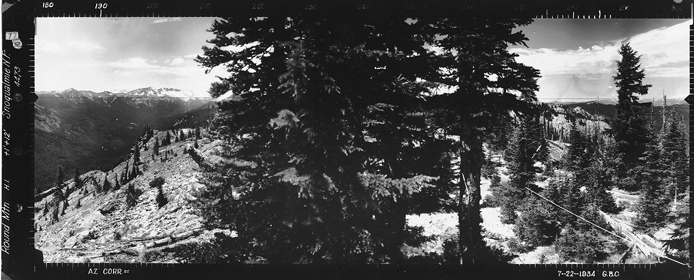 Lookout History:
Reported as built in 1935, this was a 20 foot pole L-4 tower. But the 1934 panoramas show cut trees, some wires and the photos were take 12 feet above ground. On the site today, there is evidence of two different structures. The last tower was destroyed in 1976.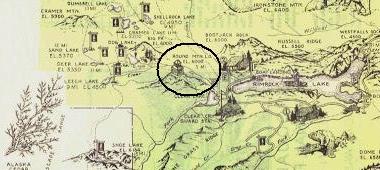 1936 Tieton Recreation Map
1937 Recreation Map
Looking east from the summit of Round Mountain 7-28-1934
Looking West with the North Fork Tieton River Valley & Twin Peaks 7-28-1934 (Supplement from west of the lookout)
The three images below are from the west end of Round Mountain, a few minutes walk
North From Round Mountain 7-28-1934
Southwest From Round Mountain 7-28-1934