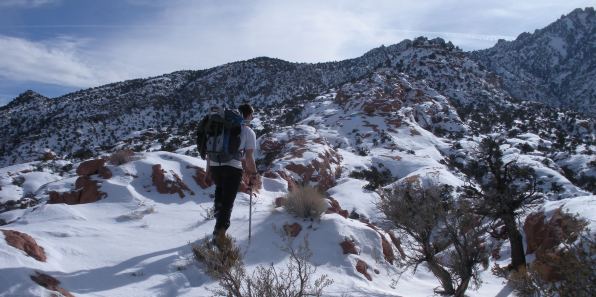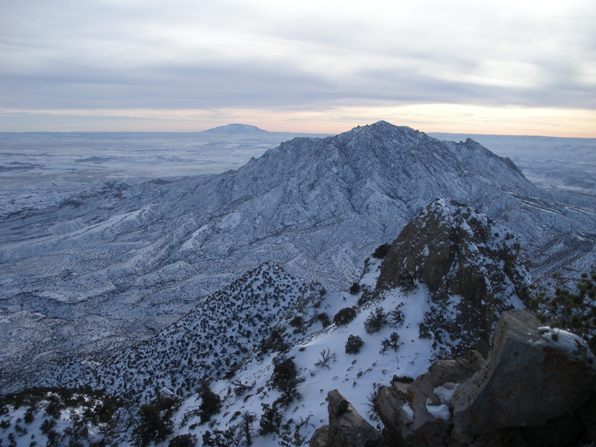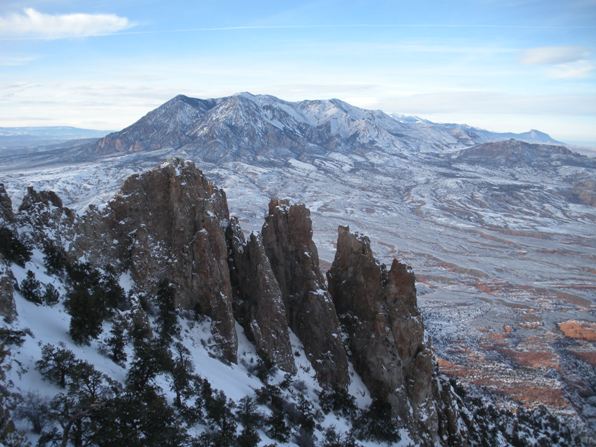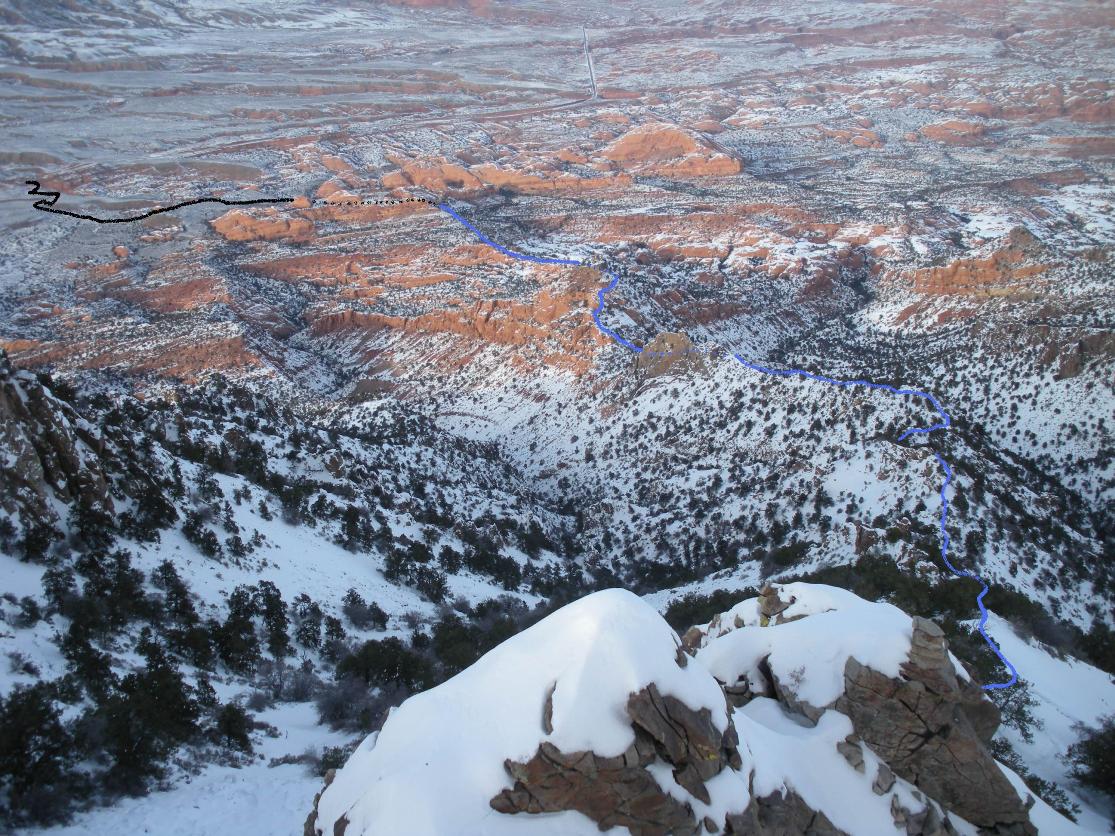 Mount Holmes
Distance: 3.5 miles
Elevation Gain: 3,000 feet
Summit Elevation: 7,998 feet
Access: Paved
Utah Hiking
Access:
Route:
It's hard to believe there is a class 2 route up Mount Holmes as you drive by on highway 276. It's summit looks like a collection of rock pinnacles. Mount Homes is at the southern end of the Henry Mountains, one of the most remote mountain ranges in the West. Just getting there will take some energy out of you...then you have to climb. The views here are incredible, unlike most any other climb. Looking out over hundreds of miles of Canyonlands, down into Glen Canyon and Lake Powell is really unique.
Find your way to the old road by walking the draw or going cross country. Follow the road as it traverses up and down toward the large sandstone rocks. The road length is around 1.25 miles and ends among the big sandstone rocks at a notch. (There is a shortcut right before the big rocks, a cairn marks the spot and you can go right climbing to the north ridge by climbing to the right of all the big rocks.) From the notch, climb south and west a bit up easy terrain to reach the north ridge. At 6,200 feet you need to traverse around the left of a knob reaching a saddle on the other side. Now in front of you are a set of rock pinnacles (on the saddle and high above on the ridge) that also need to be traversed around (left). After the pinnacles, the north ridge is bouldery (that is a new word), but they aren't too tough to work around. As you climb the final portion the route gets steep. The final summit block has a nice easy gully on the south eastern side of the ridge. On top, there is room for one or two although half of the summit rocks look like they could slide at any moment. The register may be placed on the ridge about 15 feet away west. It should be noted that although the entire route up the highest point looks like the rock pinnacles, once you reach the summit you see they are slightly lower. Spring is best to climb, don't do what we did which is to climb January 1st after a snowstorm dumped 3 feet of power.
From Hanksville, take highway 95 south for 26.5 miles. Turn right on highway 276 and follow it south for 15 miles toward Halls Crossing ferry. Around 15 miles (now north of Holmes), as the road dips into a draw, look for a old road traversing about a quarter mile to the south below the highway. You should see it traversing east toward the big sandstone cliffs (see picture description). Park off the side of the highway.
Mount Holmes from Mount Ellsworth
Mount Holmes from Highway 276
Look for the old road traversing below these rocks
Hiking the old road into the sandstone rock area
Between the notch and the knob
Knob
On the north ridge past the rock pinnacles
Some rocks on a east ridge of Holmes
Mount Ellsworth from the summit with Navajo Peak on the skyline
Rock pinnacles near the summit
Mount Hillers to the north
Looking west, register on center rock
From summit showing route up. Black is the old road, blue is the route beyond the gap
The north ridge just after traversing around the pinnacles