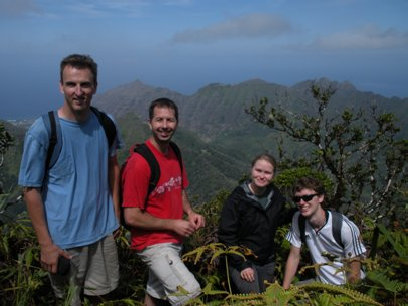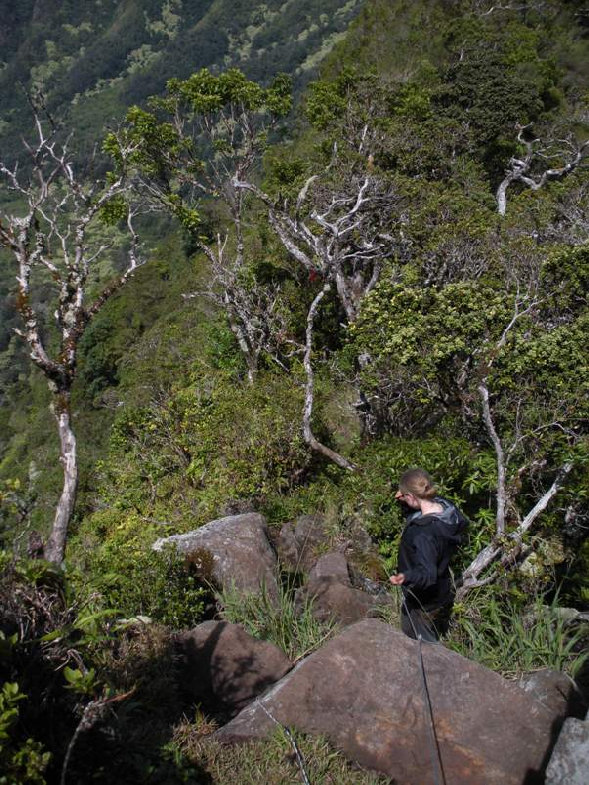 Ka'ala, Oahu Highpoint
Ka'ala is the highest point on Oahu and considered one of the hardest hikes on the island. It's definitely one of the most interesting hikes I've ever done. With the tropical vegetation, erratic weather and steep climbing sections fitted with ropes, cables, phone lines and garden hoses, this is one day on your vacation you will remember. You will also be one step from death at several points so only the sure footed should attempt this hike. Stats: 7.2 miles RT with 3,500 vertical feet of gain
Downclimbing one of the rope sections
View from the trail just before the steep ropes section
Ka'ala from the trailhead
Getting ready to climb up phase 3, the ropes section
Just past the powerlines ready for the ropes
Ti plants along the trail
Rock climbing spot
Climbing up the ropes
Climbing up the ropes
Our group, me, Shawn, Kathleen, Brian
Looking down the trail that doesn't even look steep in this picture!
Views from the trail
Views
Downclimbing the ridgeline
Pano shot just before hitting the bog
The foot brush before entering the bog
Arrival at the summit with all its facilities
From Honolulu, take H1 west, eventually becoming route 93. In Waianae, look for the Waianae Valley Road going right. After 2.5 miles the road splits, go left, the one marked with a dead end sign. Continue another 1.1 miles and park at the gate.
Access:
Route:
Think of this trip as four segments. The first is an easy walk up a paved road for a mile. There is little shade so get up early to avoid the sun here. When the pavement ends and a wide dirt road begins, you start segment two. Follow this road a short distance reaching a trail split shortly after a cool forested rocky ridge walk. At the split, go left downhill. Cross the creek at the bottom, continue on a downhill traverse. There will be another trail split in an open area in a bit, go right this time. Soon the trail crosses another creek. Now the trail starts really climbing, almost 1400 feet in a short distance. This second leg is all forested. This section ends at a ridge top and some powerlines. From here, you are on the main ridgeline that accesses the summit plateau/bog area. Route finding is a non issue here as the narrow trail climbs the spine of the ridge with no forgiveness if you trip and plunge to your death. This third segment starts as an exposed trail for a few hundred feet but then hits a rock step with about 15 feet of exposed (easy) rock climbing. This is the only real tricky part but sections above still could scare the average hiker. For about 700 feet, you climb up a dirt route with ropes and cables to help hold yourself to the mountain. The local advice is not to trust the ropes with all your weight but that is difficult to do. At the top, you'll hit a boot wipe to clear the seeds off your feet. The final section is a walk on boardwalks through a bog. At the summit is a military installation for aircraft and they may tell you to stay away from the gates. I was there on a Sunday morning and rushed to the highest point since I saw no one. While eating lunch about 10 minutes later, several government vehicles showed up with guys in camo.
Under the powerlines, ready for phase III of the climb
www.WillhiteWeb.com: Hiking, Climbing and Travel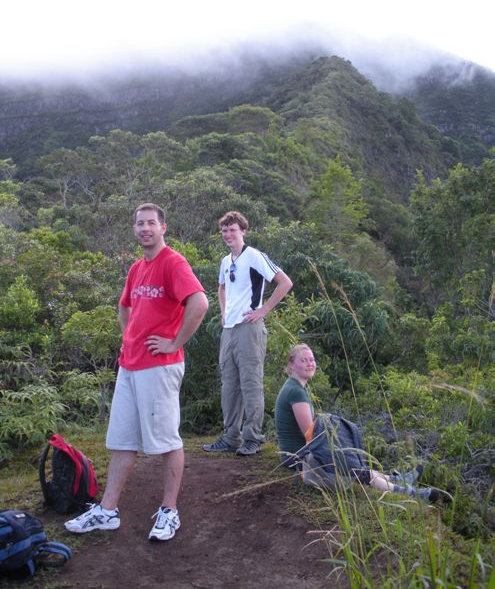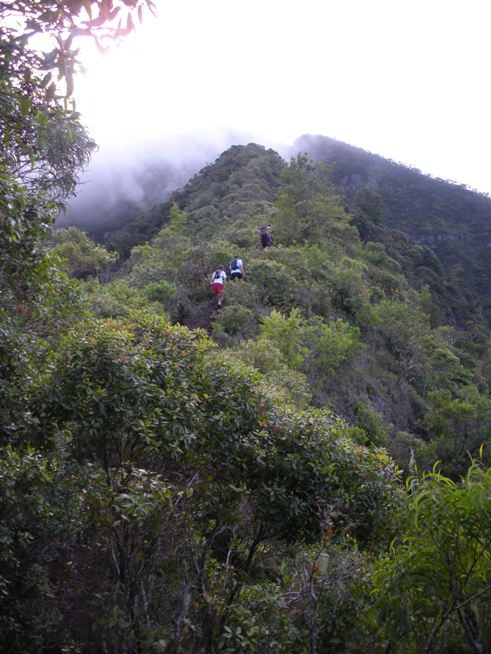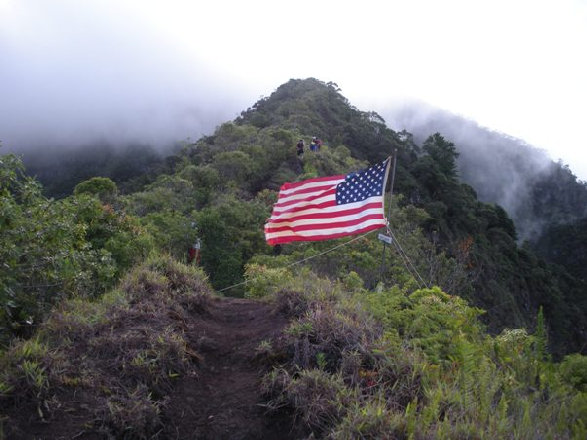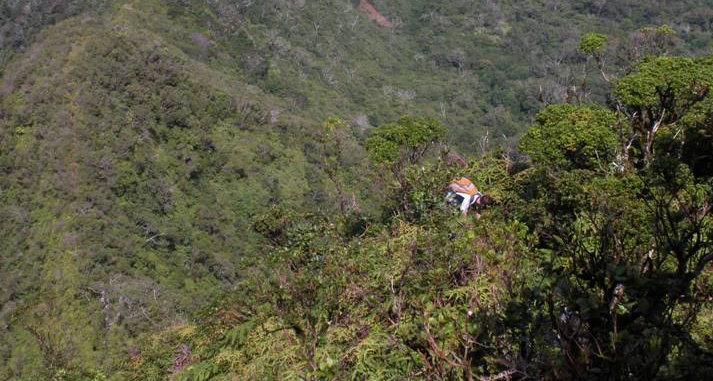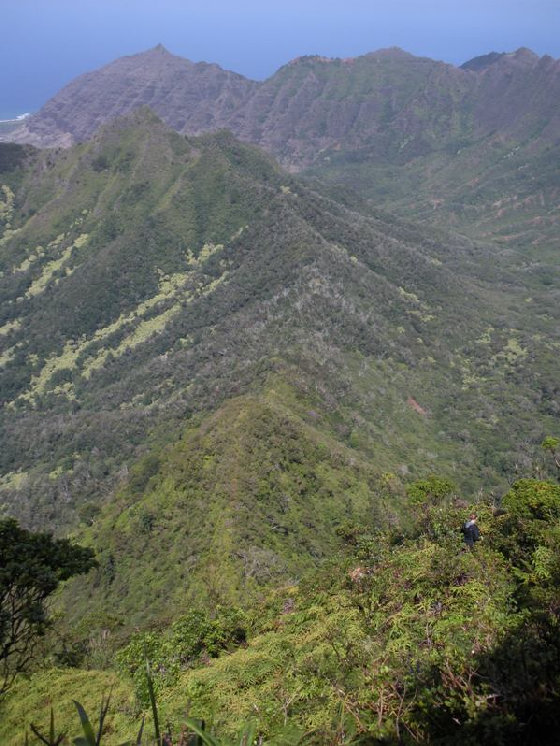 Downclimbing the ridgeline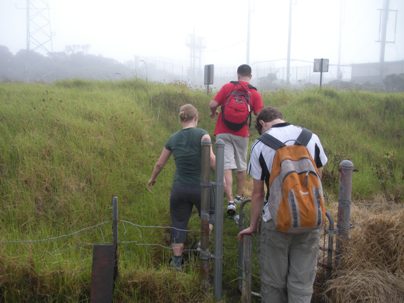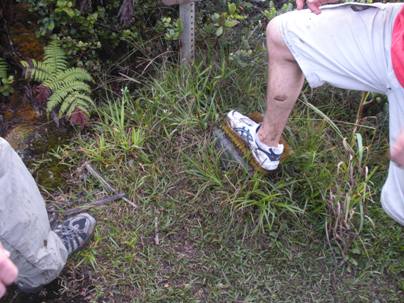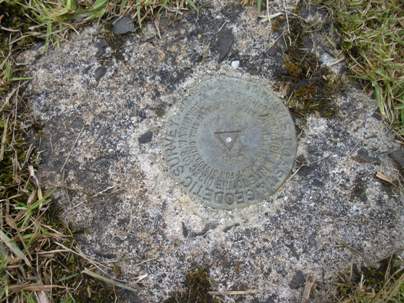 The benchmark can be found if you go left of the main gate, open the small gate, walk 30 feet.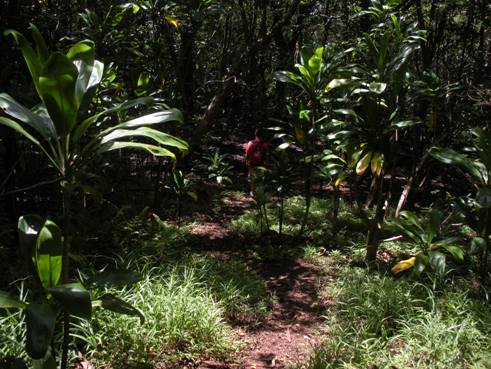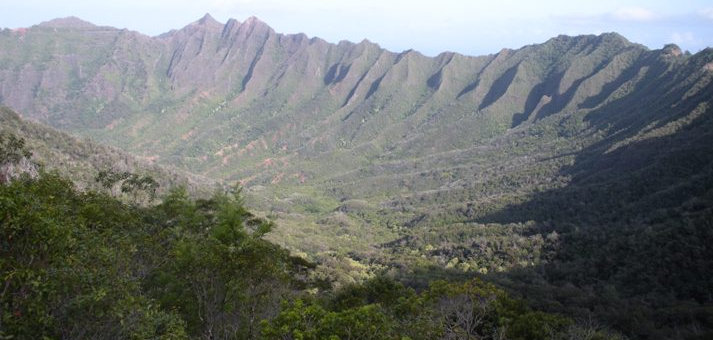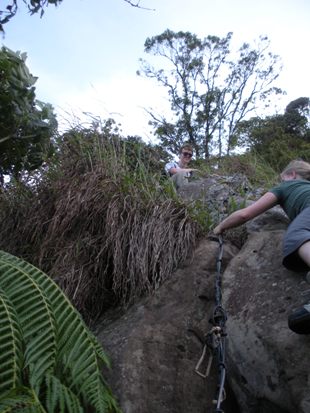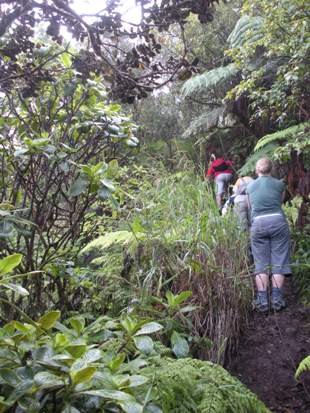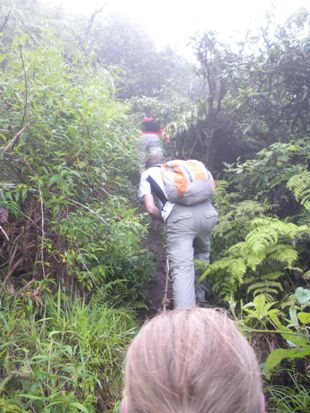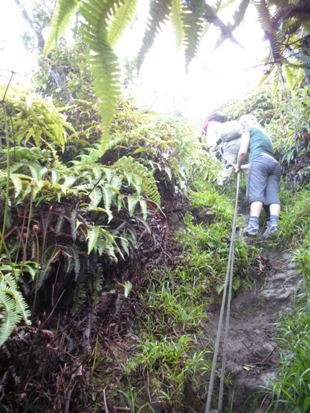 Climbing up the ropes
The boardwalk in the bog
Dark forest in phase II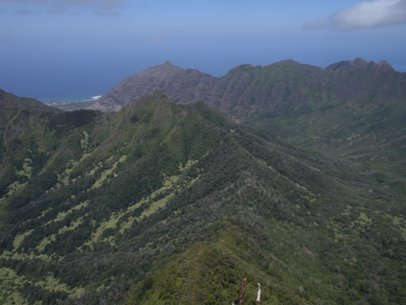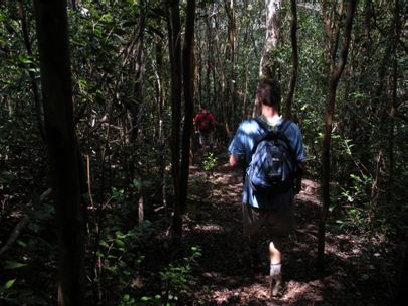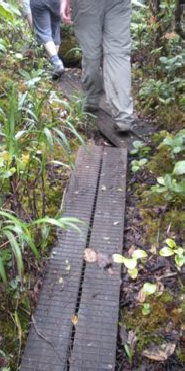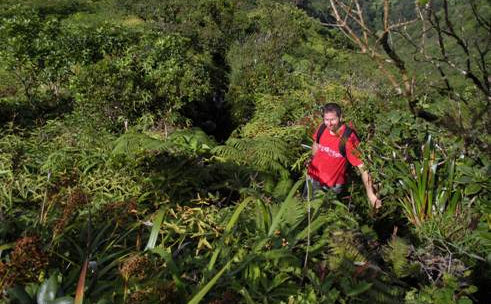 Flag was set up on the ridge