Dog Mountain Lookout & Summit
Summit elevation: 2,948 feet Lookout Site: 2,505 feet
Elevation gain: 3,000 feet
Distance: 6 to 7 mile loop trip
Access: Paved
One of the most popular hiking trails in the Columbia Gorge, Dog Mountain offers a loop trip with exceptional views of the Columbia River Gorge. The mountain is also known for its big wildflower displays in spring. With open south facing slopes, this trail melts of snow quickly but it can be very windy and can be hot in summer heat. It has also unofficially been known as Puppy Lookout.
Washington Hiking
The Dog Mountain trailhead is located nine miles east of Stevenson on the north side of State Highway 14 at milepost 53.
Access
Dog Mountain was used as a "fire lookout point" sometime around 1920 in order to serve the Mt. Hood National Forest to the south. The first structure on Dog Mountain was built in 1931 with a gable-roofed L-4 cab with windows on three sides. In 1953 it was replaced with a new L-4 cab. Both were located quarter mile south of the summit, 500 vertical feet below. The second structure was destroyed in 1967. Its later years were still staffed by the Mt. Hood National Forest for its excellent vantage point across the Columbia River.
Fire Lookout History
Notice picture below looks to be shot from the flat spot above the lookout
The first set of photos were before the structure was built in 1931. They were shot by Wm. B. Osborne who invented the camera in 1929 (the same year). Similar to the nearby Stevenson High School photos, this film shoot cold have been part of his proof to show his invention worked. The project of sending 6 teams into the field to film every LO and planned LO site didn't begin until 1930 (Kresek). The second set has the lookout bulding, trails and out buildings now in place.
Two Panoramic Pictures: June 29, 1929 & July 8, 1937
In July of 1938, John Cherednik was bitten by a rattlesnake on the left leg while alone at the Dog Mountain Lookout. It was 6 p.m., all he could do was administer emergency treatment himself for four hours while awaiting help. He was taken by packhorse and automobile at night reaching the hospital in Portland at 2 a.m. It was said the snake made a deep wound and there was much absorption of poison. He was reported in such serious condition that he was unable to tell the details of the case. He did recover.
From Newspapers: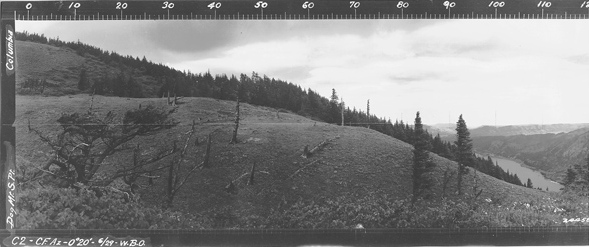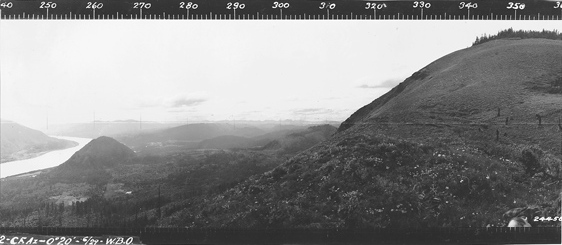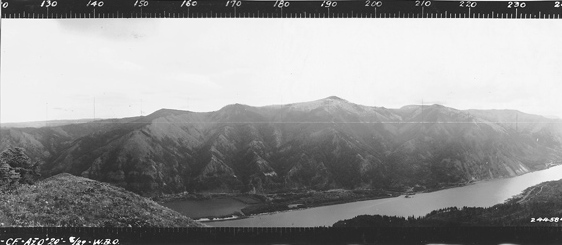 View South 1929
View Northwest 1929
View Northeast 1929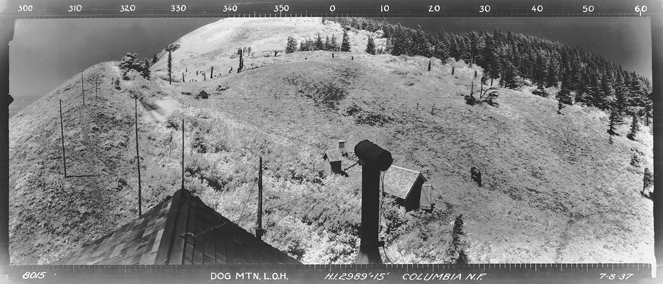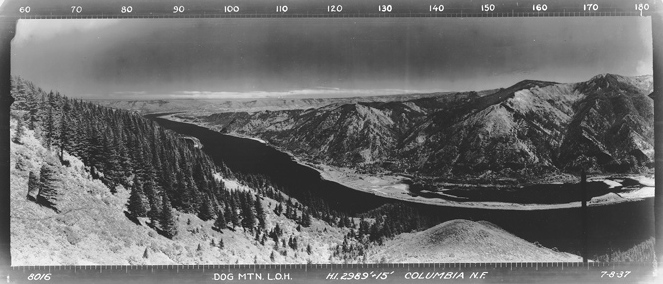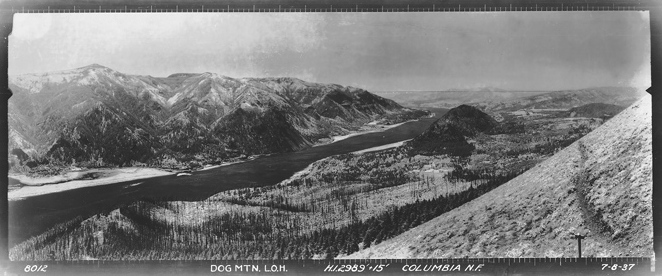 View North 1937
View Southwest 1937
View Southeast 1937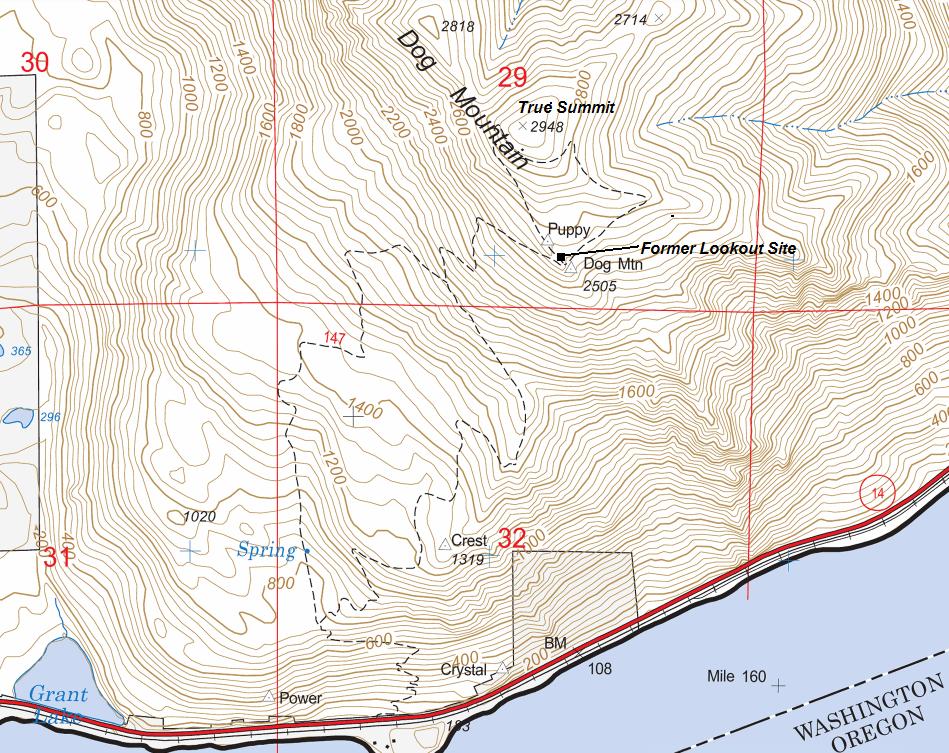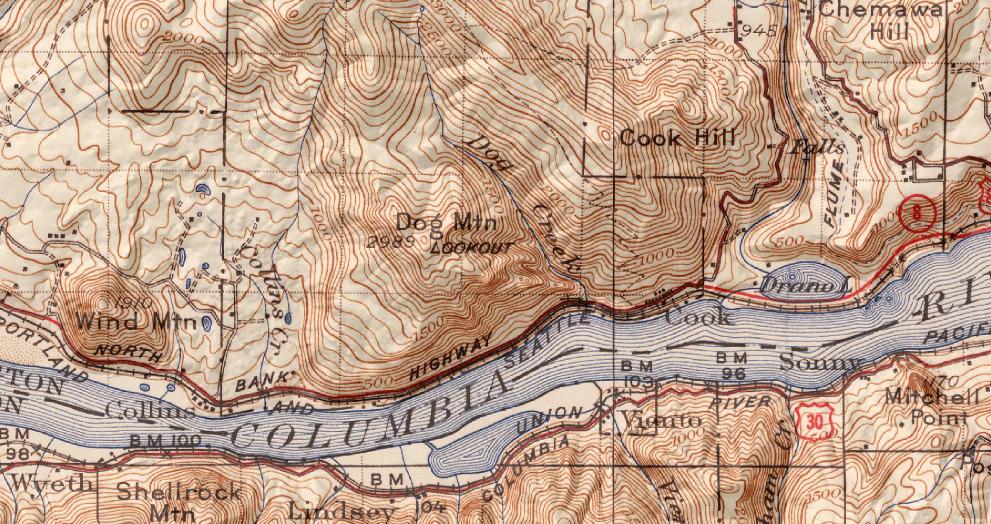 1945 Map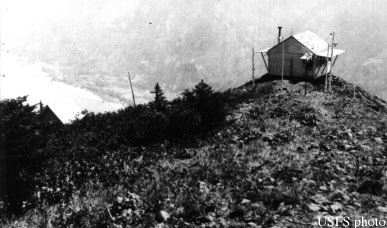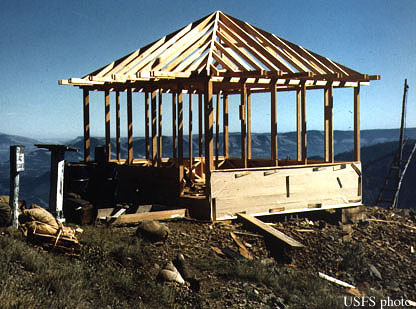 Dog Mountain Lookout 1933
New Dog Mountain Lookout 1953
Images From The Web
(I lost mine)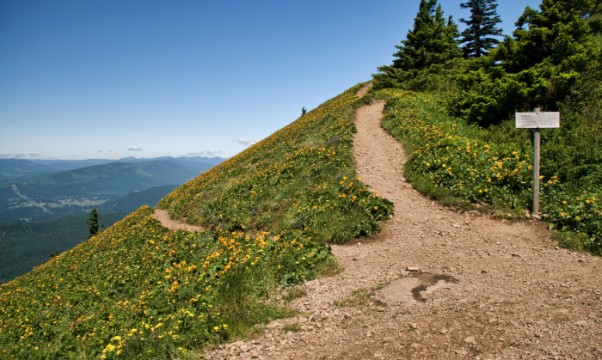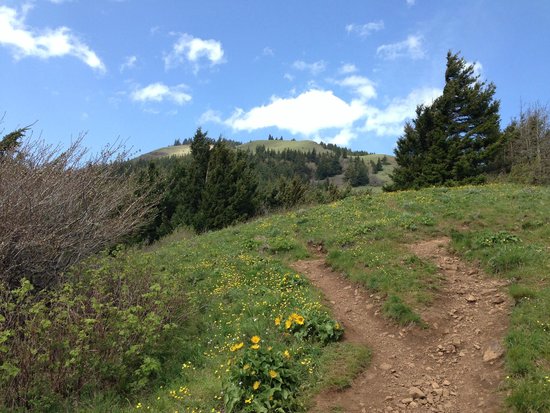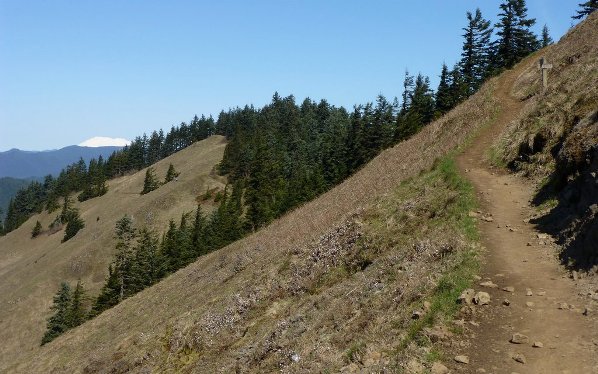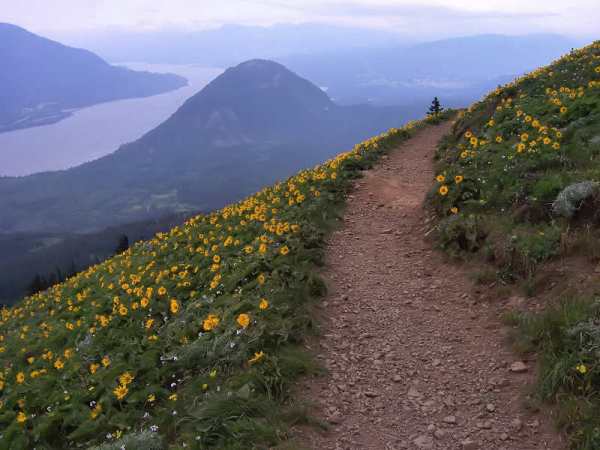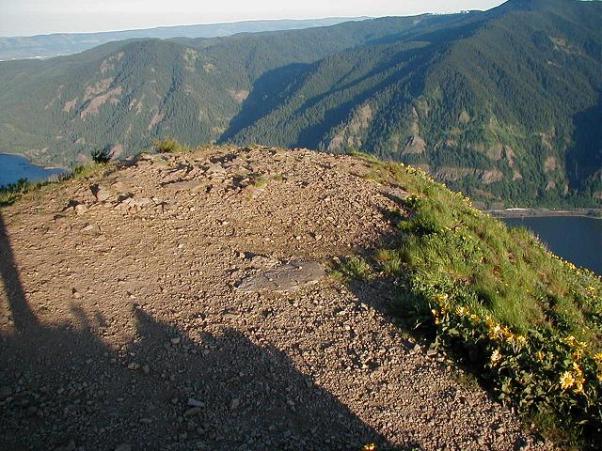 Former Lookout Site
Steve Hart
I Cannon