WillhiteWeb.com - Washington Lookout Sites
Hiking to a mountain top doesn't get much easier than Clear West Peak. Your biggest difficulty will be getting to the trailhead. The gate is often closed and the White River often washes out the main road down in the valley (check the Forest Service website). If all is good, the hike is perfect for young kids as the trail is short and gradual. The top is nice and flat, the spot of a former lookout tower. Clear West gives a unusual perspective almost due north of Rainier.
Clear West Peak
Distance: 1.5 miles (if accessable)
Elevation Gain: 1,000 feet
Lookout Elevation: 5,644 feet
Access: Gravel, usually nice
From Enumclaw drive east on State Route 410 for 22 miles to a right onto West Fork Road (Forest Road 74). Drive this road 6.8 miles to the river crossing and the winter closure gate. If open, continue 1.4 miles and turn left on FR 7430. Now go 7.3 miles to the road end and trailhead, at the high elevation of 4725 feet. (Access now uncertain, call ahead)
Access:
The trail starts where the clear-cuts end. Shortly after hiking, enter nice forests and remain in them until near the summit. The final few feet break out into the open where big flower displays exist in early summer. A big payoff view for little effort here.
Clear West Peak Trail Route: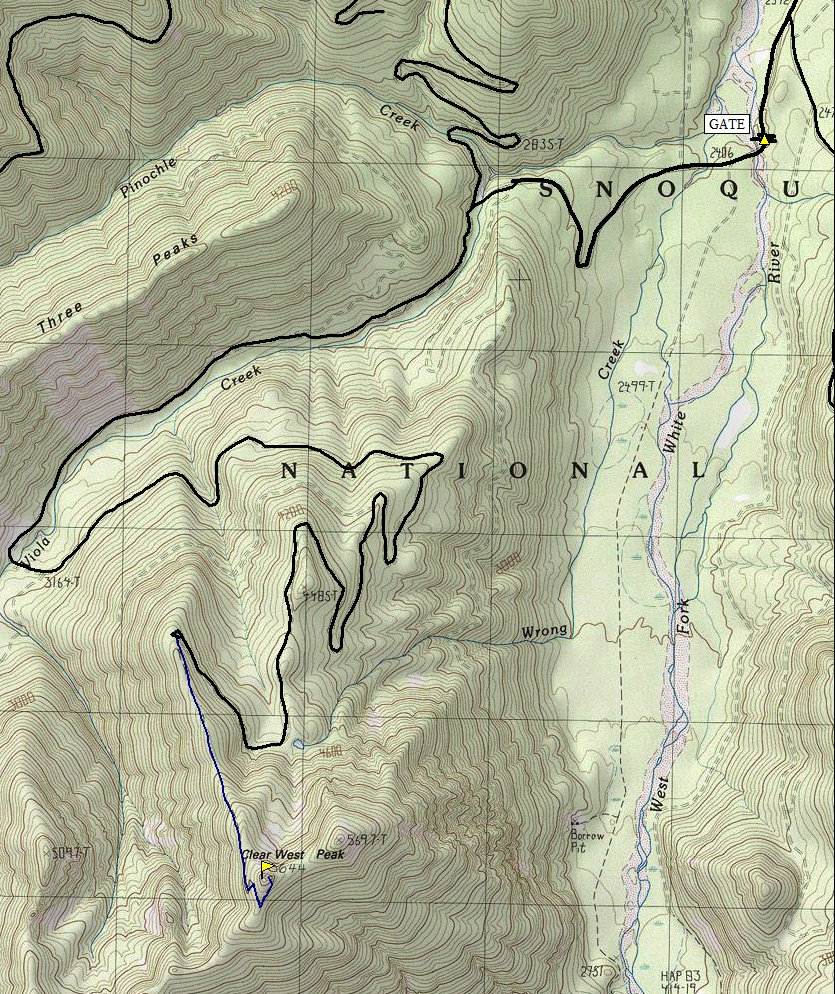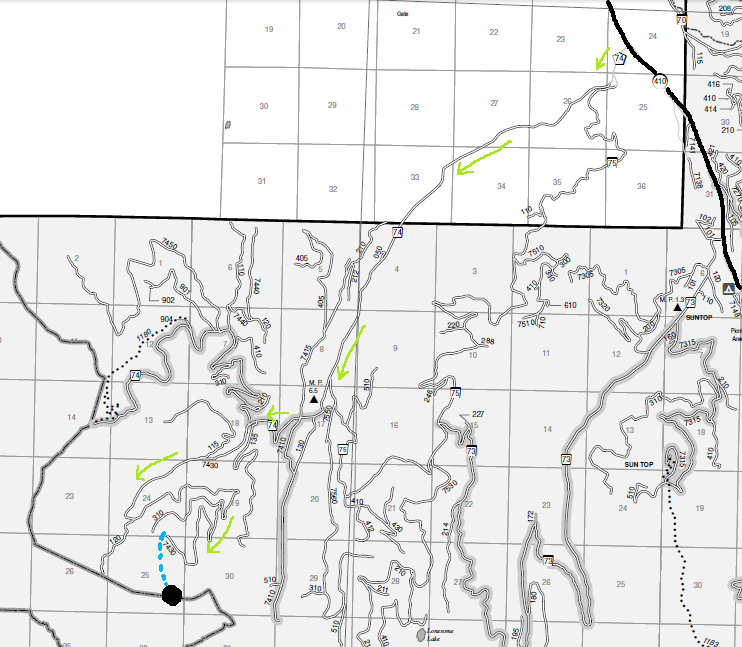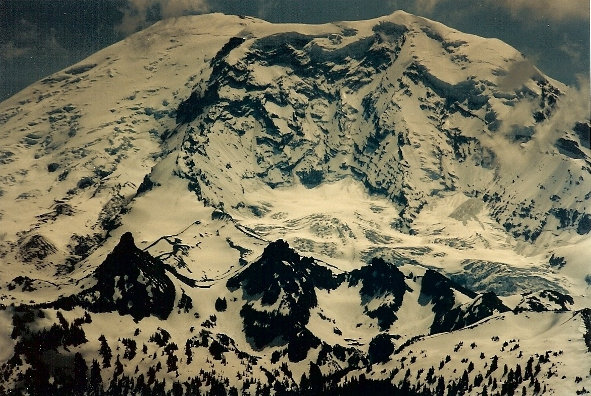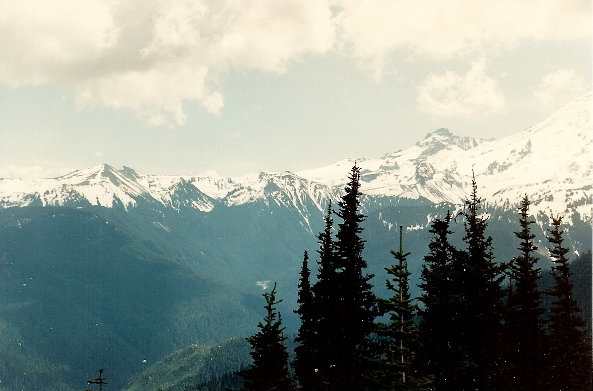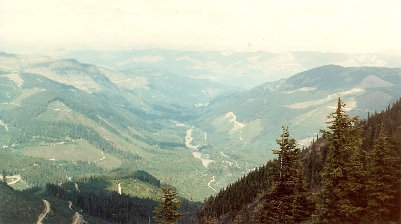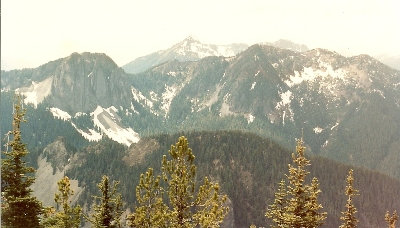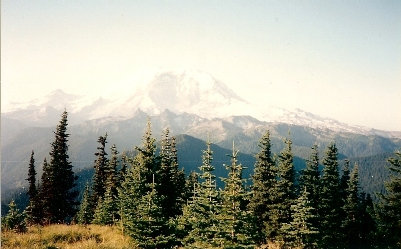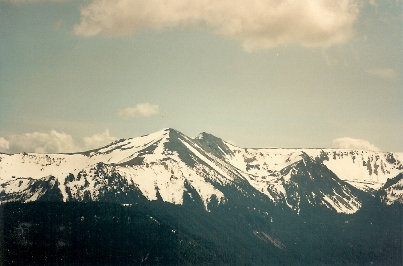 Zoom in of the north face of Mount Rainier
Mount Freemont
Independence Ridge
West Fork White River Valley
Mount Freemont and Little Tahoma
Mount Rainier from Clear West Peak
Very little information has been brought forth. It was an L-4 cab built in 1933. On August 10, 1934 George Clisby took panoramic photos from the roof. The building is thought to have been destroyed in the mid 1960s, so there must be plenty of photos out among the past hiking generations.
Former Lookout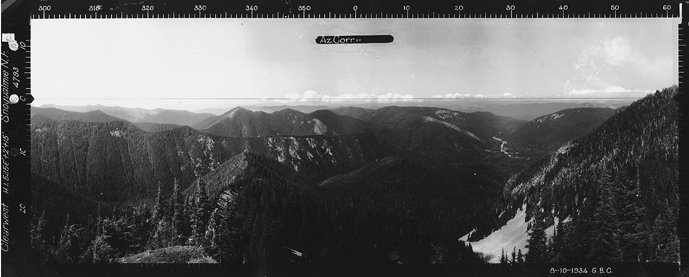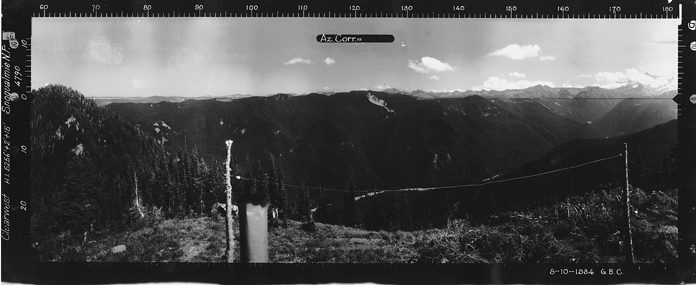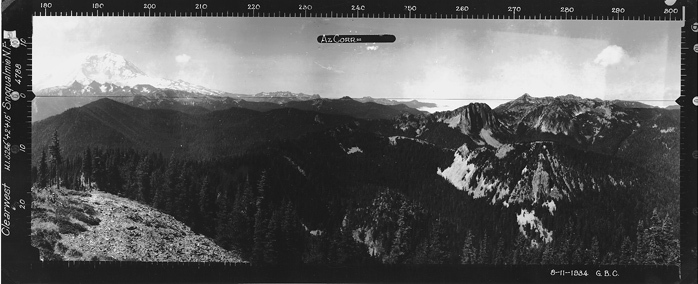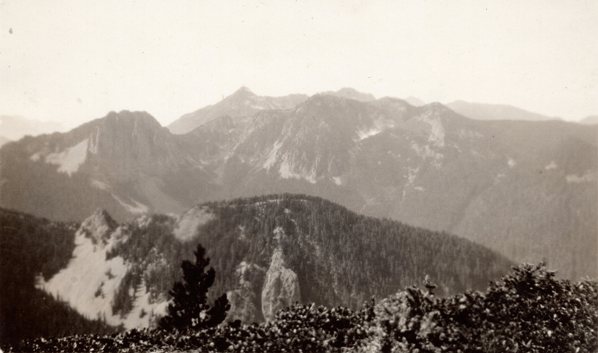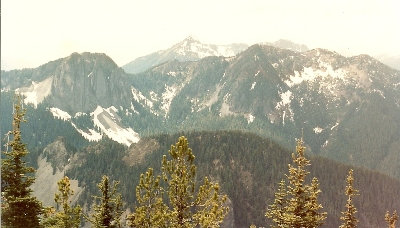 Looking North 8-10-1934
Looking Southeast 8-10-1934
Looking Southwest 8-10-1934
This image was found in a group of pictures dated between 1928 to 1932
I took the exact shot below on 5-26-1993