www.WillhiteWeb.com: Hiking, Climbing and Travel
Cancun is an amazing vacation destination, specifically designed for the beach and water loving tourist. Luckily, there is some significantly historic sights nearby to make the vacation more than a lazy beach trip. The "hotel zone" of Cancun is a several mile long island strip of beach full of resorts and malls. This is Cancun, yet there is an actual Cancun on the mainland. It's busy, crowded and not what the tourists are there to see. South of Cancun is something now called the Maya Riviera. It's miles of more hotels and resorts, some with beaches, others with rocky shorelines and beautiful blue water inlets. Within the Maya Riviera is destination city Playa del Carmen and nearby island Cozumel. Although you can find good deals on airfare and a hotel, Cancun itself is not cheep. All the places a tourist is likely to shop at will have high prices. If you can find a grocery store in Cancun City or Playa del Carmen off the tourist path, you will get better prices...but still somewhat high....maybe because of shipping costs. We found our grocery store just after arriving...stocking up on snacks, water and drinks for the entire trip. Driving in the region is relatively simple but highly recommended to see everything. Although some intersections in the bigger cities are a bit chaotic, the majority of roads are easy to navigate. Most drivers were safe in my opinion, at least compared to places I've been in South America and the Middle East. Your biggest danger will be "topes" (huge speed bumps) and pedestrians running across the road. Most tourist sights are well marked although a good map of Cancun City is good advice.
Cancun Mexico
Playa del Carman waterfront
Playa del Carmen 5th Avenue Quinto Aveida
Playa del Carmen Marina Terminal
Playa del Carmen
Tulum
Isla Mujeres
Theme Parks
In my opinion, Playa del Carmen is the place to stay if visiting Cancun. Cancun can offer nice expensive malls and all the dance clubs but Playa del Carmen has much more style. Late in the evening when Cancun is dead (except for the dance clubs), Playa del Carmen has it's super long 5th Avenue Quinto Aveida, a pedestrian only street all lit up full of local vendors selling items. Then there are the dozens of open restaurants in the street too choose from. The beach is still nice, just not as large nor private as some of the Cancun beaches. Playa is only an hours drive from the airport going south (see map below).
Overlooking the Caribbean Sea, Tulum is a well preserved coastal Maya sight. The ruins sit on a cliff about 40 feet above the sea. Because they are within a few hours of Cancun and an hour of the Maya Riviera, it is a very popular site. Tulum served as a port for the larger cities inland.
Only a 30 minute boat ride from Cancun is a popular day trip island although it is full of hotels as well. Isla Mujeres has excellent coral reefs so it attracts the snorkeling/scuba crowd. The pace is slower there, most looking to avoid the Cancun area for their holiday.
If you are into theme parks, the Cancun area is full of them. The bigger ones are Xel Ha, Aqua World, Xplor, Dolphin Discovery and Xcaret. These parks are full of snorkeling, wildlife, Inca shows, jet skiing, swimming with dolphins, zip lines, cave exploring, jet boating, etc. Expect to pay a lot for everything.
These were everywhere, I even drove over one
Hotel Zone Cancun strip
On the beach in Cancun
Arriving at Isla Mujeres
Ruins of Tulum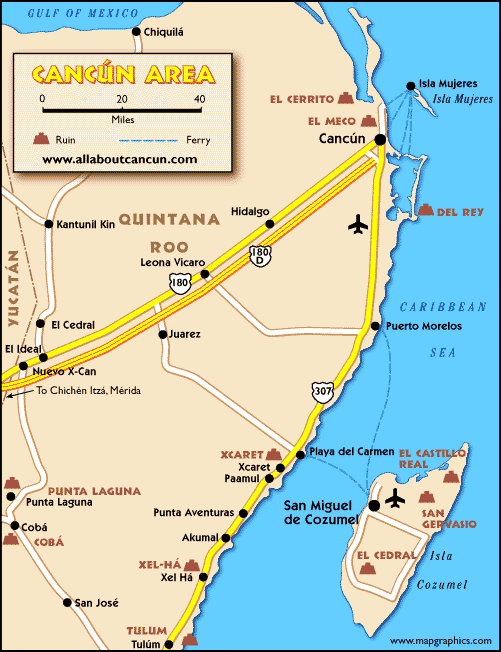 Ruins of Tulum
Ruins of Tulum
Mainstreet in Valladolid
Church in Valladolid
This entire area is easily accessible during a Cancun Vacation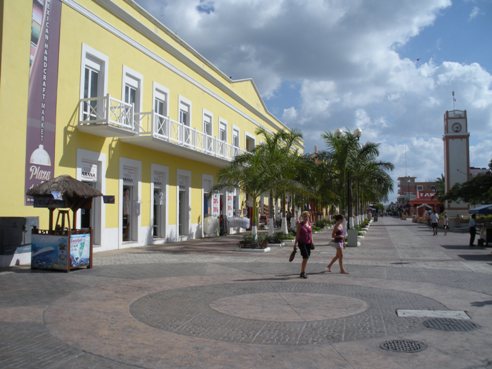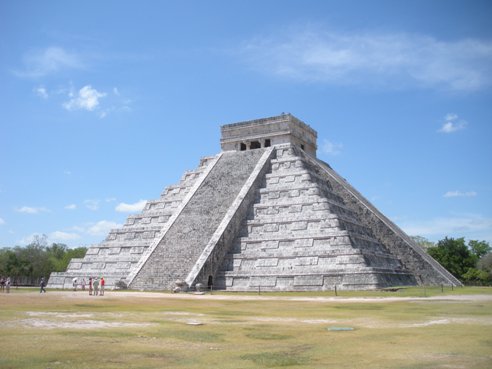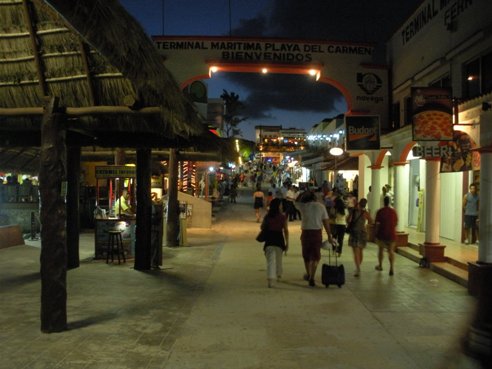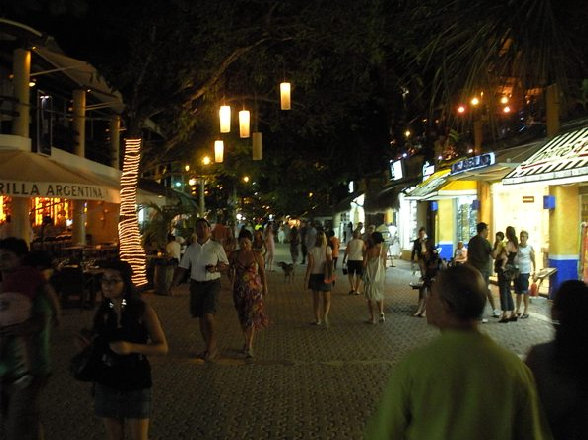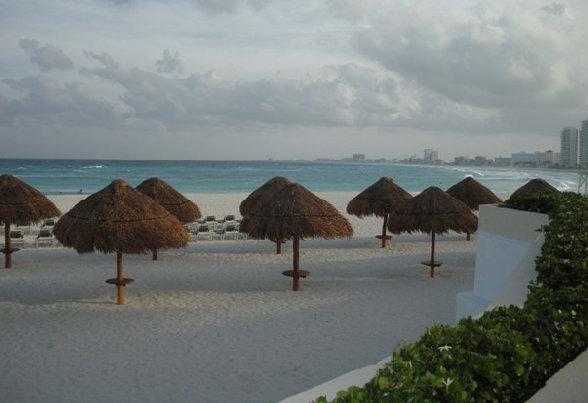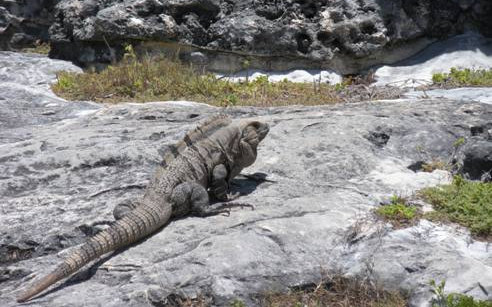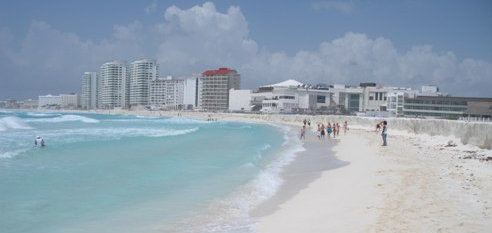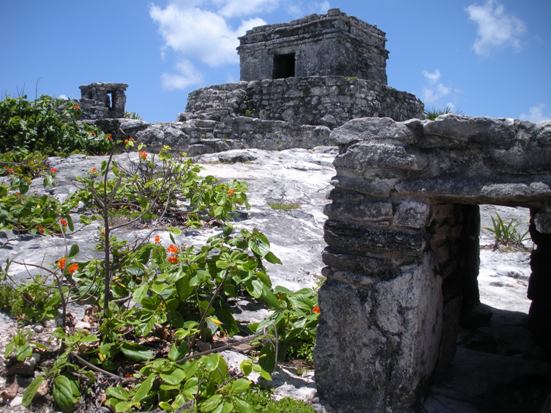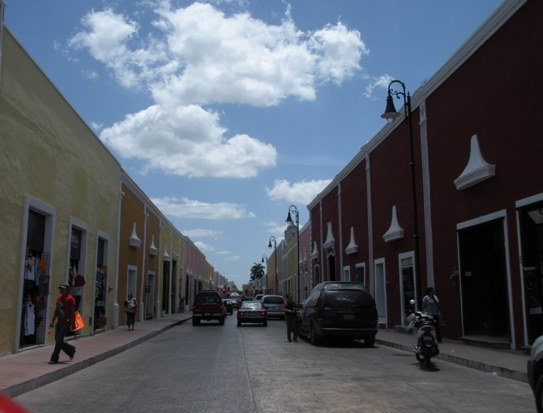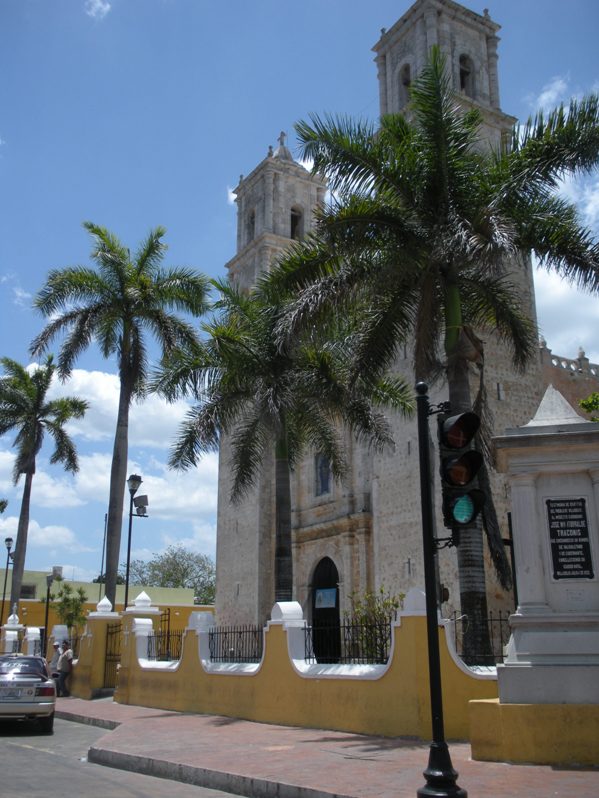 Other Pages