Kessler Peak is another Wasatch Peak with a trail to the summit. With the trail on the north side of the mountain, it makes for a mostly shaded route through aspens and then conifer forests. Only the very summit area is exposed and on rocky terrain. There are no signs for this trail, so there is a good chance you won't see a whole lot of people, except at the start, where everyone will be hiking to Doughnut Falls.
Kessler Peak
Distance: 2.3 miles
Elevation Gain: 2,900 feet
Summit Elevation: 10,403 feet
Access rating: Level 1
www.WillhiteWeb.com: Your online resource for hiking, climbing and travel
Access:
Route:
From the intersection with Wasatch Boulevard, drive 9.3 miles east up the Big Cottonwood Canyon Road. Turn right onto Cardiff Fork Road, where there is lots of parking on both sides of the road. Follow the paved and gravel road for 0.75-mile to the Doughnut Falls trailhead. There is a gate that opens at 7 and closes at 10 so if you want an early start, you'll have to walk in from the main road.
Hike up the Doughnut Falls trail until it crosses the stream on a small bridge. Just beyond, the trail intersects a road. Continue straight on a small trail behind a sigh pointing the falls trail to the left. About 30 feet later you intersect another road. Take this rocky road uphill about 5 minutes keeping an eye out for a small trail cutting to the right uphill in an avalanche path. This trail was overgrowing rapidly but once you are on it, you won't loose it. Once you reach 8,600 feet. the trail enters forest and is mostly brush free the remaining route up. Be aware that the traverse around 9,600 feet on the north side of the mountain could be dangerous in early season with snow. The trail wraps around to the west side getting steeper the closer you are to the top. Just before the summit, 2 mine holes and old shelters are passed. Now you'll understand why the trail is so steep. The summit ridge is reached but the true summit is a bit to the south. The trail continues just below or on the summit ridge but watch your step, it's uneven terrain.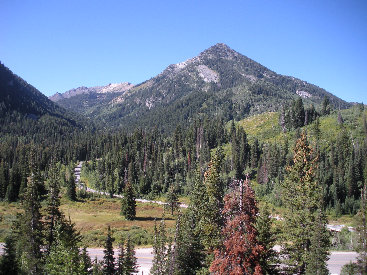 From Scott Hill
Kessler Peak
Kessler Peak from across the highway, showing access road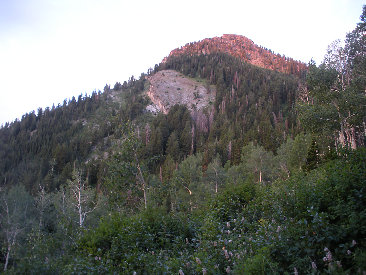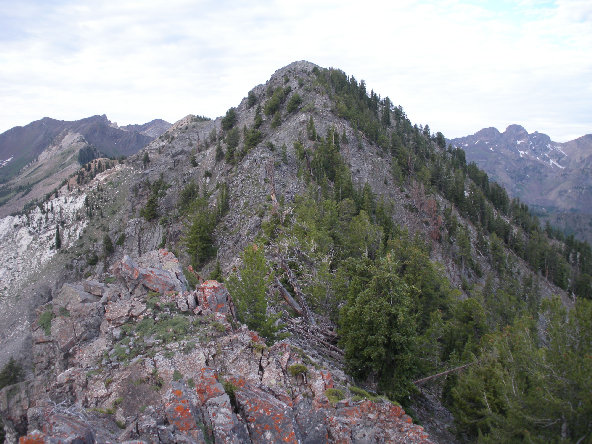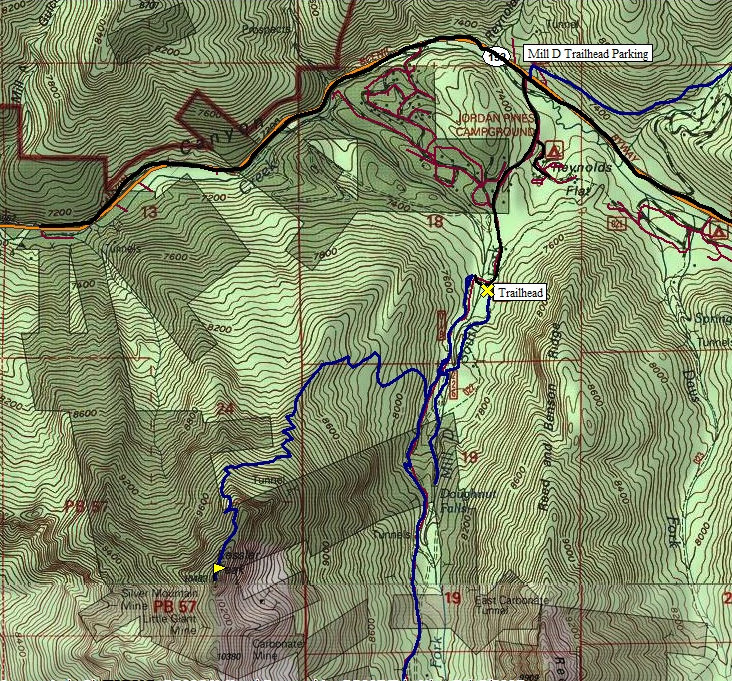 Mount Superior
Big Cottonwood Canyon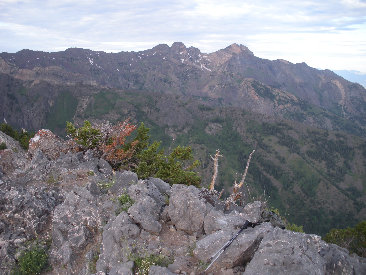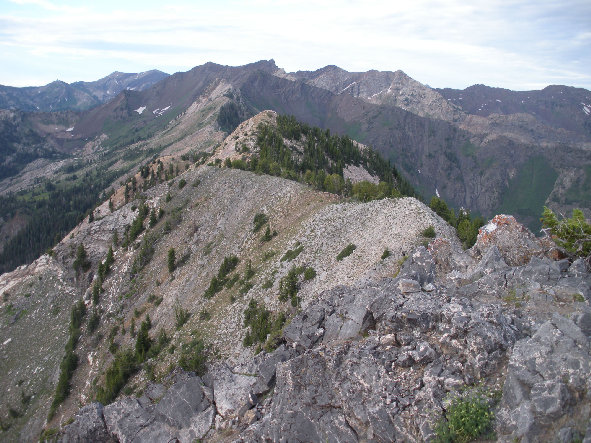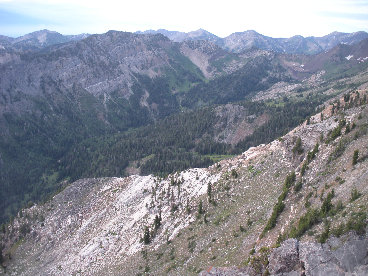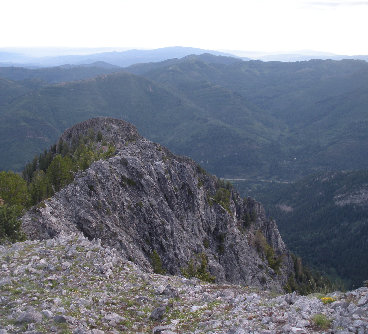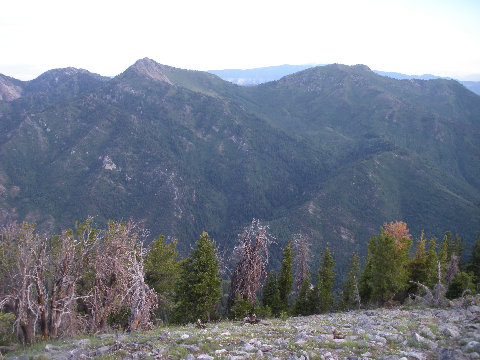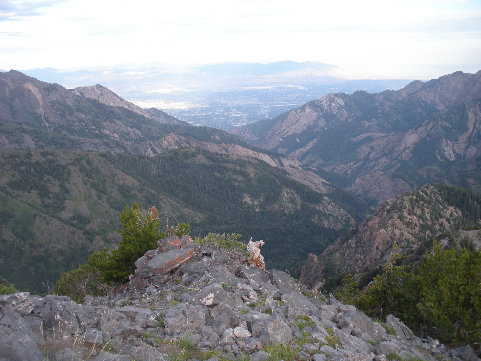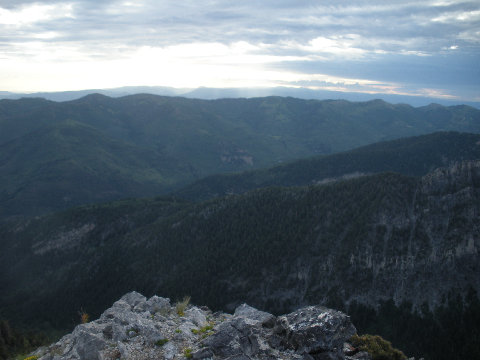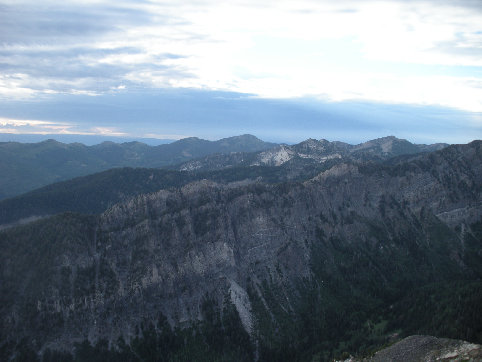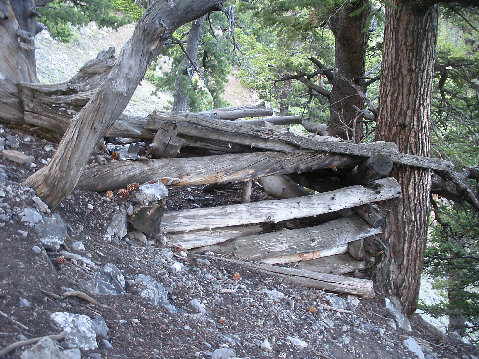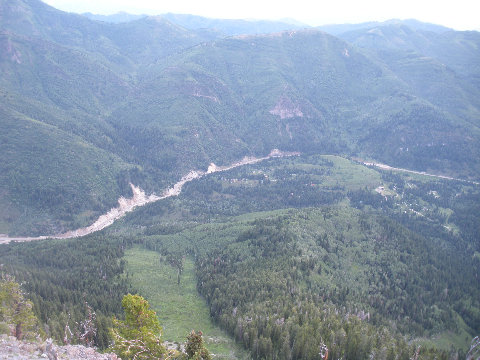 Only view of the mountain from the trail
Trail hits the saddle below and goes up the ridge to the summit
Mount Raymond and Gobblers Knob
Salt Lake Valley and Big Cottonwood Canyon
Looking east up Big Cottonwood Canyon
One of the old shelter sites
Road up Big Cottonwood Canyon
Clayton Peak in the far distance
Looking south toward Mt. Superior & Monte Cristo Peaks
Looking down the ridgeline
Reed and Benson Ridge
Broads Fork Twin Peaks