Logan Peak is a northern Utah drive-up peak near Logan of course. As the tallest mountain in this area of the Bear River Range, the views are really good. The road up is pretty rough near the end but the road makes for a good hike with shade along much of the route. Another road accesses the summit as well from Providence Canyon but I hear bad things about it. This area also hosts the Logan Peak Trail Run, a 28 mile course up Dry Canyon from the bottom of Cache Valley, circling the peak (including a detour up to the summit) and then back down Dry Canyon. Looks like a real killer. Info on Dry Canyon hike at very end.
Access:
Logan Peak & East Logan
Distance: 0 miles or walk road 3.5 miles, or 4 mile trail
Summit Elevation: 9,710 feet
Access: Rough Roads
www.WillhiteWeb.com: Your online resource for hiking, climbing and travel
Route:
All you need to do is follow the road but there is a shortcut if you are on foot. During my visit in 2008, I ran into some forest service road engineers who were doing some preliminary surveying. Having designed logging roads in my previous profession and knowing their cars were parked at the other end; I knew they must be planning a new route across the shortcut. I jumped out of my car and talked with them about it. (I show the shortcut on the map). Without kids, you could also climb directly up to the summit when it becomes visible from the lake (which is really a pond).
Take Highway 89 north out of Logan. Between Preston Valley and China Row campgrounds, take a right on Right Fork Canyon Road (signed). This road is paved until a parking area where it splits (go right) becoming a good wide dirt road up Cowley Canyon. At the pass at the top of the canyon, turn right toward Logan Peak. You can also reach this pass from the south (Herd Hollow) but it is a slow grind on a poor road off the Left Fork Blacksmith Fork Canyon road. After taking a right, the road is still not too bad as it climbs, then ridge traverses west. In a few miles, another ridge must be climbed and the road does several tight switchbacks to reach the ridge top. If you like your car or truck, park here where lots of room is available. The road drops from this point going over a few bad rocky areas. Then it climbs up over a bunch of softball sized rocks to the right of a sub-peak. (An optional cop-out hike through the trees to a good vista). The road then has a short spur to the right where the future road will cut off the out of the way section below Providence Lake. If you are walking, go cross country here. If driving, drop down tightly through the trees looking for a right turn steeply up hill. This will take you up to Providence Lake where the summit is visible above. The road is better in this area as it climbs around and up a ridge to access the summit area. The last few feet to the top is steep but there is lots of room on top to turn around.
Dry Canyon Trailhead
If you do want to hike from the valley bottom up 4 miles with 4,000 gain, the Dry Canyon Trailhead starts in Logan. Get on Center Street in Logan, go east. The road curves left once you get to the top of a hill take a right onto Mountain Road and follow it to the end. .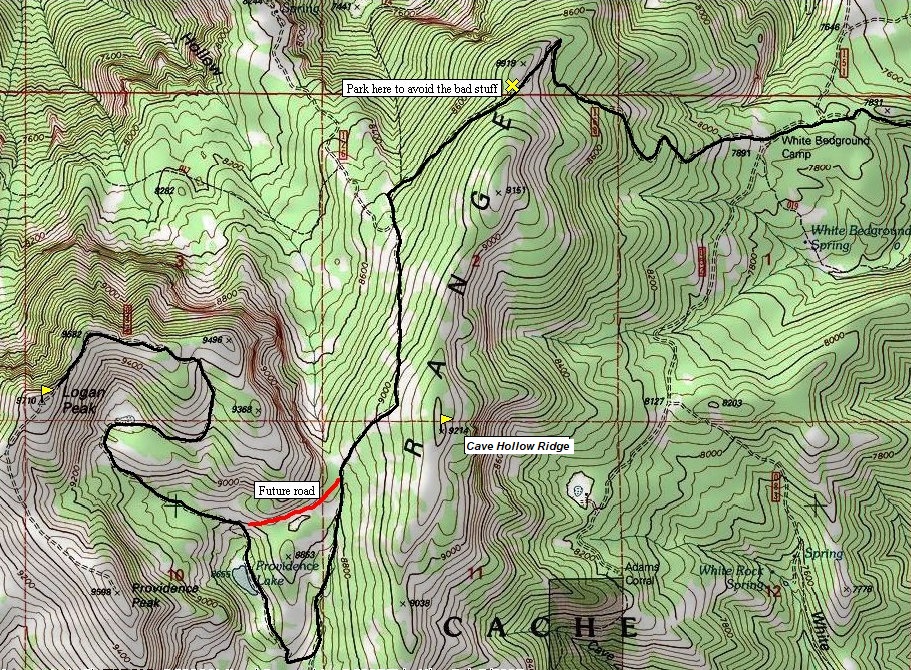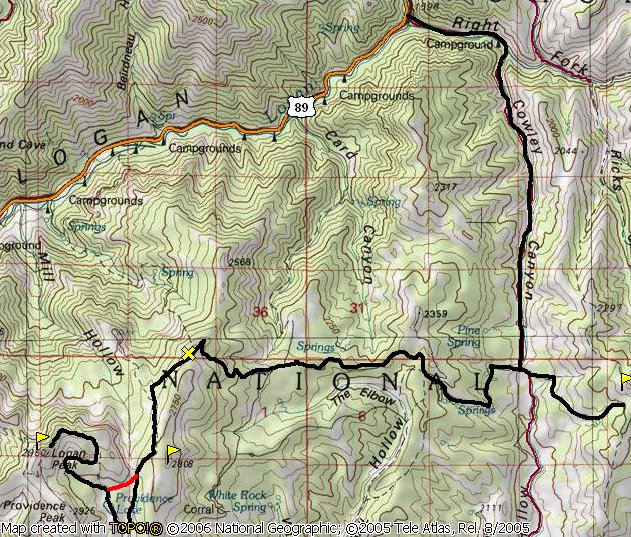 Logan Peak from Peak 9214 "East Logan"
Summit of Logan from Providence Lake area
Getting close to the summit
View of Gunsight Peak and Logan
Wellsville Mountains from Logan Peak
Looking southeast from Logan Peak
Looking south from Logan Peak
Kids on "East Logan"
Communication site on top
Dirty dog