Maloney Ridge Lookout
Washington Lookouts
Its a bit confusing as Maloney Ridge Lookout is a bit of distance from Maloney Ridge on the map. The lookout was closer to what is now called Sobieski Mountain. The spot shown on USGS maps north of Sobieski as having a lookout is labeled Maloney Ridge. There is also a location considered for a site much higher on Maloney Ridge west of Maloney Lakes, documented in 1936.
This is a drive up with an incredible view overlooking the Skykomish Valley. But only the curious will find this secret. Nearly everyone that reaches the location assumes the trees have grown over and there is no more view. The communication towers also distract the visitor from exploring the area. But, find a trail on the right side of the east tower fence. Walk about 30 seconds and BAM! The rocky perch and the foundations of the Maloney Ridge lookout. Location was established in 1950 when the Galena cab was moved here. Destroyed in 1969 by the Washington DNR.
Maloney Ridge
Distance: Drive-up
Elevation: 3,354
Road Access: Good gravel
This was the site of the panoramic photo survey, located on the real Malony Ridge, just west of the Maloney Lakes. Panoramic photos were taken in 1936 during the Osborne Panoramic Photo Survey. The slides shows the intended lookout name as Maloney Mountain.
Maloney Mountain Survey Site
As far as I know, there is no evidence any lookout existing on the summit of Sobieski Mountain. Currently, there is a King County communication tower and building on the summit.
Sobieski Mountain
Take Hwy 2 for a half mile past the Skykomish Ranger Station. Turn right on Foss River Road (Road 68), paved for a mile or so. Continue on Road 68 and in about 1.3 miles, pass under a railroad trestle. Just beyond the trestle, continue straight ahead. In about another mile, stay right again at a Y. The left fork goes to the Tonga Ridge Trail. In another 0.6 miles, pass by the trailhead for the Necklace Valley Trail. In 0.7 miles is another road (Road 6835) turning off on the left. Go straight, crossing a bridge over the Foss River. A winter gate closure is here (Nov. 7th in 2014). Follow the road another 4 miles to a Y, right to Maloney Ridge lookout, left goes up to the summit of Sobieski. (just print the map).
Access
Sobieski Mountain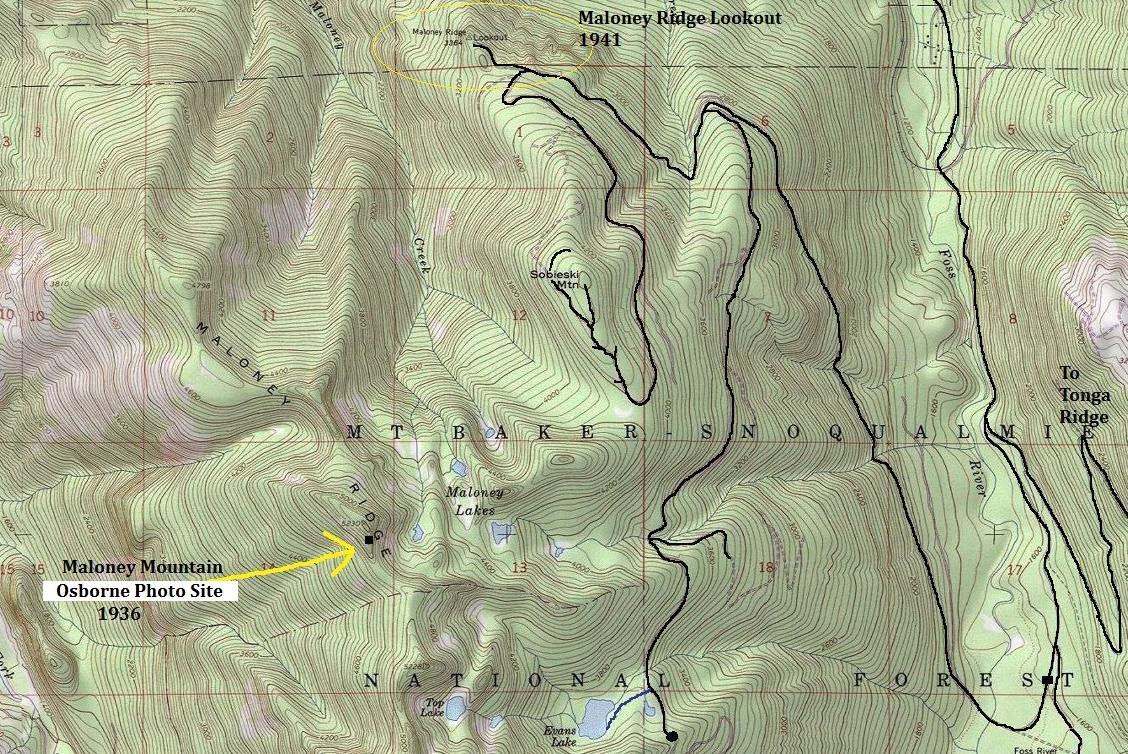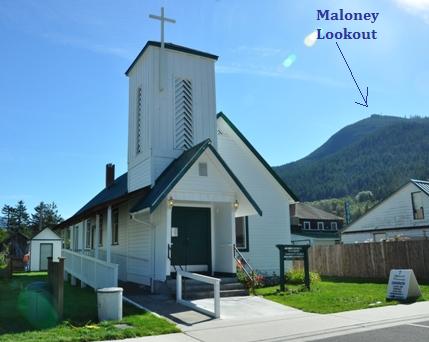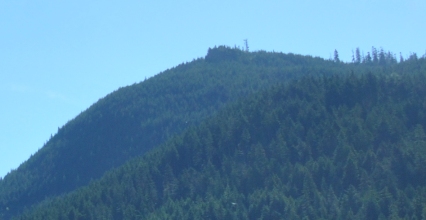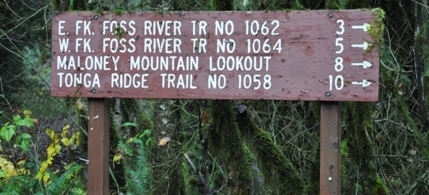 This sign us using the term Maloney Mountain Lookout (original lookout)
Zoom of Maloney Ridge site with the cliffs and towers
View of Maloney Ridge Lookout from city of Skykomish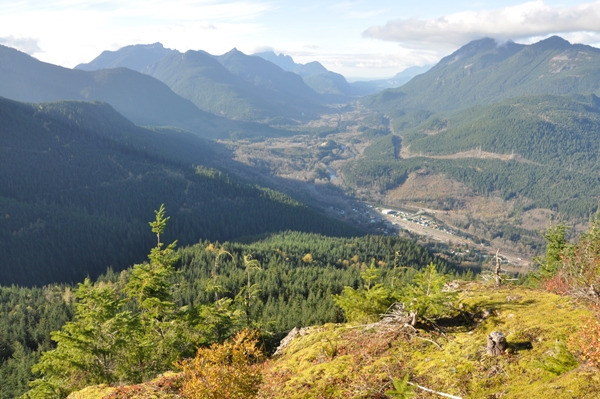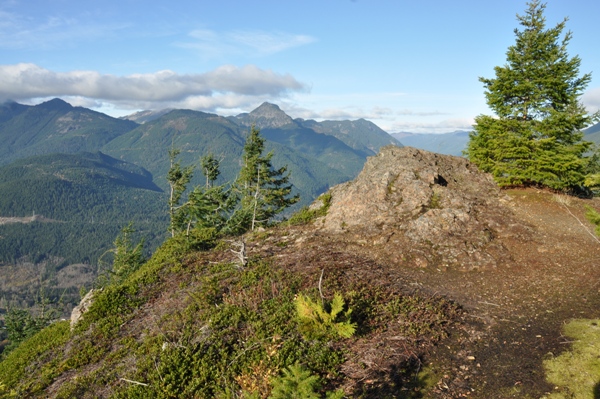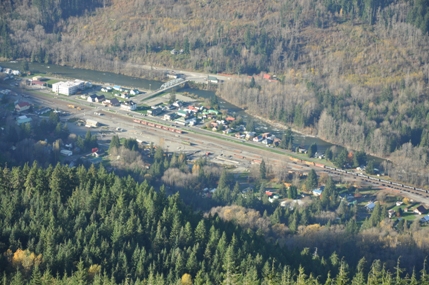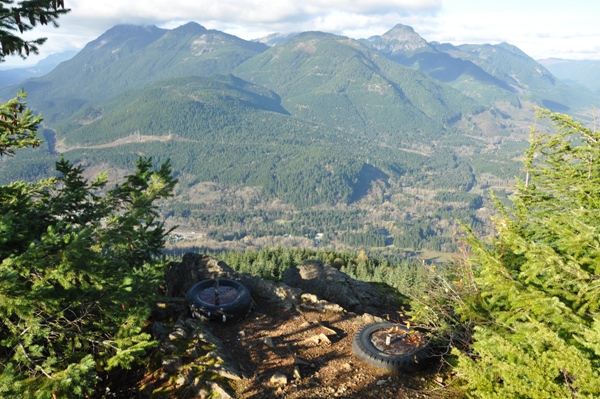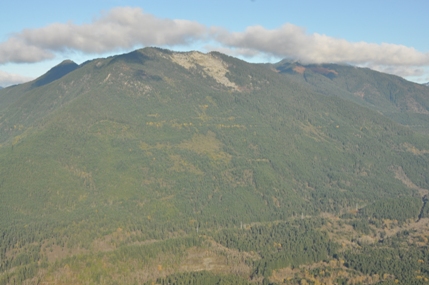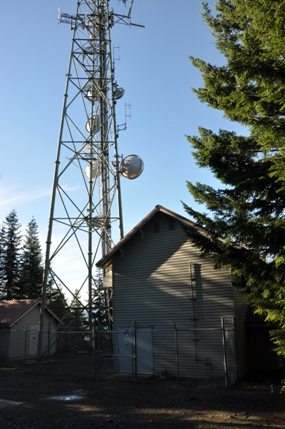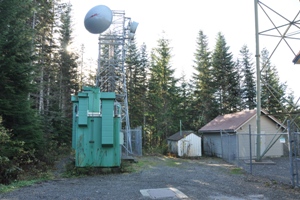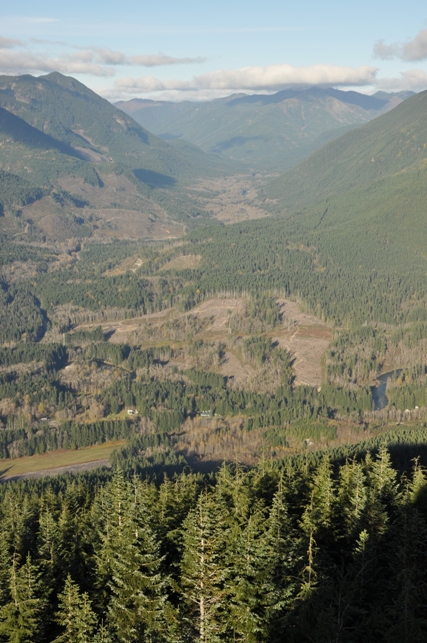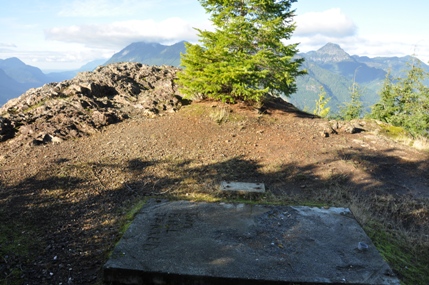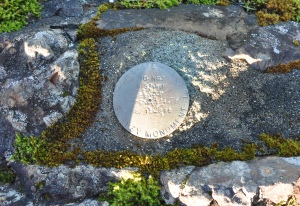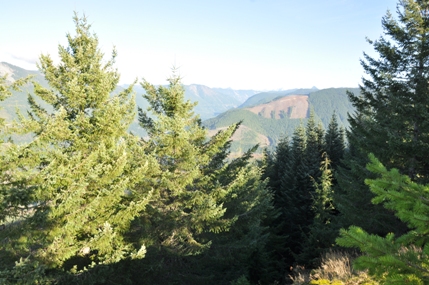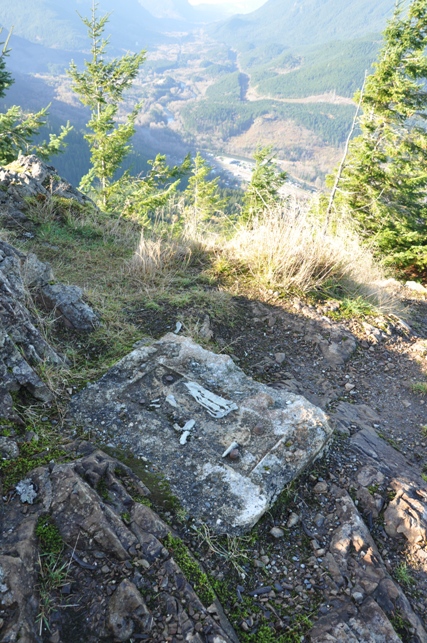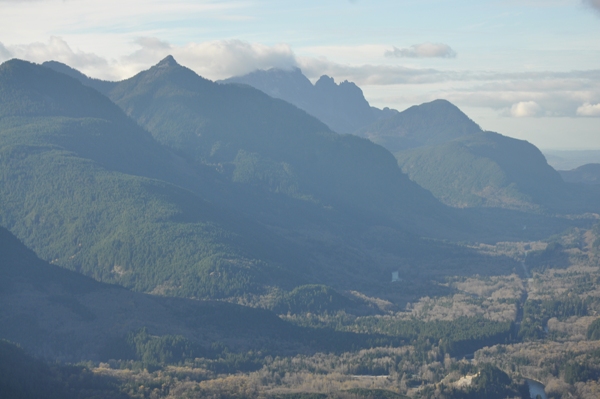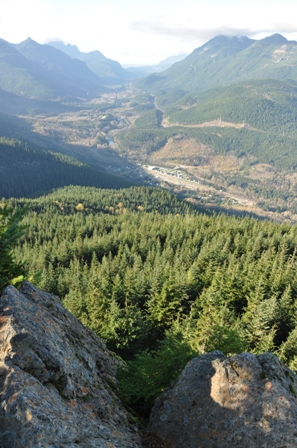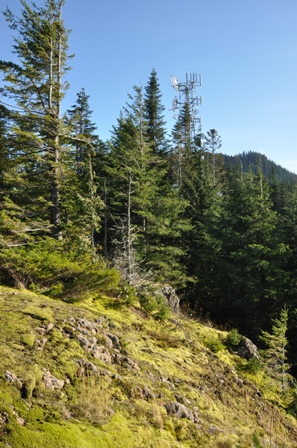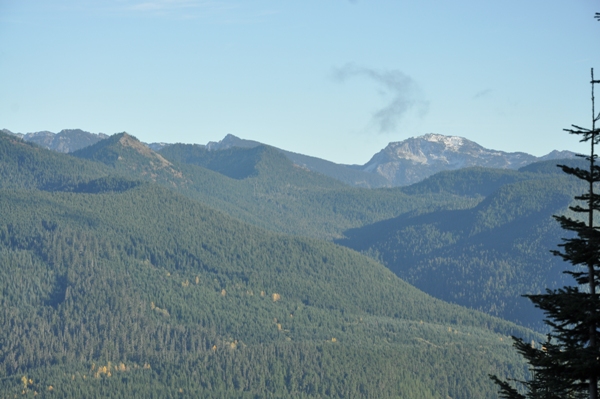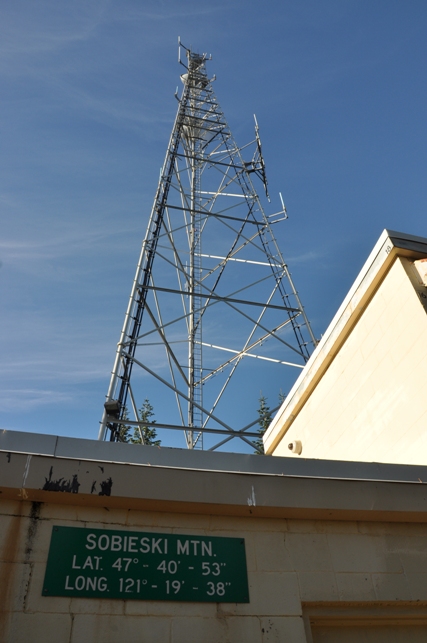 Mac Peak to the southeast
Looking East from a viewing area just north of the communication tower
King County Facility on Sobieski Mountain
Highway Department Survey Marker
Walk along the fence on the right side
Maloney com site
Old concrete footing
Looking down the Skykomish River Valley
Looking north to Baring, Grotto, Townsend, Flapjack Point, Eagle Rock
West to Mt. Index
Looking back at the com site
Beckler River Valley
Skykomish
Beckler Peak
View east
Old foundation for something else
Skykomish River Valley