Wellpinit Mountain Lookout
Elevation: 3,463 feet
Distance: Drive-up
Access: Dirt road in fair condition for most vehicles
Wellpinit Mountain is located on the Spokane Reservation, with nearly 1,000 feet of prominence and most notable for a fire lookout on the summit. It was built in 1964, is 53 feet high made of steel with a live-in cab on top. It replaced the Spokane Mountain Lookout 4 miles to the north and is still staffed each summer. A few years before it being built the area director suggested the lookout was being considered for Spokane Butte (Mountain) but requested the Colville Agency for advice on final destination. They responded that Wellpinit Mountain could get better lookout coverage of the Reservation and it had electric service. So the cupola site on Spokane was abandoned. Wellpinit is translated "Where the Water Comes From". Indeed, today's geologic studies show that a large amount of water in the granite flows from Wellpinit Mountain to the Spokane River.
Washington Fire Lookouts
From Wellpinit, go south to Elijah Road. Use map below or a gps to find the road leaving the pavement. There is a house mailbox at the road start. You will see a house on the right but the Wellpinit Mountain Road quickly goes left (west). Follow the road to the summit staying on the main line.
Access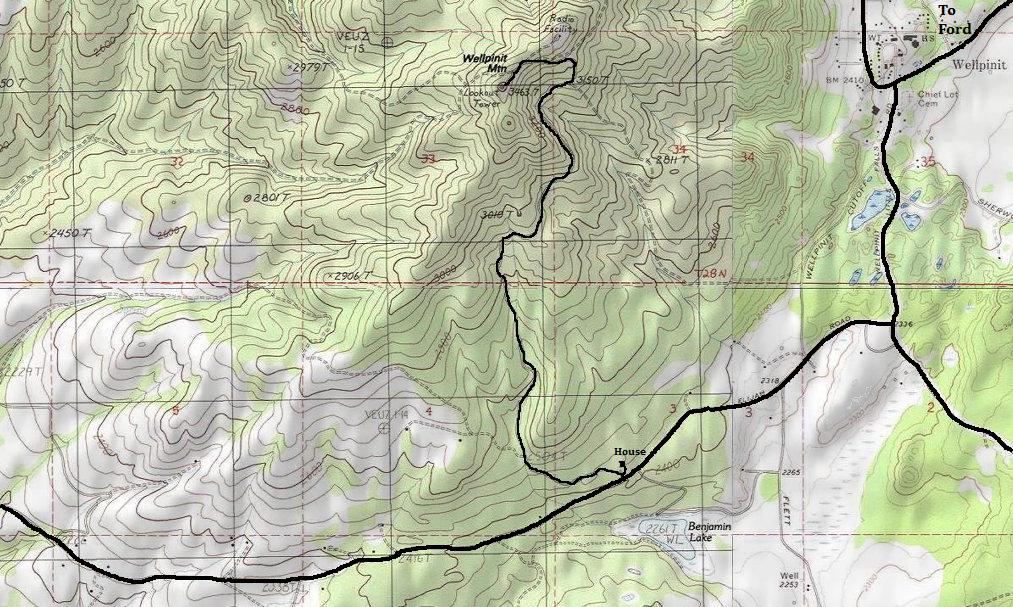 Looking Northeast
Looking Southeast
Looking Northwest
Looking Southwest