Considered one of the best viewpoints in the Southern Washington Cascades, Red Mountain has a long history. On its north slopes was an annual meeting destinations for local Native American tribes on a trade route that crossed the Cascades. It is the location of the Indian Race Track, a 10 foot by 2000 foot horse race track on a mountain meadow. More recently, the summit has been used for fire detection, with a current lookout structure still in place. The 360-degree view overlooks the Indian Heaven Wilderness to the north, Adams to the east, Hood to the south and Mount St. Helens to the west. The lookout is no longer used by the forest service to spot fires but may become a rental lookout in the near future.
Elevation: 4,968 feet
Distance: 3.5 miles
Elevation Gain: 1,700 feet
Access: Paved then Good Gravel for 1.5 miles
Access:
Route
There are two trails to get to the lookout but the easiest is to walk or mountain bike ride the access road. From Highway 14, take the Wind River Highway north from Carson to a right onto the Panther Creek Road. Follow until a right onto Forest Road 60, also known as Carson Guler Road. Follow Forest Road 60 for 1.5 miles to the gated FR6048 on the left. If you hit the PCT trailhead, you went too far. It is paved until the last 1.5 miles which becomes good gravel.
Washington Fire Lookouts
From the gate, just follow the road to the top.
Looking Southwest 1937
Looking North 1937
Red Mountain Lookout
The Lookout History
In 1910, the Forest Supervisor H.O. Stabler stated that Red Mountain was "unquestionably the best lookout point" in the Columbia National Forest (later named Gifford Pinchot National Forest). The 1912 Forest Service map shows the mountain as a lookout. The first structure was reported to be a 8x8 foot cedar frame cab in 1913. It was replaced by a cupola cabin around 1919. In 1935 it was replaced by an L-4 cab and a garage nearby. The garage was converted to living quarters in 1942 when the lookout was used for the Aircraft Warning Service during World War II. In 1959, the present 10 foot treated timber tower with R-6 flat cab was constructed. In December 2006, a winter storm blew the roof off collapsing the cabin walls. Efforts began to restore the lookout by Matt Haldeman, a Vancouver-area custom home builder. Then, a volunteer team of 13 persons from Passport in Time restored the lookout and garage. The lookout is the only fire lookout still standing in Skamania County. Other facilities on the mountain include the Skamania County Sheriff's Department radio communications, so don't expect the gate to ever open.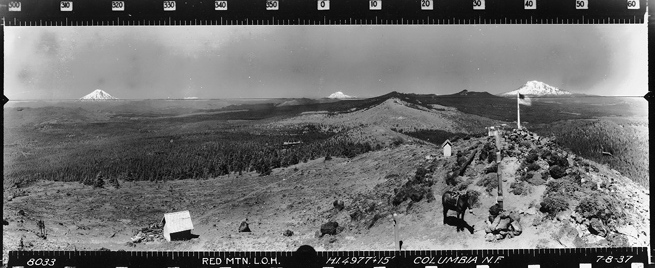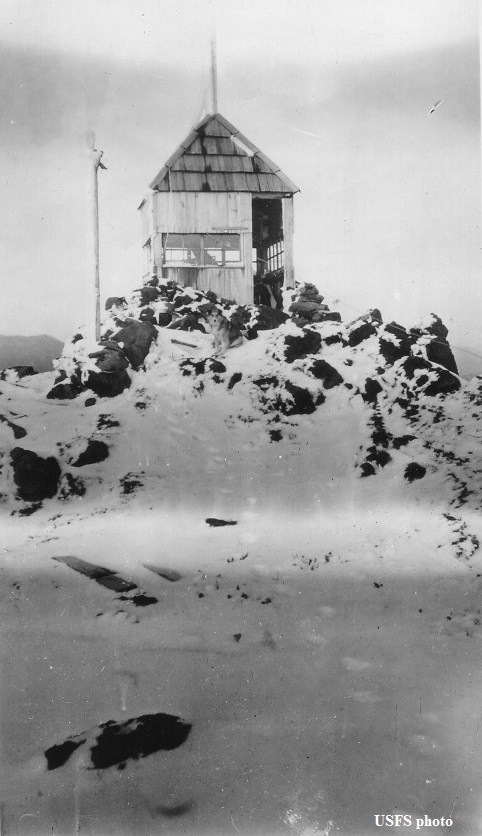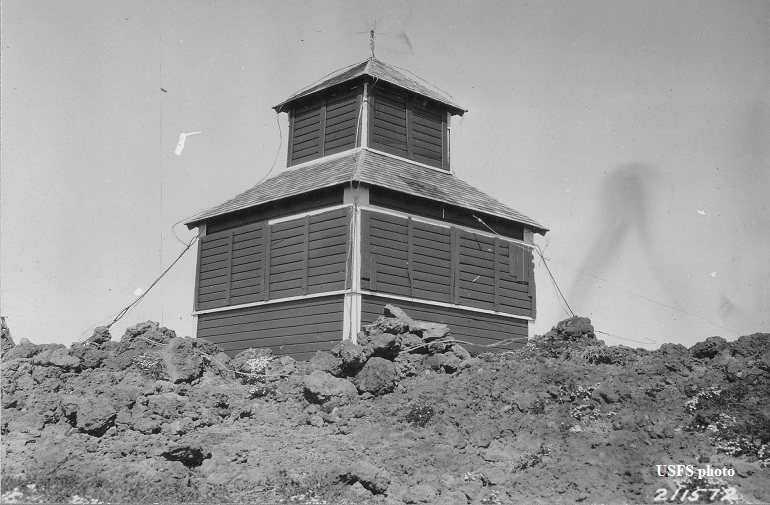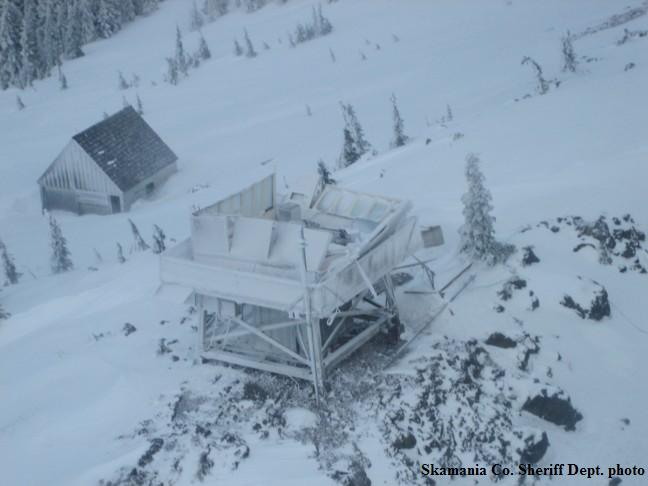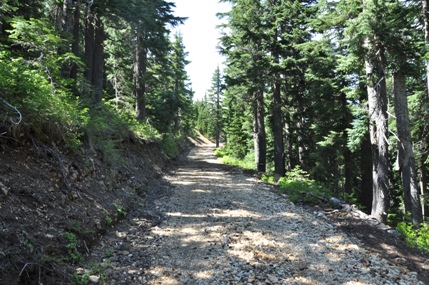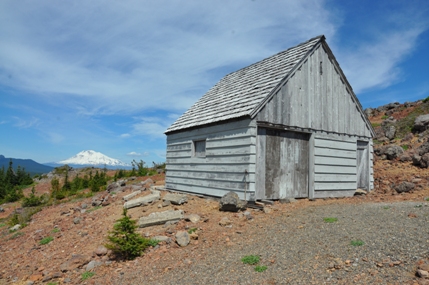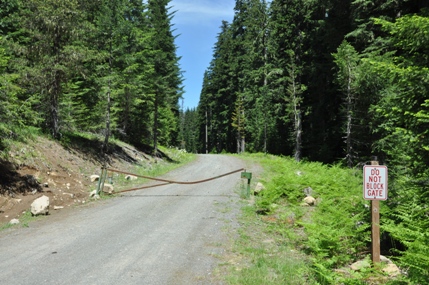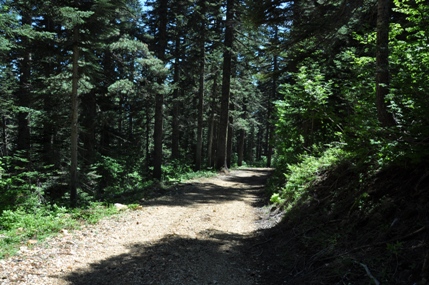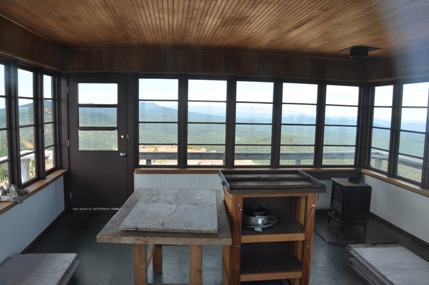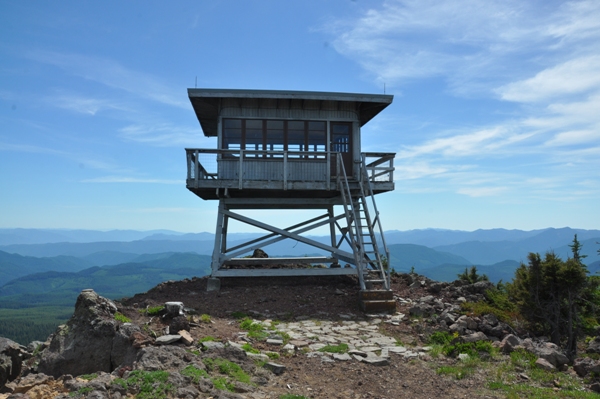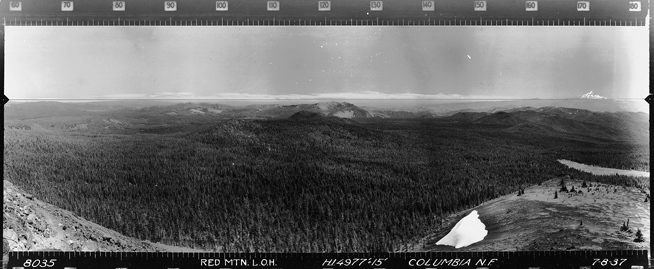 Southwest 2015
Looking Southeast 1937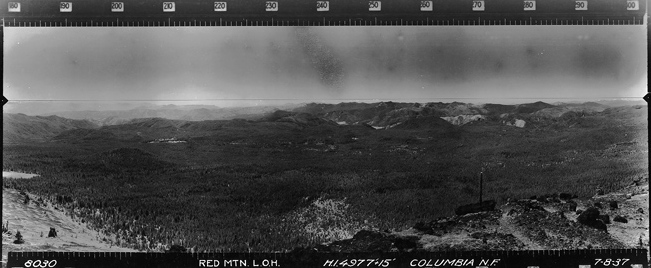 Southeast 2015
North 2015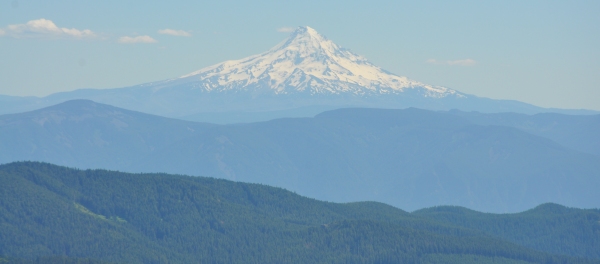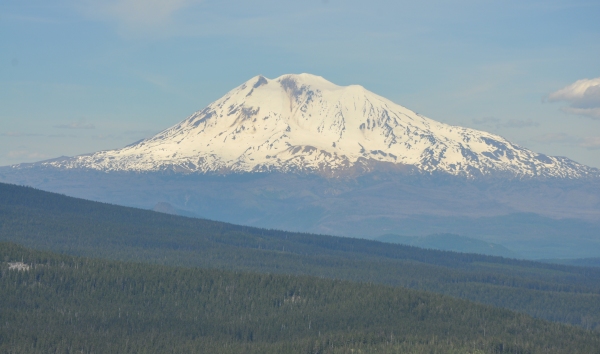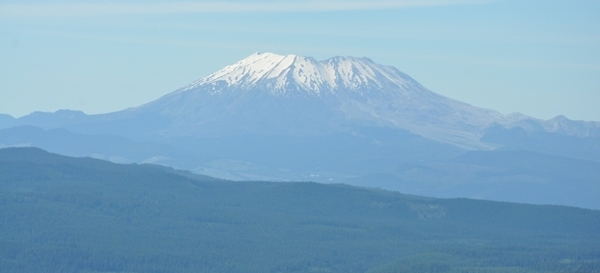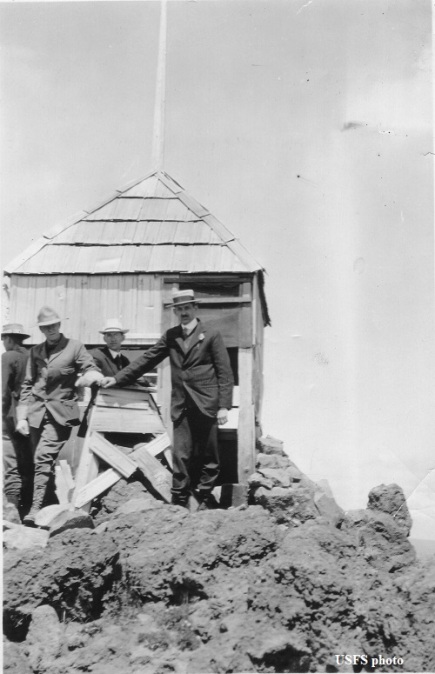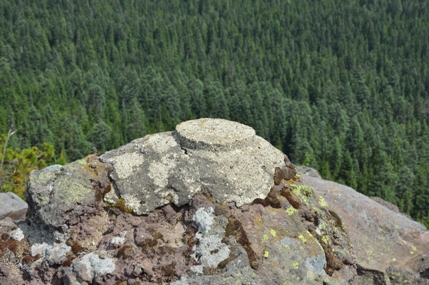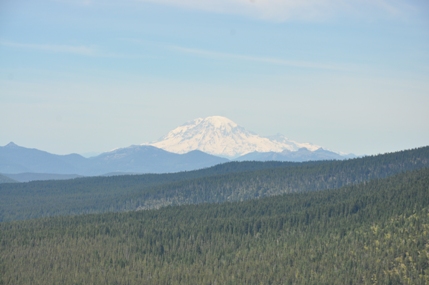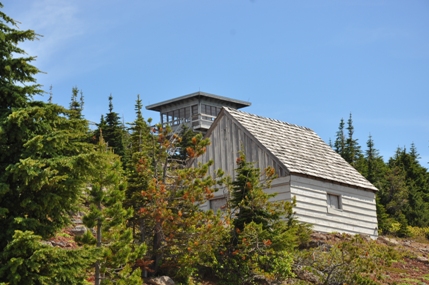 Mount Hood
Inside the lookout
Mount Adams
Mount Saint Helens
Maybe 1910
1912 Columbia National Forest map showing lookout (triangle is a lookout on this map)
Damage from the 2006 storm
1926 image of the cupola cabin (1919-1935)
Mount Rainier
Lookout and shed
Stairs up