Oregon Butte Lookout & Columbia CoHP
The highest peak in southeastern Washington is Oregon Butte. It is the highest point in Columbia County, the site of an active fire lookout and one of the highest prominence points in Washington, with 2,423 feet of rise. The summit is located in the Wenaha-Tucannon Wilderness. Several campsites can be found in route to the summit and many backpacking options are in the area.
Elevation: 6,387 feet
Distance: 3 miles
Elevation Gain: 1000 feet
Access: Good Gravel Road
Washington Lookout Sites
Access
From Dayton, drive south on 4th street which leads across town and into the hills. Because this road it the way to the ski area SKI BLUEWOOD, a very nicely paved road takes you to the National Forest and up to the resort turn-off. Then it continues as nice gravel (FR 64) up to a major T junction. Turn left (onto FR 46) and follow for miles and miles to Godman Guard Station & campground. Use map provided from there....you'll probably want a map even getting to Godman. From Godman, it is 6.3 miles to the TeePee Trailhead.
Lookout History
Built in 1931, this gable-roof L-4 cab is staffed every summer.
Oregon Butte is the highest peak in the southeastern part of Washington State and is the highest peak in the Washington section of the Blue Mountain range.
Route
There are two trails at the Teepee Trailhead. Take the one at the far end of the parking area, should say Oregon Butte or Mt. Misery Trail. The trail ascends through nice shaded forest. At a mile or so, there is a unsigned fork. Both trails lead to the lookout. The right trail has great views climbing to the top of West Butte and then dropping to a saddle. The left trail attempts to traverse below the summit but has enough ups and downs to not make much difference in elevation gain. From the point where the two trails connect, a saddle is crossed then the final uphill climb to the lookout.
To the south are the Wallowa Mountains in Oregon. Left of them are the peaks of the Seven Devils Range in Idaho.
August 14, 1953: "Spike Armstrong has a lookout on Oregon Butte who has made an ingenious pack saddle for his big dog Shadrack. The dog packs water and groceries to the lookout. It works fine until a snowshoe rabbit crosses the trail in front of Shadrack." (Umatilla National Forest News)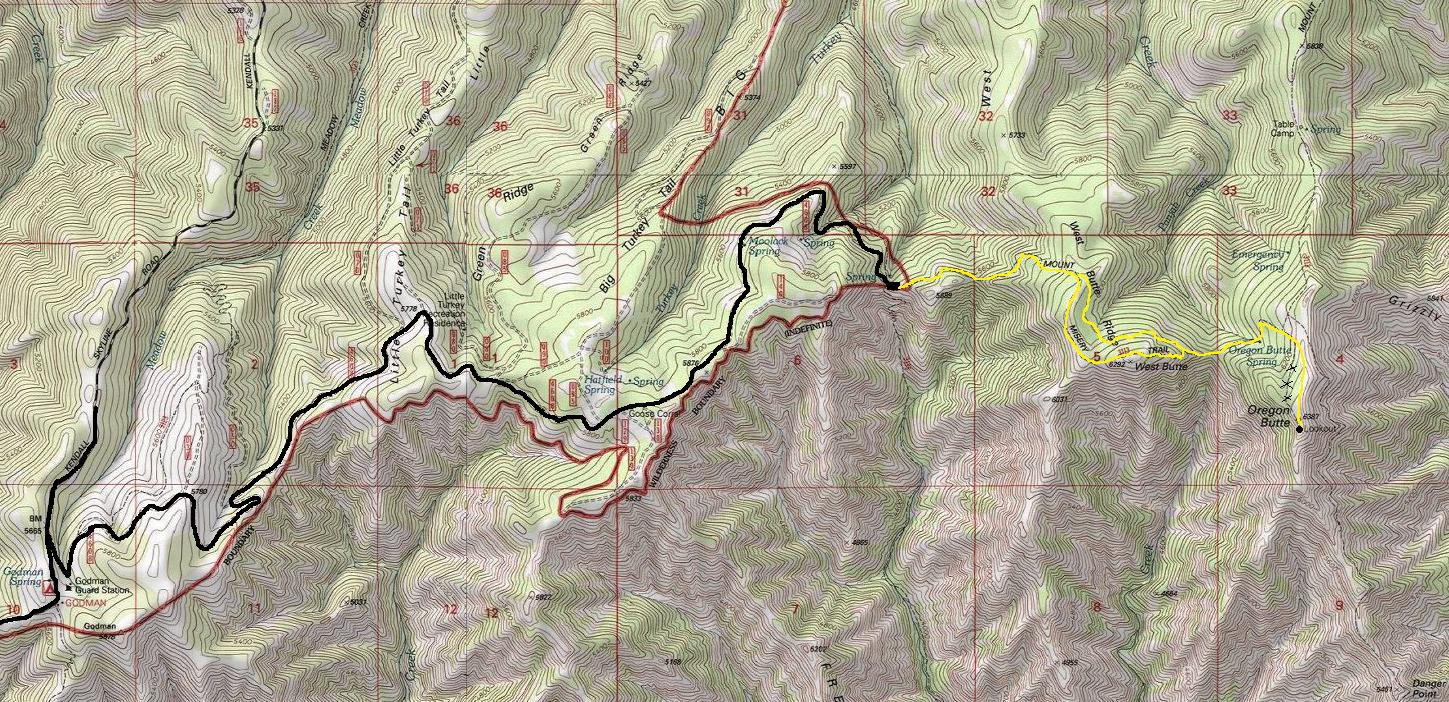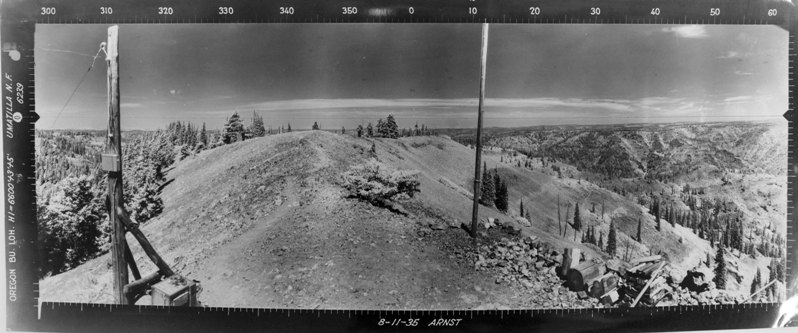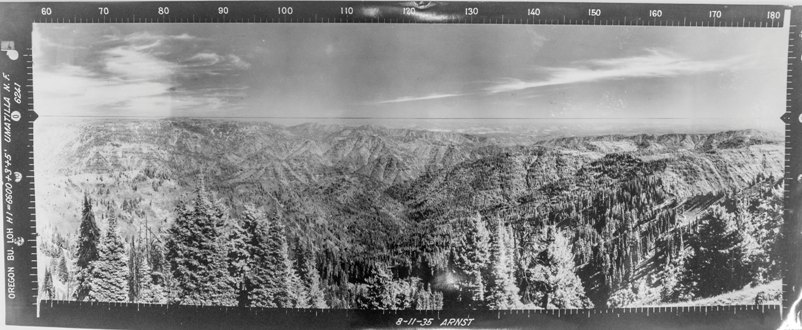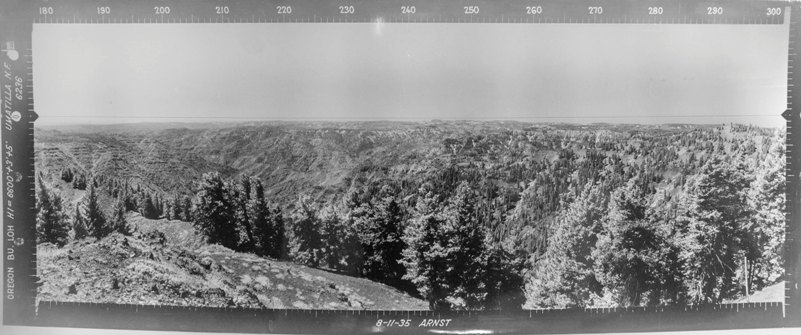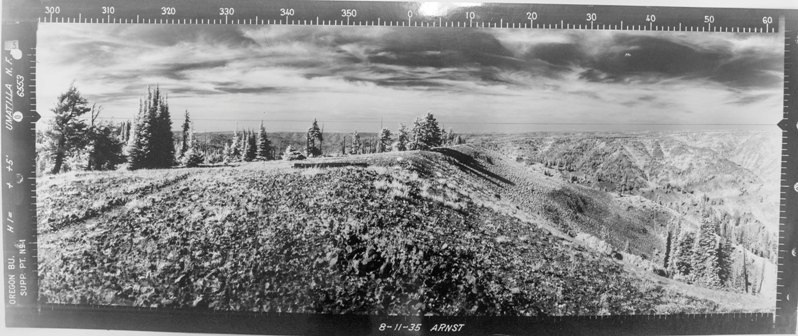 North 8-11-1935 (Supplement #1 from further North on the ridgeline)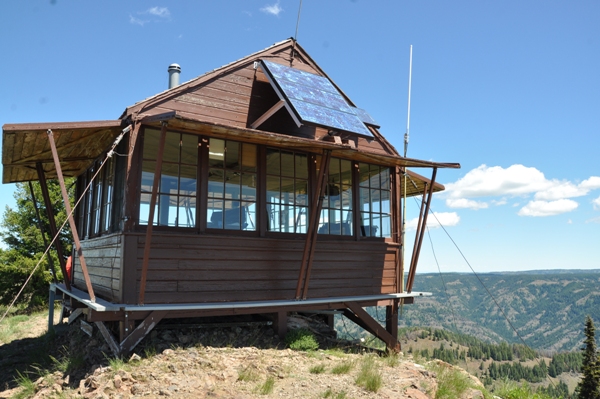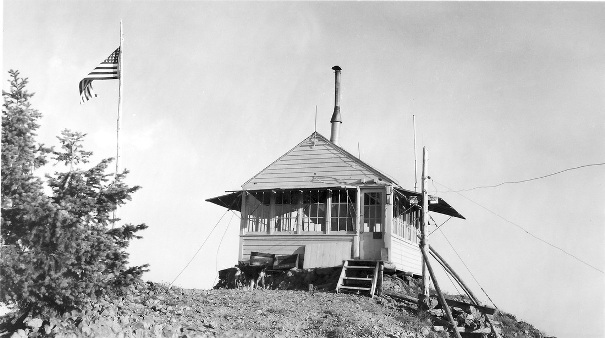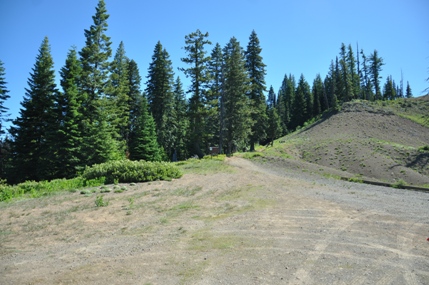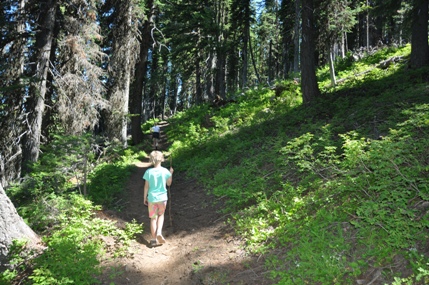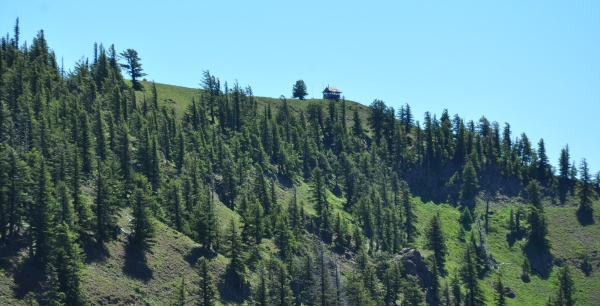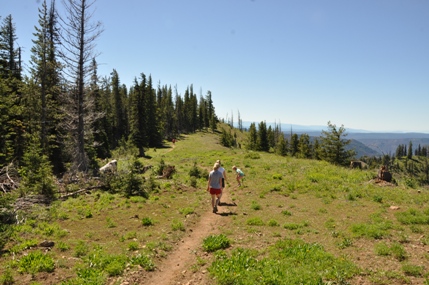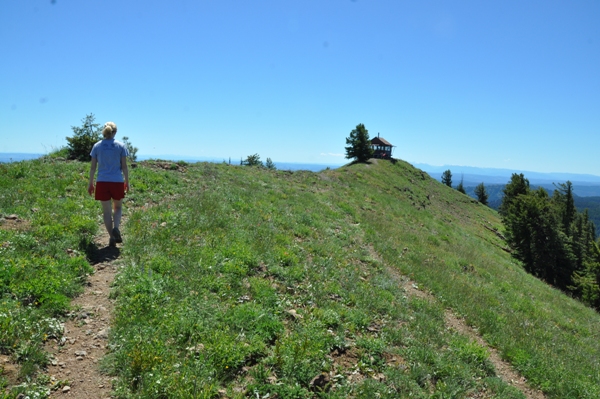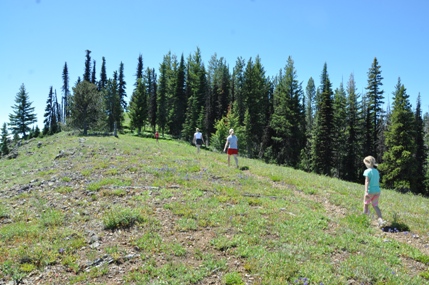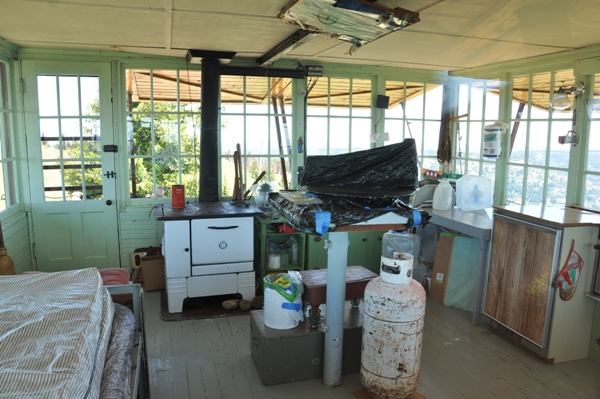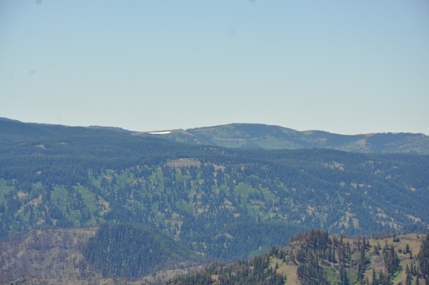 North & East 2016

North 8-11-1935
Southeast 8-11-1935
Southwest 8-11-1935
West 2016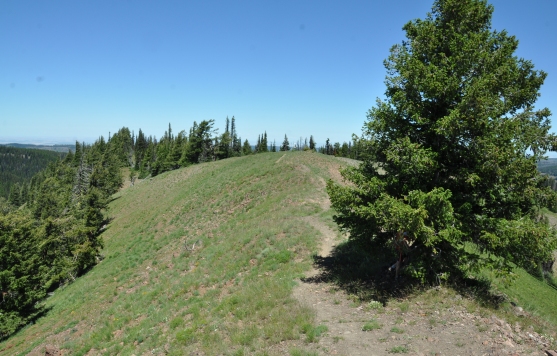 North 2016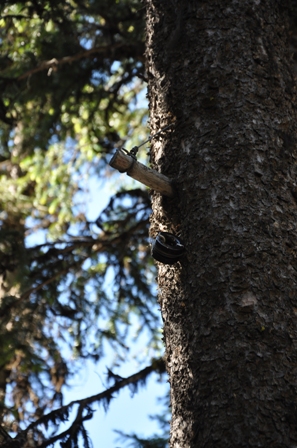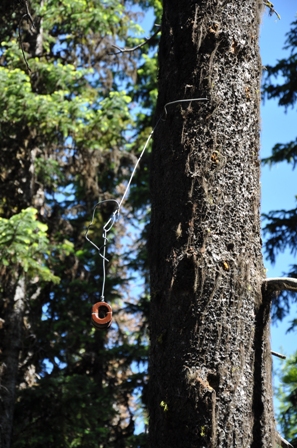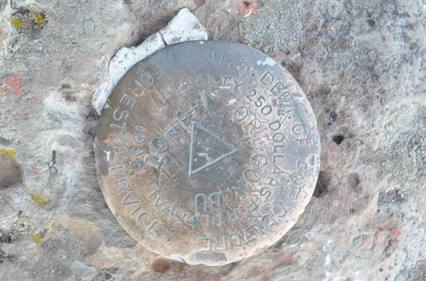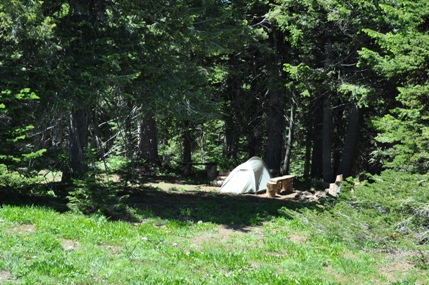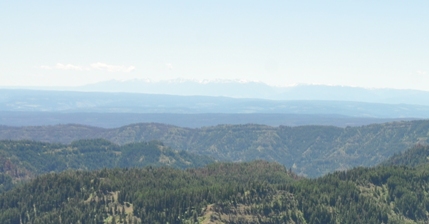 Campsite near the summit
Teepee Trailhead
West Butte
Summit Ridge
Table Mountain
Oregon Butte Benchmark
Entire route had phone insulators along the way
Inside the active lookout
Oregon Butte Lookout
Approaching Oregon Butte Lookout
First view of the lookout