Leecher Mountain Lookout
Elevation: 5,020 feet
Distance: Drive-up
Access: Good gravel, minor ruts
Leecher Mountain is south of Highway 20, wedged between the Methow Valley and the Okanogan Valley. The mountain has over 1,600 feet of prominence making for extremely good distant views. Because of this, Leecher has had many fire lookout structures on the summit. The first was a crows nest in a tree located 1000 feet south of the present tower. Built before 1918, after nearly 100 years, the tree still stands today, even surviving a forest fire in 2014 that burned neighbor trees and the old campsite below the tree.

In 1921 & 1922 the Coast Culvert & Flume of Portland built a 45 foot steel lookout tower with a 6x6 foot cage on top. A 18x22 foot log cabin was built by them as well for the forest service, with the help of rangers Pierpont and Price. Around 1930 an automobile road was built to the summit. Before that was the "telephone trail" from Benson Creek. In 1936 a ground-mounted L-4 cab for living quarters was built.

In 1954 the steel tower was moved to the North Cascades Smokejumper Base for a jump training loft. The L-4 cabin was moved to Slate Peak Lookout. So in 54, both of these were replaced by a 40 foot treated timber tower with L-4 cab. The cab came from Chiliwist Butte Lookout. This is the current lookout tower on the summit today, which was restored in 2009 and is still staffed during the summer.
Washington Lookout Sites
Access
From Twisp go east on Highway 20 for 2 miles, then turn south on Highway 153. Continue south on Highway 153 for 3.1 miles and then turn left on Benson Creek Drive (FR 4150). Follow for 9.8 miles to the junction with French Creek Road. Turn right, and keep right at the fork at 0.6 miles. Follow French Creek Road for 4.7 miles to the summit or park at the gate if it is closed.

From Brewster, take 7th St. North a few blocks, then turn left on Paradise Hill Road. The pavement ends at 4 miles at a Y with Rat Lake Road. Go left, follow to a Y where the right turn has No Trespass signs. Use map. A bit further around the bend is a road to the left with a gate (hopefully open). Turn left and follow as the map below shows up to the summit.
Looking north 1930 Below 2015
Looking Southwest 1930 Below 2015
Looking Southeast 1930 Below 2015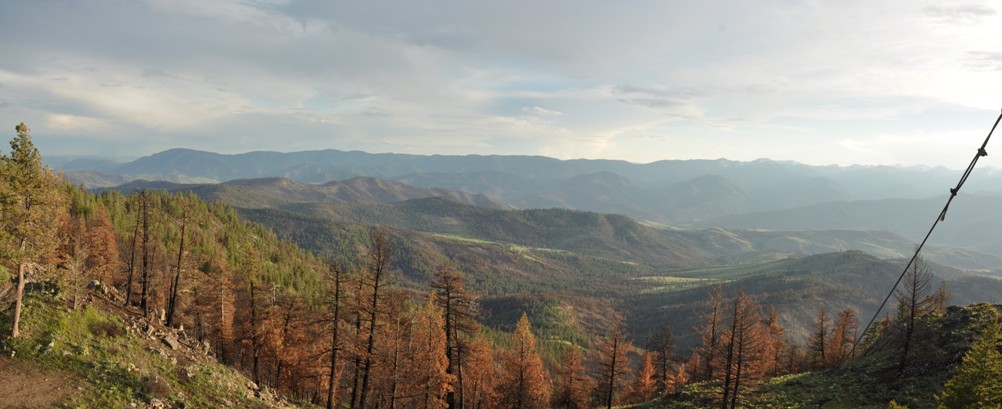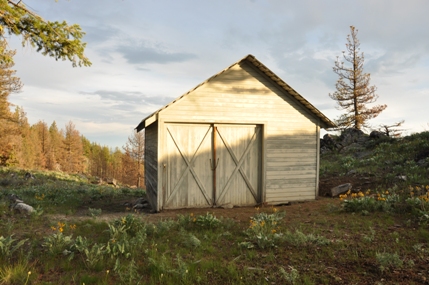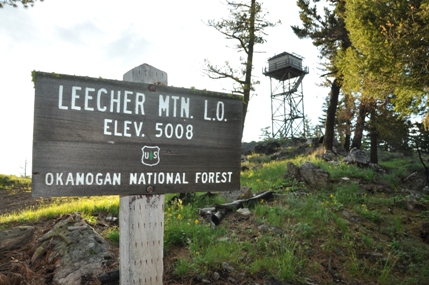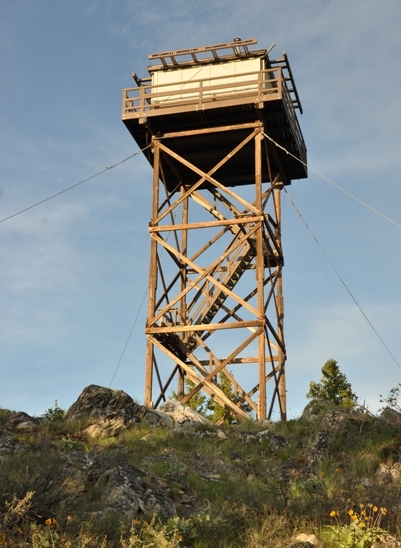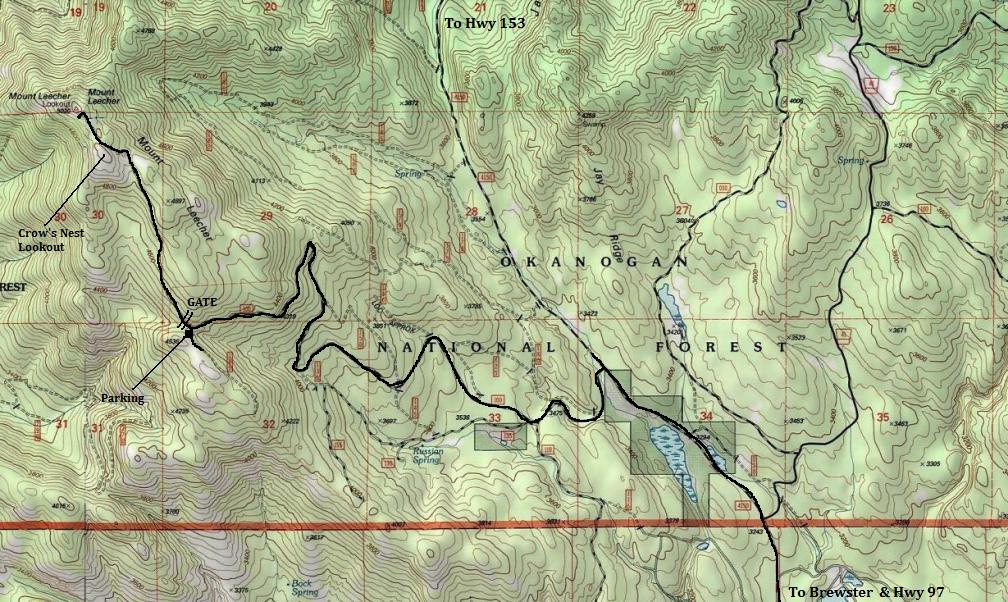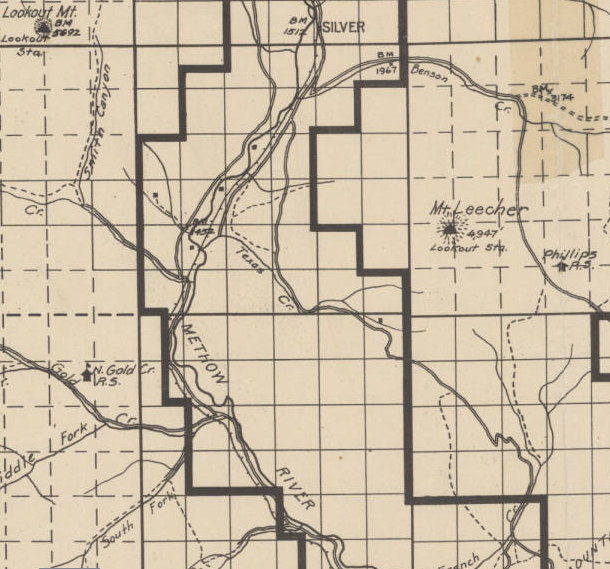 Leecher on a 1918 map
Current lookout on Leecher Mountain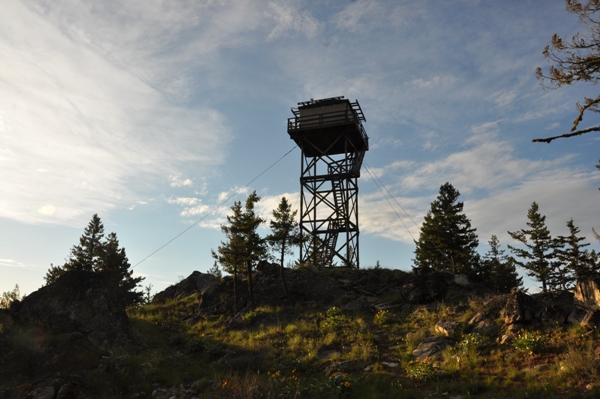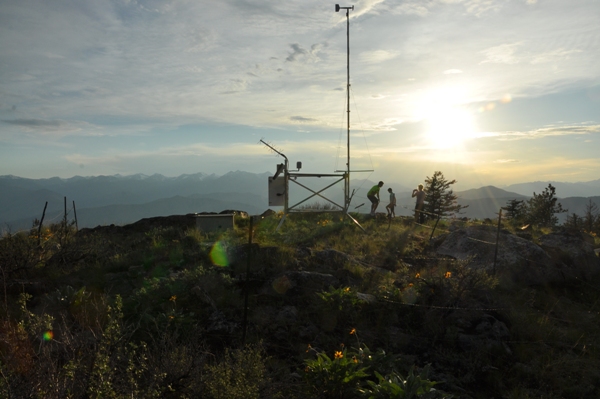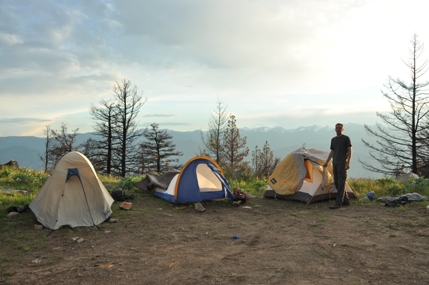 Garage on the summit
Camping on the summit
Leecher weather station
Leecher Crows Nest Tree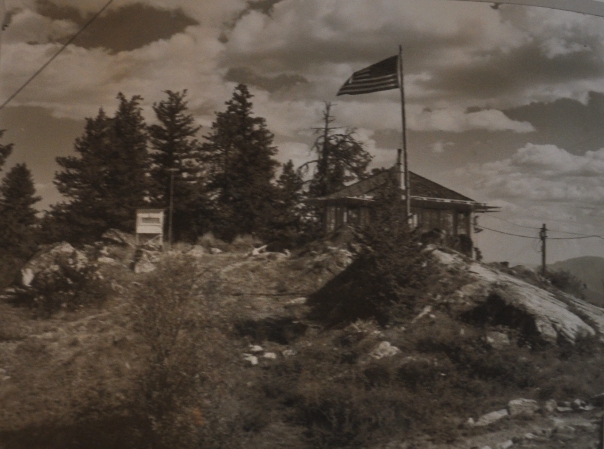 Leecher Mountain Lookout & weather station 1951
Steel tower lookout
Crows nest platform
Crows Nest Tree 2015
Crows Nest Tree years ago
Fire in 2014 took out neighboring trees
Many rock structures below the tree like the one on the left and below