Jumpoff Lookout and Peak
Elevation: Lookout at 5,670 feet, highpoint at 5,760+
Distance: Drive-up or hike
Access: High Clearance to drive up
Divide Ridge stretches for miles south of Rimrock Lake and the Tieton Basin. Located at Jumpoff Point on the divide, at the north end is the former lookout called Jumpoff, the last remaining lookout in the Naches Ranger District. The Jumpoff Lookout is at a point with sheer cliffs to the north, east and west.
Washington Fire Lookouts
Take Forest Road #1302 from Windy Point off of U.S. Hwy. 12. This is a 13 mile drive that requires high clearance vehicles according to the Forest Service. There are narrow and rocky sections and snow or trees could block the road in early season.
Road Access
Long before this point was used as a fire lookout, access was good because of a wagon road and the Tieton Cattleman's Association running cattle on it from the town of Tieton pre-1900's. The location was used as a training station because of the road access and earlier snow melt being further east. The first structure developed about 1923 with a D-6 cupola cabin. The current R-6 flat cab replaced it in 1958 or 1961. The lookout has been used sporadically since the 1960's on an emergency basis. The Forest Service also claims a third structure was built at some point, a rock tower lookout that had a view room built over a living quarter. If true, it would likely have been the first structure, dating before the 1923 cupola. A spring is located 100 yards southeast of the present station and the old phone line went directly north down the knife ridge to Jumpoff meadow. A possible explanation the lookout was spared removal is its younger age and that it was the radio relay location for the Tieton Ranger District, assisting even during air patrols. In the 1970's a garage was removed and a newer outhouse replaced the old one. Portions of the old phone line may still be evident above Jumpoff Meadow.
Many without high clearance vehicles like to hike to the lookout. This is done from below on the west side using the Long Lake Road. From Long Lake shelter, there are reported numerous ATV roads, game trails, and bootpaths. Find your way to a steep trail heading up to Louie Way Gap. Then head NE along Divide Ridge until the Jumpoff plateau. From there, its an easy half mile to the lookout. 2,600 ft with ups and downs and 8.7 miles round trip
Hiking Access
History



Northeast 1929
Northeast 2015
Northwest 1929
Northwest 2015
South 1929
South 2015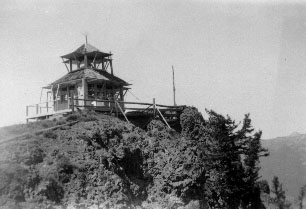 1956 Image of the Cupola Cabin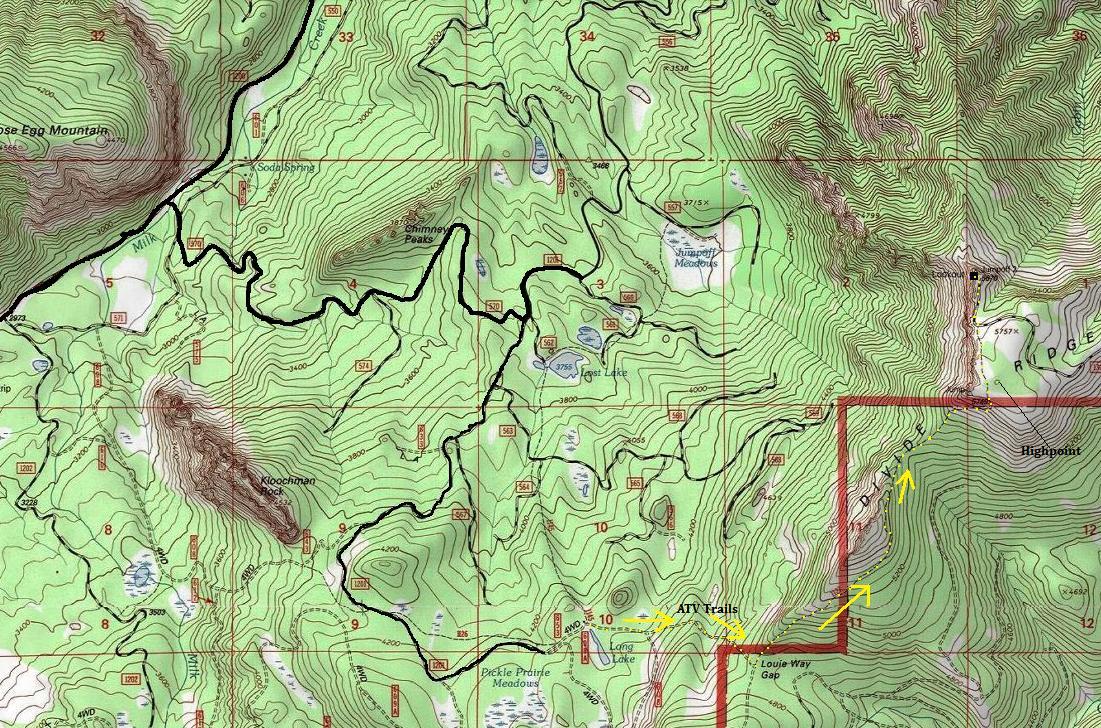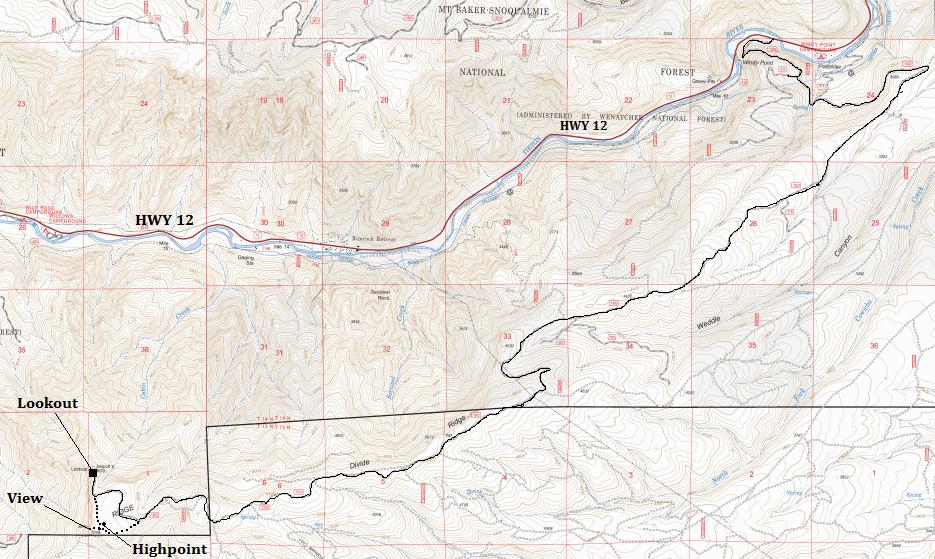 Above: Access map using Forest Road #1302 from Windy Point off of U.S. Hwy. 12. This is a 13 mile drive that requires high clearance vehicles.
Below: Access map using trails from the west in the basin below Divide Ridge.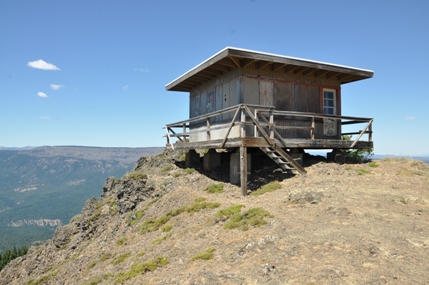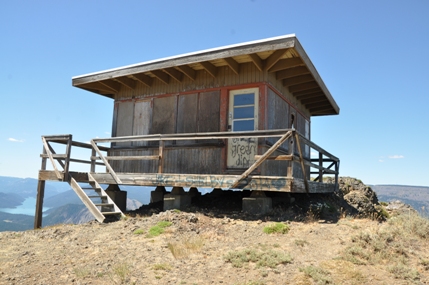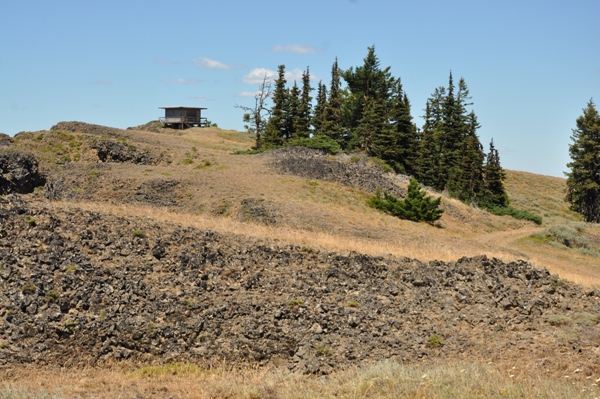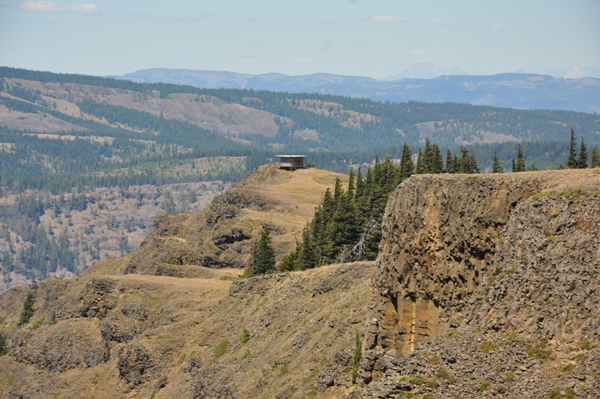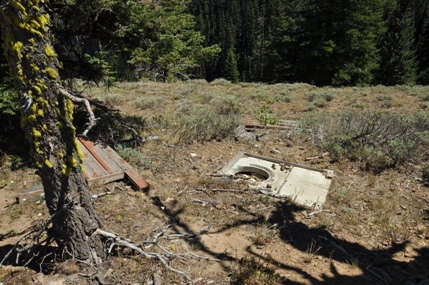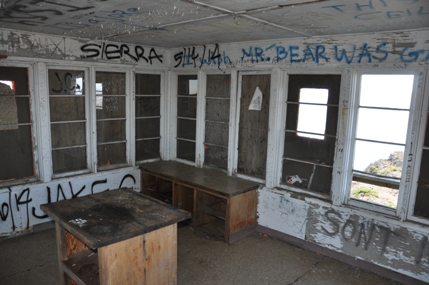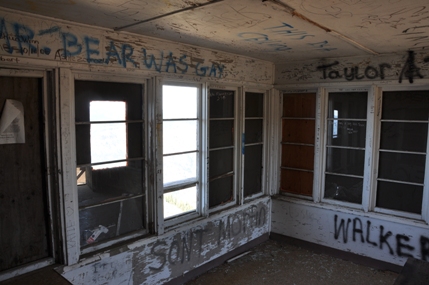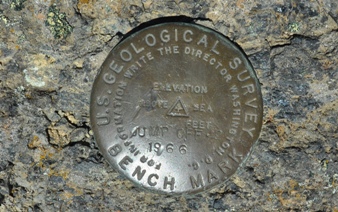 Jump Off 2 Benchmark
Outhouse destroyed
On the road nearing the lookout
The lookout from near the highpoint at the Jump Off Benchmark
Inside the lookout 2015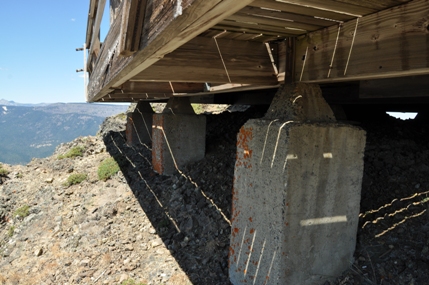 Footings