South Ozette Observation Station - AWS
At the north point of Lake Ozette was the Ozette Coast Guard Station, basecamp for the numerous beach patrol outposts and coastal lookout towers in operation. Further down the lake was the South Ozette AWS station, which was operated by the Army AWS. This 14 x 32 foot cabin built in 1942 was on private land, built with AWS funds on a point on Lake Ozette accessible only by boat. At the end of its short service in 1944, the site was abandoned as the State did not want it. The site was recorded in Section 22, likely the location shown as a shelter on maps in the 1950s (see map below). But the two A.W.S. maps on the right show the location to the east of Boot Bay in Section 14 or 23. Another argument could be made it was not on the lake shore at all. At this time, I am not certain which of 3 locatons is correct.....all in time I guess.
Location: Located in or near Sec 22 T30N R15W
Ownership at time: Private
Elevation: Unknown
Date AWS was activated: Nov. 23, 1942
Aircraft Warning Service - Washington State
AWS map showing South Ozette post
AWS map showing South Ozette station as a year-long station
September 22, 1942
The Ozette observation post will not be manned until we can obtain satisfactory communication to a Filter Board. From this post there are two routes. (1) Following the shore of the lake to the Crooked Creek thence east to hit the dispatch line of the Ozette Logging Company on which it would transmit messages to Forks. This route is not satisfactory since the obvious difficulties of tying in flash messages with the railroad dispatching would make efficient communication uncertain. (2) The other route would follow the shore of the lake to the head of Swan Bay. At this point we hope to intersect your line when it is constructed to that point. The State Division of Forestry has had an old line leading into Ozette Lake and it is my belief that the line west of the Ozette Lake still belongs to the State Division of Forestry. We could, therefore string this line on your poles as far east as the camp. Between that point and Clallam the Bloedel Company has metallicized our line. We do not believe we should tie into this line for here again we encounter the dispatching problem connected with the logging operations. We believe we should build along your poles to connect to the same line as is used by our Neah observation post. It may be that this entire line should be metallicized but that would involve nearly thirty miles of wire and , as you know, that is difficult to obtain and possibly too costly for one observation post. I am getting a report from the field which should give me a clearer picture of the exact line conditions in that area.
November 6, 1942
The latest field report is pessimistic with regard to the time at which the Coast Guard line, now in process of construction from Sekiu to Ozette Lake, will reach Swan Bay. The field men believe it will be between two weeks and thirty days before we can make contact. The post can be occupied on short notice but, of course, occupation would be valueless unless communication was available. The ground line has been constructed from the observation post to the head of Swan Bay. At this point the Division of Forestry has a ground line running west to the head of Ozette Lake terminating at the Coast Guard Post. The field men suggest that we connect our observation post line to this line which will enable us to send a message to the Coast Guard post. If arrangements could be made to have this flash message relayed at this point it would be possible to report planes from Ozette Observation Post when occupied. We would then not have to await the construction from Sekiu to Swan Bay. I tried to call Lieutenant Bilz today but found that he would be out of town until Tuesday. I am not certain whether the Coast Guard will do the relaying but I understand that they have twenty-four hour service there for their own flash reports so that it would seem possible to have them do it. This information may enable you to confer with the Fighter Command to see whether they want the post occupied earlier than now seems possible.
February 4, 1944
South Ozette is now connected by radio to the Port Angeles network terminating at the National Park headquarters. We prefer to continue alerting this post via the Coast Guard at South Ozette instead of by radio. In this case radio will be considered as an alternate means of communication.
March 12, 1943
The Ozette post still reports through the Coast Guard stationed at the head of Ozette Lake. We have sent materials out for a metallic circuit line along the Ozette-Sekiu road to be hung on the new Coast Guard poles with the Coast Guard furnishing labor.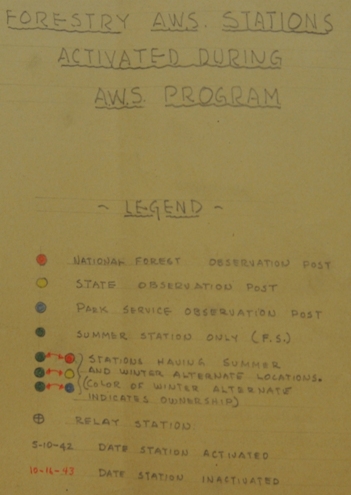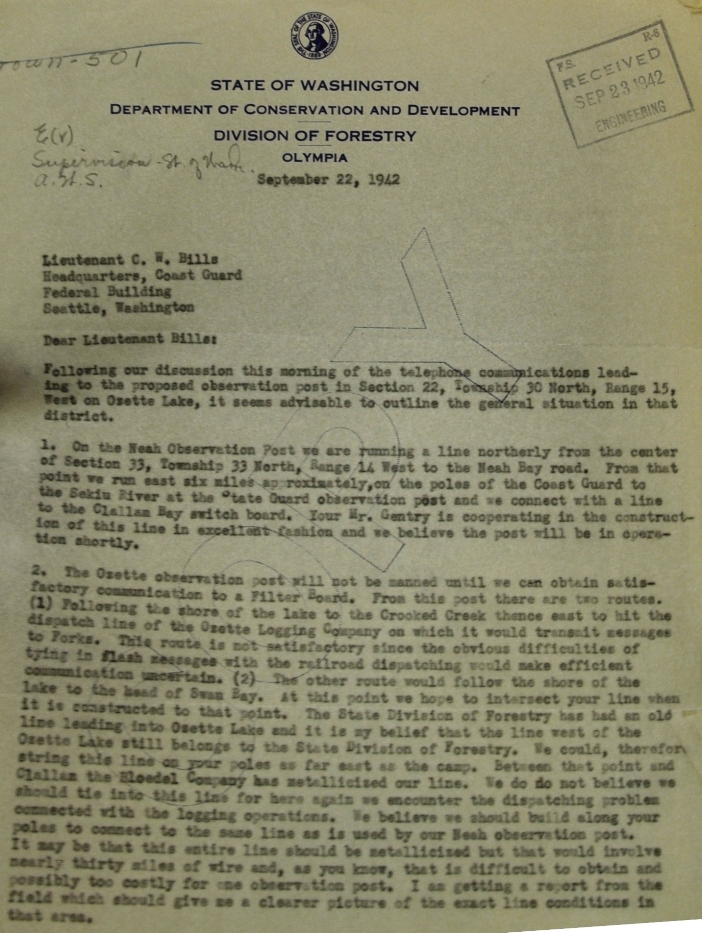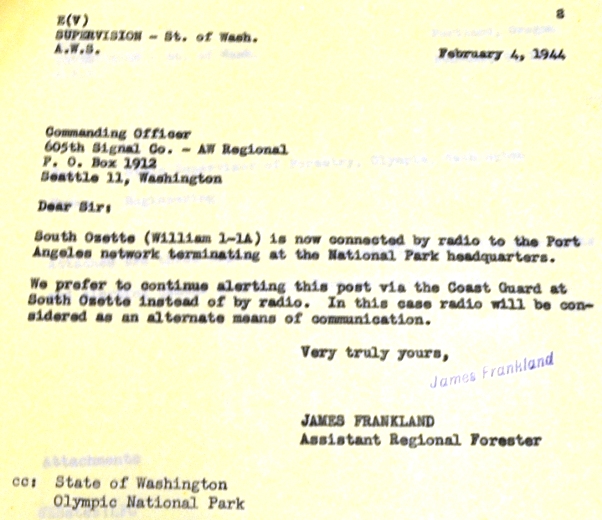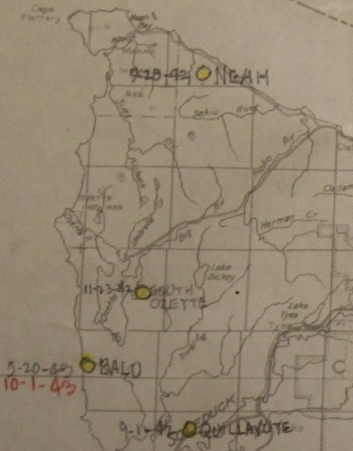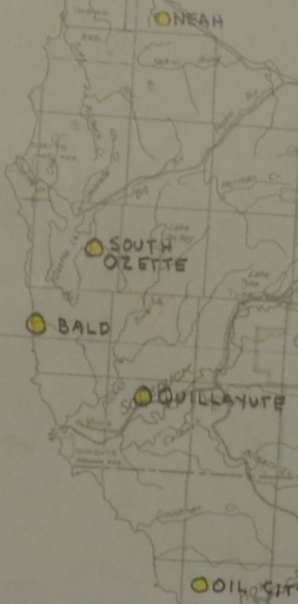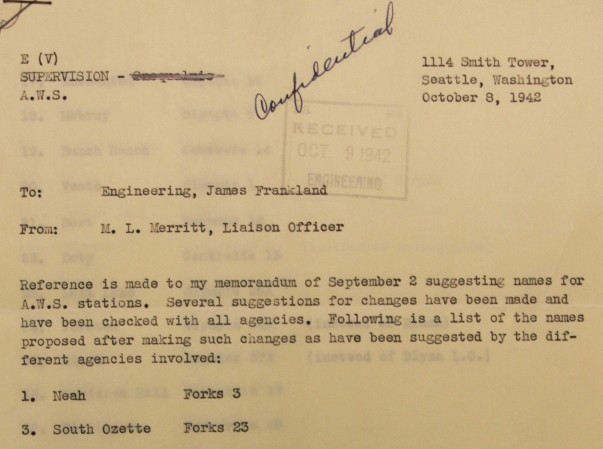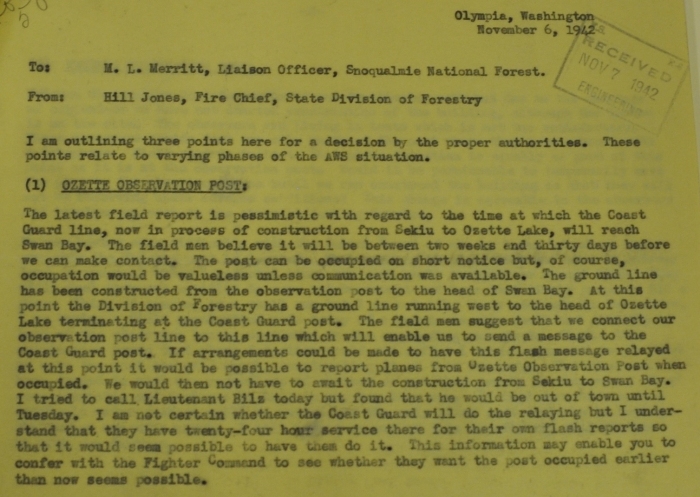 March 12, 1943
February 4, 1944
November 6, 1942
Unknown date
October 8, 1942
Above: September 22, 1942 Below: May 1, 1944
Another inventory list but this one shows the Section, Township and Range
Showing a shelter in section 22 on a point on Lake Ozette. 1956 USGS Map - 1971 Edition
The Observation Post List gave the NE1/4 of the SW1/4 of Section 22. The lists had some location errors usually when different locations were debated.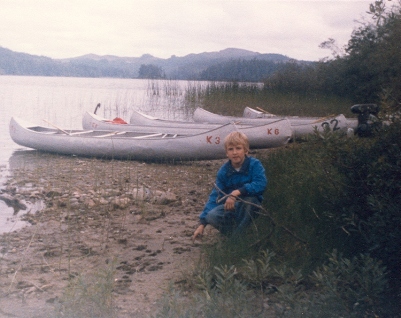 This is me at Lake Ozette, age 11 with Tivoli Island in distance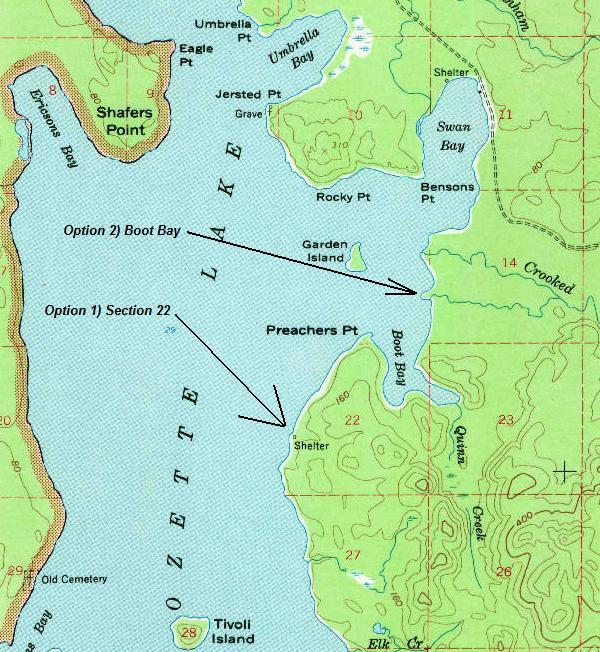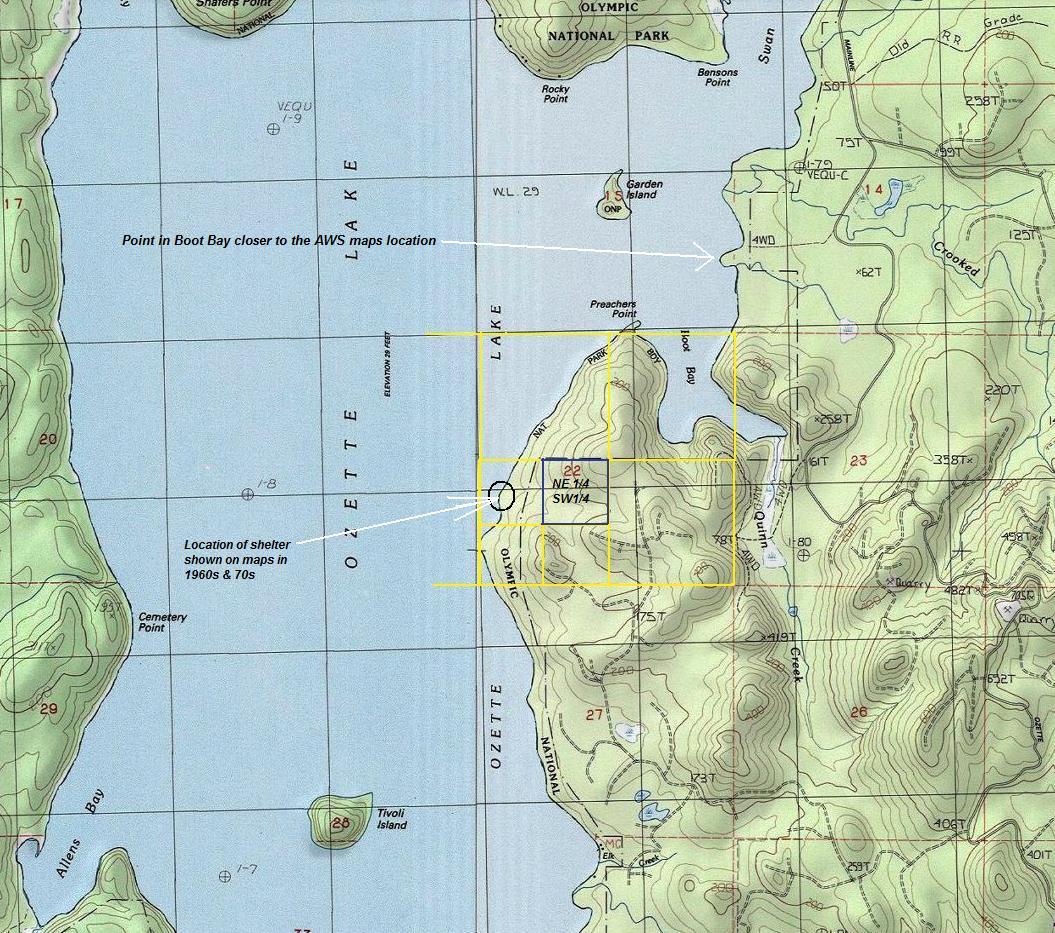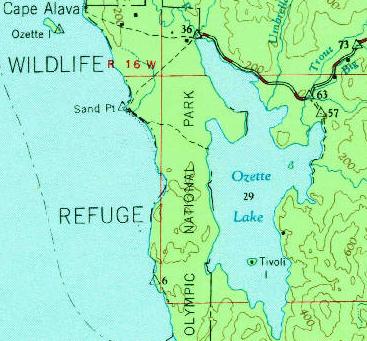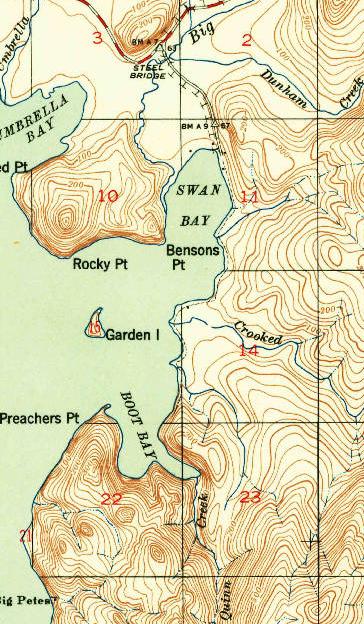 This 1935 map was mostly likely used for finding the STR in 1941. I have shown the section 22 quarter-quarter. This 10 acres (NE of the SW) shows a distinguished knob not matching on topo maps today. In some ways, this site is reached by boat, and is at a point on Lake Ozette.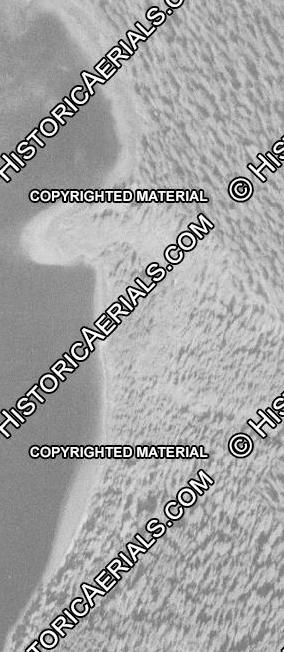 1968 edition of the 1953 map, old trail/road shown to point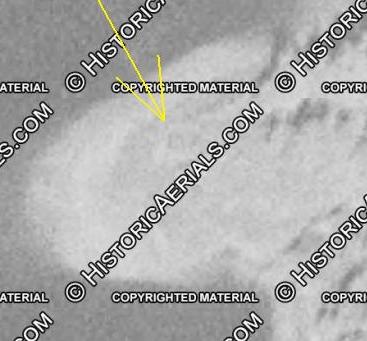 The point on Boot Bay in 1952 with what looks like a possible man made object.
The point on Boot Bay in 1952. This point would offer excellent views for observation.
1942 map showing a trail to the point at Boot Bay