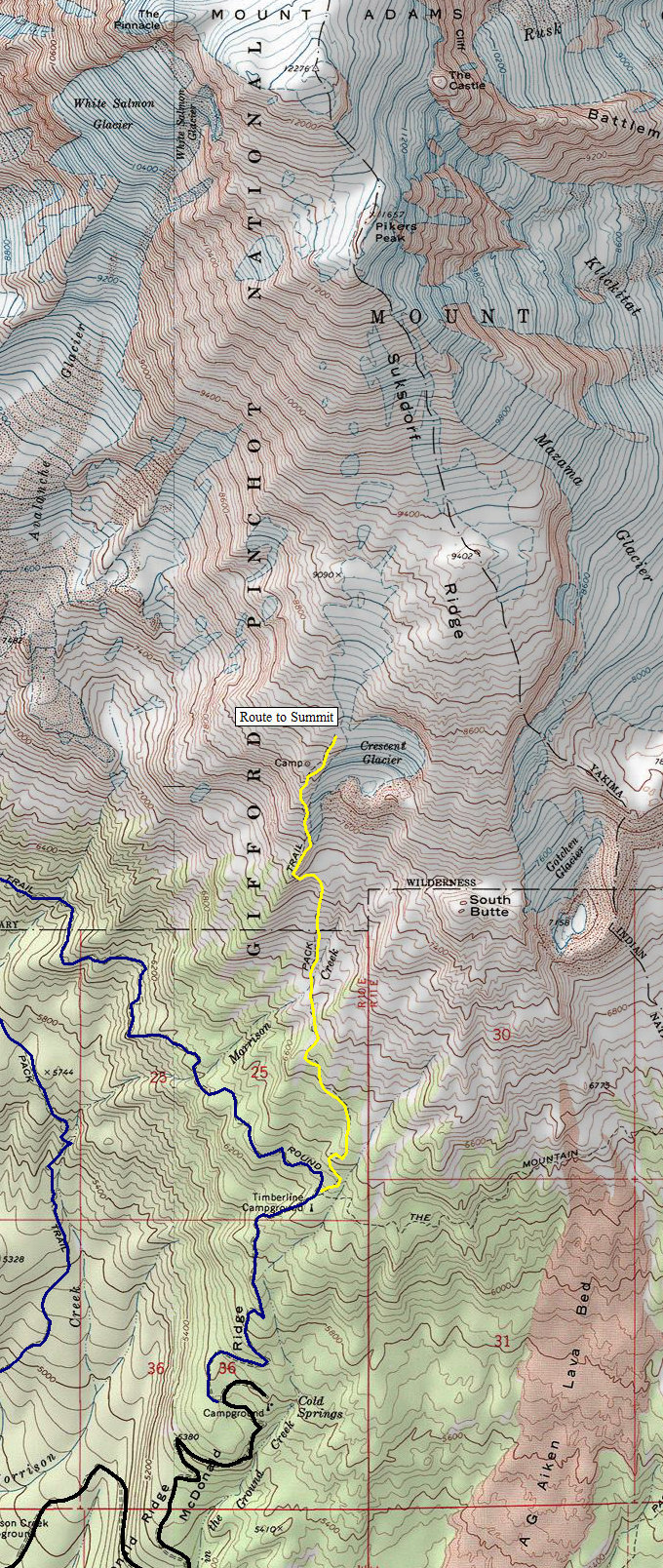 Mt. Adams
Mt. St. Hellens
Lone Climber
Camping at the Lunch Counter
False summit from the Lunch Counter
Dozer on the summit getting some attention
On the summit, looking toward the building in distance
The true summit from the false summit at 11,657 (different trip than picture above)
The final hike up to the summit
Looking back at Pikers Peak (false summit)
The true summit from false summit area
Distance: 5.7 miles (South Spur)
Elevation Gain: 6,650 feet
Summit Elevation: 12,276 feet
Access rating: Level 2
Washington's second tallest but largest mountain is Mt. Adams. Unlike Rainier, Adams South Spur climb is a good beginner's climb with no real skills needed. Although I would recommend an ice ace and crampons, it is possible to climb to the summit in summer without them.
Coming from Hood River Oregon, cross over the Columbia River and go west. Turn north on SR-141, going north on the Mount Adams Recreation Road (SR -17). Branch off on to FR-80, FR-8040 and then FR-8040500 following signs for the "South Climb".
Coming from Randle (west of town), take highway 25 south over the bridge. A short distance beyond the bridge, Highway 23 branches to the left. Both turns should have large signs. Follow Highway 23 and signs toward Trout Lake. There will be a section of gravel road. Somewhere before Trout Lake is a sharp turn back north onto FR-80. Follow signs for the "South Climb" using FR-8040 and then FR-8040500.
The route starts with a nice trail up an old road to tree line. From there, a trail continues up to snowfields where you choose your own adventure. Most will follow the tracks of others, few ever get lost. The snowfields aren't too steep; usually the snow is quite soft. At 9,000 feet is the lunch counter, a good campsite. From this point, you'll be looking up to the false summit at 11,500 feet. In spring, the slope is fully snow covered but by late summer rocks protrude in places. I've even seen some in tennis shoes rock hopping the left side, but most prefer the snow. This area is also a 2,000 foot butt slide coming down. Usually several large trenches form from climbers doing this. Just before the false summit, you'll hit the steepest part of the climb. I have used crampons here once in early spring.

At the false summit, most put on another layer of clothing as the wind kicks up from the west. From there, it's an easy stroll on snow or trail over to the final 676 foot climb. A trail goes up this section in late summer. On top, there is an old 2 story building from the days when they mined sulfur from the crater! It's an airplane type view; you'll be pointing out the big ones like Rainier, Hood, St. Helens and Jefferson. The climb is a long day trip or an enjoyable memorable overnight at the lunch counter. Camping at the trailhead campground also seems to help with acclimatization for 1 day climbs.
Route:
Access:
www.WillhiteWeb.com: Hiking, Climbing and Travel