From I-5, take exit 208 getting on Highway 530. Drive 32 miles passing through Arlington and finally reaching Darrington. In town, turn right and follow the Mountain Loop Highway south for about 13 miles. Look for sign "Mt. Pugh Trail" and turn left on road #2095. Continue for 1.5 mile to the trailhead.
Mount Pugh
Distance: 5 miles
Elevation Gain: 5,300 feet
Summit Elevation: 7,201 feet
Access: Good Gravel
WillhiteWeb.com
Route
A great trail to a mountain top that will make you think you needed your climbing gear for this one. Pugh looks very impressive from a distance. The summit once had a fire lookout so considerable effort was made making a decent trail to this difficult summit.
Trail starts out in forest reaching Metan Lake in 1.5 miles. After more switchbacks, at 2 miles, things open a bit for the climb up to Stujack Pass. From the pass, the trail becomes more exposed. Parts of the route were blasted into the rock so if you have height issues, you might reconsider this one. Good conditions and late season with no snow might be a good idea if this kind of hike will be new for you.
Access
Glacier Peak
Trying to cool off
White Chuck Mountain
Dozer on the trail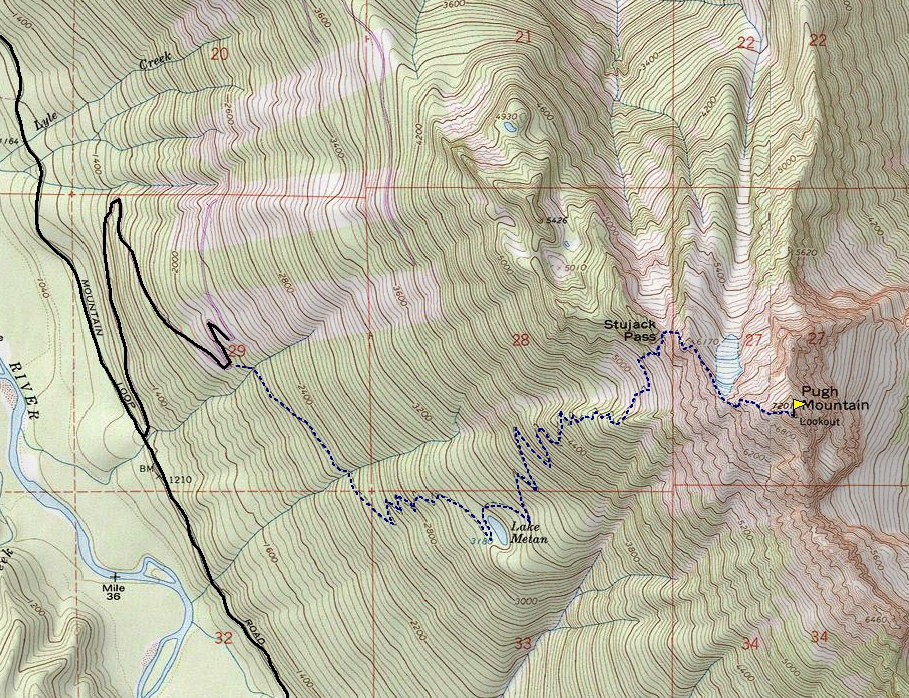 Lake Metan
Forests along the trail
The summit from near Stujack Pass
Dozer waiting for us
Smoke from a forest fire
Route from Stujack Pass in Spring
Route up chute to Stujack Pass in the spring
During a spring attempt
Summit nap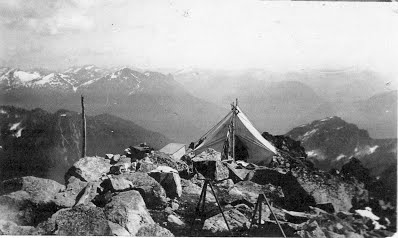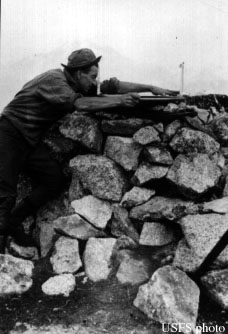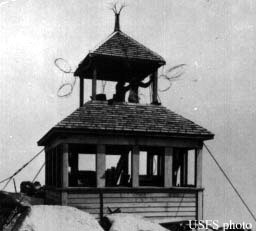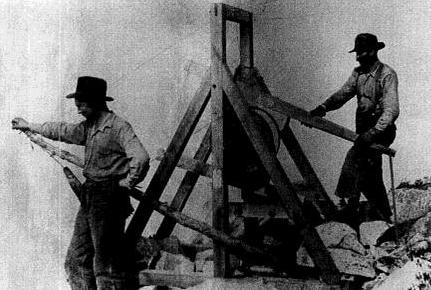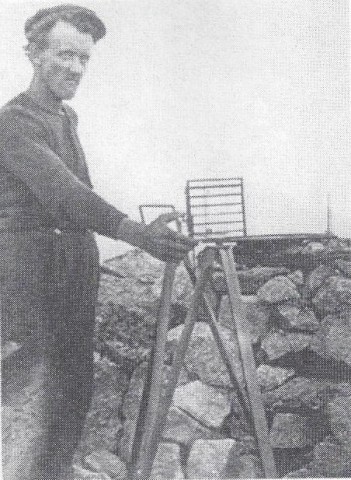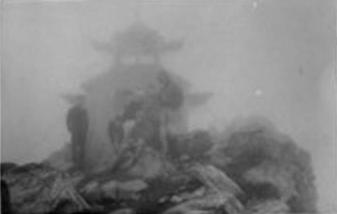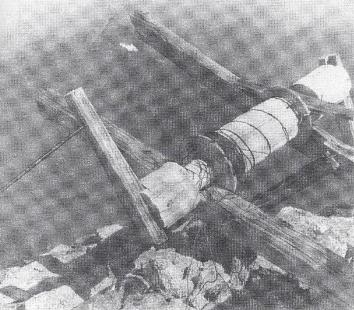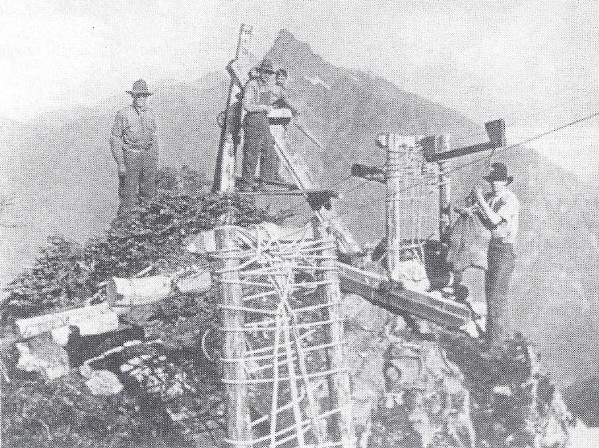 Lookout History
One of the first in the region, Pugh was developed in 1916 with a rock platform, a tent camp and alidade. A D-6 cupola cabin was built in 1919. This cupola was destroyed by lightning in 1922 before lightning protection was used. A new lookout structure was constructed to replace the first. Pugh is known for how supplies were hauled up on a two-section, hand powered tramway. The tramway was hung on a steel wire and pulled with a winch. The first leg was 1,950 feet long, the second was 2,700 feet. Not until 1927 was a decent trail made with dynamite to easy reach the summit. In 1950 the USGS reported the lookout as a standard 14 foot square building wit a cupola on the top and painted white. In 1963 the Arlington Times reported, "Pugh trail is cleaned to timber line with some snow above. With care travelers can go to the lookout." But the cabin was destroyed permanently in 1965. There are many great stories about the Mt. Pugh Lookout, I have placed some down below.
Lookout Stories
The first lookout Nels Bruseth would race down the trail after sunset, hike the 8 miles to Darrington, play some baseball and visit his girlfriend, then race all the way back to the lookout before sunrise and the start of the next day.

"On August 22, 1927, Assistant Supervisor Treen accompanied Lieutenant Goldsmith on a flight over the forest. As they passed Mt. Pugh, they dropped the morning newspaper and the latest copy of the Saturday Evening Post in front of the lookout's door. The Seattle Post-Intelligencer featured the story on the first page of the second section, using photographs of a lookout with an airplane superimposed in one corner as an actual photograph of the mail delivery. When asked if he were the one who dropped the paper as the airplane was circling the lookout, Treen replied, "No, I was too busy holding on." The lookout man, Otto Seyb, was very much pleased to have his mail delivered within 50 feet of his door at an altitude of 7,000 feet." (Six Twenty-Six)

May 1931: "Otto Seyb, lookout on Mt Pugh for 6 years and one of the best fire spotters the Snoqualmie has ever had, shot and instantly killed himself April 8 at Fortson. He left no information to indicate the cause of his act." (Six Twenty-Six)

May 1, 1936: "A honeymoon 7200 feet above sea level beckoned Catherine Koch and Harland Eastwood, following their scheduled marriage here tomorrow. The bride-to-be is the daughter of Judge and Mrs. J.P. Koch, Ritzville, Wash. The bridegroom-to-be is well known as a Seattle skier and alpinist and will be stationed for three months this summer in a lookout cabin atop Mount Pugh, in Mount Baker national forest, as a summer fire lookout. The pair said the honeymoon would start in mid-June and last until the end of September." (Morning Oregonian)

September 1938: "It may have been a little late for mother nature to celebrate the Fourth of July, but believe you-me, even though it was late she believes in giving a performance excelled by none. Almost at midnight of July 7 the lightning storm began moving in from the southwest, its path marked by jagged flashes of blue light, and started to swing over the Darrington District. At 11:30 p.m. the Sauk Ranger Station called and I gave them azimuth readings on three fires which had been started by the first storm some fifty minutes before. In this district this storm had left four fires in its wake, which by this time had all been duly reported to the station. The wind now had reached a high velocity and it seemed inevitable that the storm would miss Mt. Pugh, where incidentally I am stationed. I quickly made a dash outside and grounded the B-G arrester. The face of the storm was only a few miles away now, and seemingly with each mad gash of lightning a pin-point of light would suddenly appear; then it would flare up becoming larger and larger; dying down again as soon as the needles or inflammable material was burned. There were seven fires burning now, over west of me. Static electricity caused the ends of the shutter bars on the tower windows to become alive with blue flame. They sounded somewhat like the whining drone of a high powered generator. Without further warning the bolt struck the tower. There was a dull plop as if someone had broken an electric light bulb; then, myriads of sparks about the size of a quarter came showering down on every side, many of them shooting from the copper lightning protection around the tower. Observers from other vantage points several miles away said the sparks flew one hundred feet in the air. The oppressive odor of burnt copper lingered in the air for several minutes. The blue flame had disappeared from the shutter bars but immediately began to build up again. There were twelve fires burning in the one locality about five miles west of here now, and several more in the district adjoining this one. I was watching these fires when the next bolt struck the telephone line about twenty feet from the tower. The terrific flash blinded me for perhaps an interval of three minutes. Inspection the next morning found only burnt streaks down over the rocks and small pieces of insulation for three hundred feet. Fourteen hundred feet of wire had to be replaced. Another strike selected the flag pole as its objective and Old Glory floated no more. Several more strikes occurred farther down the ridge in the rocks, but the worst of the storm had passed by now and clouds began to form below me completely blotting out visibility. It was 3:00 a.m.; Whitechuck Bench LO was flashing me at intervals. I signaled back. Several hours later, down at the pass about a mile from the top, the test phone was put in service and the only remaining fire visible out of twelve, reported to the Ranger Station. The packer arrived with new wire, and by high noon found the sky completely clear; the sun shone brightly; once again everything was peaceful and quiet. Wendall Dawson" (Six Twenty-Six)
Winch used to haul supplies to the lookout site
Tent prior to cupola
Cupola 1927
1918 Ranger Bruckart
Nels Bruseth with heliograph signaling device
The winch in 1979
Mt. Pugh 1937
Winch used to haul supplies to the lookout site
Looking North - 7-20-1934
Looking Southeast - 7-20-1934
Looking Southwest - 7-20-1934