From I-5, take exit 208 getting on Highway 530. Drive 32 miles passing through Arlington and finally reaching Darrington. In town, turn right and follow the Mountain Loop Highway south for about 13 miles. Look for sign "Mt. Pugh Trail" and turn left on road #2095. Continue for 1.5 mile to the trailhead.
Mount Pugh
Distance: 5 miles
Elevation Gain: 5,300 feet
Summit Elevation: 7,201 feet
Access rating: Good Gravel
WillhiteWeb.com: Washington Hiking
Route:
A great trail to a mountain top that will make you think you needed your climbing gear for this one. Pugh looks very impressive from a distance. The summit once had a lookout so considerable effort was made making a decent trail to this difficult summit.
Trail starts out in forest reaching Metan Lake in 1.5 miles. After more switchbacks, at 2 miles, things open a bit for the climb up to Stujack Pass. From the pass, the trail becomes more exposed. Parts of the route were blasted into the rock so if you have height issues, you might reconsider this one. Good conditions and late season with no snow might be a good idea if this kind of hike will be new for you.
Access:
Glacier Peak
Trying to cool off
White Chuck Mountain
Dozer on the trail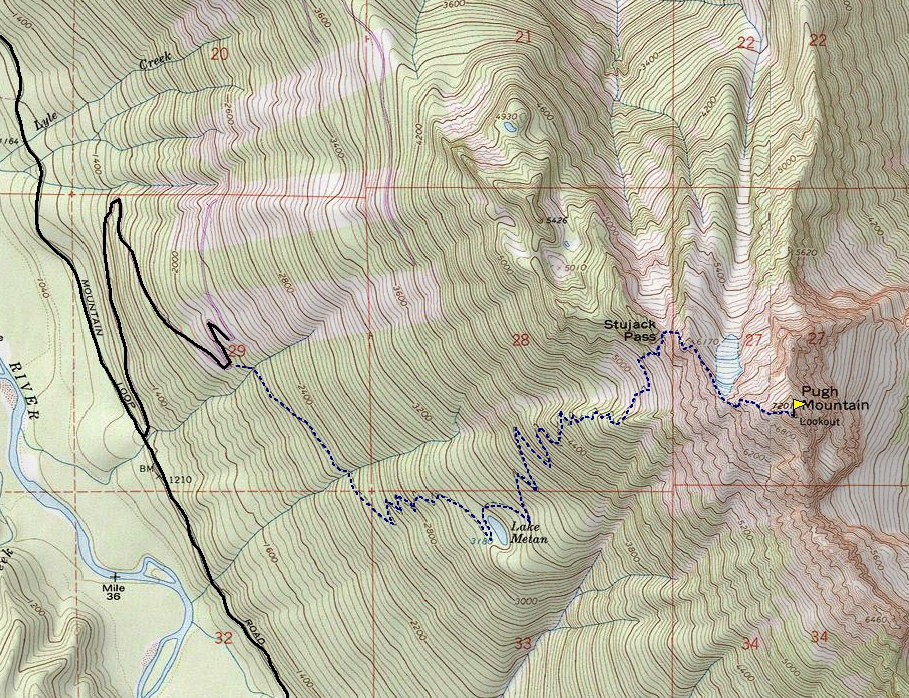 Lake Metan
Forests along the trail
The summit from near Stujack Pass
Dozer waiting for us
Smoke from a forest fire
Route from Stujack Pass in Spring
Route up chute to Stujack Pass in the spring
During a spring attempt
Summit nap