Mt. Baker
Distance: 6 miles (Coleman-Deming)
Elevation Gain: 7,200 feet
Summit Elevation: 10,778 feet
Access rating: Level 2
On the western edge of the North Cascades, Mount Baker is one of Washington's stunning volcanoes. From Puget Sound, the mountain rises to 10,775 feet only 35 miles from shore. This and other factors has given Baker the world record for annual snowfall. The ski area nearby received 95 feet the winter of 1998-99. Although a climb of Baker is relatively straightforward and a good training volcano, it can have some major crevasse dangers. I've heard more crevasse fall stores on Baker than any other mountain. I had a few scary steps into crevasses myself while climbing Baker. Your much more likely to need rescue skills on Baker than Rainier. Luckily, the low elevation of Baker means you'll have more energy and be in the right state of mind while climbing. The weather can change rapidly so be prepared. No permits required to climb but there probably is one to park at the trailhead.
The Coleman/Deming route: From I-5, take State Highway 542 heading east. A mile past the Glacier Public Service center turn right onto Road 39. After 8 miles the road will turn to gravel and shortly after is the trailhead. Snow can be on the upper part of the road until mid-June so a trip any earlier will require some extra walking.

Easton Glacier Routes: From I-5 take Highway 20 east to Sedro Woolley. Then another 14.5 miles to the signed Baker Lake Road. Follow it north for 12.5 miles until the road splits. Take a left on Service Road 12 for three miles, and turn right onto Forest Service Road 13. Take this road for four miles until its end at Schreibers Meadow trailhead.
The Coleman/Deming route: This is the most popular route on the mountain. From the trailhead, a nice trail will take you to tree line and through meadows. Follow meadows and moraines until you reach the Coleman Glacier around 6,000 feet. All this may be under snow anyway the first half of the season, just continue uphill. Follow the edge of the glacier until you reach the base area of the Black Buttes. Go under the buttes to a saddle between Colfax Peak and the summit. From the saddle, take the ridge straight up (to the right of the Roman Wall). Bear right near the summit. The top is large, open and safe. Climbers camps are above the Hog's Back or bellow the Black Buttes.

The Easton route is the easiest but longer. It's best in winter when you can walk snowmobile tracks nearly to the summit. The south side is in the Mount Baker Recreational Area where they are allowed. If some time has passed since the last snowfall, you can take advantage of the tracks but the starting point is very low. See this trip report:
Route:
Access:
www.WillhiteWeb.com: Your online resource for hiking, climbing and travel
Baker from Mt. Shuksun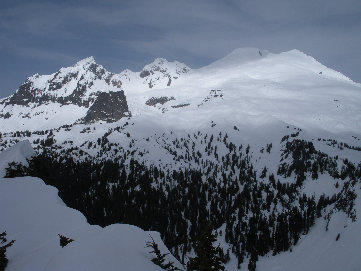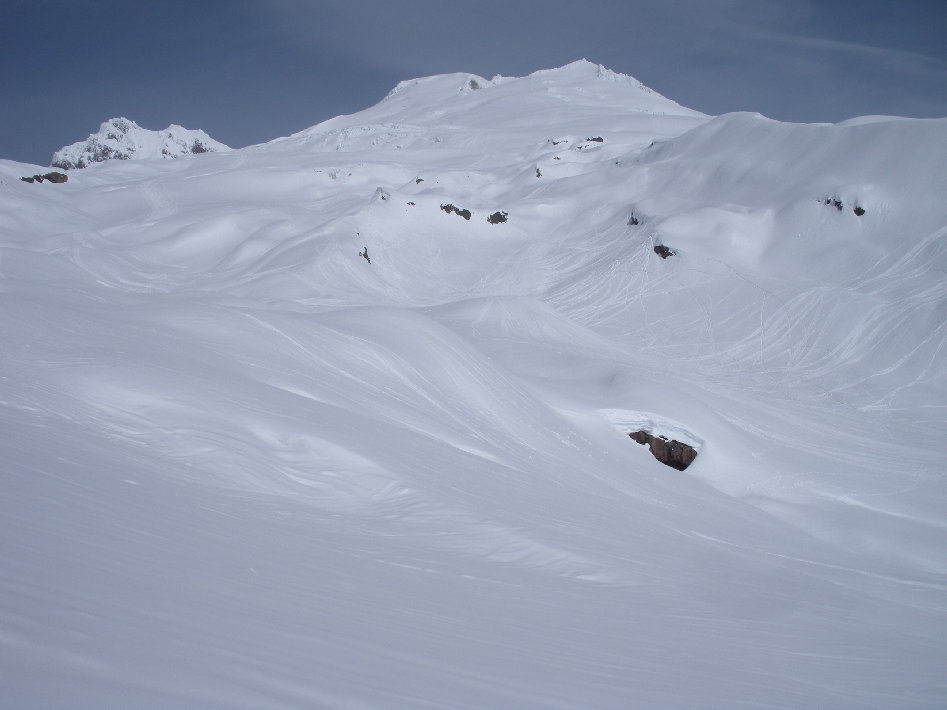 Mount Baker from Park Butte
Showing the route and snowmobile tracks all over the south side of the mountain Below: Showing Coleman-Deming Route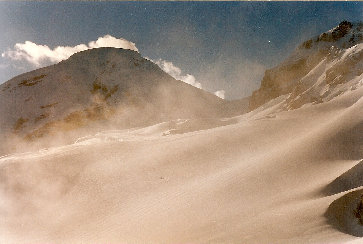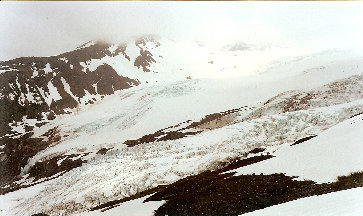 Coleman Glacier
Climbing the glacier to the saddle