WillhiteWeb.com
Green Mountain is in a State Forest on the Kitsap Peninsula near Bremerton. It is the second highest mountain in the county, slightly lower than neighboring Gold Mountain. There are established trails up and around with the climax being the summit. The views of Puget Sound and Seattle are surprisingly good given the lower elevation of the mountain. The low elevation means you can easily hike up most of the year. There are picnic tables on top at the overlook.
Green Mountain - Kitsap County
Distance: 2ish miles
Elevation Gain: 1,100 feet
Summit Elevation: 1,639 feet
Access Paved
From Bremerton follow Kitsap Way (State Route 310) for 3 miles to Kitsap Lake. Turn left on Northlake Way, proceeding for 1 mile. Turn left onto the Seabeck Highway and follow it for 3 miles. Then turn left on Holly Road, proceeding for 3 miles. Turn left (south) onto Tahuya Lake Road and in 1.25 miles bear left onto Gold Creek Road. The trailhead is in 2 miles on your left.
Access:
The trail is multi use so you may see bikes and motorcycles. About a half mile up you cross Gold Creek and hit a trail junction. You can take the Plummer Trail left or the Gold Creek Trail right (do as a loop). At the 1.5 mile mark is the junction where the former two trails meet again. At that point, go right for a quarter mile to a trail split. There take the signed "Vista" trail up to the summit area. On top is a parking lot that is open on summer weekends if you don't want to hike this one. The Green Mountain State Forest is a working forest so access by car is never a guarantee.
Route:
Puget Sound in the distance
Summit rocks
Forested views
Views
Views
This site was being used in 1926 as a lookout (see map below), its unknown how long before that. First known structure was built in 1929, It was a 50 foot wooden tower using a ladder for access. (59 total feet with cab) A tent was used as living quarters. In 1931, "Green Mountain Lookout was reconstructed, the tower being taken to a total height of 97 feet. This new construction means that a great deal more territory is brought under observation, and the efficiency of the Lookout increased to such an extent that the major number of fires in the Kitsap and Mason County District were first spotted and reported from this point. Speed of observation means speed in control and reduced expenditures" (24th Annual Report of the Washington Forest Fire Association). In 1942 an 84 foot treated timber tower with L-4 cab was constructed. It was used the following year as an Aircraft Warning Station during the war. The tower collapsed in December 1962 after vandals released its guy wires. The next year in 1963 a 50 foot wooden DNR tower with live-in cab was built to replace it. By 1969 airplane spotters were taking over the lookout work and this last tower was destroyed in 1971.
Lookout History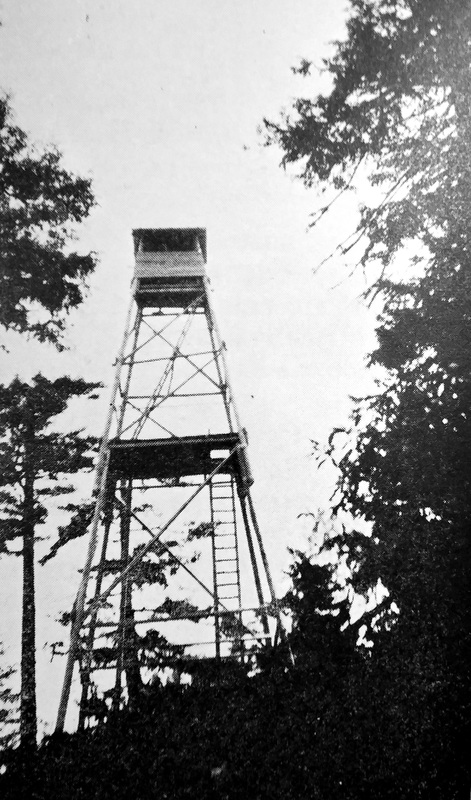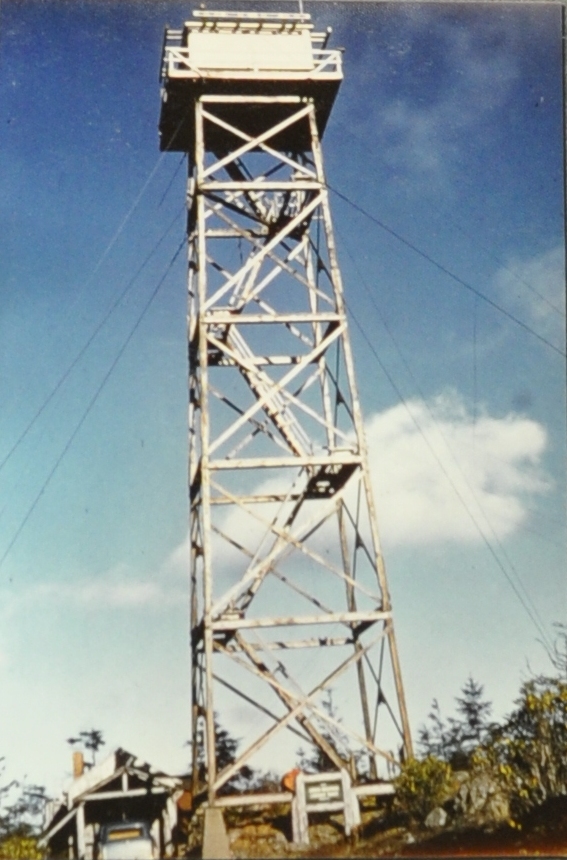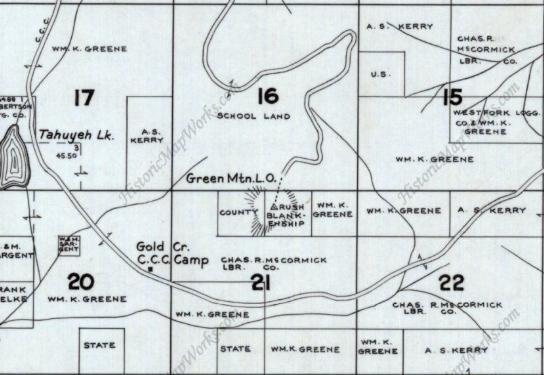 Metsker Map - Dated September 1926 showing the lookout on Green Mountain
First known structure built in 1929 - image was in the 1929 - 22nd Annual Report of the Washington Forest Fire Association
Tower around 1960 before vandals collapsed it in 1962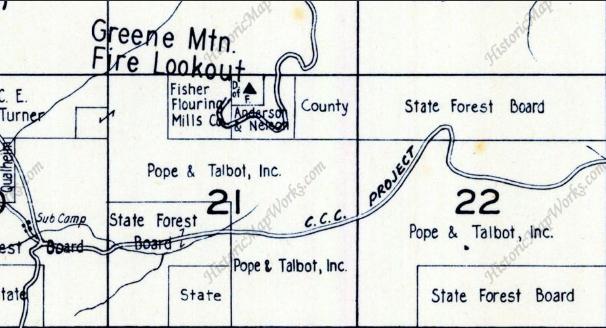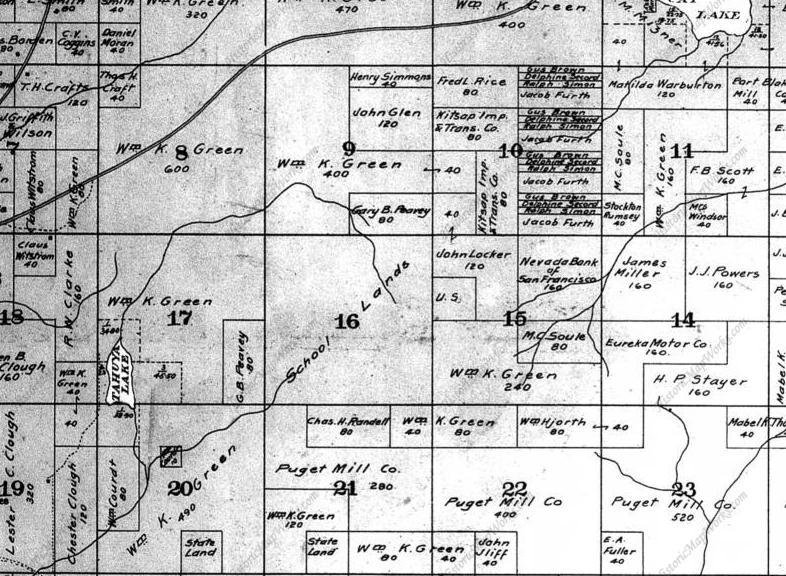 Name of Green Mountain appears to come from William K. Green who owned much of the land in the area. Maps change the spelling from Green to Greene then back to Green.
1909 Land Ownership
This 1940 map shows the lookout as Greene Mountain Fire Lookout.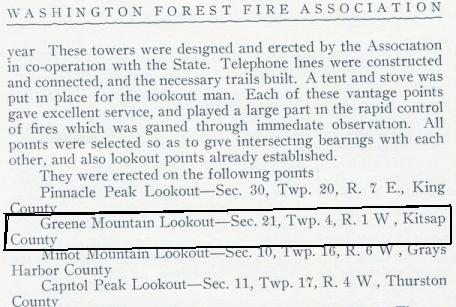 Erecting the Greene Mountain Lookout. Harrington Bands are used to make the bents. Both bents are raised and then braced to position.