WillhiteWeb.com
Dirtyface Peak is most known for the endless short switchbacks climbing from Lake Wenatchee up 4,000 feet to an old fire lookout site. It is a popular hike with super views. The get to the highest point requires one to double the effort. Although there isn't much more elevation gain, an additional 2 miles of off trail traversing and route finding must be worked to get the true summit. Why go for the highest point? Dirtyface Peak is one of Washington's 142 prominence peaks of course.
Dirtyface Peak
Distance: 6.5 miles
Elevation Gain: 5,000+ feet
Summit Elevation: 6,240+ feet
Access: Paved
From Leavenworth, WA go west on Highway 2, turn right at Coles Corner onto County Road 207 and continue eight miles to the Lake Wenatchee Ranger Station. The signed trailhead is located next to the Lake Wenatchee Ranger Station.
Access:
The hiking trail takes you to the old lookout site in about 4.5 miles. (There is a logging road that can save you 1500 vertical if you know where to find it). Once at the 5,989 foot old lookout site, drop down the north side in steep timber a few hundred feet in order to traverse below some cliffs. Work NW toward a wooded pass. After the pass, drop a bit more elevation to get below some more cliffs, then traverse NW to a southern ridge of Dirtyface Benchmark. Ascend the benchmark for an additional summit or traverse below the benchmarked summit on the south side to get to the final ridge for Dirtyface Peak. Follow ridgeline to the top.
Route: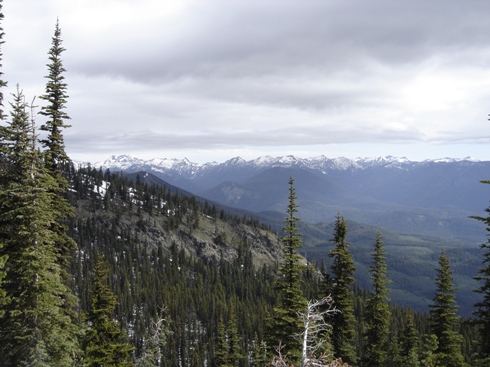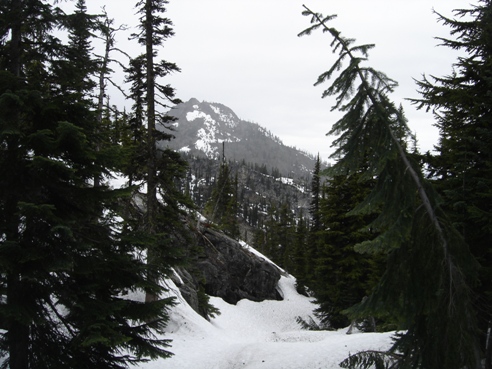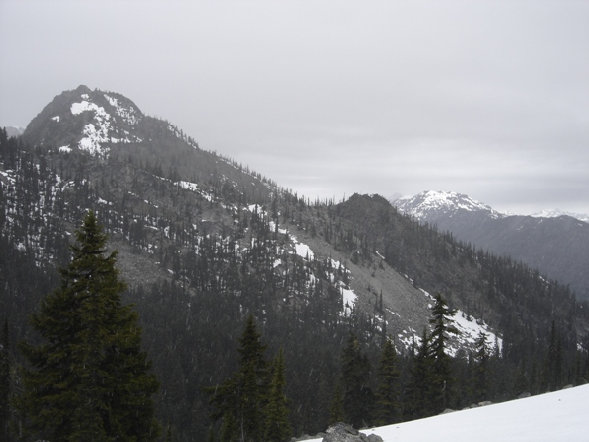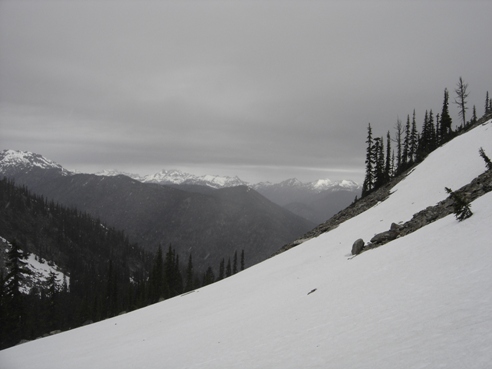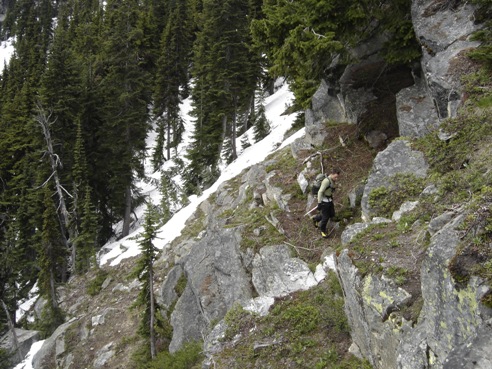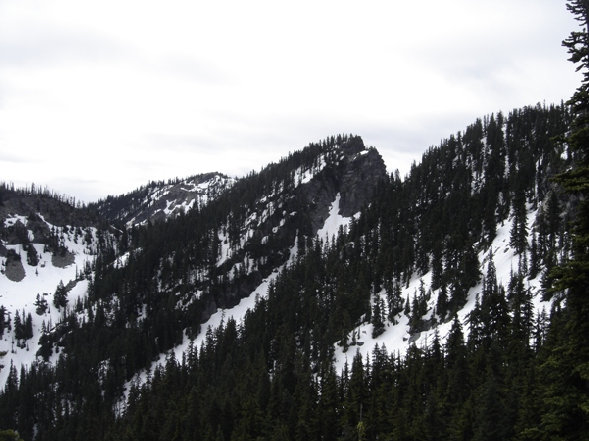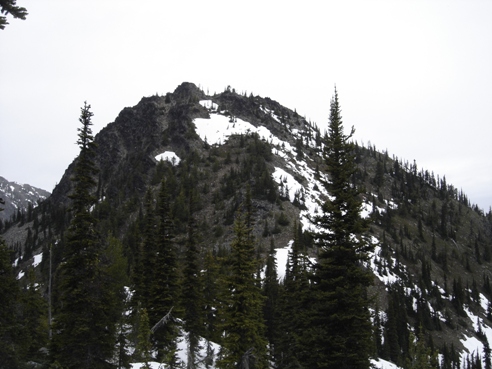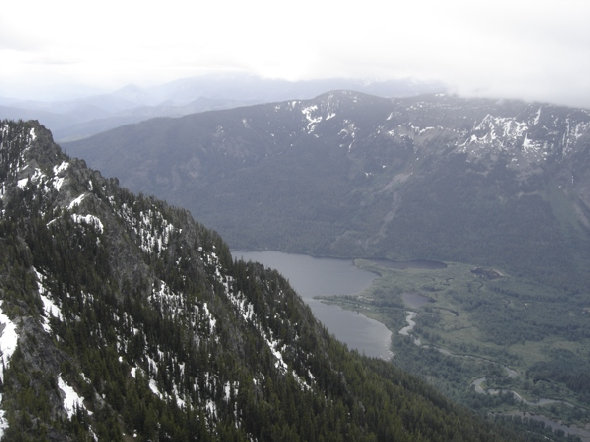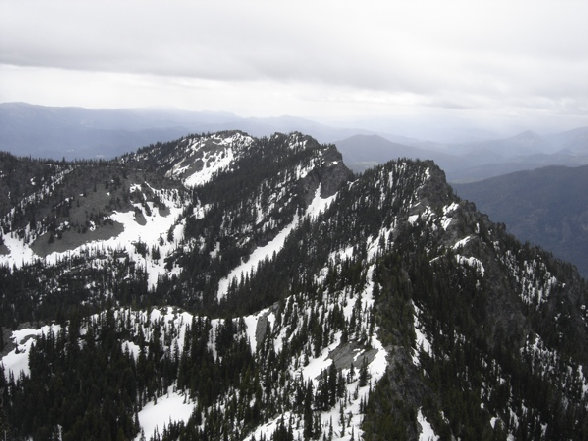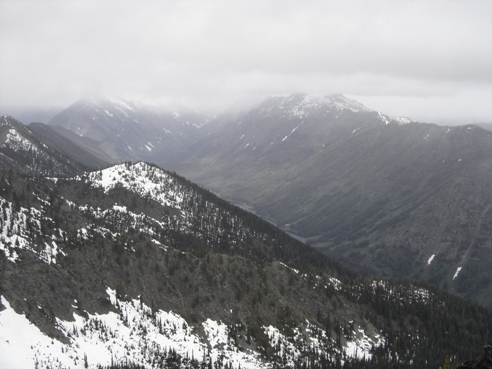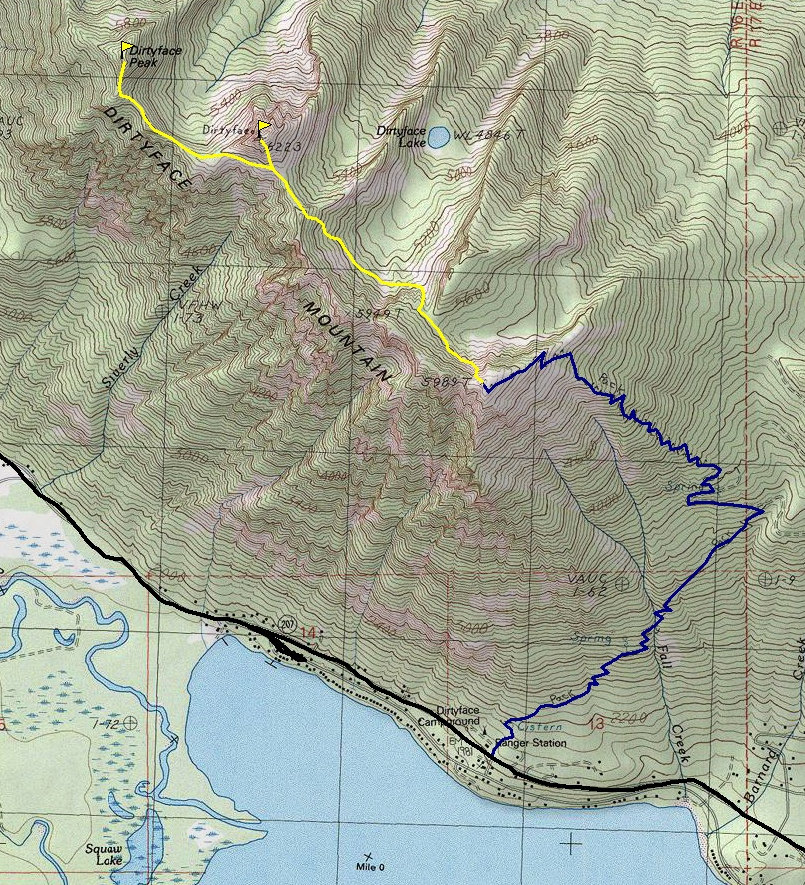 Looking back at the lookout site/end of trail peak (center)
Looking back to lookout site
Dirtyface Benchmark
Dirtyface Benchmark
Watching our views fade away
Views to the NE
Traversing, lots of traversing
Dirtyface Benchmark
Chiwawa River Valley
North end of Lake Wenatchee and Round Mountain
Old Lookout
This early location started as a camp in 1914 as a heliograph lookout. By July of 1915 a telephone line was being installed up the mountain and a trail was being built. The lookout person in 1916 was Harry T. Gisborne, a student from an eastern forestry school. In 1920, a D-6 cupola and a platform were installed. In 1933 a L-4 cab replaced the cupola. In 1957 a R-6 flat cab replaced the L-4. The R-6 was scheduled to be moved by helicopter to nearby Alpine Lookout in June 1975. Unable to lift it off the summit, the cab was burned to the ground. Kresek reports that the sixty-two year journal of history written by all the lookout persons was burned as well.
Lookout History:
In early 1929 lightning struck prior to anyone at the structure. Ranger Kellicut's description was as follows: "The flag on the 20 foot flag pole about 30 feet from the building was torn to ribbons. The small copper emergency wire, used in lieu of a flag rope, was uninjured down to where it was wrapped around the flag pole some 4 feet from the ground. Here it was slightly burned and the pole badly shattered for about two feet up and down; one of the splinters from the pole was found sticking into the roof of the lookout house. From the base of the flag pole, the lightning traveled some 30 feet through the ground under two piles of rock about 20 feet apart, scattering the rocks in all directions and making several holes of fused soil. Then it jumped about ten feet to a pile of rocks over one of the guy cable anchors, scattered the rocks and traveled up the cable to within about a foot of the tower post to which it was fastened. From here it jumped up through the hip of the roof to the galvanized hip shingles, tearing two of them loose. At the same time, lightning came up the guy cable at the opposite corner of the building, tore off some of the hip shingles and in addition scattered the lookout's store of dried provisions, beans, cereals, etc., in pasteboard containers on a shelf at the corner, all over the room. This was the principal thing objected to by the lookout who was out of the building at the time. The W.B.G. fuse and Vac-M Arrester were in tack but the coil and some of the connections on the howler signal set in the tower were badly burned. Incidentally, he says that in nearly every case, where iron tree pins had been used on the telephone line, near the lookout, the tree insulator was broken. C.M. Allen" (Six Twenty-Six)
Lookout Story: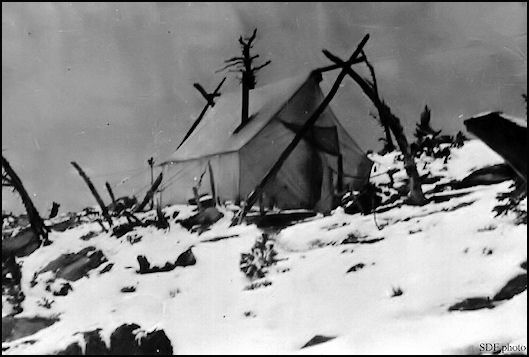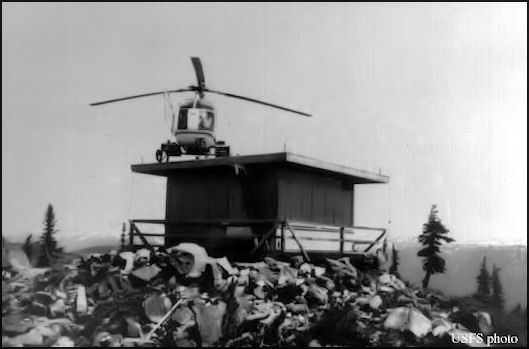 1918 Wenatchee National Forest map showing lookout (dark triangle)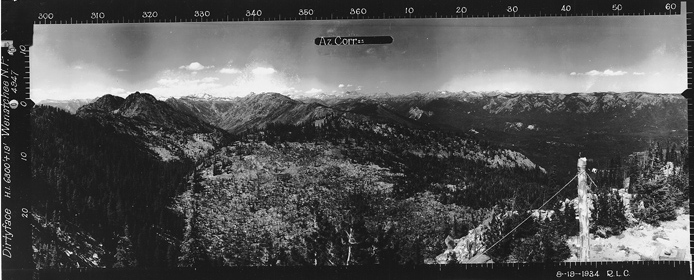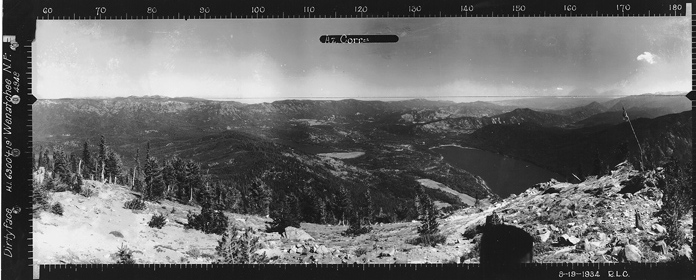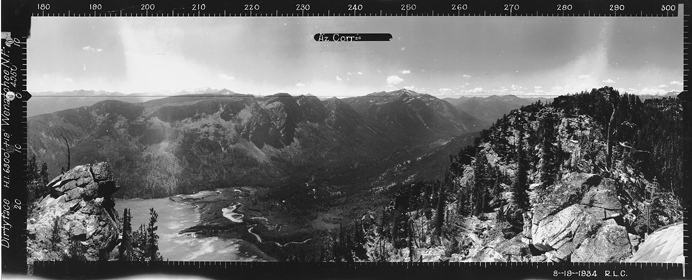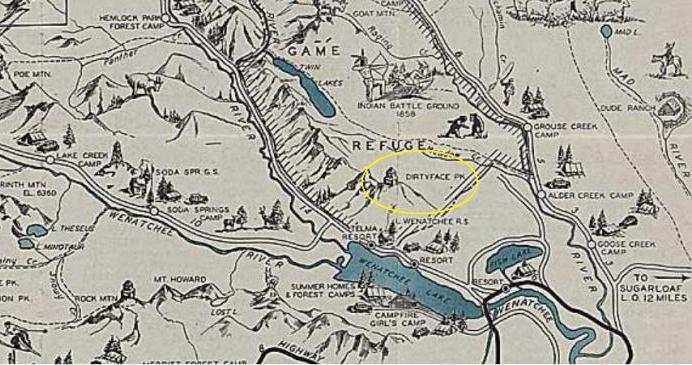 Dirtyface 1973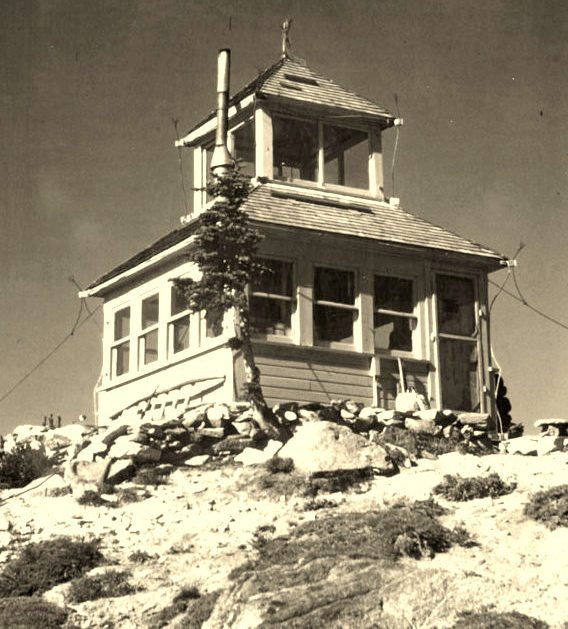 Dirtyface 1920 Camp
Dirtyface 1943 cupola
Looking Southeast 8-19-1934
Looking Southwest 8-19-1934
Looking North 8-19-1934
1936 Recreational Map