www.willhiteweb.com - Hiking, Climbing and Travel
Dirtyface Peak is most known for the endless short switchbacks climbing from Lake Wenatchee up 4,000 feet to an old fire lookout. It is a popular hike with super views. The climb to the highpoint requires one to double the effort. Although there isn't much more elevation gain, an additional 2 miles of off trail traversing and route finding must be worked to get the top. Why go for the highest point? Dirtyface Peak is one of Washington's 142 prominence peaks of course.
Dirtyface Peak
Distance: 6.5 miles
Elevation Gain: 5,000+ feet
Summit Elevation: 6,240+ feet
Access Rating: 1
From Leavenworth, WA go west on Highway 2, turn right at Coles Corner onto County Road 207 and continue eight miles to the Lake Wenatchee Ranger Station. The signed trailhead is located next to the Lake Wenatchee Ranger Station.
Access:
The hiking trail takes you to the old lookout site in about 4.5 miles. (There is a logging road that can save you 1500 vertical if you know where to find it). Once at the 5,989 foot old lookout site, drop down the north side in steep timber a few hundred feet in order to traverse below some cliffs. Work NW toward a wooded pass. After the pass, drop a bit more elevation to get below some more cliffs, then traverse NW to a southern ridge of Dirtyface Benchmark. Ascend the benchmark for an additional summit or traverse below the benchmarked summit on the south side to get to the final ridge for Dirtyface Peak. Follow ridgeline to the top.
Route: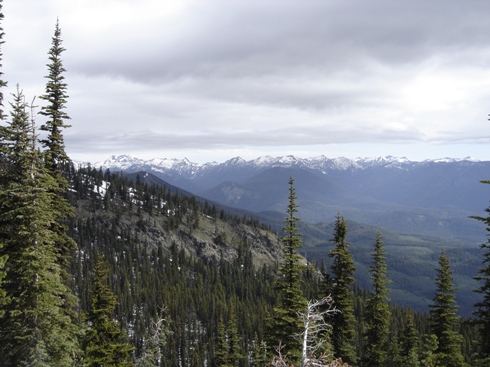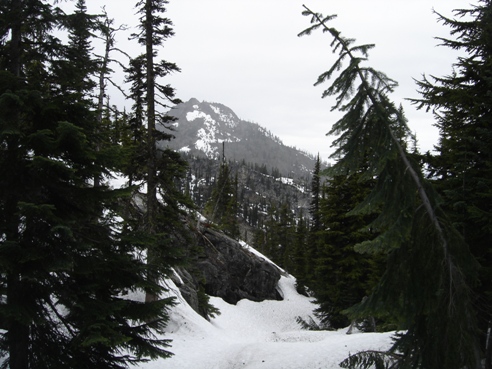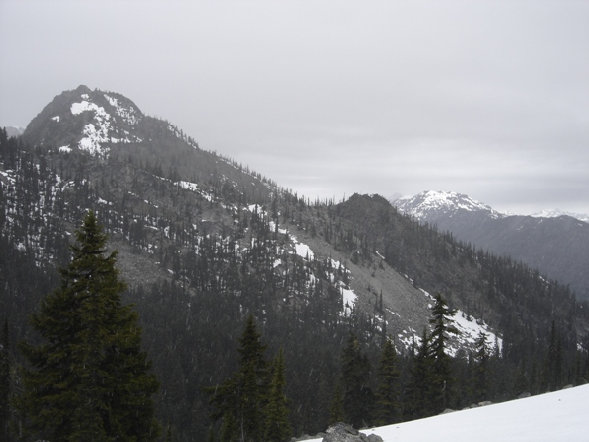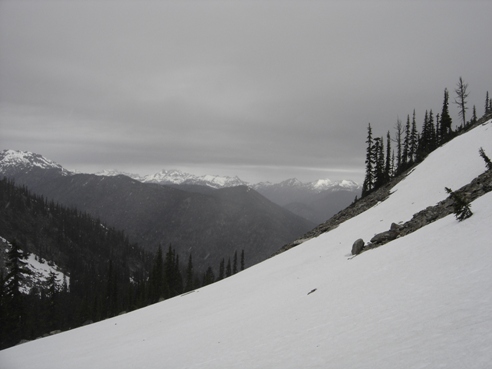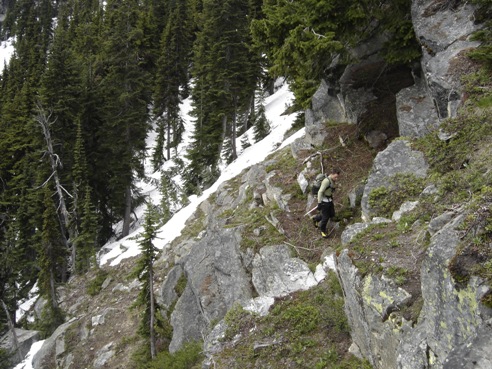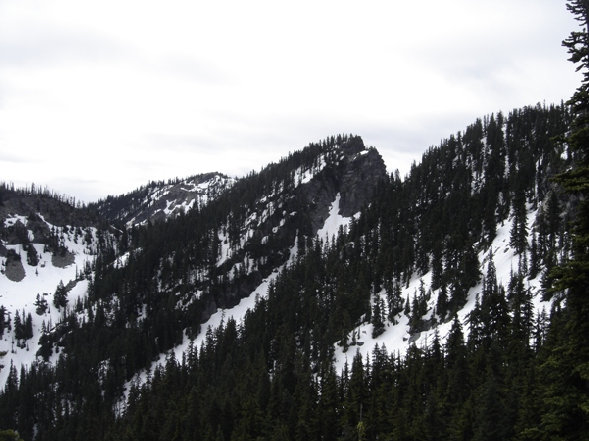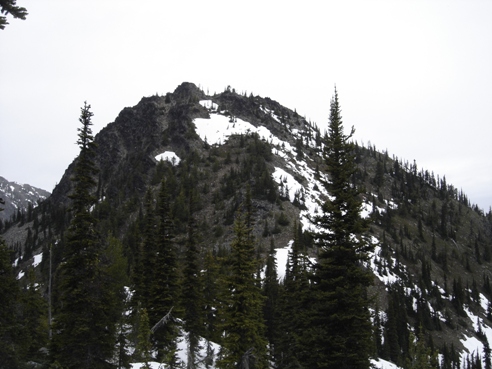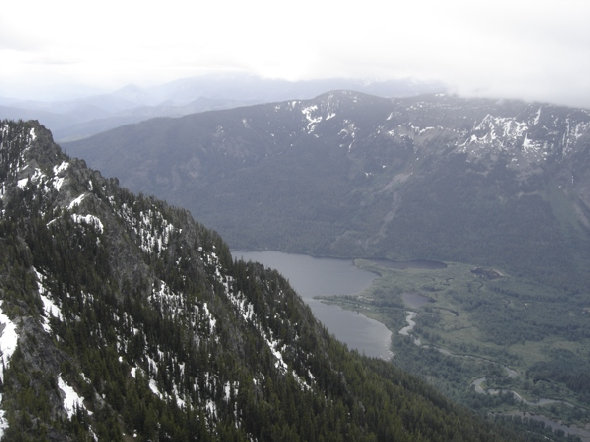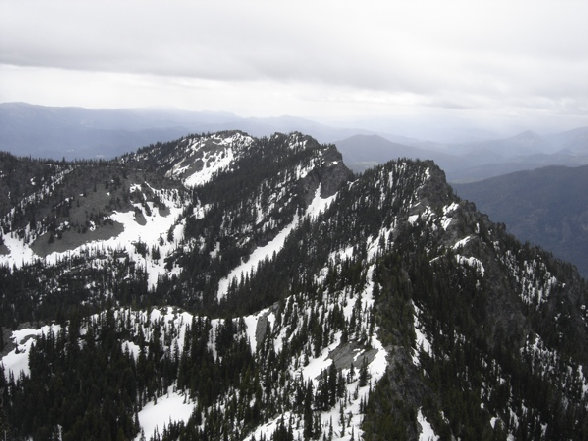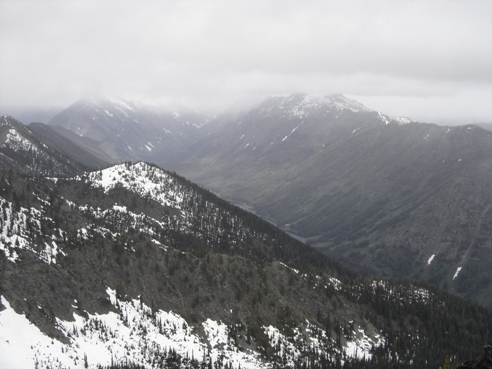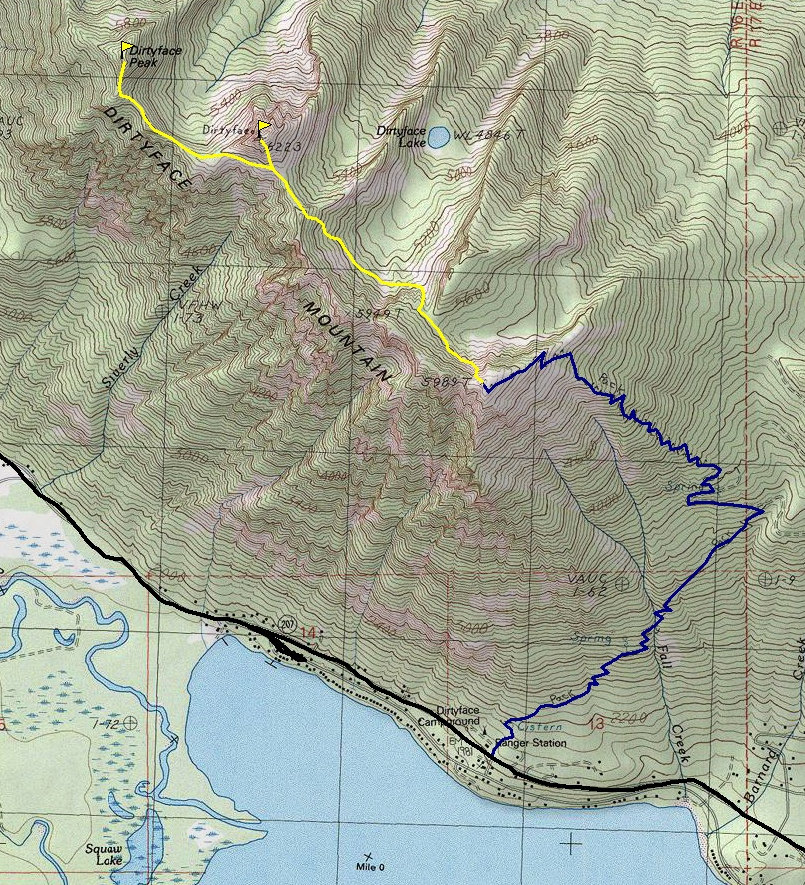 Below the old lookout site heading toward the summit
Looking back at the lookout site/end of trail peak (center)
Looking back to lookout site
Dirtyface Benchmark
Dirtyface Benchmark
Watching our views fade away
Views to the NE
Traversing, lots of traversing
Dirtyface Benchmark
Chiwawa River Valley
North end of Lake Wenatchee and Round Mountain
Old Lookout