In Colville, take State highway 20 east (3rd Avenuue) to Aladdin Road (before the airport). Turn north on Aladdin road and head for Leadpoint, 33 miles away. In Leadpoint, turn right onto the signed Silver Creek road , #4720 and it will soon turn into FS road 7078 at 1.5 miles. Soon after the National Forest border (you'll cross a cattle guard), bear left uphill at fork staying on #7078. Turn right (east) on road #300 (6.2 miles). Continue to small trailhead at end of road #300 (9.8 miles). Road #300 is single lane and has a few ruts and bumps but is passable by passenger car (barely) although a higher clearance vehicle is preferable. You'll reach a small TH, large enough for just a few vehicle. FS trail 117 begins from here.
Abercrombie Mountain
Distance: 3.5 miles
Elevation Gain: 2,200 feet
Summit Elevation: 7,308 feet
Access: Good Gravel
Washington Hiking & Climbing

Access:
Route:
Abercrombie is popular to those seeking to climb county highpoints and prominence peaks. It's way out of the way for most of Washington's peakbagging community and even more so for the peakbaggers around the west chasing the Ultra 57 prominence list. But if you do make the drive, you will enjoy a nice hike in an area with few others and an outstanding view of peaks you probably haven't seen before. Many hikers here have seen grizzly bears and caribou on the trail. Abercrombie is the 7th most prominent peak in Washington and the 53rd most prominent peak in the lower 48.
I was going to pitch a tent at the trailhead but the bugs were so bad I didn't want to wait several hours before dark sitting in a hot tent. The only problem with heading up was I was with my one year old son. So I strapped all the camping gear onto the kid carrier with rope and started up the trail. (This was the first time I had done more than just a day trip). Every 5 minutes I convinced myself to keep going, don't turn back from the pain. As the time went on, I grew more and more comfortable with the sufferfest. Before I knew it, we were just below the summit on the ridge. A perfect camp with no bugs!
I dropped the load and continued up to the summit with just my son...a much lighter load. We enjoyed the sun setting and especially all the fun rocks on top. Dropped down to the tent, watched the light go down, slept and walked out early the next morning. Didn't see anyone or anything.

Looking up the final ridge to the summit
Summit view
In the rocks on the summit
Sunset from camp
On the summit
Camp looking east
Final few feet to the summit
In camp
On the summit cairn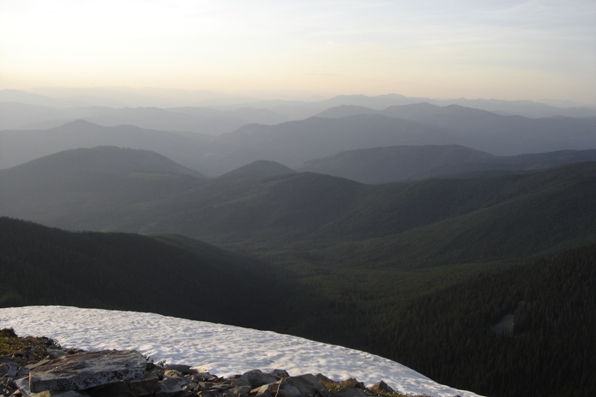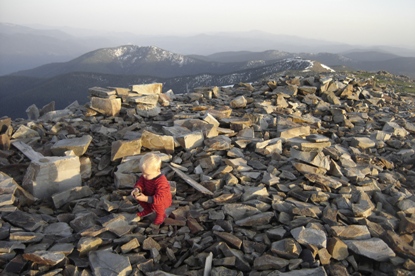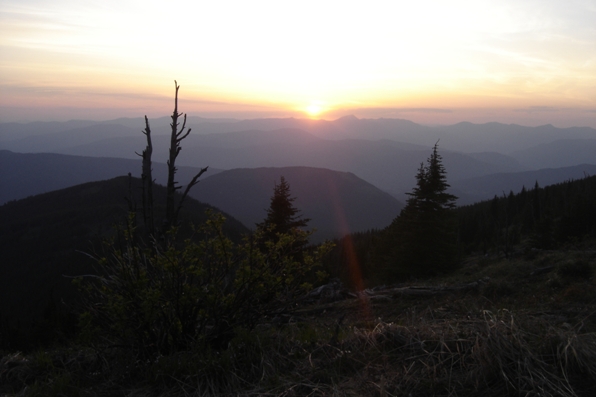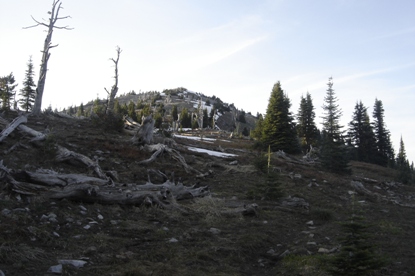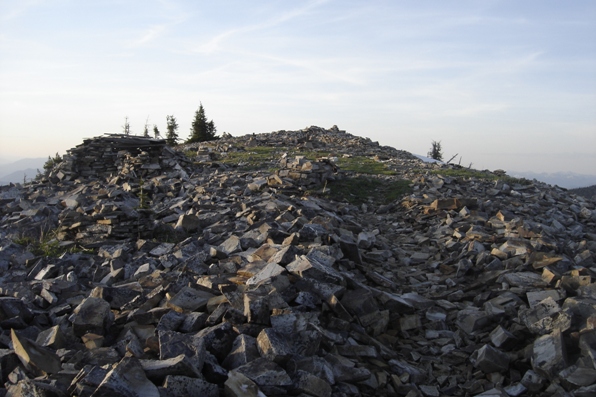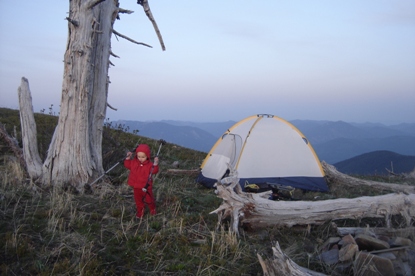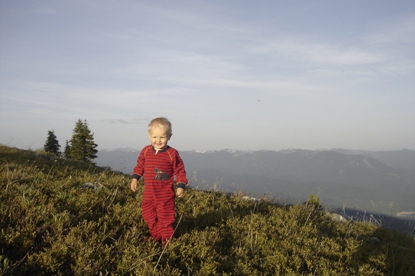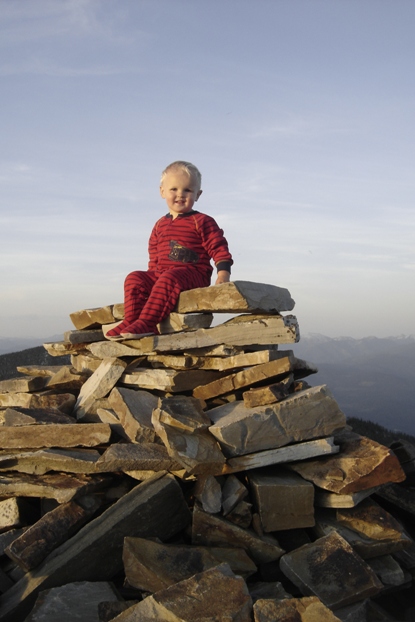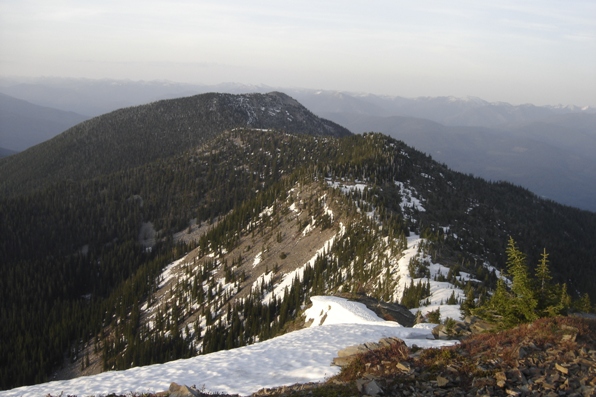 Camp looking west