Burley Mountain
WillhiteWeb.com
Distance: Drive-up or up to 1 mile
Summit Elevation: 5,304 feet
Elevation Gain: 0 to 400 feet
Access: Dirt & Gravel, High Clearance needed last mile
You can count on one hand the number of summits over 5,000 feet that can be driven up in Western Washington. One such high point is Burley Mountain, situated between Mt. Rainier, Mt. St. Helens, and Mt. Adams. On the summit is a Forest Service lookout cabin that is usually open in summer, with a woodstove, a couple of single beds, a sink without water, and a couple of chairs to sit on. Small signs above the windows tell you what mountains you are viewing. Outside the lookout is a picnic table and a cinder-block vault toilet. A night inside is fun for kids and adults. In winter, the lookout is rented to skiers and snowshoers. A summer hiking trail from the valley bottom exists but I haven't done it.
From Randle, drive 1 mile south on Forest Road 25 and then turn left onto Forest Road 23. Continue on FR 23 to FR 28 and go right, cross the Cispus River, turn right onto FR 76, and continue past the Cispus Environmental Center to FR 77 on the left. At 7.4 miles, FR77 pavement ends. Continue another 6 miles or so to the top of a ridge and a 4 way intersection. There find a confusing sign pointing 1 mile to Burley Mountain. But, the immediate left is the road you want. Follow it the one mile to the junction with a Jeep Road (another option up). There is still another mile from this point and it starts to get rough. Park if you need to, or continue to the final hill where another good spot to park is located. The turn-round at the summit is narrow and half of it is on the edge of a 300 foot cliff.
Access:
Just drive up if you have 4WD high-clearance. If you don't, the last mile or so traverses along a hillside that might have large water-bars that make regular cars bottom out. Below the final hill is some parking that most cars should be able to reach. The walk is short and scenic from that point. If you park before this point, the length still isn't too long.
Route:
The lookout was built in 1932 or 1934 by William Mackay of the Randle Ranger Station. It was abandoned in 1974. The structure is a hip-roof style lookout. The lookout has since been repaired by volunteers and often staffed in summer. It is listed on the National Historic Lookout Register.
History: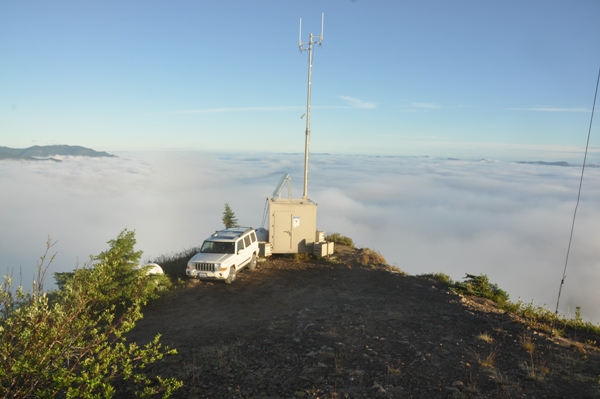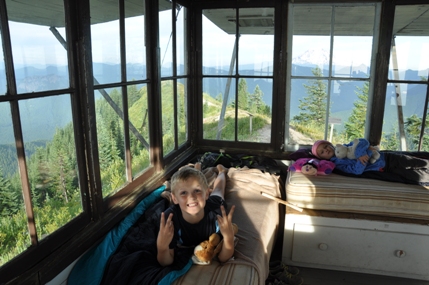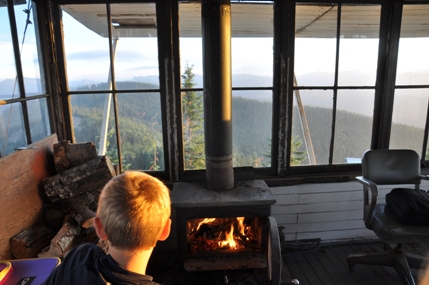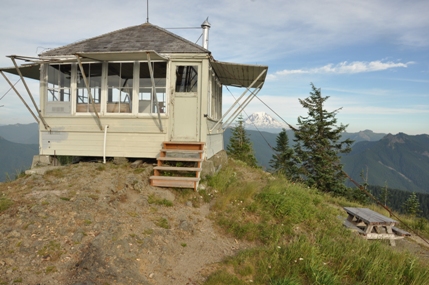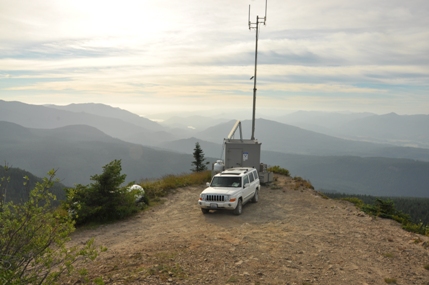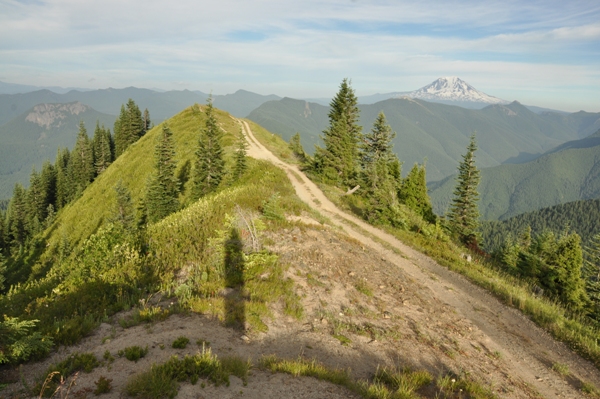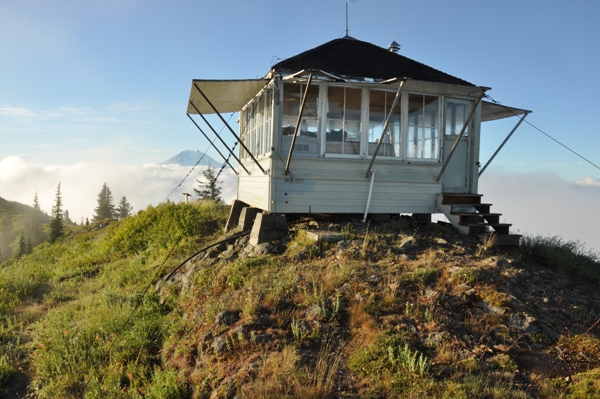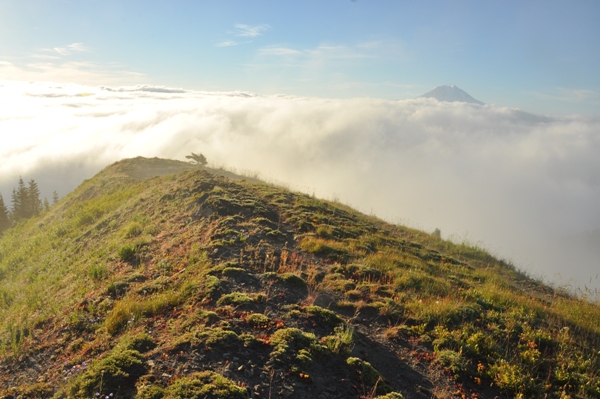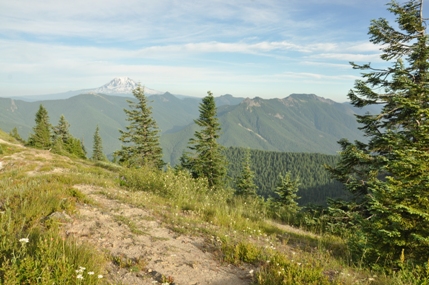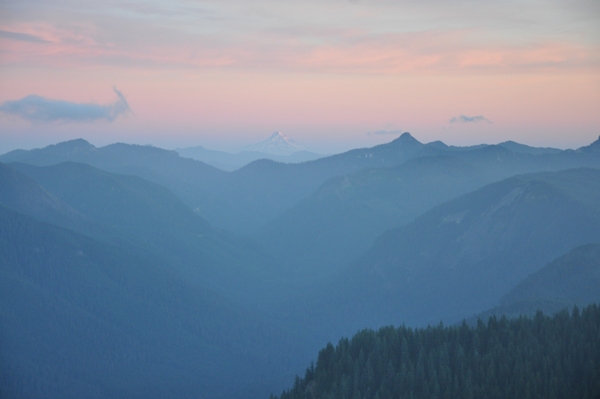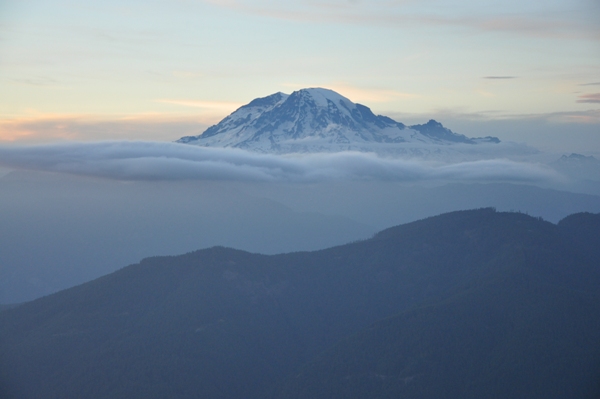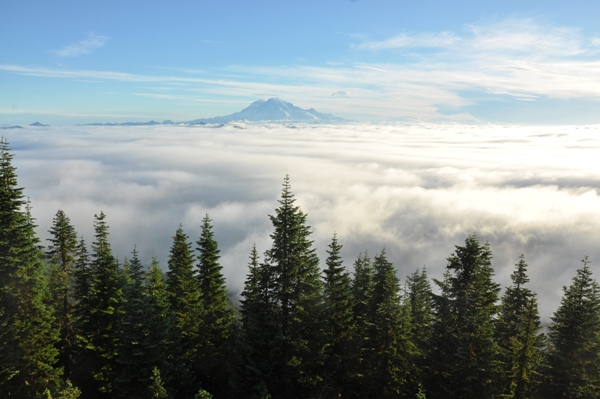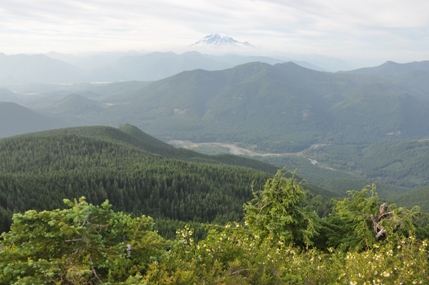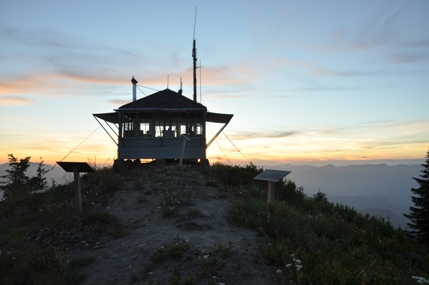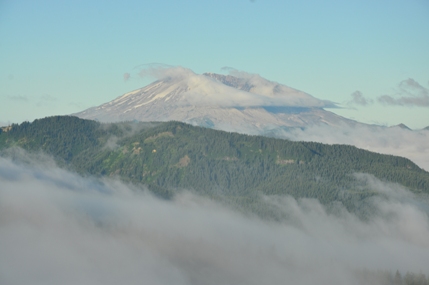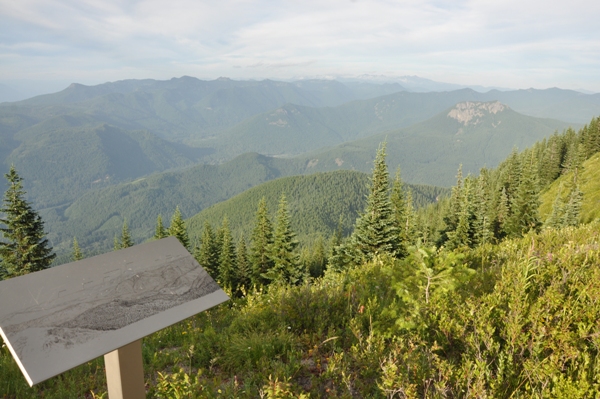 Mount Rainier above the clouds
Mount Adams above the clouds
Mount Rainier with approaching weather
Mount Hood
Mount St. Helens
Sunset
Cispus Valley and Mount Rainer
Mount Adams
Goat Rocks
Final bit of road to the lookout
Parking area at the summit
Two beds....to kids
A lookout and a wood stove
Above the clouds