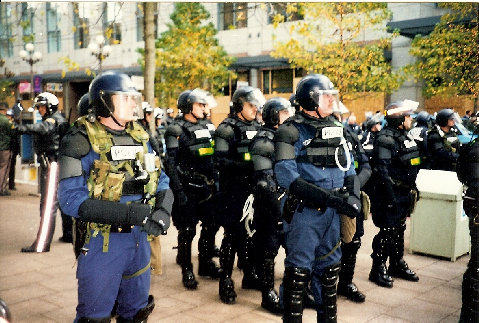 World Trade Organization Seattle Riots
www.WillhiteWeb.com: Your online resource for hiking, climbing and travel
Working in Seattle during the protest was very fascinating. I would check out the activities before and after work. I'll refrain myself from my opinion of the whole thing and many of the people who where there. I created this page as an outlet to do something with my photos before throwing them in the garbage. Since I spent a few years studying law enforcement, I was more an observer of the tactics being used. I guess there was also a certain rush being in an environment that could erupt in lawlessness at any moment. One of the more memorable things I saw was protesters trying to block the roads from delegates getting to and from their hotels. As I was watching them run back and forth blocking the vehicle exits from a certain building, I noticed a government looking vehicle coming quickly out of a hidden ramp. Then one of the protesters noticed the car coming out to the street. He yelled for help to block the way. The driver didn't hesitate, he wasn't stopping. He hit the guy throwing him on the hood. Then hit the gas right through a small crowded area swerving around people erratically. The protester on the hood went several hundred feet before being thrown off when the driver did a movie style jerk to throw him off. People started yelling for witnesses and a camera crew was just out of view. I was the best witness and even got the plate but I wasn't talking....just chuckling inside.

Another incident at Westlake Center got my heart pumping. I was hanging around when like out of Star Wars, the police in riot gear started marching from all directions toward us. The sound and sight was incredibly disturbing. Before I knew it, I was inside the perimeter of the police line and they were stating that all would be arrested if we didn't disperse. I easily talked my way out of the perimeter only to watch minutes later everyone arrested in a mass arrest and loaded onto Metro Busses. I think they filled two or three busses.

In the end, Seattle suffered greatly for hosting the WTO event. The damage to commercial businesses from vandalism and lost sales has been estimated at $20 million. The protest put Seattle $3 million over their estimated budget of $6 million. The city was sued by 157 protesters and settled on paying out 250,000. The chief of police had to resign and the city was tarnished. Other than a few hotels and high end restaurants, who exactly benefited by hosting such an event? I would hold the WTO in Dubai from now on.