WillhiteWeb.com - Hiking, Climbing and Travel
Pacific Crest Trail - Stevens to Rainy Pass
I kept a small journal during the trip that shows our excitement. I was 17 and my brother was only 15 when we did this by ourselves.
Distance: 120 miles
Elevation Gain: 15,000+ feet
8/14/1992 Stevens Pass to Lake Janus (9.2 miles)
We hit the pass at 11:00. There was a group of 10 kids ready to do the trek we were. We left them about a mile down the trail and never saw them since. The trail was easy at first, and then got hard until Lake Valhalla. A great lake. We continued on until Union Gap. From a meadow beyond it we saw an Air Force jet go above us very loud and very fast. In another 2 easy miles we were at Lake Janus. It was 3:00 and nobody at the lake. I went into the lake for a dip. We moved our camp to a shady area, had a fire, and near dusk 4-5 groups of people showed up.


Pear Lake to Dishpan Gap
Dishpan Gap to Milk Creek
WillhiteWeb.com - Hiking, Climbing and Travel
Milk Creek to Suiattle Pass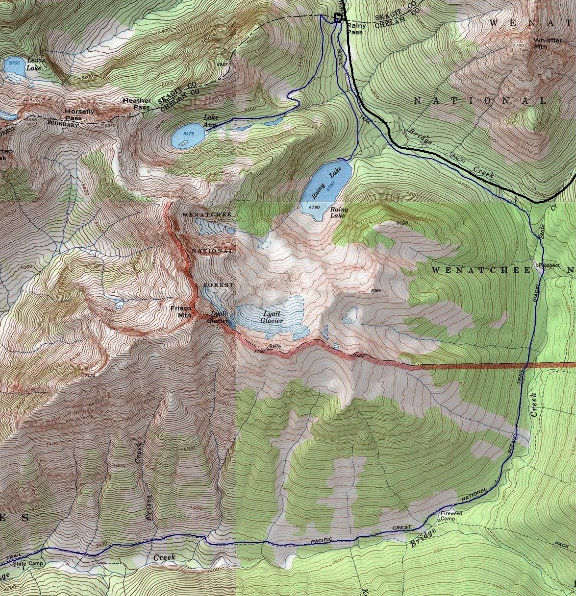 Rainy Pass Map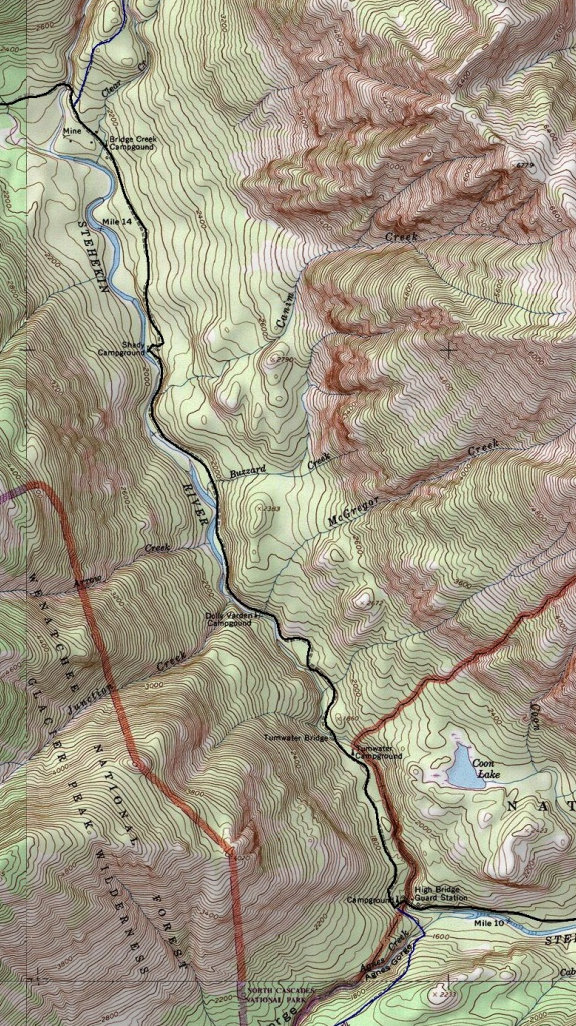 Stehekin Road Map
8/15/1992 Lake Janus to Pass Creek (15 miles)
8/18/1992 Pumice Creek to Grassy Ridge (13 miles)
8/16/1992 Pass Creek to White Pass (14 miles)
8/17/1992 White Pass to Pumice Creek (17 miles)
Awoke at 6, left by 7. Climbed steeply out of Lake Janus. Once on top of the ridge we saw awesome views and Glacier Peak for the first time. From Grizzly Peak were views of Hinman, Daniel, Rainier, Baker, Glacier and Stewart. Down to Wenatchee Pass was hard on the feet. Up 300 feet to Pear Lake. Great lake with clear blue water with lots of rock cliffs nearby. Hiked the new PCT up over a pass in the hot sun. West Cady Ridge was cool to see. Saw the Monte Cristo peaks. After Saddle Gap, dropped in switchbacks to our camp at Pass Creek. Good water and 4:00 was our finish time.
Hiked up to Cady Pass and rested before our next leg. Climbed up to alpine area traversing mountains to Lake Sally Ann. Nice little lake. Then around to Wards Pass. Meadow hiking past Dishpan Gap and Kodak Peak. Dropped 700 feet to Indian Pass where a year ago a grizzly was spotted. Then hiked up on side of awesome Indian Head Peak. Up to Kid Pond then Reflection Pond. Then more alpine hiking until White Pass was seen. Great views. At pass, met bunch of people. Found camp on other side of pass. Set up camp, went hiking on trail northeast of the pass to Foam Basin. Followed it until it puttered out. Climbed a peak above and took the ridge west to White Mountain. Best views of Glacier Peak, Rainier and Baker. Took south ridge down to White Pass and our camp. That night watched the stars and a bright moon.
Got up at 7:30, left at 8:30 and headed up to Red Pass. Then went down and more down. Cool bridge over White Chuck River. Level hiking until trail 643A. Then 2 miles to hot spring trail. Kennedy Creek crossing tough. 1500 gain to a camp on Glacier Creek. We only rested once, it was steep but easy. Once at planed campsite chose to go on to camp on Pumice Creek. Found a great camp in tree patch with a view. Then hiked up a small trail to upper pumice basin, to a pass, then north we climbed 6952 foot mountain. Great views of Glacier Peak, Baker and Bonanza. Hiking down we saw an Air Force jet fly over the pass we were just on, pissed us off. Went to camp, ate, and went in tent. Ranger says clouds are to approach.
Awoke 7 a.m., packed and pumped. Soon after saw a group of 10 people. All groups we've seen only doing 60 miles. Below Fire Creek Pass we met 2 guys who spotted and showed us a bear on a basin above. Climbed 1,000 feet with no break to Fire Creek Pass. Many camps there. Then we went down 2,600 feet to Suiattle River. Bridge washed out on 8/30/91. Homemade crossing and we ate lunch. Then climbed switchbacks easily to top of ridge with only 1 break and on to a creek to pump water. Short traverse to Grassy Pass camp. A group was there so we went up from the camp to the ridge above. Took a short hike up the ridge to a pass near Glacier Peak. Before that a guy from the pass camp came by on his way up the ridge. He was with trail maintenance going south. He said clouds in forecast but then better weather, talked for 25 minutes.
8/19/1992 Grassy Ridge to Suiattle Basin (17 miles)
Awoke 8 a.m., left at 9. Dropped down a lot of switchbacks. Seven miles to a creek crossing. Realized I lost my two maps but still have other seven. One more mile hit Suiattle River and a big bridge. Ate lunch then climbed switchbacks. Then a traverse uphill above Miners Creek. Soon crossed creek and we chose to pass our planned camp. Climbed up to Suiattle Pass. 300 feet below pass we hit a bear 25 feet below us. It saw us first and bolted down. I saw its back only. 30 seconds later hit a ranger who was the first person we saw all day. The Pass was in trees (no camps) so we went down looking for the camp 0,5 miles down. Found it in a meadow. Ate.
8/20/1992 Suiattle Basin to Stehekin Road (20 miles)
Awoke at 8, left by 8:45. Going for the camp at High Bridge. Took the new PCT, it went up a lot when it should go down. At valley bottom we met 2 hikers who told us about the bus. We chose to rush there in order to make the bus to Stehekin. Flew through the valley hiking for hours. Soon reached the road. Met 2 hikers there, finally got on bus without reservation. Drove down to the town. Interesting place, everything closed. Checked out the town then ate and went to sleep.
8/21/1992 Stehekin Road to South Fork Hikers Camp (7 miles)
Awoke at 6, packed up and went to bus pickup hoping to get on. Couldn't get on, all full, so we made reservations for the afternoon bus at 2. Hung out around town talking to our 2 hiking buddies and locals. Spent money in store, bought pops, popcorn, m&m's and other candy. Bus finally came and we got on the "tour" bus. Took forever to get to trailhead. Saw school & a waterfall on the way. Went to Bridge Creek and our hiking buddies went back to High Bridge. First 3 miles went quick, second 3 miles was near a stream. Hiked for 20 minutes listening to thunder, then we were engulfed and were in the middle of the worst lightening and thunder. In the valley you could see the bolt, then hear it. Started to poor rain and hail. Found a good camp, set up in rain but once inside tent, cozy! Still thundering and raining. Last Night!
8/22/1992 South Fork Hikers Camp to Rainy Pass (7.5 miles)
Awoketo no rain but water dripping off the trees. Started back on the PCT, saw new snow on the mountain tops. We soon passed an old cabin then exited the National Park. Soon enough we heard cars for the first time since Stevens Pass (except Stehekin). We took a wrong turn before Rainy Pass and hit the highway. Dad just happened to be there taking pictures off the highway since he was early. We threw the packs in and got the heck out of there.
There is a trail east of the road in the forest for the 5.5 mile distance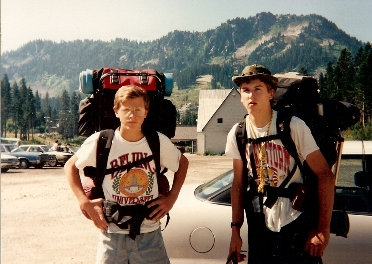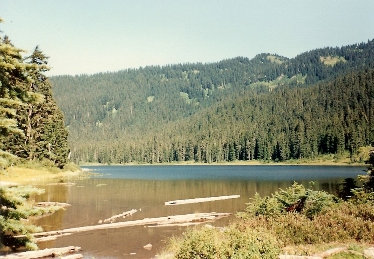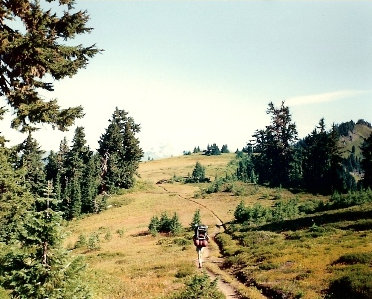 At Stevens Pass ready to go
Lake Janus - first nights camp
Trail on top of Grizzly Peak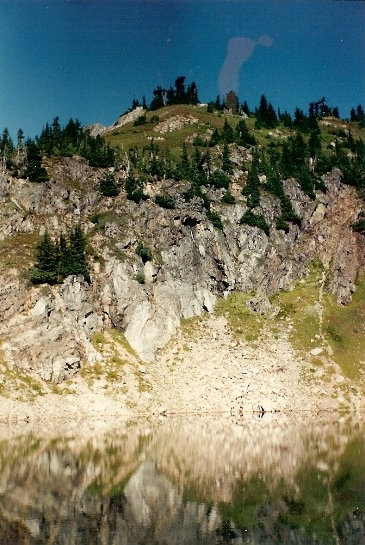 Lake Sally Ann


Pear Lake
View south from Grizzly Peak area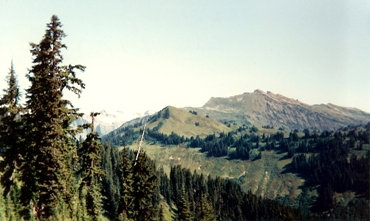 Looking north to Kodiak and Indian Head Peaks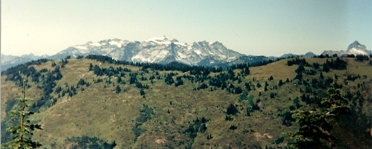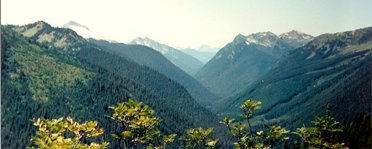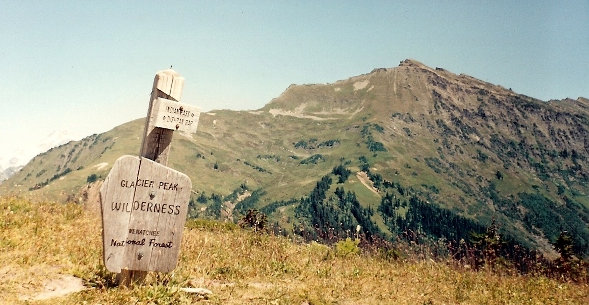 Entering the Glacier Peak Wilderness and Indian Head Peak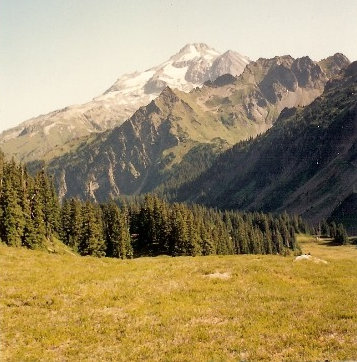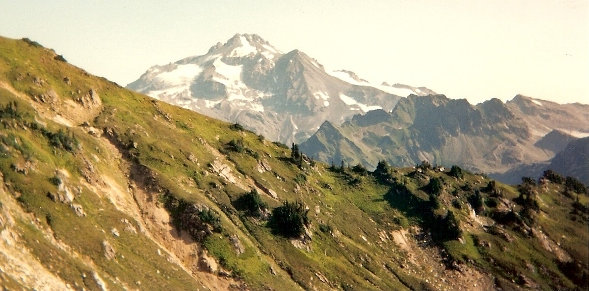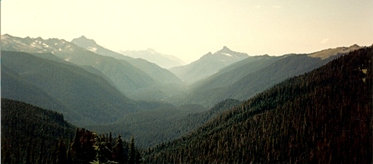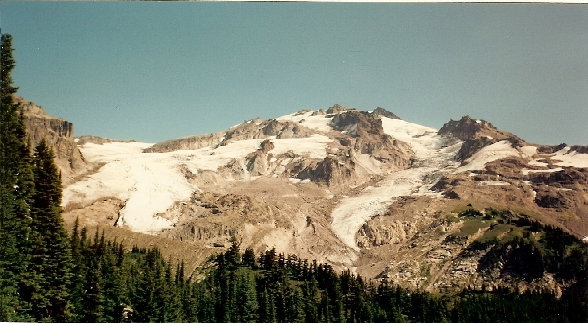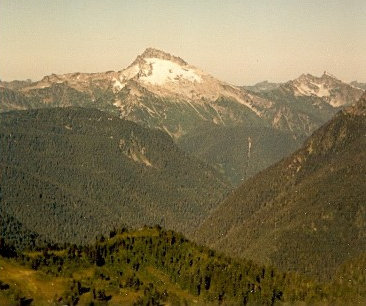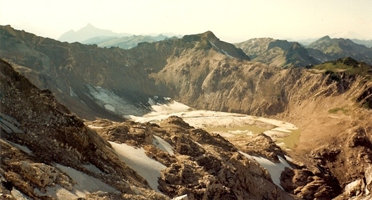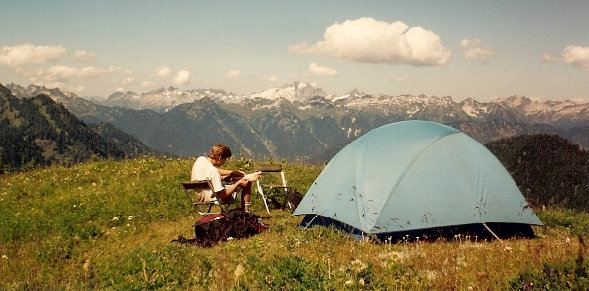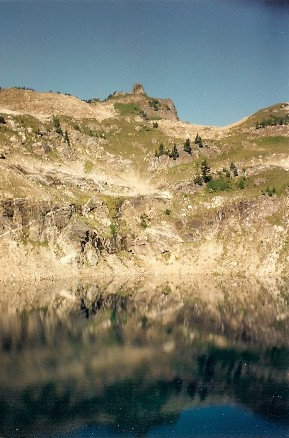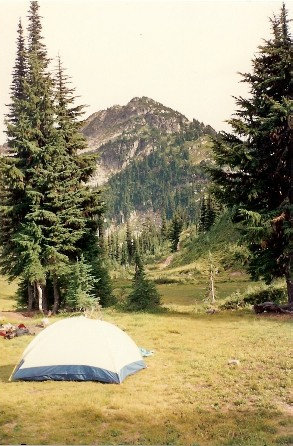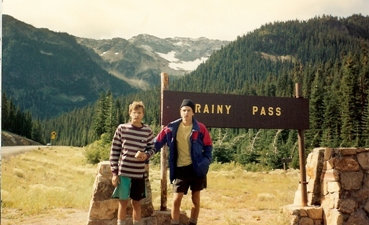 West Cady Ridge with Monte Cristo Peaks behind

North Fork Sauk River Valley
From south of White Pass looking north to Glacier Peak and the White River Glacier
Peak at end of Foam Basin Trail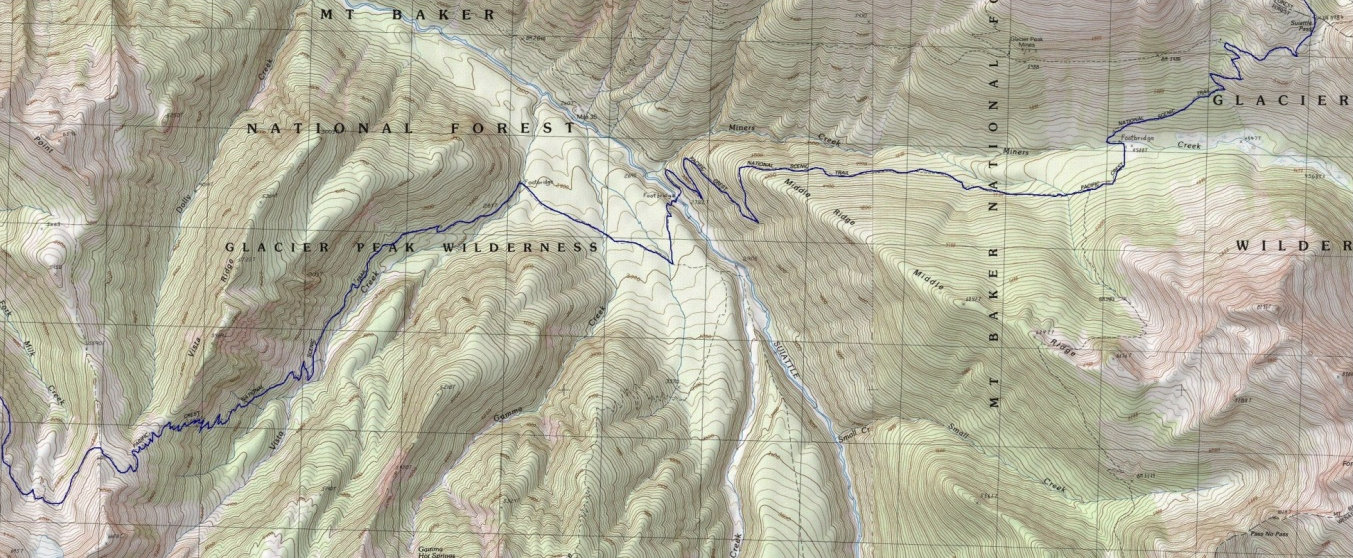 WillhiteWeb.com - Hiking, Climbing and Travel
Glacier Peak from Red Pass
Glacier Peak from below Red Pass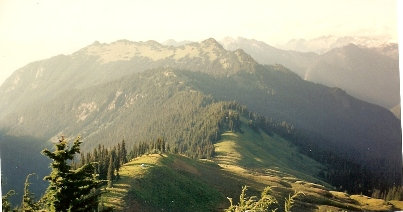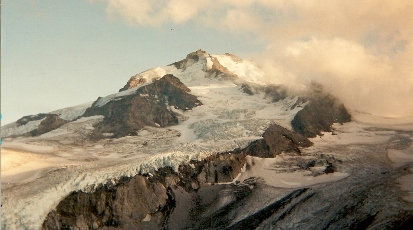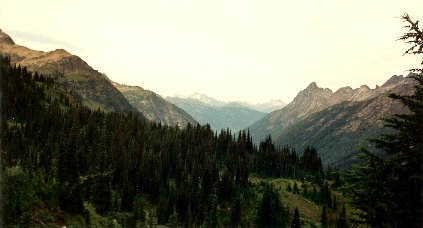 Sloan Peak from Red Pass
Glacier Peak from the PCT on Kennedy Ridge
White Chuck River Valley from Pumice Creek
Campsite at PCT on Pumice Creek
Glacier Peak from Peak 6952 above the PCT near Pumice Creek
Peak 6952 above the PCT near Pumice Creek
Mica Lake
Milk Lake Glacier from point 6952
Our camp at Grassy Pass
PCT - Grassy Pass
Our tent
South Fork Agnes Creek Valley from Suiattle Pass
Glacier Peak and the Ermine and Vista Glaciers from high on Grassy Ridge
Camping half mile north of Suiattle Pass
Campsite on Grassy Ridge looking north
Campsite on Grassy Ridge looking east
Sign at Rainy Pass