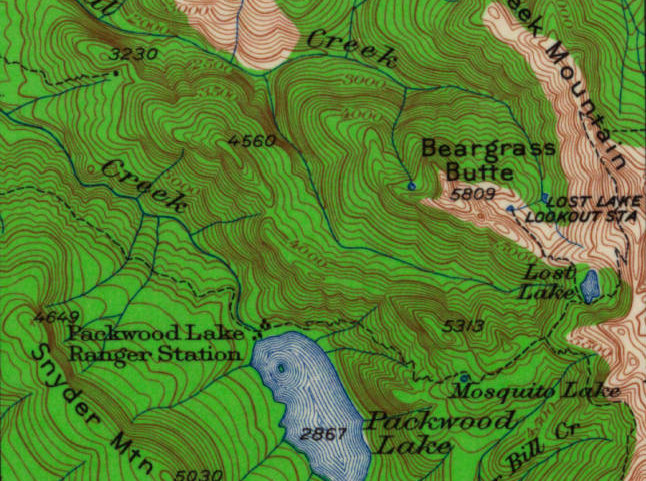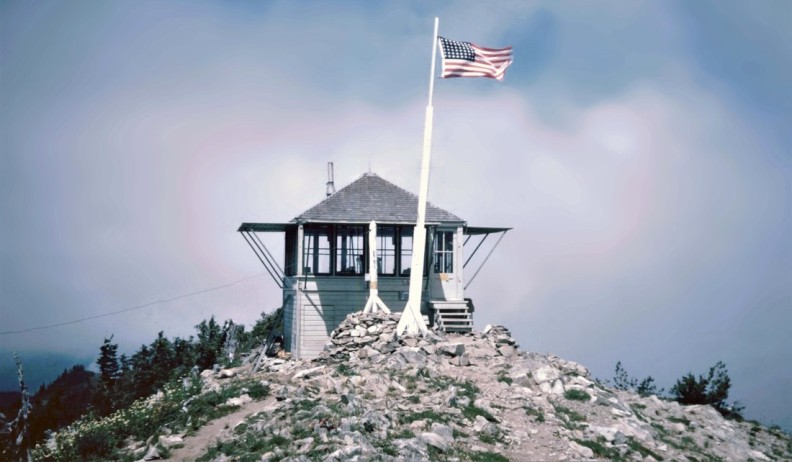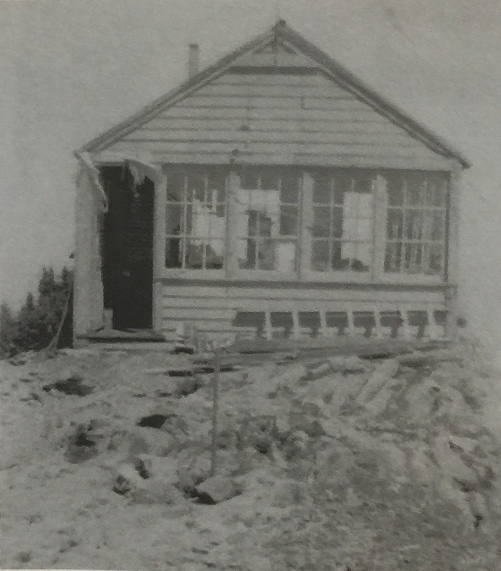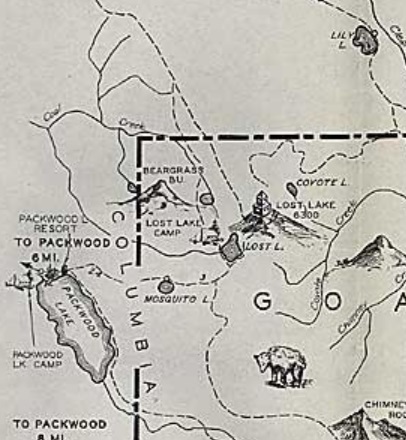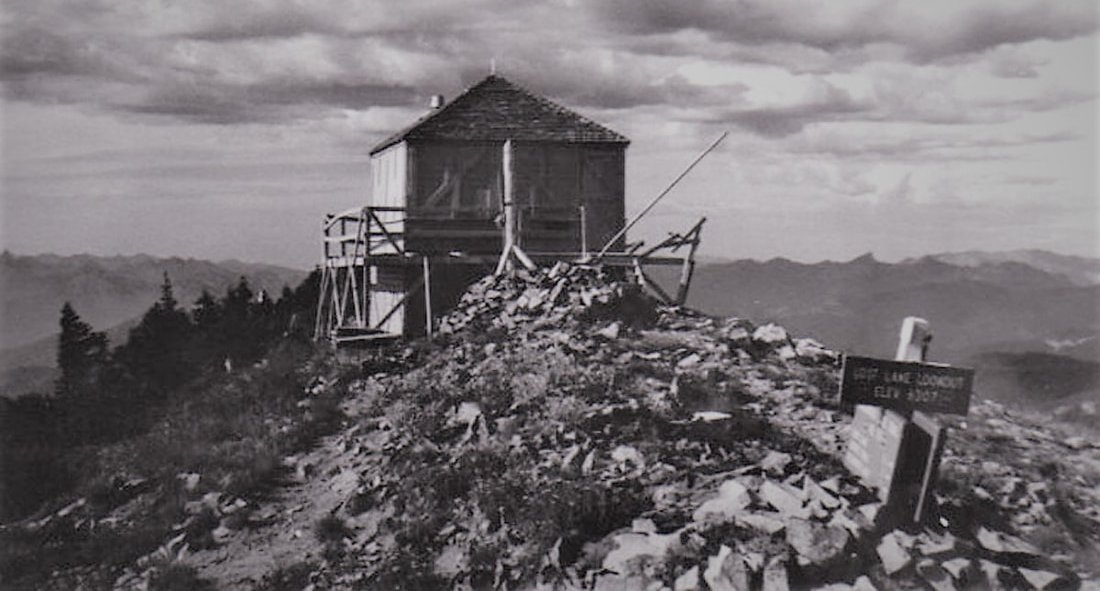 Coal Creek Mountain is a long ridgeline with several highpoints just inside of the Goat Rocks Wilderness. A nice trail takes you all the way to the summit, mostly used by locals, horseman and fisherman. The Bluff Lake Trail was used by Native American goat hunters to access a ridge systems high in the Goat Rocks. Topo maps show the highest point as Lost Lake Benchmark. The highpoint was once the site of Lost Lake Lookout. Views are magnificent of the Goat Rocks Peaks as well as Mt. Rainier.
For the Bluff Lake Trail, drive US 12 from Packwood east toward Yakama for 2 to 3 miles. Look for a right hand turn onto FR 4612 and follow it to the trailhead. Look for the trailhead marker as the road takes a hairpin turn to the left at 3,000 feet, possible to miss. (Update for 2015, a major washout on Purcell Creek has washed out the road, plan on hiking from there).

For Packwood Lake trailhead follow U.S. Highway 12 to the east end of town and turn south-east onto Forest Road 1262. Continue southeast on FR 1262 for 6 miles to the trailhead parking lot.
Lost Lake Lookout
Distance: 6.5 miles
Elevation Gain: 3,600 feet
Summit Elevation: 6,376 feet
Access: Good Gravel Road

Access:
Bluff Lake Trail Route:
The Coal Creek Trail starts out at the Goat Rocks Wilderness boundary and is the fastest route up although still 6.5 miles one way. The hike is an excellent forested uphill hike to Bluff Lake where several nice camping spots exist. Continuing on, the trail climbs hard but soon starts to open in places as it skirts along the ridge climbing higher and higher. The peak comes into view at several meadows. Follow the trail to near the top where you'll hit the trail split that takes you to either Lost Lake or Lost Hat Lake, official names are the Clear Lost Trail #76 and Packwood Lake Trail #78 Go left on #76 toward Lost Hat and you'll quickly be on the summit.
Packwood Lake Route:
This route makes for an excellent weekend trip. Spend the first day getting to Packwood Lake (5 easy miles, 600 gain) or the more challenging Lost Lake (5 more miles) and enjoying a nice relaxing campsite on the shores of the lakes. The next morning, hike to the summit of Coal Creek Mountain.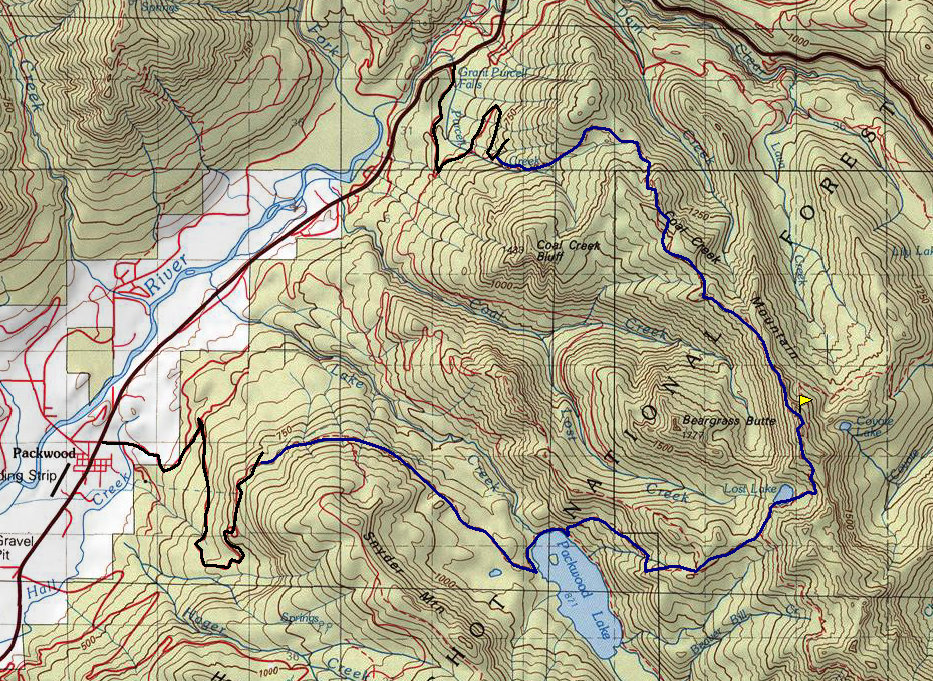 Bluff Lake
Bluff Lake Trail
First views of Lost Lake Lookout
Mount Rainier
Goat Rocks from Lost Lake Benchmark
Looking down at Coyote Lake
Mt. Rainier from the summit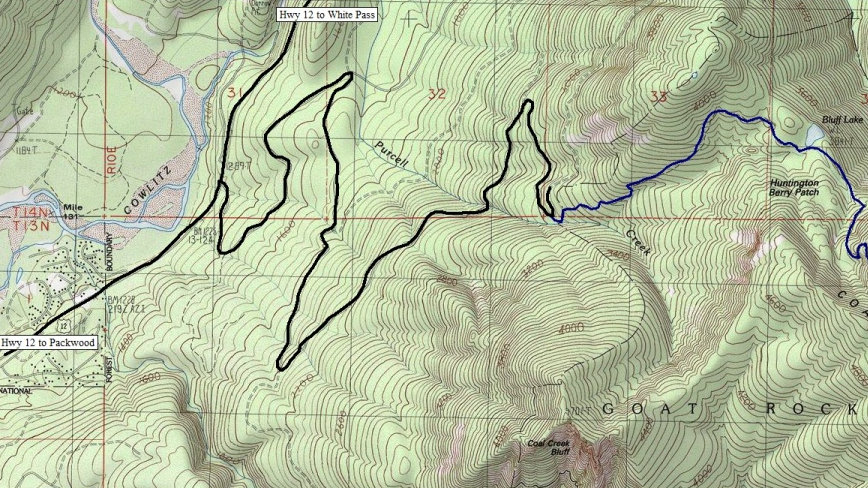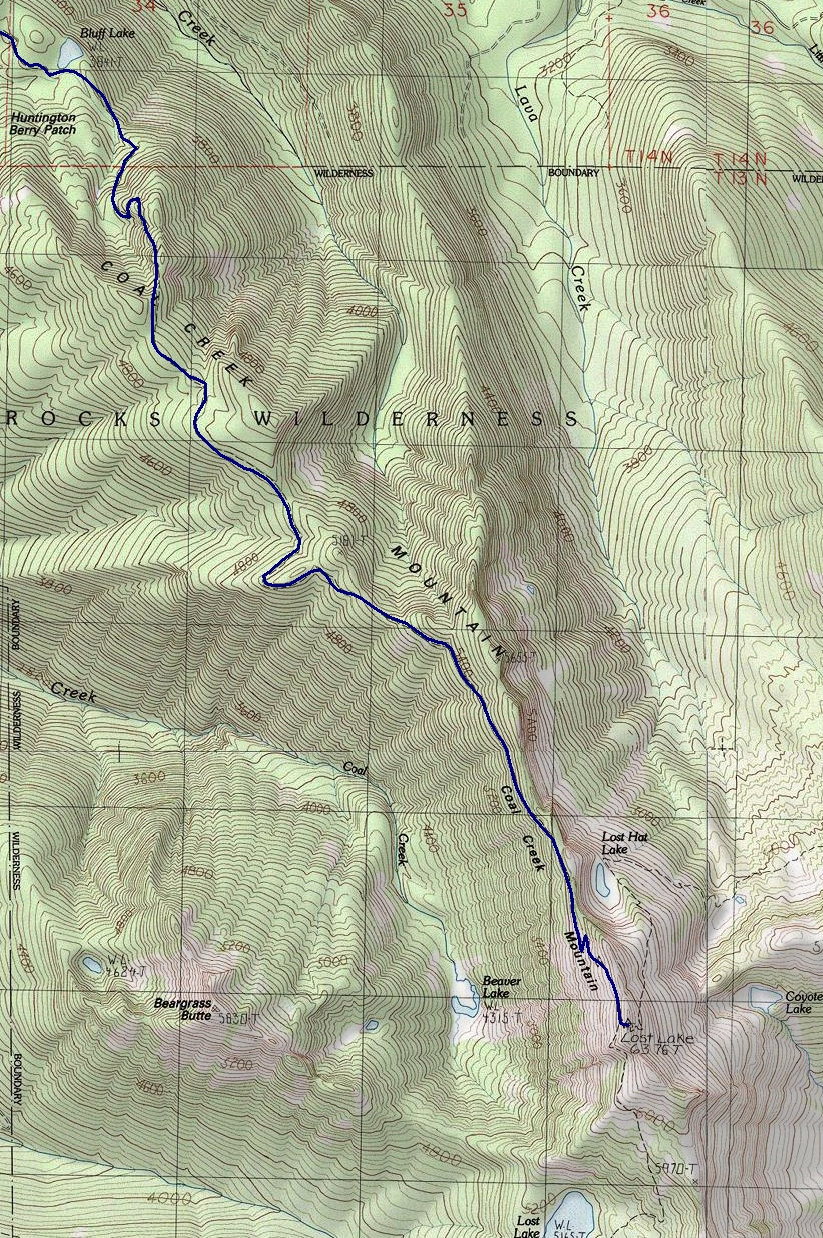 Above: Showing access and trail to Bluff Lake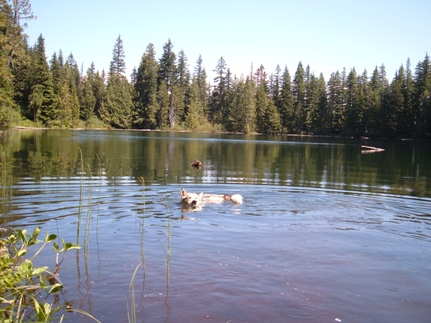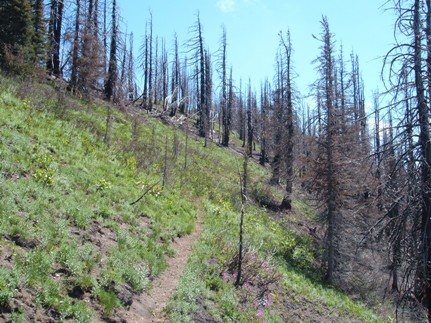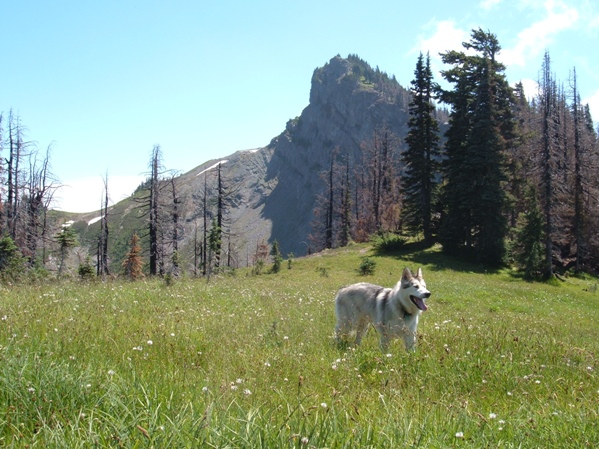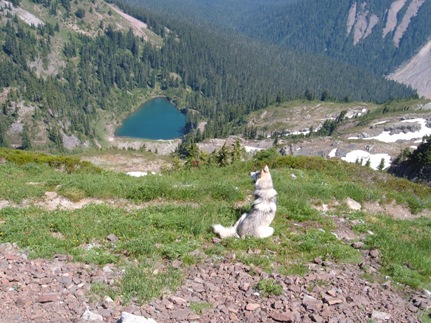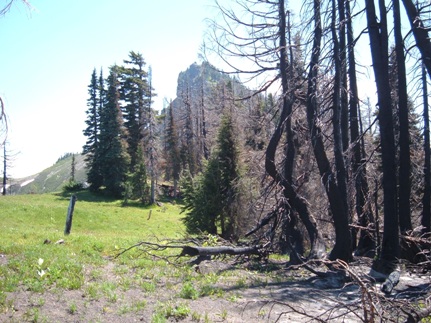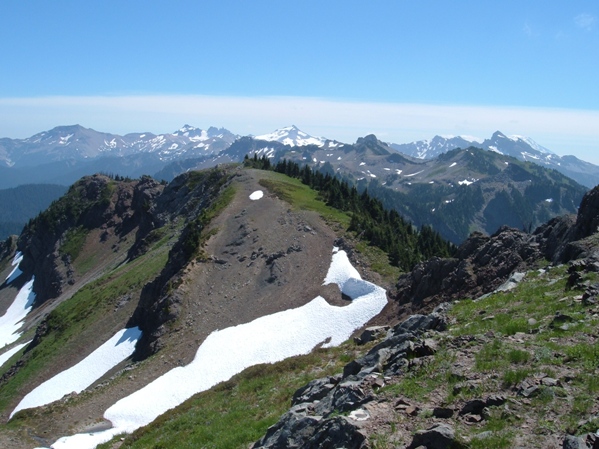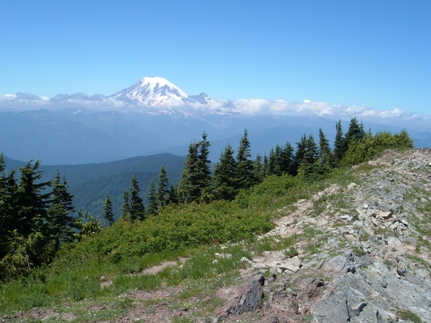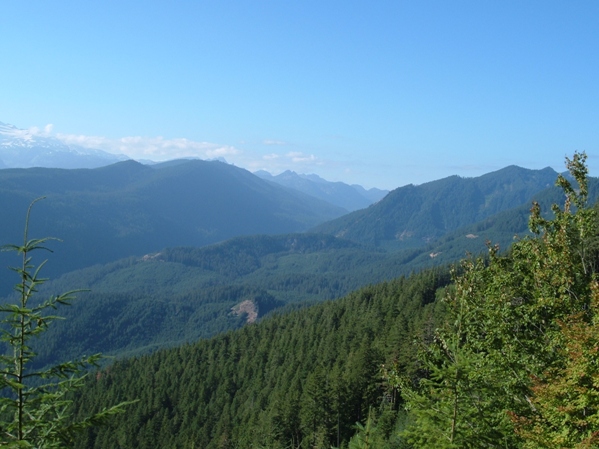 Burn scar along the trail
Showing trail from Bluff Lake to Lost Lake Benchmark
The site was first used as an observation point starting in 1922 with a tent cabin (Kresek). The first set of panoramic photos in 1929 are from a structure just below the summit. By 1934, an L-4 cab was on the very summit. A second set of panoramics were taken in 1934 and you can see the old cab just below the summit to the south. By the 1960's, both structures had been destroyed. Lost Lake Lookout was also known for Martha Hardy who was the lookout in 1944, she wrote the best seller book "Tatoosh" at Lost Lake, writing about her previous lookout experiences at Tatoosh Lookout.

Stories found by Ron Kemnow:
August 22, 1931: "One bolt of lightning struck the lookout cabin at Lost Lake, 10 miles south of Packwood. Raymond Campbell, on duty at the time, was stunned, but unhurt." (Centralia Daily Chronicle)

October 1936: "The dear old Lost Lake Lookout, which is situated in the northwest corner of the primitive area, and in Packwood District of the Columbia National Forest may be lost but not forgotten. It welcomed 62 visitors this season, and their visits were much appreciated by the lookout fireman. Yes, you may think 'Lost', when you see a sign pointing up a steep zigzag path, saying, 'Lost Lake Lookout 11 1/2 miles. But, nevertheless, the beauty and grandeur of the scenery make the hike worth while. One young man from Tacoma has been to the lookout every season for eight years, and this year he said that he was fortunate enough to make the trip twice." (Six Twenty-Six)
Historic Lookout: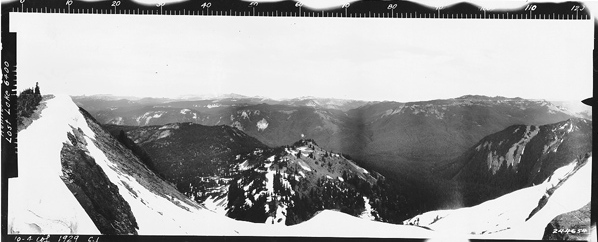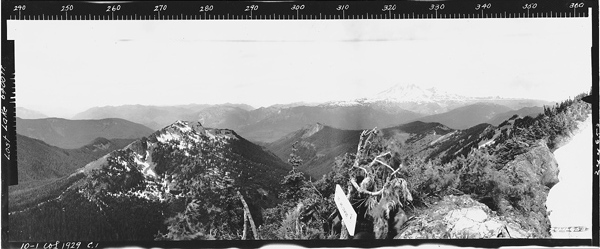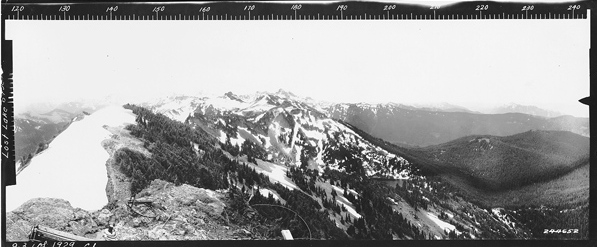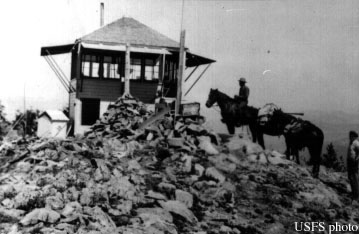 Lost Lake Lookout 1934
Lookout on the 1924 Map
Looking Northwest in 1929
Looking Northeast in 1929
Looking South in 1929
Bill Estes began construction of Lost Lake Lookout on September 4, 1930 (Rag Camps to Lookouts by Joanne Bridges)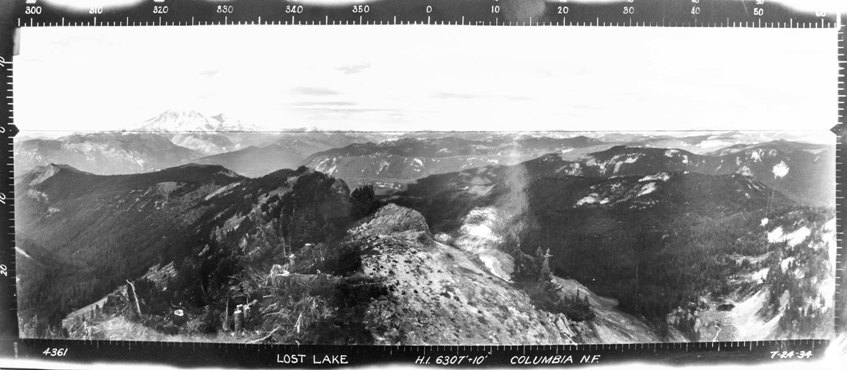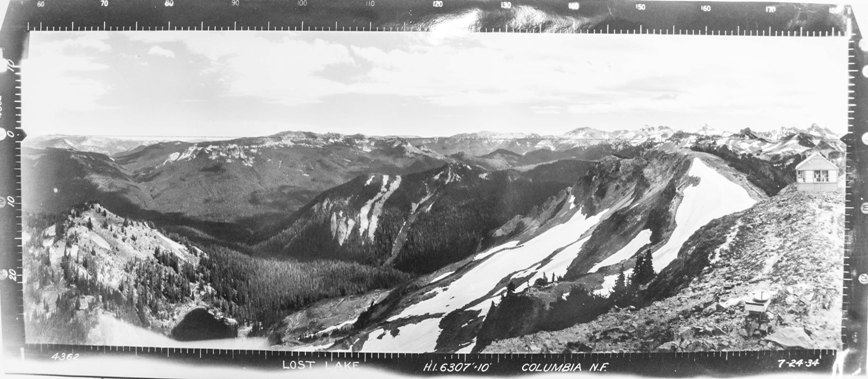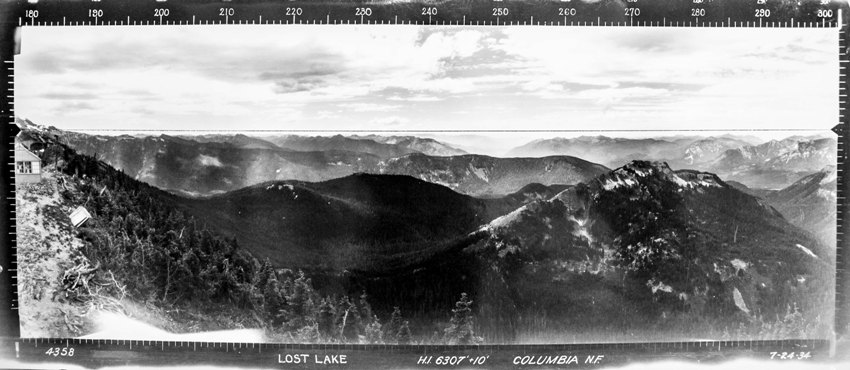 1937 Recreation Map
Matches building on left in the 1934 panoramics
Looking North July 24, 1934
Looking Southeast July 24, 1934
Looking Southwest July 24, 1934
Full Size Panoramics at these links:
1929
1934
Ohanapecosh Valley
Below: Zoom in of the original building on the 1929 panoramics