Fort Worden State Park
At the nautical entrance to Puget Sound is the historic Fort Worden Military Base. Known today as Fort Worden State Park and Conference Center, it lays inside the city limits of Port Townsend. The military base was commissioned in 1902, decommissioned in 1953 and became state owned in 1955. It was one of the largest fortification systems designed to prevent enemies from reaching targets like the Bremerton Naval Yard, Everett, Seattle and Tacoma. The base never had to be used for any enemy vessels. Because so many of the barracks and buildings remain, it is a park that has more than the typical beaches and trails in most Puget Sound State Parks. The history here is well preserved with several museums inside the buildings as well as many rental opportunities for overnight family vacations, reunions and conferences (456 total bedrooms). Visitors may choose from century-old officers housing, a castle, special one-room houses and large dormitories. With over two miles of saltwater shoreline there are lots of exploring and beach activities like fishing, crabbing, beachcombing and bird watching. A highlight is a visit to the Point Wilson Lighthouse. Many locals just come for a picnic or to launch small watercrafts. Others are more serious coming to Scuba Dive in the underwater park just off the shore. Below are some of the main highlights inside Fort Worden State Park.
WillhiteWeb.com - Washington Sights & Attractions
The commanding officers quarters are a Victorian home with all the furnishings to provide a unique glimpse into the life of a senior U. S. Army officer and his family between the period between 1830 to 1910.
The Coast Artillery Museum preserves artillery history with special emphasis on the harbor defenses of Puget Sound as they existed and functioned from the late 1800s to the end of World War II.
Marine Science Center
At the Marine Science Center you can learn about life below the waters of Puget Sound. The center has tide-pool touch tanks filled with crabs, starfish, anemones, and other marine life.
The Centrum
Throughout the year there is a wide variety of concerts and other performances at the Centrum.
Tours
Depending on the time of year, there are sailboat tours, boat tours to nearby Protection Island (a wildlife refuge home to puffins, rhinoceros auklets, and other nesting seabirds), whale-watching cruises through the San Juan Islands, a passenger-ferry service to Friday Harbor, kayak rentals, guided kayak tours, bicycle rental and motorboat rentals.
Camping
Fort Worden has two campgrounds with 80 campsites that may be reserved up to one year in advance. Both campgrounds have restrooms with showers. The Beach campground features 50 full-service (water, electric and sewer) hookup sites located near the largest batteries near the beaches of Point Wilson. The Upper campground features 30 sites with water and electricity. The campsites are mostly forested, some with privacy, and have easy access to the miles of trails.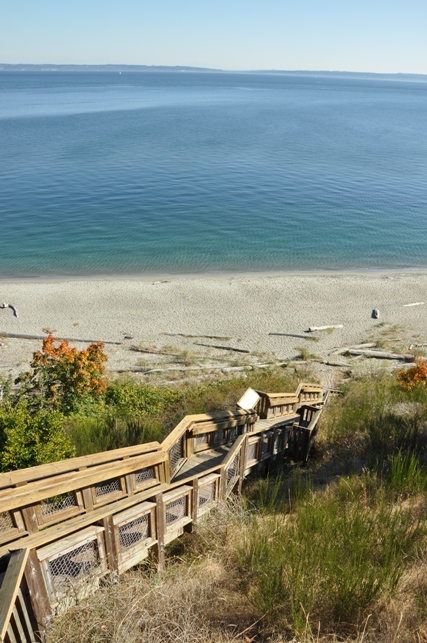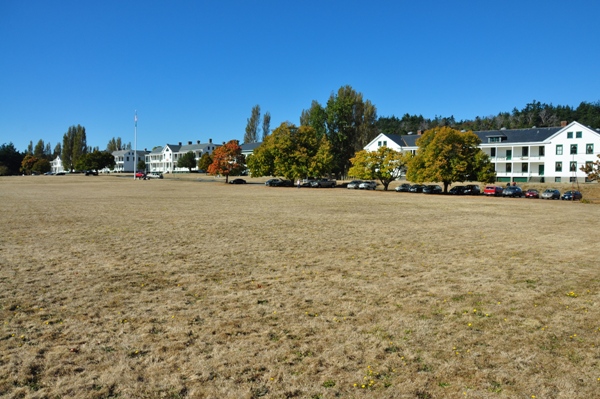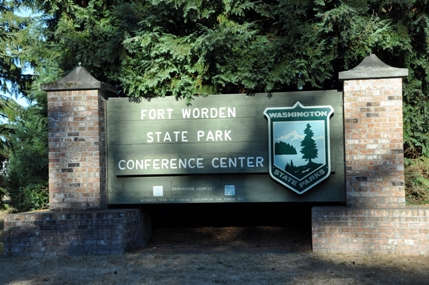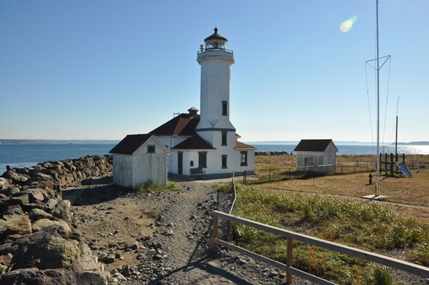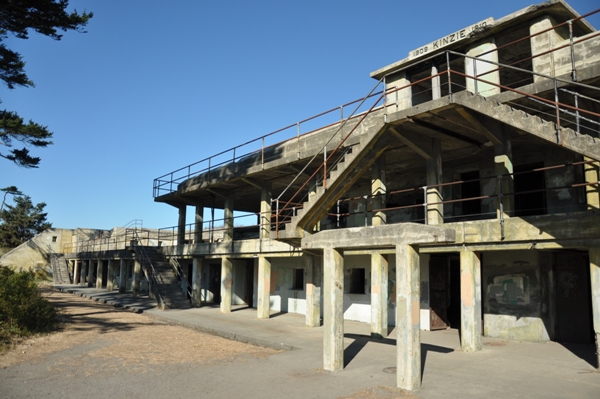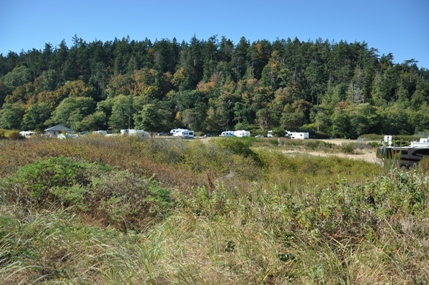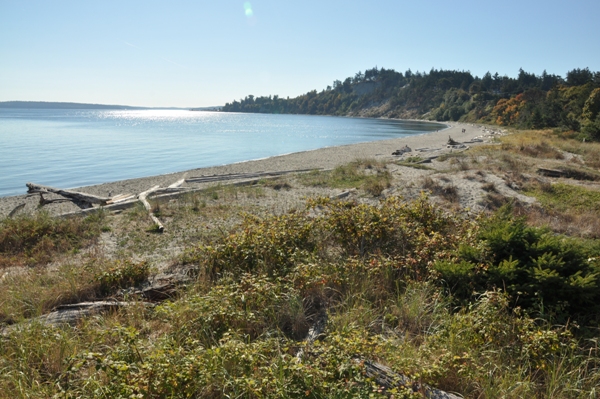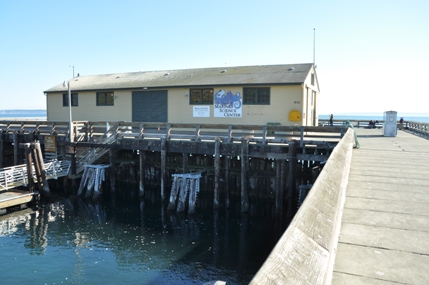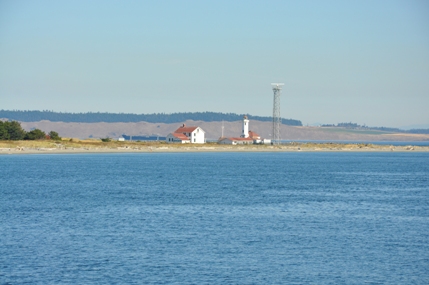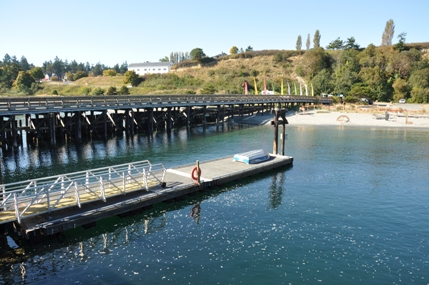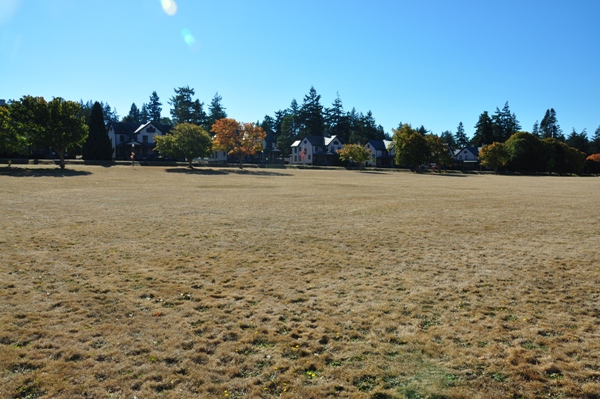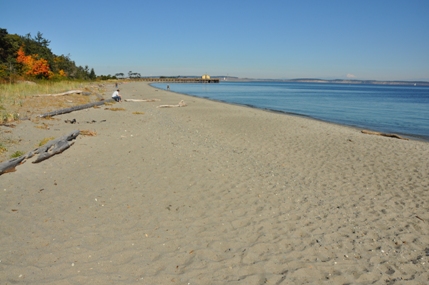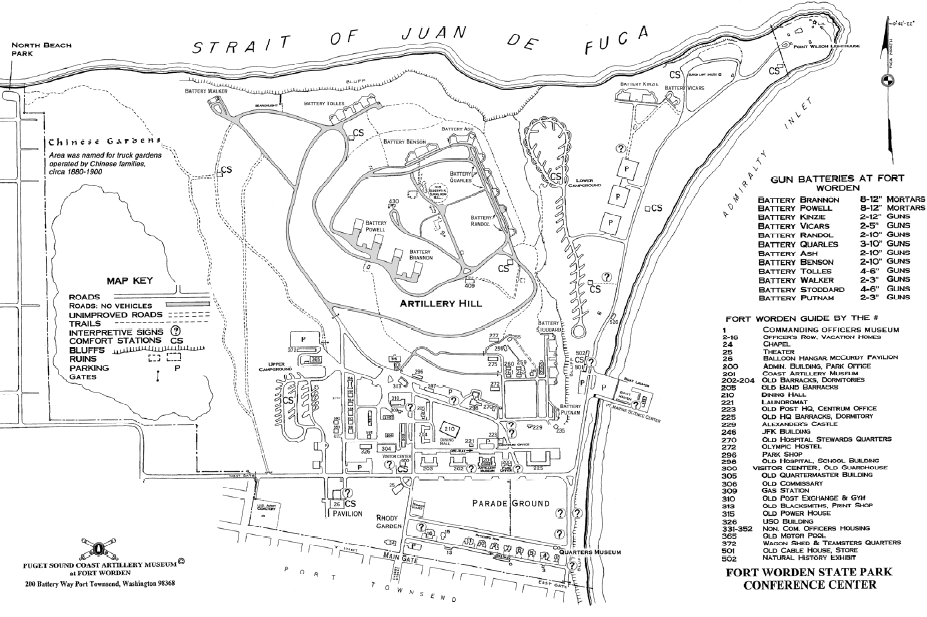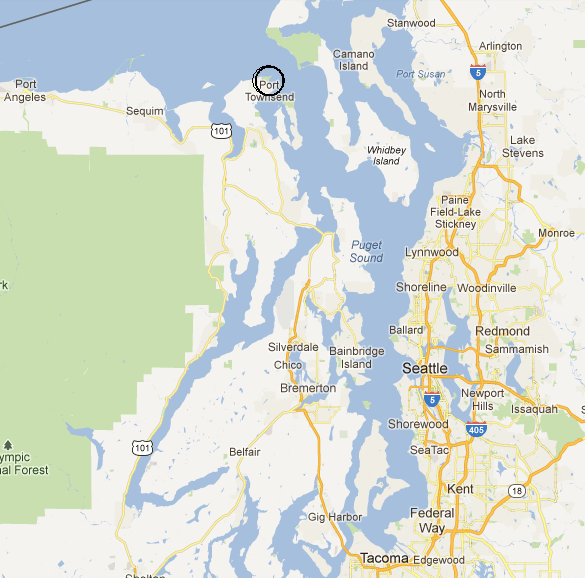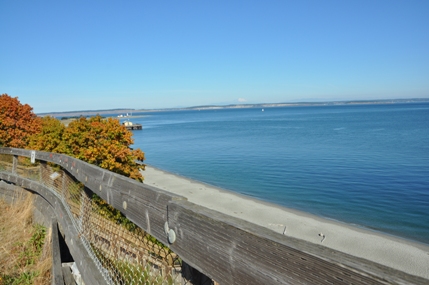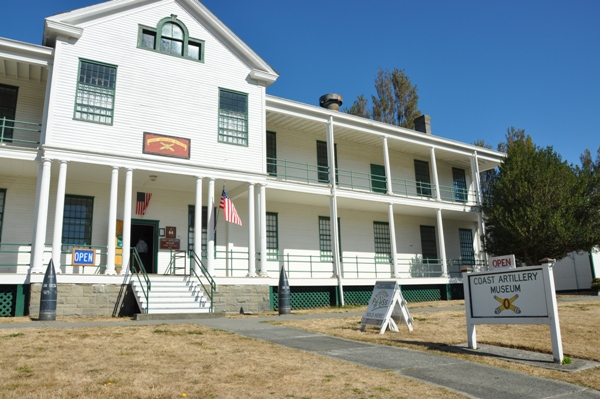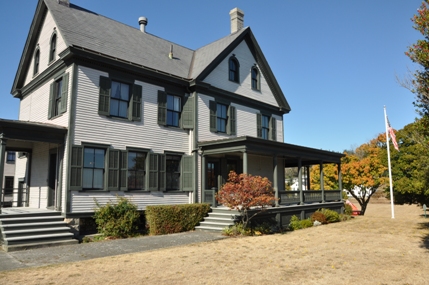 Admiralty Inlet
Fort Worden Map
Puget Sound Coast Artillery Museum
Parade Grounds with Officers Row in the distance
Commanding Officers Quarters Museum
Point Wilson Lighthouse
Mount Baker and cargo ship entering Puget Sound
Fort Worden Beach
Fort Worden Dock
Stairs down to the south part of Fort Worden Beach
Batteries
Parade Grounds and administration buildings
Marine Science Center
Beach Campground
Point Wilson Lighthouse
Point Wilson
Fort Worden Beach