Long ago, Pyramid Peak was probably a really fun backpacking destination, on the Cascade Crest, miles from anything. With the old Cascade Crest Trail traveling up and over the summit, visiting the lookout on top was probably exciting for backpackers. Today, the Pacific Crest Trail just skirts the side, the lookout is gone, and a maze of roads are scattered all over the area, including State Route 168 just below the summit on the south side. SR 168 is often plowed all winter, allowing amazing access to some high country with no effort.

What is SR 168? It is currently FR 7080 that goes over Pyramid Pass (just north of historic Naches Pass) at an elevation of 4,860 feet. Notice that both Naches Pass at 4,928 feet and Chinook Pass at 5,430 feet are higher passes than Pyramid Pass.

State Route 168 is a legislated, but not constructed, state highway. The highway is meant to serve as an alternate crossing through the Cascade Range, supplementing the seasonal Chinook Pass on SR 410. Proposals were first drawn in the 1930s, and the highway has been codified in law under its current designation since 1970, however no construction has occurred. The highway is legislated to begin in Greenwater on HWY 410 going over the mountains to Cliffdell on Hwy 410. The two main reasons for creating the highway would be an all-season route with limited avalanche danger, unlike Chinook Pass, the other to allow commercial vehicles to bypass Mount Rainier National Park, where they are prohibited. Someday, it will have to get built given the volume of traffic on I-90 these days.
WillhiteWeb.com - Washington Fire Lookouts
Pyramid Peak & Fire Lookout
Distance: 1 mile
Summit Elevation: 5,718 feet
Elevation Gain: 900 feet
Access: Good Gravel
Access:
From Greenwater on Hwy 410, go east about a mile to a major left turn on FR 70, the Greenwater River Road. Follow FR 70 for around 15 miles to a left turn onto FR 7080. Follow it up to Pyramid Pass.
Route:
In winter, just snowshoe up the mountain, the entire (short) route is visible from the pass. In summer, hike a bit on the PCT, then pick a route up to the top. A trail probably exists somewhere.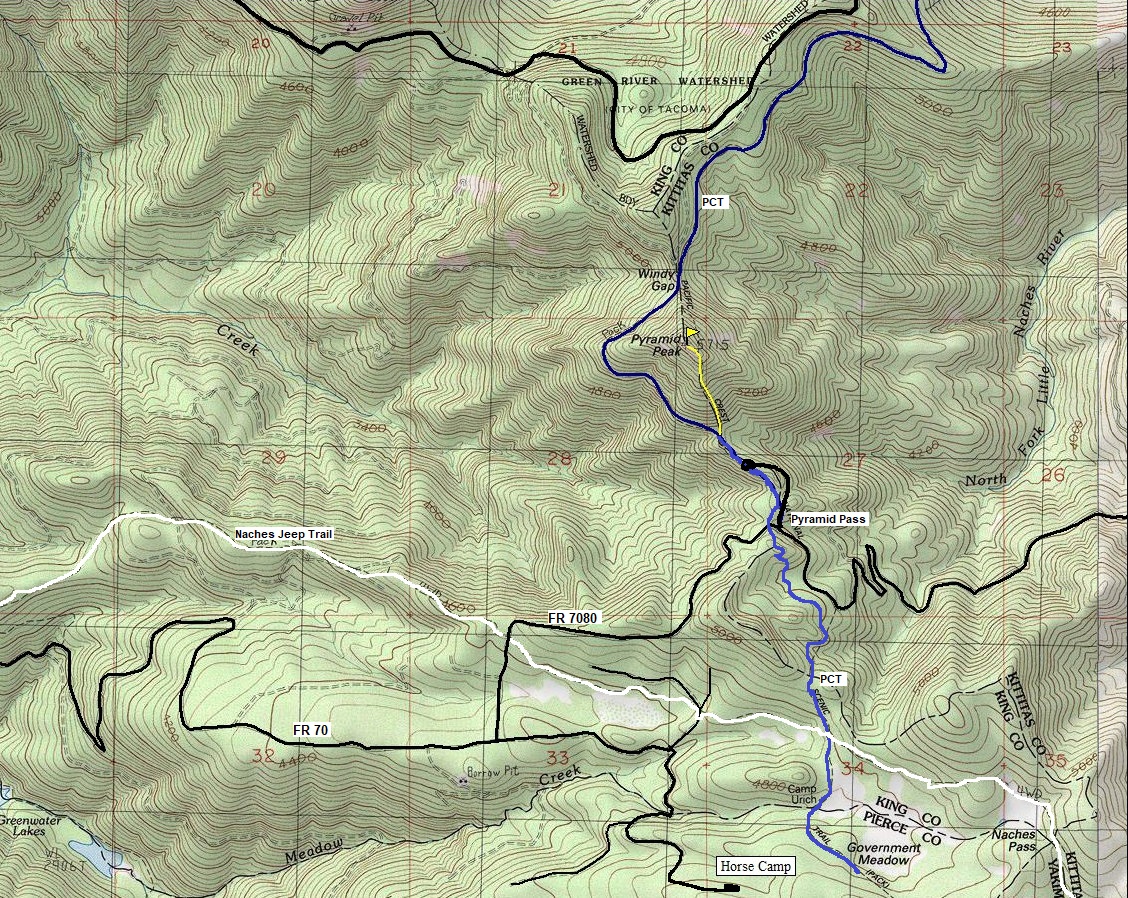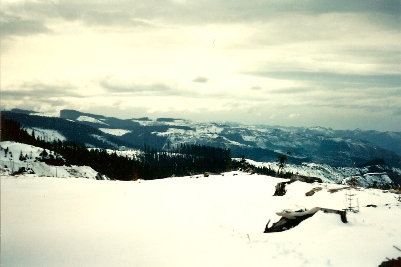 Forest Service Map showing the route from Greenwater
Looking north to the Alpine Lakes Wilderness
Looking south from the Pyramid Peak area
Looking to Mt. Stuart
Looking north from Pyramid Peak
My brother taking a picture
Near the summit on April 7th, 1993
Lookout History
One of the earliest lookouts, built in 1923, this was a cupola cabin which lasted until 1948 when it was burned down by the USFS. They replaced it with an L-4 cab. This second lookout was burned down as well in the 1950's or early 1960s.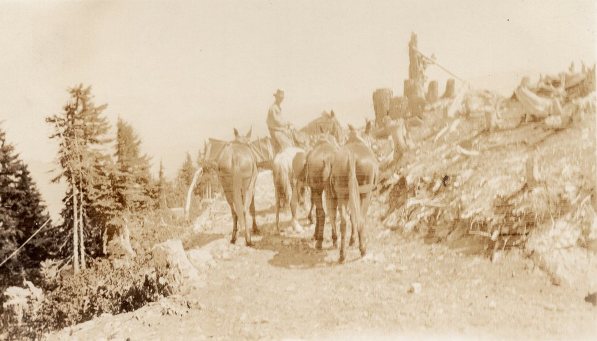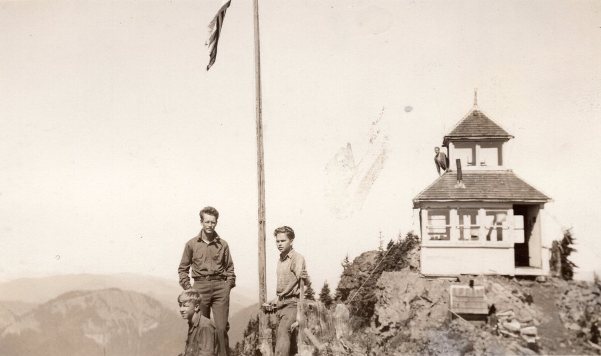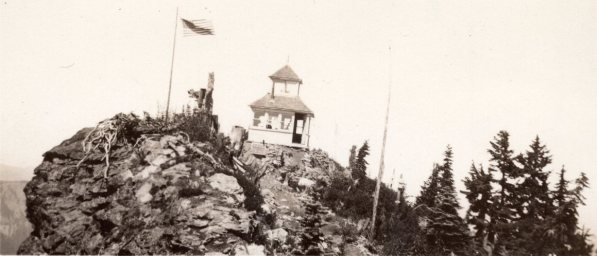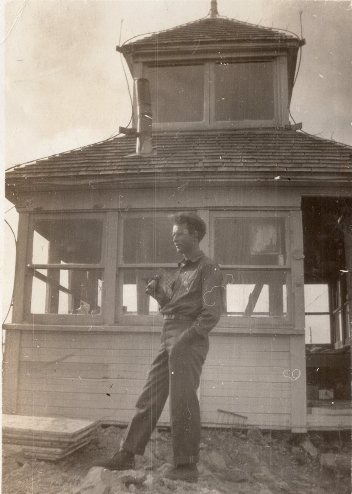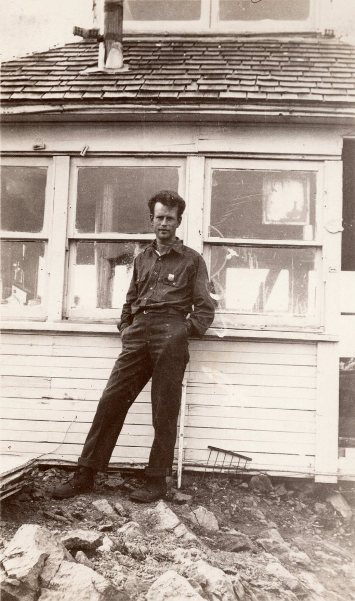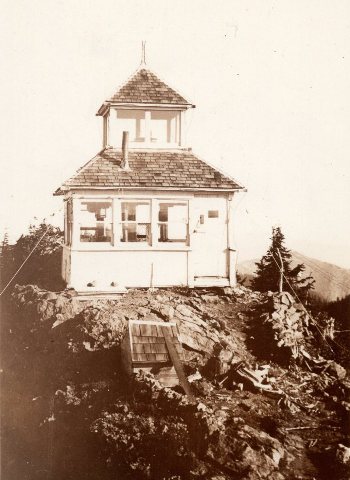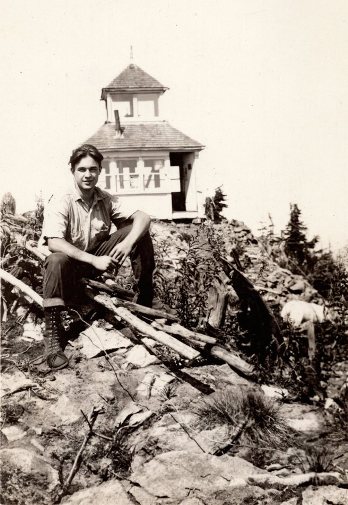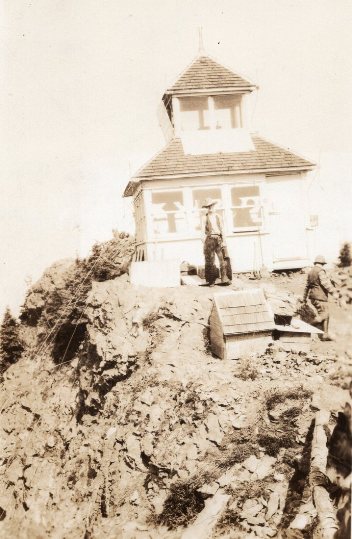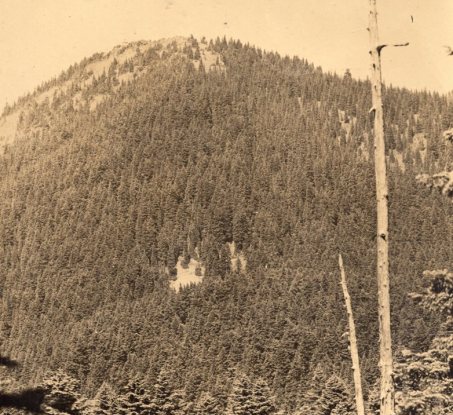 Above: 1928. Jess Rose upstairs holding the shutter (click image for larger size). Poss Jack Bennett & Miss. Bennett outside. Jess Rose said he once fell out of the cupola through floor entry hole to lower section.
Panorama photos taken July 12, 1938
Looking North
Looking Southeast
Looking Southwest
These images from 1928 to 1932, click on them for larger size
This one was labeled Pyramid Peak but I can't confirm.
Above: 1937 USFS Photo
Below: 2 Irene Potter photos of the site taken in 2001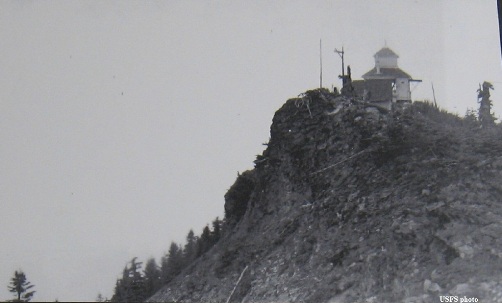 1936 Recreation Map