Perkins Peak is the highest point between Parleys Canyon and Emigration Canyon. When approaching from the east on a long ridgeline, you also cross over Dale Benchmark, another small summit. This entire ridge traverse offers great views. The trailhead is open year round so winter is a possibility as well. Actually, winter is a good time for Perkins when the brush is covered in snow. Although I have done Dale with my kids in summer, I went back (at night) in the winter to do the traverse over to Perkins. With the moonlight, I could see the route almost as good as if it were daytime. Perkins also has 1,273 feet of prominence.


From I-80 in Parleys Canyon, take the East Canyon Exit 134 (Highway 65) north a few miles looking for a left turn lane accessing Emigration Canyon and route up to Little Mountain Pass. From Salt Lake City, drive up Emigration Canyon until you reach Little Mountain Pass.
Perkins Peak
Distance: 8.5 miles round trip
Elevation Gain: Almost 2,000 feet round trip
Summit Elevation: 7,500 feet
Access rating: Level 1
www.WillhiteWeb.com: Your online resource for hiking, climbing and travel
Access:
From the parking area at Little Mountain Pass, walk the gated road up to some communication equipment. Continue west on old roads (or ski trails) staying on or near the ridge top. The route will veer left (south) up a steep hill before being back on a ridgeline. The slope up Dale is a bit steep but once on top of dale, the traverse over to Perkins doesn't have anything nearly so steep. Perkins won't be visible until on top of Dale. The traverse is said to be a bit brushy in summer. I found nothing but an enjoyable snow covered ridge in mid-February.
Route:
View of Dale Benchmark from near Little Mountain Summit
Starting as the sun went down, Dale BM in distance
Getting closer to Dale Benchmark
Lookout Mountain to the north
Grandour Peak to the south
Shot this video of the lights from the summit
Here is a day shot by WasatchVoyage who did the trip during daylight - compare to this shot to my night shot...this is the final summit climb.
Here is a shot I took when I climbed Dale Benchmark a few Novembers back. This is the ridge from Dale to Perkins Peak.
Summit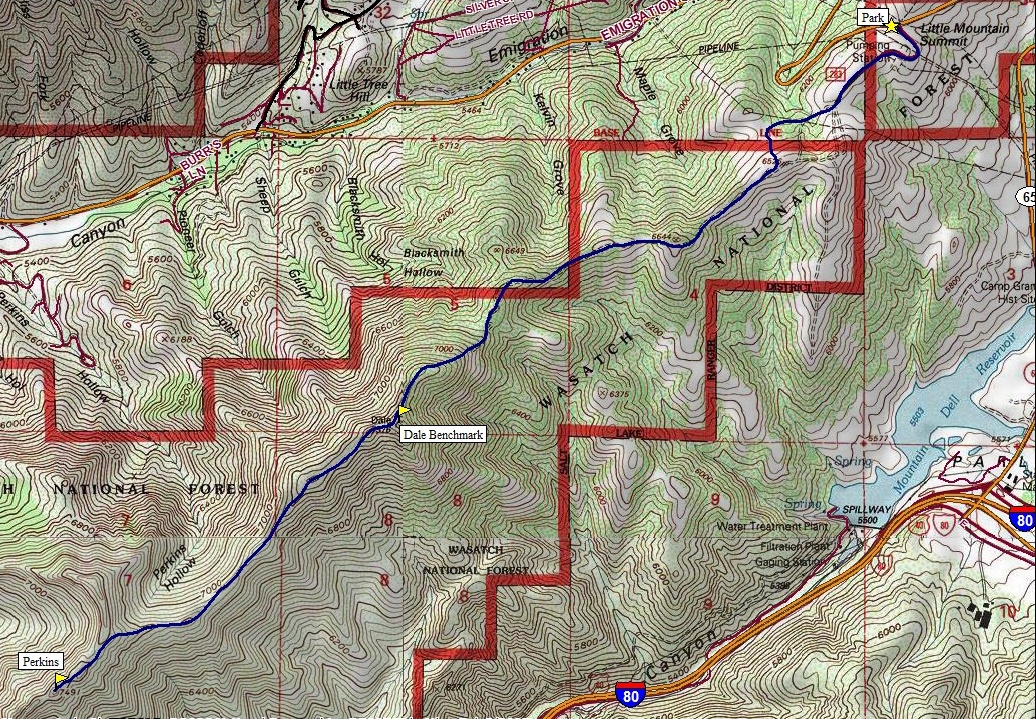 Salt Lake City lights from the summit