From Duchene on US Highway 40 or the intersection with Highway 35 from Francis/Kamas, go north on State Highway 87. Follow State Highway 87 to the turnoff for State Highway 134 and Mountain Home (between milepost 15 and 16). Follow State Highway 134 north through Mountain Home. From Mountain Home, continue north on the Moon Lake Road. After five miles, turn east on the Yellowstone River Road. Follow the Yellowstone River road to the trailhead at the end of the road.
North and South Timothy Peaks are named after the Timothy Lakes nestled high in the Uintas below the highest peaks in the range. These two peaks are west of Mount Emmons and on a sub ridge south of Kings Peak. Both make for a fairly easy climb if camping at the lake basin or could be done as a loop trip from Bluebell Pass. Unfortunately, they are like most of the mountains in the area, a giant mess of rocks that isn't too fun after a few hours.
North & South Timothy Peaks
Distance: 10+ miles one way
Elevation Gain: 5,500+ feet
Summit Elevation: 12,685 & 12,646 feet
Access rating: Level 2
www.WillhiteWeb.com: Your online resource for hiking, climbing and travel
Access:
Route from Timothy Lakes:
From the Swift Creek Trailhead hike up the trail 1/4 mile to a Y (a bit after a big bridge over Swift Creek). Left is the Yellowstone Creek trail, right is the Swift Creek trail. Go right. The "creek trail" starts out climbing switchbacks well above the creek. After a few miles, the trail drops a bit and merges back along Swift Creek. There are two crossings with no bridges (in 2010). These may require a ford. At 6 miles, Deer Lake is encountered. About a mile past the lake is another Y. Go right again toward Timothy Lakes. Now the meadows start and glimpses of South Timothy will come into view. The trail will hit another split where left is Farmers Lake and right is Timothy Lakes. Go right again and follow the trail to East Timothy Lake or just before the lake. Go cross country to West Timothy Lake. At the north end of the lake, ascend the mountain to the saddle between the 2 Timothy Peaks. From the saddle both are easy rock hopping to the tops. To make a loop, descend the south summit to Bluebell Pass. You can also ridge traverse north from the north summit to Trail Rider Peak. From there, peaks go in both directions on the highest ridge in Utah. You'll be between Kings Peak and Mount Emmons.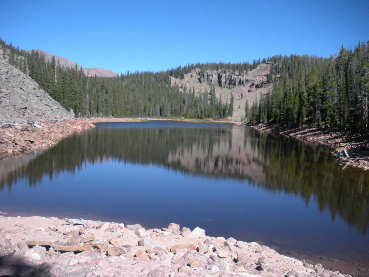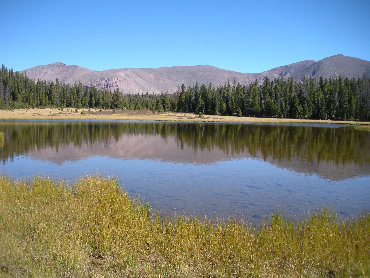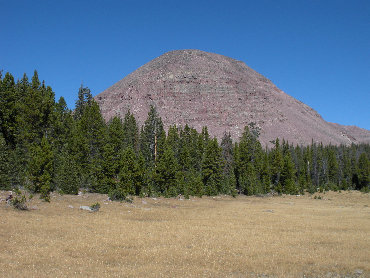 First views of South Timothy Peak
Lake with no name
Deer Lake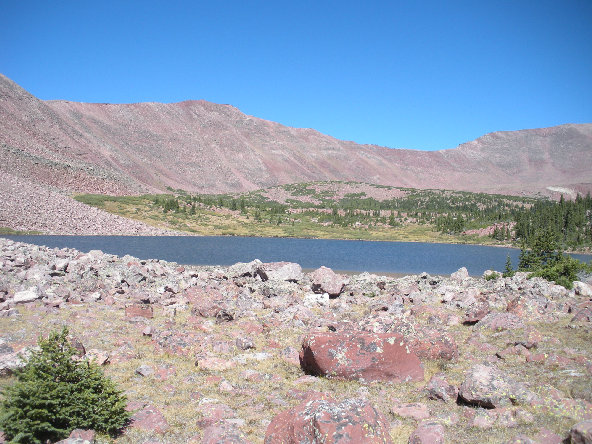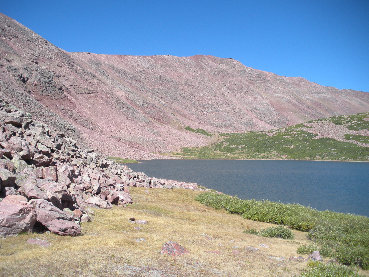 North Timothy Peak from West Timothy Lake
Center Timothy Lake with North Timothy Peak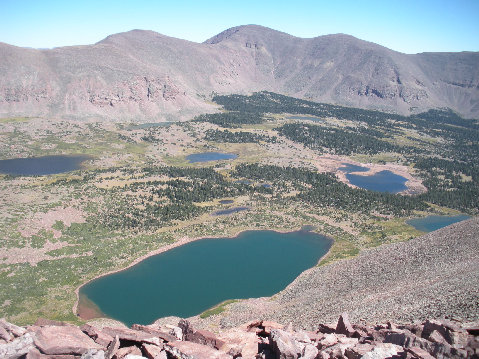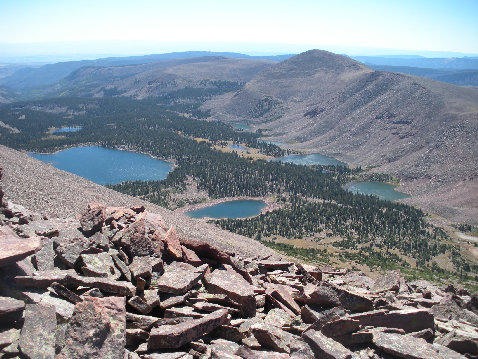 Timothy Lakes with Mount Emmons beyond
Farmers Lakes Basin with Paul Benchmark above

Roberts
Trail Rider
Painter
South Kings
North Emmons
Emmons
North Timothy
Pano shot from South Timothy looking north and east. I went on to climb North Timothy, Trail Rider and Painter, before heading back. All 4 peaks done in one 15 hour day.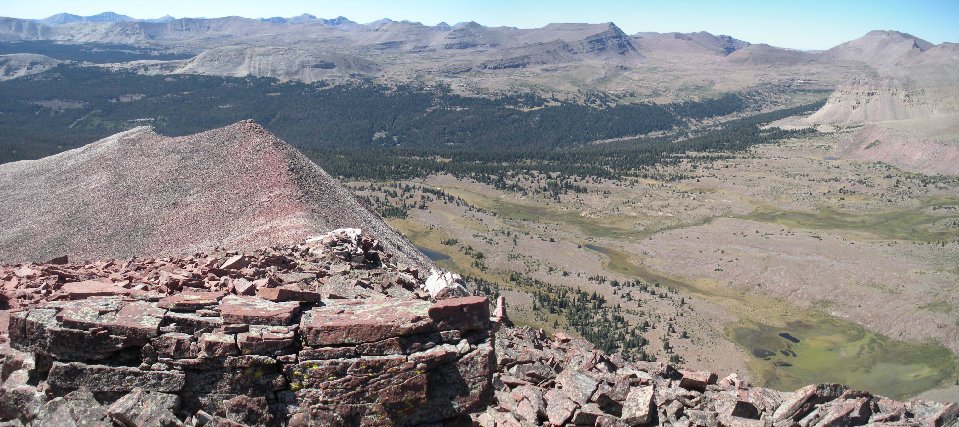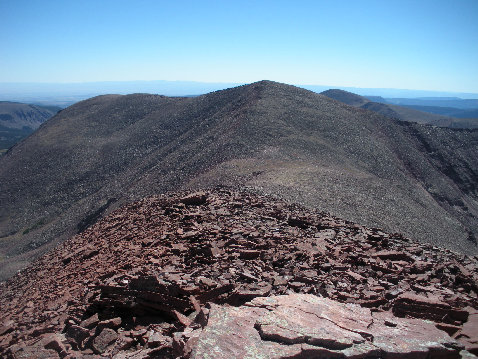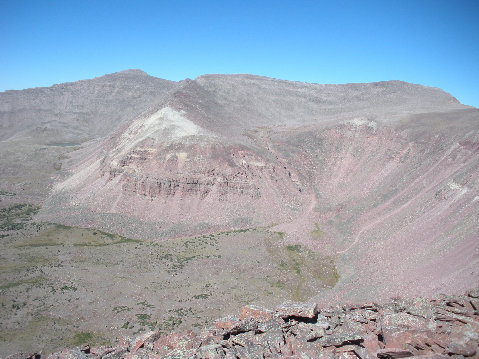 Kings Peak
South Kings
Painters Peak
View north from North Timothy Peak
South Timothy Peak from North Timothy Peak
Looking west from North Timothy Peak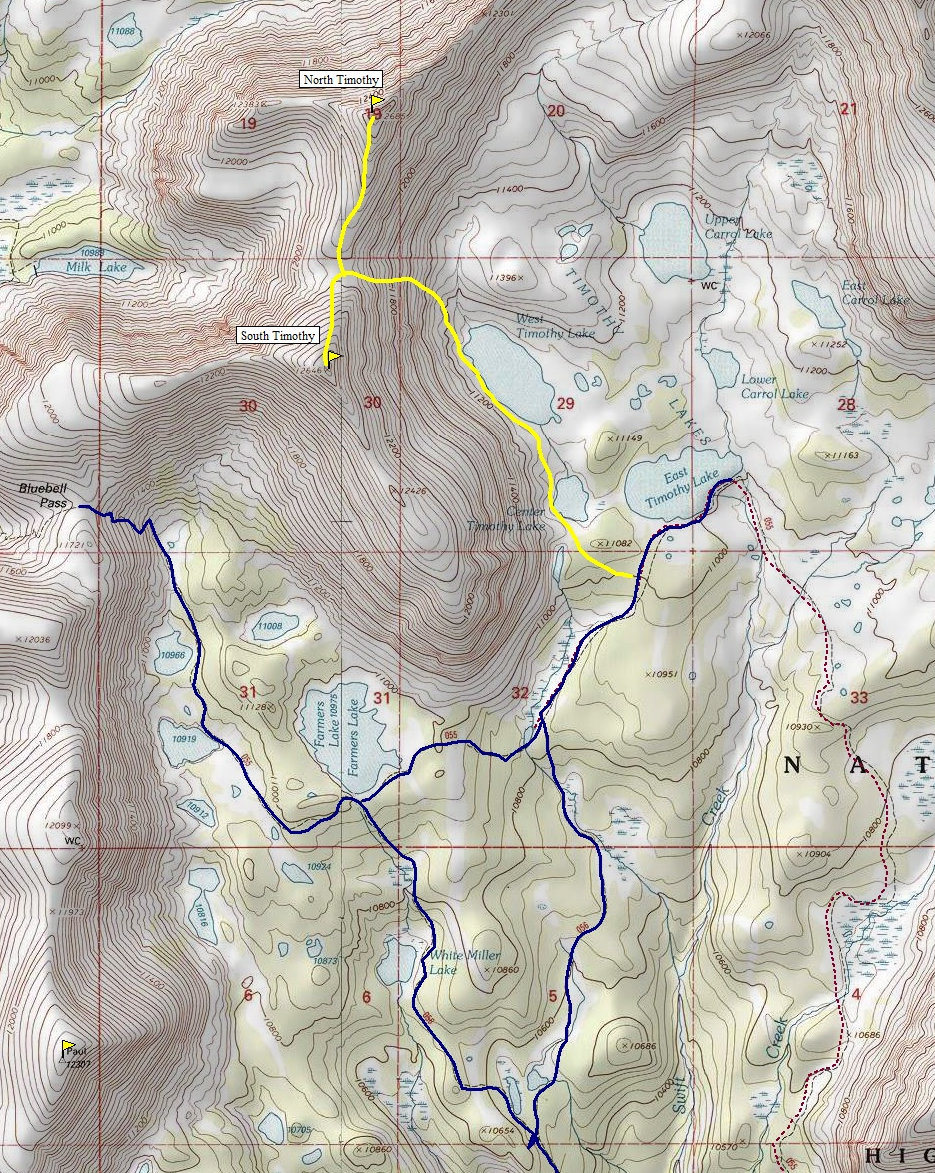 North Timothy Peak
Trail Rider Peak
Roberts Peak
From Center Timothy Lake