Hayden Peak is an imposing looking mountain as you drive the Mirror Lakes Highway through the Uinta Mountains. Since the highway goes right by, their is no approach and the mountain is a quick climb. Different accounts of the mountain lead me to believe it could be a bit challenging but in the end, it's an easy class 3 scramble.
Distance: 2.0 miles
Elevation Gain: 2,200 feet
Summit Elevation: 12,479 feet
Access Rating: Level 1
Hayden Peak
www.WillhiteWeb.com: Your online resource for hiking, climbing and travel
Access:
Route:
The main climbing route requires about 10 feet of easy class 4 with no exposure. Chances are you won't require a rope unless you are very uncomfortable on rock. This entire section can be bypasses by a more un-esthetic route to the north up a major chute (see map). We came across backpackers and a fisherman using this route to access McPheters and Ryder Lakes on the east side of Hayden. For the climbers route, hike east out of the hikers parking at the Highland Trailhead. Within a short distance you should find yourself on a main ridgeline extending west off the south running ridge between Hayden and Mount Agassiz. A trail exists here in places. There are also a few cliff bands to find ways around as you get higher. Once you break tree line, you encounter the final major cliff band. Climb to the base and look for the shortest climb up where a large rock tunnel in the band exists. You should see evidence of others scrambling here. Once over the cliff band, climb up and north to reach the ridgeline. This is a possible place for human caused rock fall on others so pay attention. On the ridgeline, it's easy going to the base of the false summit. As you approach this tower, traverse onto the west side below all the cliffs. Continue traversing as you pass underneath a massive leaning rock spire. Once past, you should see a large and easy class 3 gully leading to the ridge between the false summit and true summit. (There is a narrow gully as well just before the big one). On the ridge, go north to the base of the true summit. Traverse around on easy ledges to the NE side where nice class 3 gullies lead to the summit.
Drive east on Highway 150 out of Kamas Utah for about 30 miles or south out of Evanston Wyoming. Look for the sign for Highland Trail just north of Hayden Pass. Park in the hikers parking area at the trailhead. There is a fee to park at any of the trailheads along the highway.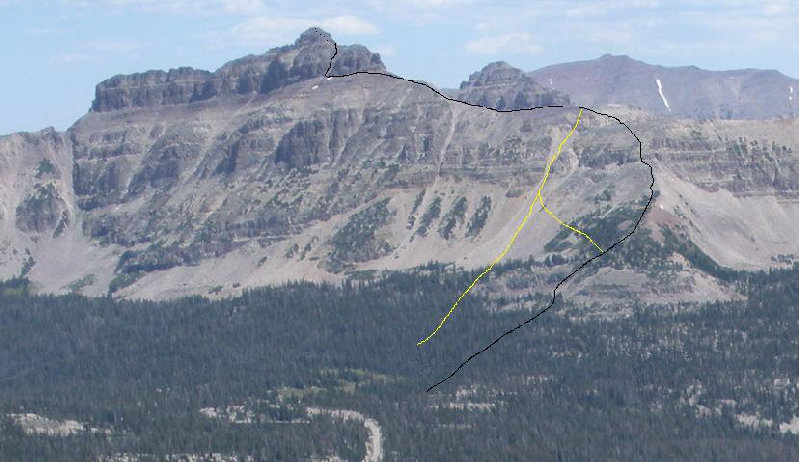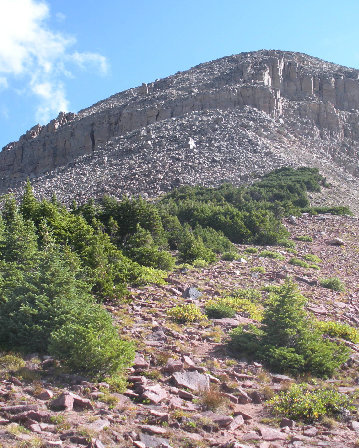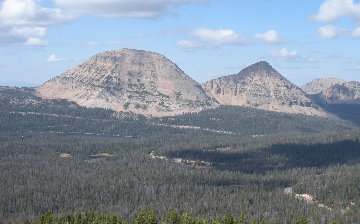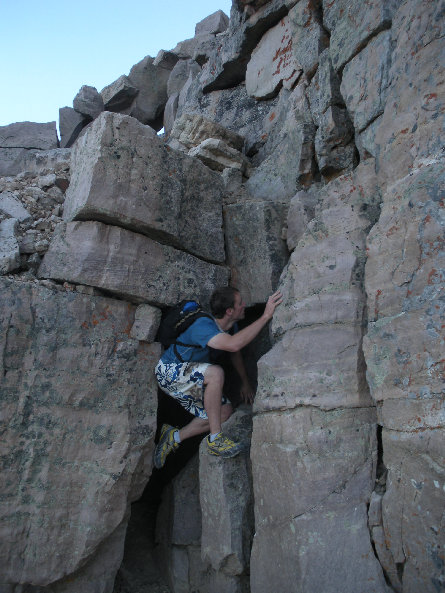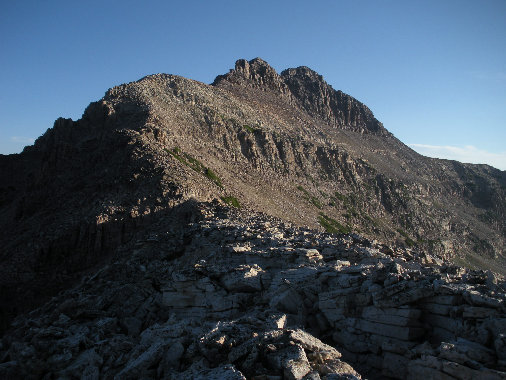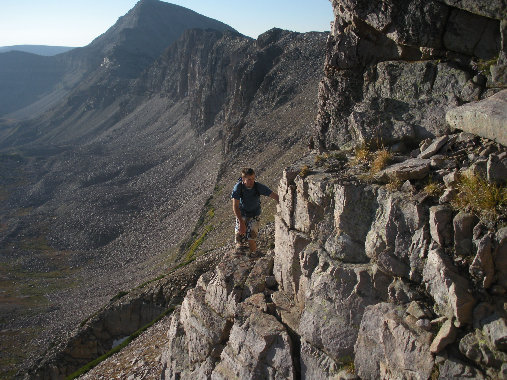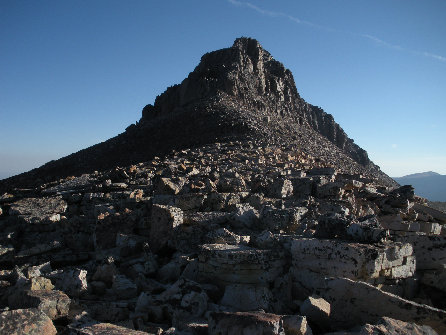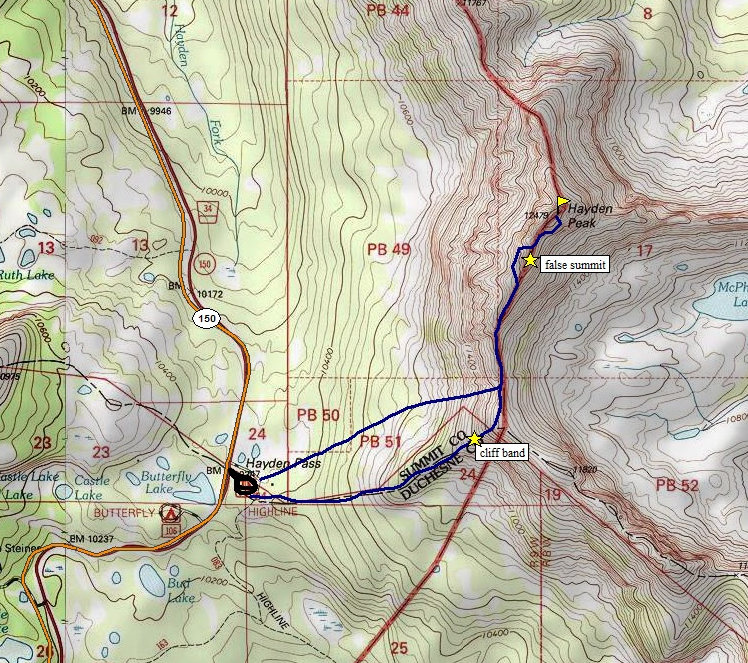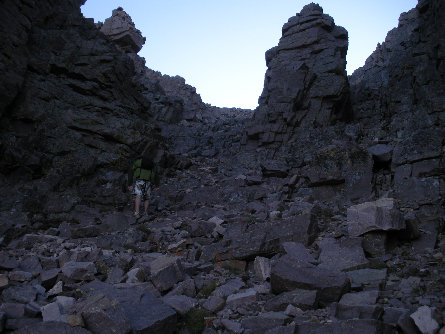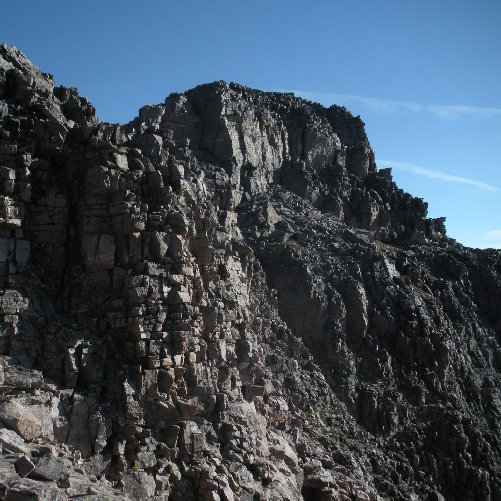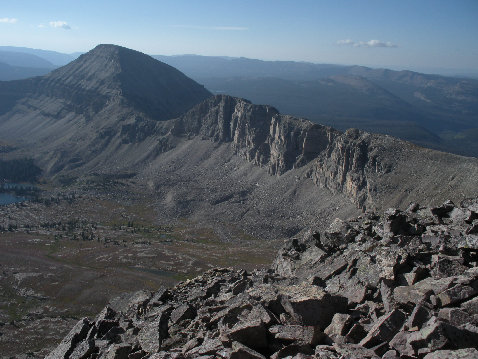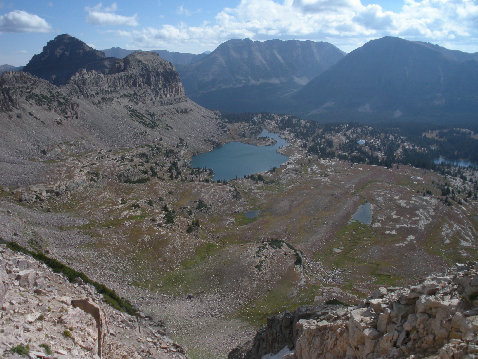 From Murdock Peak
Getting close to the class 4 cliff band
Bald and Reids Peaks
The traverse around the false summit up the easy class 3 gully on the west side
The route from the parking area shown in black with the hikers gully in yellow
On the ridge with false and true summit in view
Climbing up the class 4 section
Traversing
False summit, went left up in the shadow onto the west side
Easy class 3 gully to access ridge between summits
Looking at true summit, traverse goes on bench below rock faces
Panorama looking north to Kletting Peak and A1 Peak
East Hayden and McPheters Lake
Looking south to Mount Agassiz
Summit with two registers
Traverse under false summit past this leaning spire