From what I could tell, Springfield only has one thing going for it...Abraham Lincoln. There are many sights to see to learn all about this great American president.
Springfield, Illinois
Springfield Illinois Sights & Attractions

Abraham Lincoln Presidential Library & Museum
Lincoln Home
Lincoln Tomb
Other Lincoln sights:
Learn all about our 16th president, elected in 1860. His library takes you from his rustic log cabin as a child to the Executive Mansion in Washington DC. There are also some great performances with special effects by staff that really bring the importance of why the library exists.
Lincolns home was first opened to the public in 1887 when his only surviving son donated it to the people of Illinois. Still today, people tour it as part of our National Park system. The tours are free but you have to get tickets from the visitors center and wait for your tour time. The park is not just his home but several blocks. Walk down the streets which are restored to appear as they did in 1860. There are several exhibits about his neighbors and their homes as well. He lived in Springfield the 17 years before he became president and planned to return there afterward.
Many attempts were made to steal the body of the president after his death. The monument/tomb stands at 117 feet giving honor to the fallen president. The Lincoln Tomb is the final resting place of Abraham Lincoln, his wife and three of his four sons.
Old State Capitol - site of struggle between Stephen A. Douglas and Abraham Lincoln
Great Western Depot - where he gave his farewell address
Lincoln-Herndon Law Offices - his law office in town
Lincoln's New Salem - is a reconstruction of the village where Abraham Lincoln spent his early adulthood.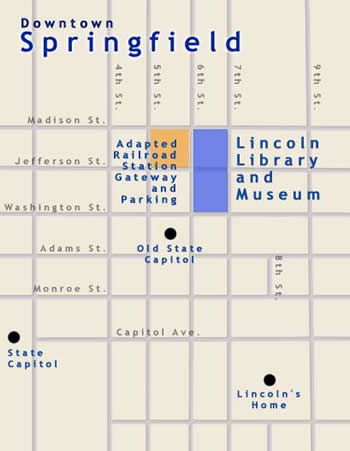 Lincoln Tomb
Lincoln Tomb
Lincoln Presidential Library & Museum
Lincoln Presidential Library & Museum
Lincoln Presidential Library & Museum
Lincoln Presidential Library & Museum
Lincoln Home
Inside the Lincoln Home
Lincoln Home National Historic Site
Lincoln Home National Historic Site
Lincoln Home National Historic Site