WillhiteWeb.com - Hiking, Climbing and Travel
Ingalls North Peak
The South Ridge of the North Peak of Ingalls Peak is one of the most popular rock routes in the Cascades. The hike to the base is also one of the most popular hikes in the region. Combine both and you get a lot of people attempting this route. The south ridge is rated grade II 5.4 to 5.6 depending on variation. Also, according to reports there is a class 4 route up on the southwest face. These are some pictures of an attempt but we didnít make it to the summit because the cracks on the upper pitch were full of ice.
Distance: 5 miles
Summit Elevation: 7,662 feet
Elevation Gain: 3,500 feet
Access: Good Gravel
Approach:
Access:
Take the Esmeralda/Longs Pass trail for about 0.5 miles to an intersection. Take a right and follow the trail to the Long's Pass trail intersection. Take the left heading to Ingalls Pass. From the pass you will be able to see Ingalls Peaks. Follow the trail to the left as it makes a high traverse around the valley below. Pass campsites and start working up to the col between the North and South Peaks. Scrambling up to that point on easy boulders, slabs and scree. A class 4 gully will get you to the base of the route which looks more like a face climb.
From just east of Cle Elum on I-90, take State Route 970. Drive about 5 miles and turn left on the Teanaway River Road. Follow North Fork Teanaway signs for 23 miles to the road-end at the trailhead parking lot.
Route:
My memory is short so here is the route description from summitpost.org:
The first pitch consist of a low class 5 scramble up the obvious crack in the middle of the slab. Climb this to the first ledge and then on to a second ledge. Be very careful on the second ledge as there are several very large and loose boulders waiting to fall out onto the approach route. The second pitch has several variations. The easiest and most popular is the crack on the far left which consist of well protected 5.4 climbing. The middle crack, which I highly recommend, around 5.6 according to the Fred Beckey or Jeff Smoot guides, good protection and very clean. From the second belay you will see bolted slings at the top of the second pitch in the center of the face, this is your third belay. From here pick the most appealing line to the top which is marked by three bolts on top of a ledge. This marks the end of the technical rock but one must make a short scramble north to the true summit. The loose west face can be down climbed to a point where you can traverse back to the east and the beginning of the South Ridge climb. I recommend that one rappel the climbing route back to the beginning of the climb. The rappel can be done in four raps (with a 60M rope), starting from the three bolt anchor at the top of the climb. Essential Gear: Small rack to 2". Stoppers, webbing, slings, 60M rope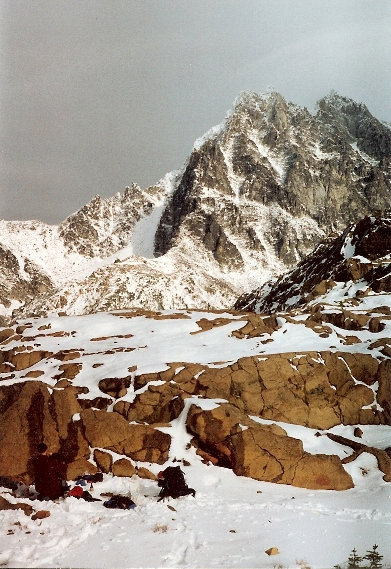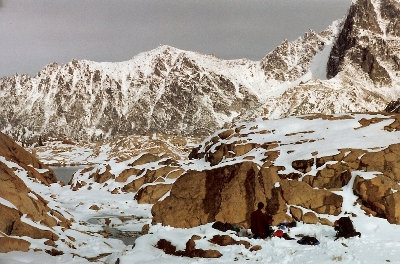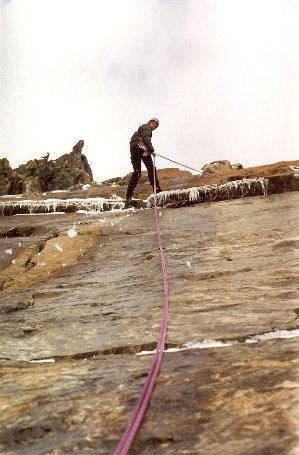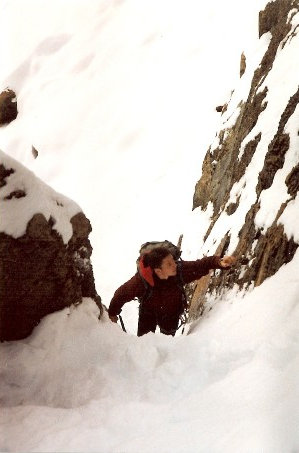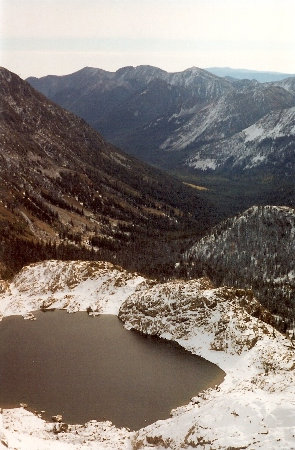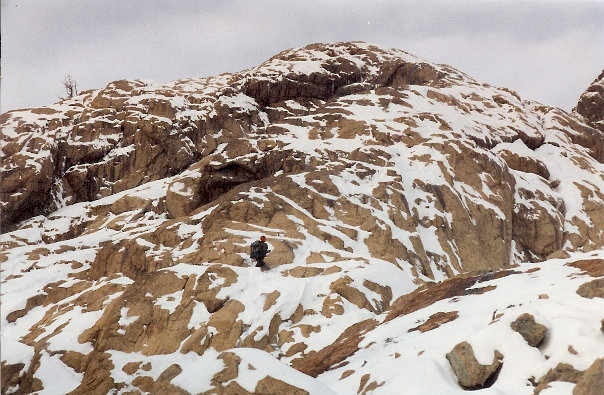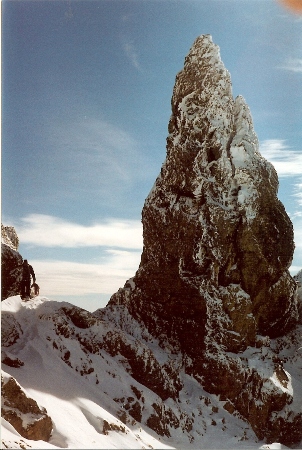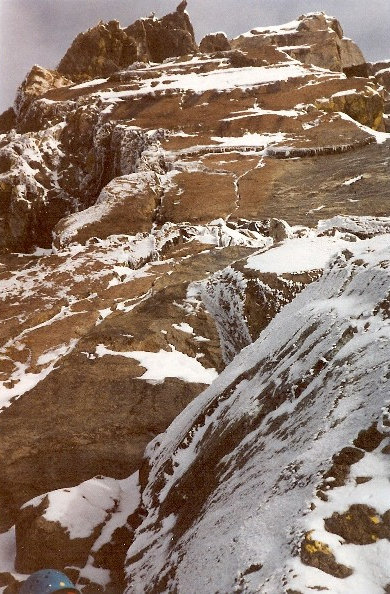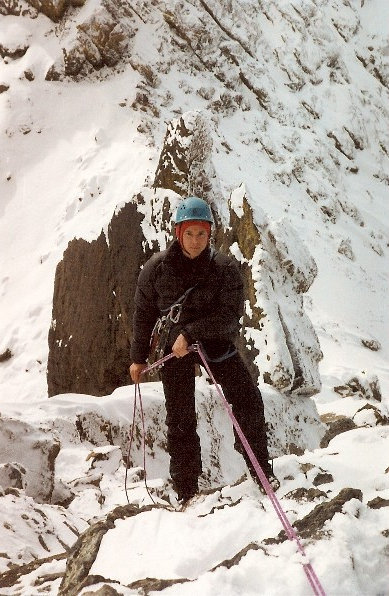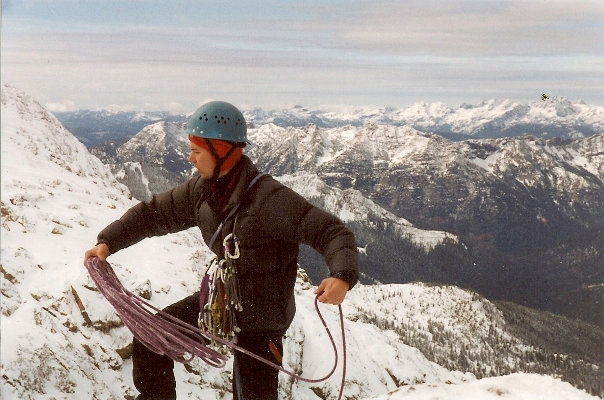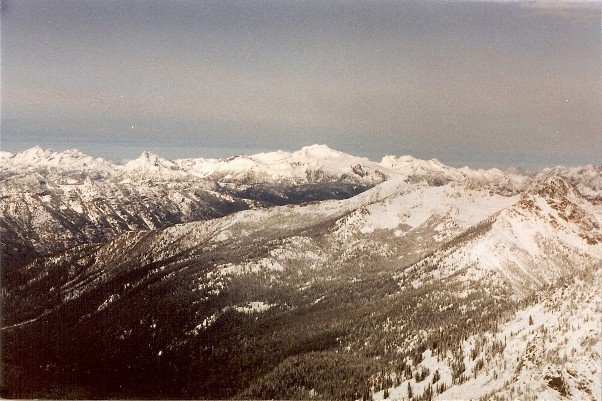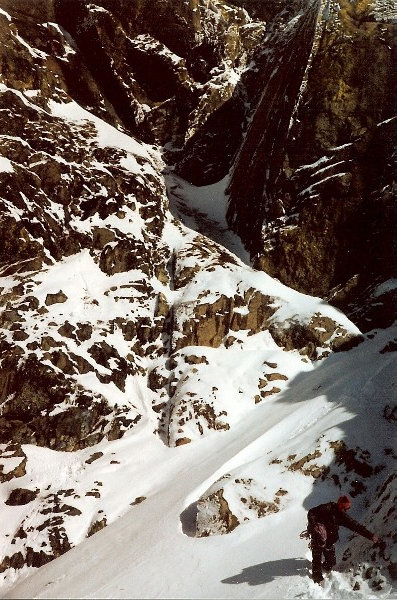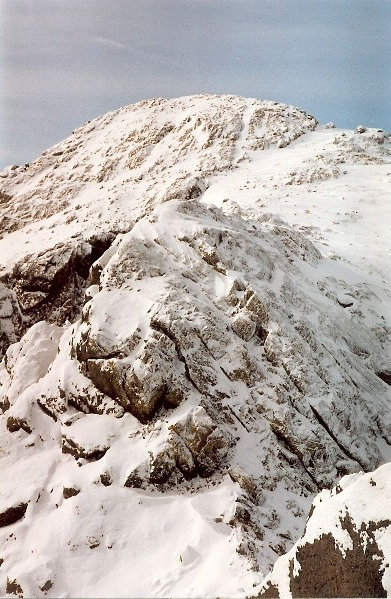 Mount Daniel in the center
Ingalls Saddle
The south ridge route
Rapping down
South Ingalls Peak
Near the gap
Going down
Rapping down
Just above Ingalls Lake
Looking down to Ingalls Lake
Reaching the saddle between north & south peaks
Bivi site just above Ingalls Lake
Mount Stuart and our bivi site