Near North Bend on I-90, take exit 32, 436th Avenue SE. Go south on 436th Avenue SE (Cedar Falls Road SE) for about 4 miles to the very large Rattlesnake Lake parking area.
WillhiteWeb.com
Rattlesnake Ledge Trail
One of the most accessible and popular trails; Rattlesnake Ledge is a favorite for many. With much less elevation climbing than a mountain, you get similar views as if you were on top of one. A nice trail, lots of parking and year round access also keeps people coming back. Especially cool is the view over the Cedar River Watershed and Chester Morse Lake, the restricted valley so close to everyone that only few get to enter. Other great views are of Mt. Si, Mailbox Peak and the Snoqualmie Valley.
Distance: 2 miles
Ledges Elevation: 2,100 feet
Elevation Gain: 1,200 feet
Access: Paved
Route:
Access:
Follow the signs, or all the people, to the start of the trail at a gate. After a short segment on the west side of Rattlesnake Lake, the trail shoots off to the right. It climbs steeply for 1,000 feet in 1.5 miles. You can also continue to the summit a few miles further.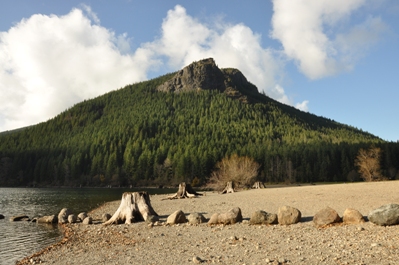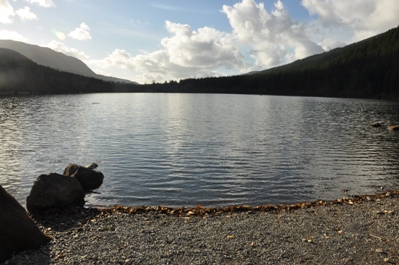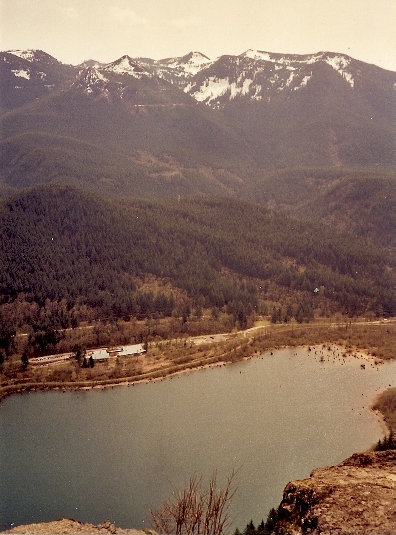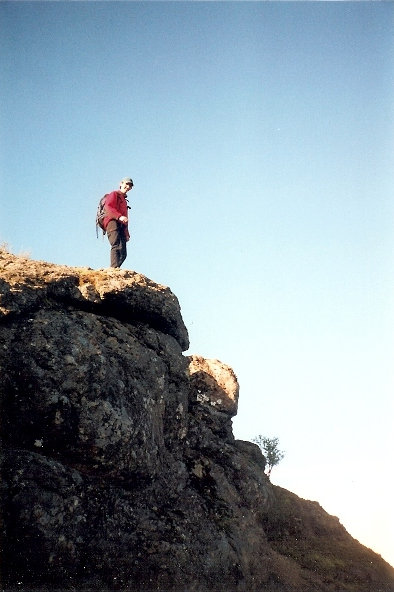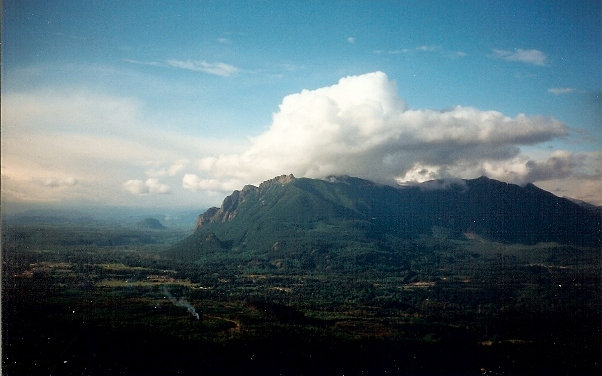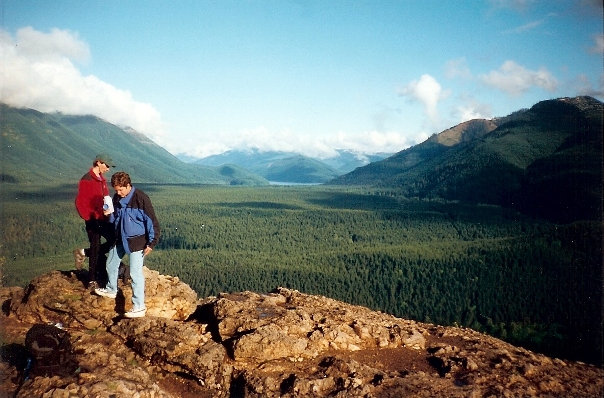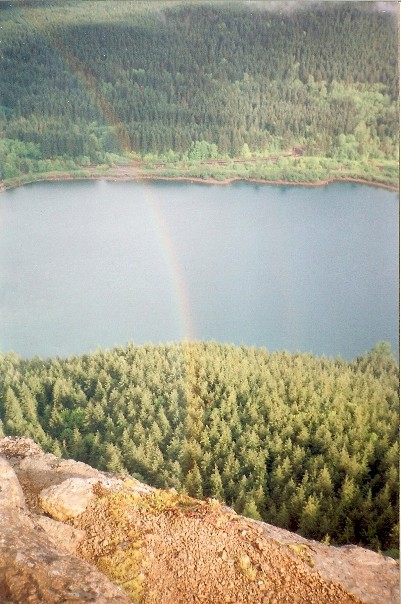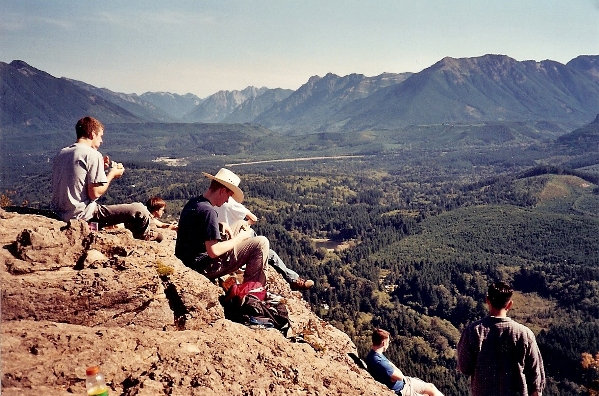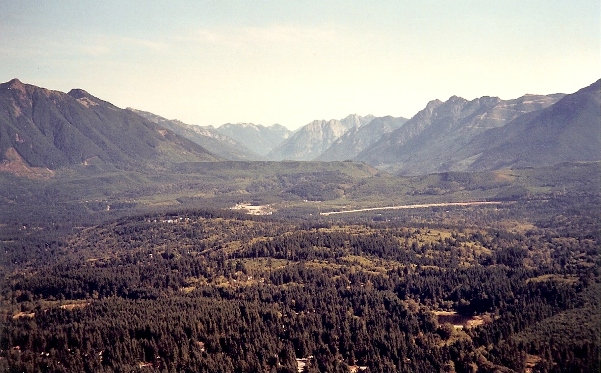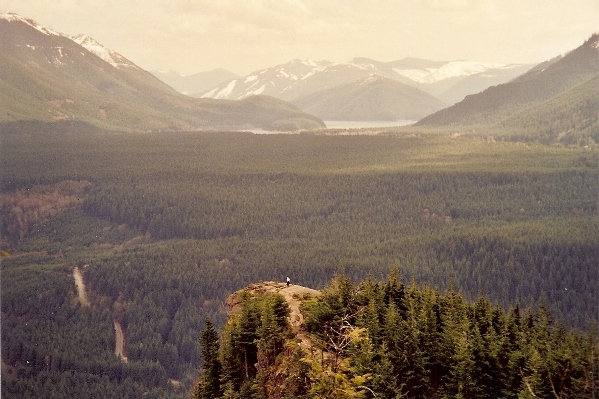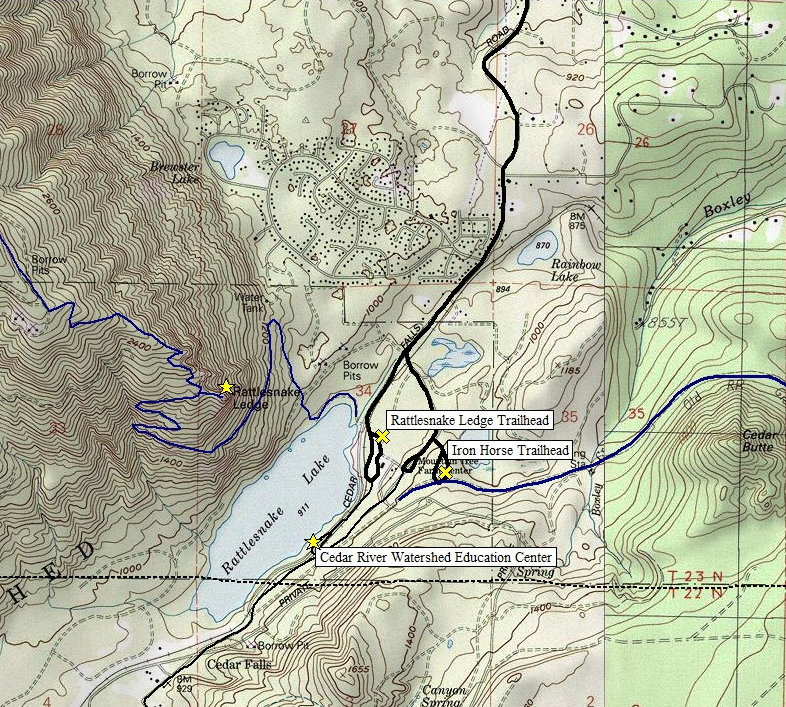 Mount Si and North Bend
Rattlesnake Ledge from Rattlesnake Lake
Rattlesnake Lake
Rattlesnake Lake & a rainbow
Cedar River Watershed and Chester Morse Lake
Rattlesnake Ledge, Cedar River Watershed and Chester Morse Lake
There are some bolted routes up to the ledges from below
Middle Fork Snoqualmie River Valley
Always lots of people on the Ledge on nice days
West end of Rattlesnake Lake
Lookout History:
Its reported there was a tower in the 1930s. The USGS in 1937 & 1956 made no mention of one. More information to come when found.
The Name:
Story goes: a farmer trucked home a load of hay from Ellensburg, and out of the hey crept a frightened rattlesnake which achieved immorality in the several seconds between its emergence from the hay and its impalement on pitchforks, this Archtype-Hero is commemorated not only by the Ledge but by a Ridge, a Lake and a Creek.