Mount Hyak
With a ski lift on the summit, Mout Hyak is one of the most visited highpoints in Washington. Mount Hyak is well known for the ski resort Snoqualmie East, formerly known as the Hyak Ski area, or even Pacific West Ski Area. It is the lowest of the 4 resorts around Snoqualmie Pass and the least used. Access to the peak is best after the resort closes but it is possible to snowshoe up while open if you stay out of the way at the resort edge. There are many cross country ski and snowshoe trails just west of the resort. There are some occasional good views reported but you won't see them in this trip report.
WillhiteWeb.com - Washington Hiking
Access:
East of Snoqualmie Pass on I-90, take exit 54 and turn south. Follow signs to Hyak Ski area. Where the parking lot first starts is a road going uphill to many cabins. This road is the winter start, so park in the large parking area. In summer, park at the base of the main resort hill, a bit further.
Distance: 2 miles
Summit Elevation: 3,745 feet
Elevation Gain: 1,150 feet
Access: Paved
Summer/Spring Route:
Just go up the face of Mount Hyak. The route is ovious as all the trees are removed to the summit ridge.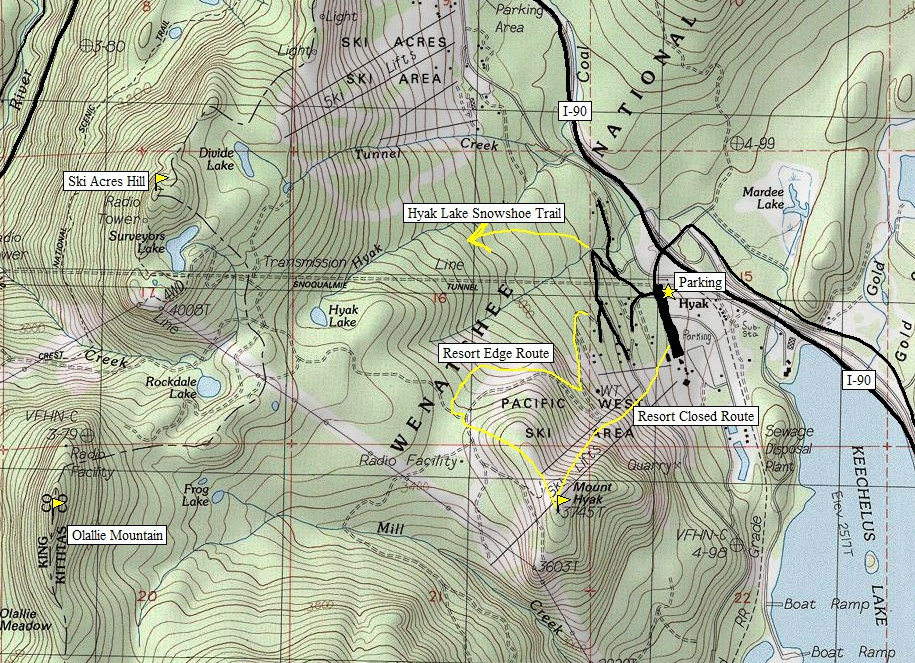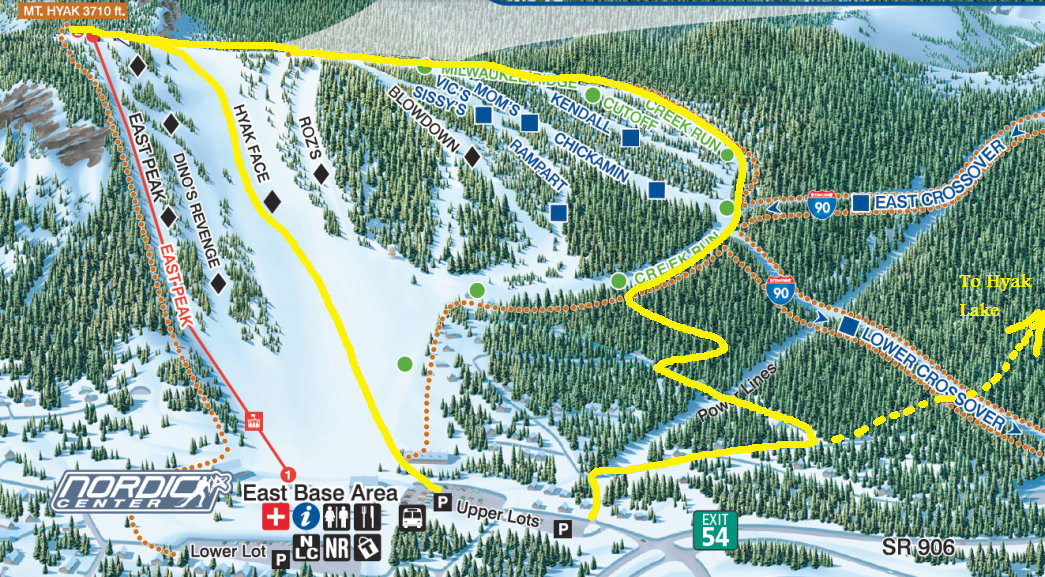 Winter Route:
Walk up the road a short distance, taking a right staying on Snoqualmie Drive. Stay on Snoqualmie Drive at the next Y, soon reaching a sharp switchback. Here at this switchback is the start of the Hyak Lake Snowshoe Trail. Often a snowshoe trail exists already as it traverses over toward Hyak Creek for a route up to Hyak Lake, following blue diamonds on trees. Take this route to avoid any contact with the lower slopes of the ski resort. For a more direct route, continue further up the road, taking a right on Innsbruck Drive at the next Y. Then keep an eye out for a snowshoe trail to the right between some cabins. Following this will take you up one switchback before hitting the most western ski run of Hyak Ski Area. Snowshoers are often found climbing the ski slopes at the ski boundary/forest edge all the way to near the summit ridge at 3,400 feet. From there, another showshoe trail may cut right going to Hyak Lake. In the flats a bit further up are the groomed cross country ski trails that make easy shoeing east over to the base of the final 600 foot climb up Mount Hyak. Ski runs are everywhere at this point and the going is straightforward.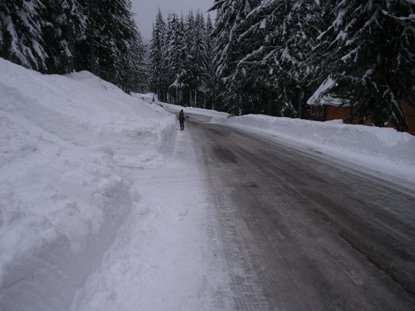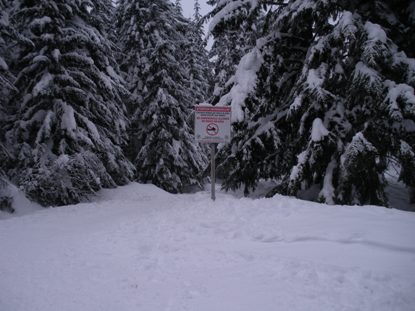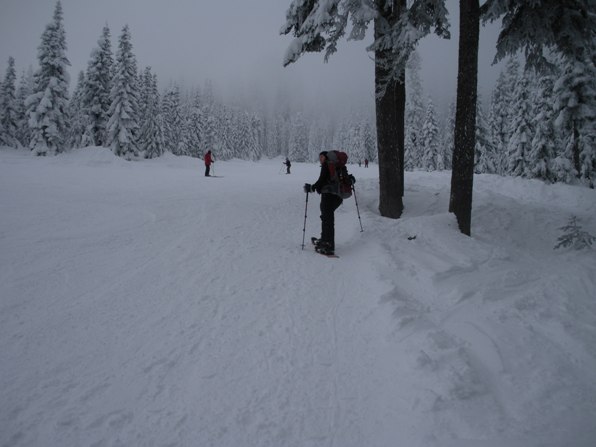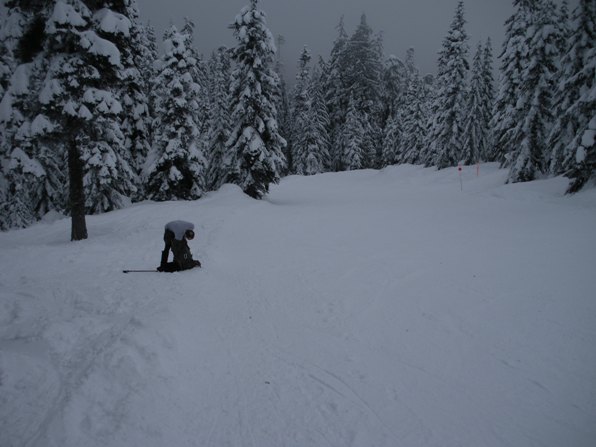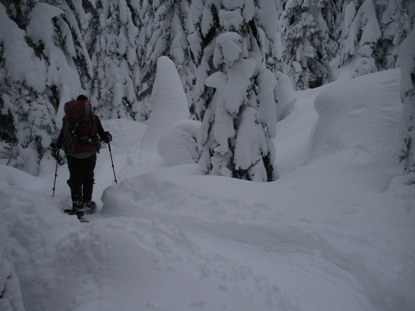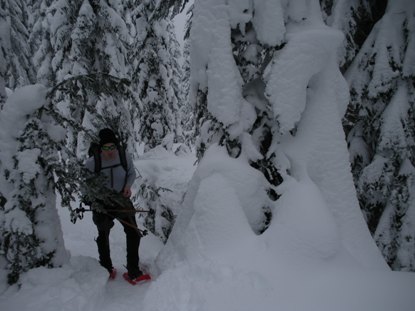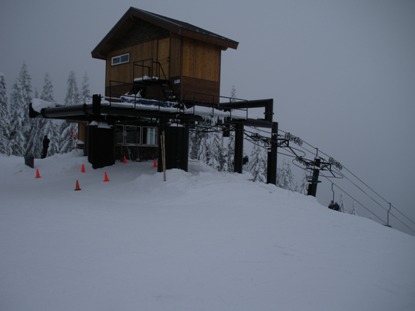 The summit of Mount Hyak, the Hidden Valley Ski Lift
Area above East Peak Ski Lift
Creek Run
Creek Run
Snowshoe Trail at 3,300 feet
Snowshoe Trail
Walking the road past the cabins
Snowshoe trail from Innsbruck Drive