At the northern end of the Silver Island Mountain Range is Cobb Peak. Very few climb it but it is a backdrop to the Bonneville Salt Flats, including the raceway. Since the peak is almost an hours drive up dirt roads from the already remote interstate, few venture this far. Cobb Peak has 1,601 feet of prominence at the edge of the salt flats so the dramatic relief is noticed.
Cobb Peak
Distance: 1.5 miles
Elevation Gain: 7,021 feet
Summit Elevation: 2,300 feet
Access rating: High clearance recommended for final road
WillhiteWeb.com
Access:
Route:
Take the Bonneville Speedway exit (#4) just east of Wendover. At the top of the ramp, go north following signs toward the speedway. (Gas station located here). Go about a mile to a big curve in the road. Take a left on a small paved road which goes up to Leppy Pass. In a short distance, a dirt road branches right with some information signs shortly up this road. Follow the dirt road (Silver Islands Loop Road) as it travels along the eastern side of the range. This is a nice graded road that any car could manage. At the north end of the range, the road wraps around Cobb Peak. Several routes look possible from the east. For the hiking route below, wrap around to the north side of the peak where a rougher road cuts up into a canyon on the west side of the mountain. We parked around 4700 feet.
My route had 3 legs. The first was to obtain the north ridge between the huge rock thumb and the false summits. This is easy enough just walking up the drainage shown on the map below. From the pass, the second leg climbs the ridge or just to the west of it reaching a saddle (see picture). The third leg was to obtain the summit ridge between the false summits and true summit. (see picture). This requires a traverse into a drainage, then climbing up to the pass, sometimes on slabs. Mostly class 2 but occasionally 3 if you don't want to look around for a easier route. Once on the ridge, it's an easy stroll to the top (see pictures).
Cobb Peak from Graham Peak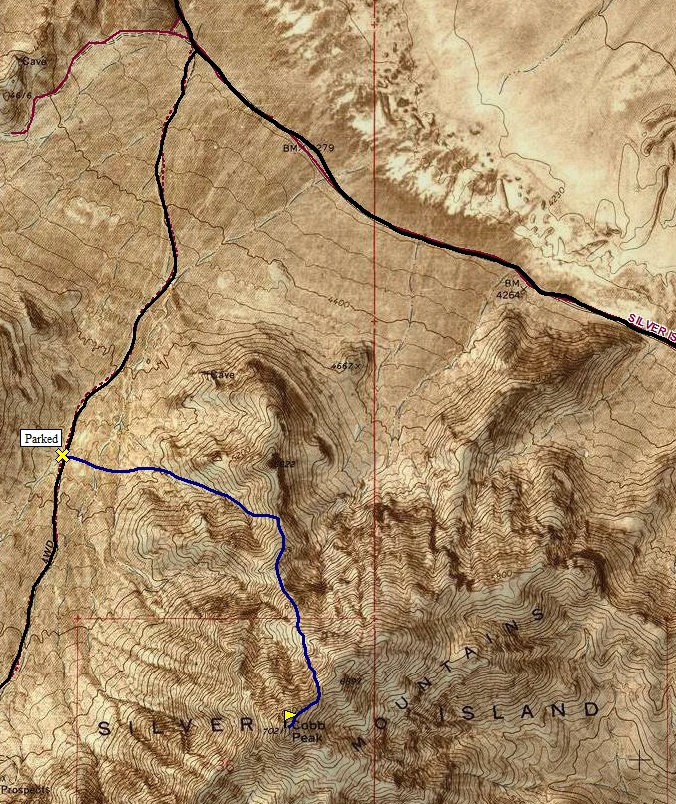 Leg 1, obtain north ridge at saddle
Leg 2, climb north ridge to another saddle on right
Leg 3, from second saddle, traverse below rocky false summit to big gully, climb steep slopes to ridge and walk to top
Crater Island from the starting point
The final climb on the ridge to the summit
West to Pilot Peak
North to Crater Island
From the summit, looking at the false summit to the NE
Floating Island Mountain and the salt flats
This 150+ foot rock thumb is vertical on all sides.
Rock Thumb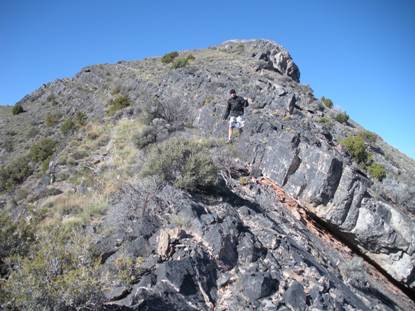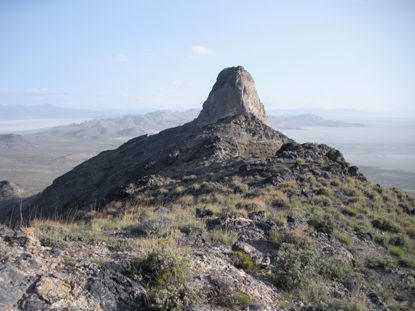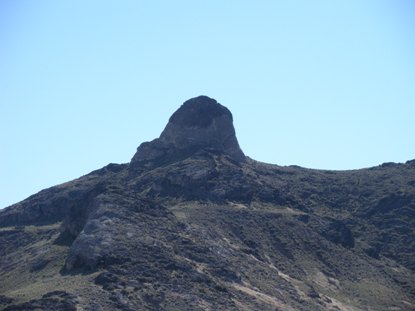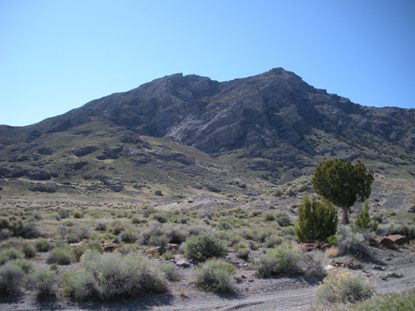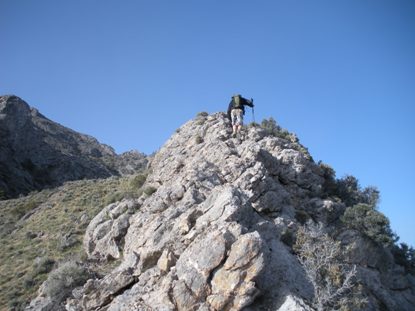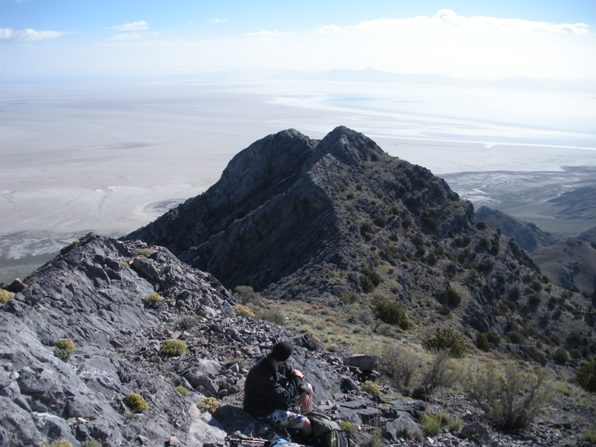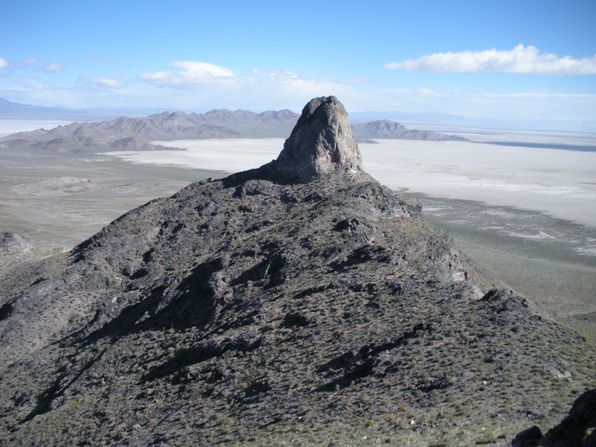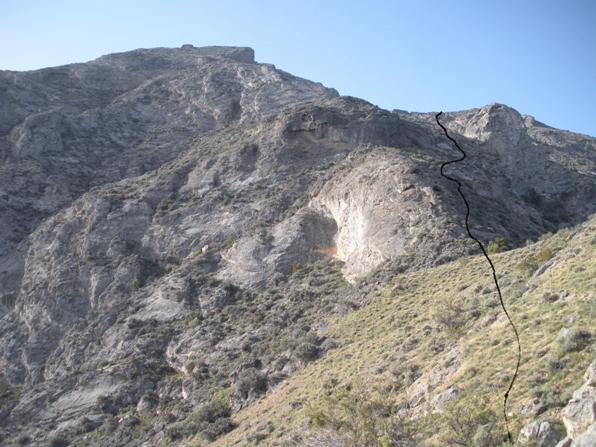 False Summit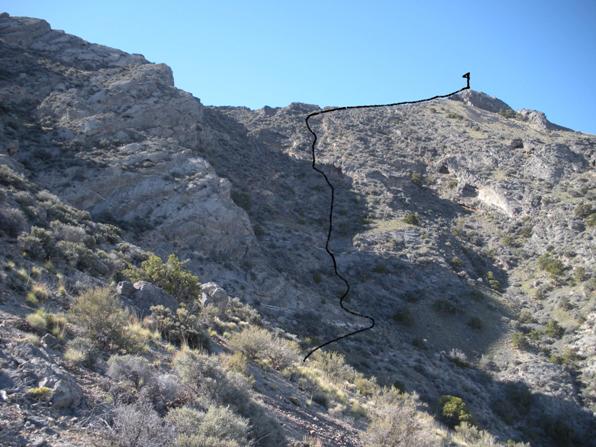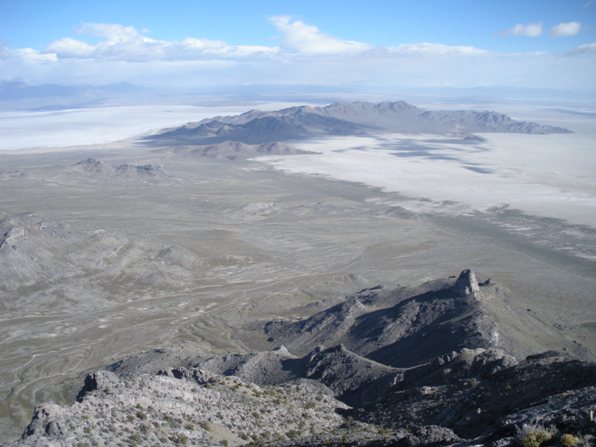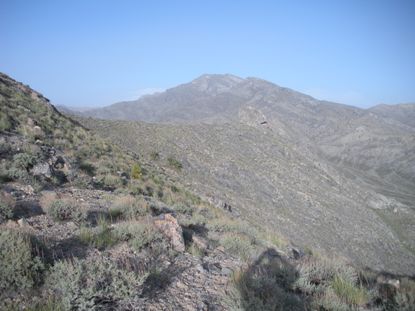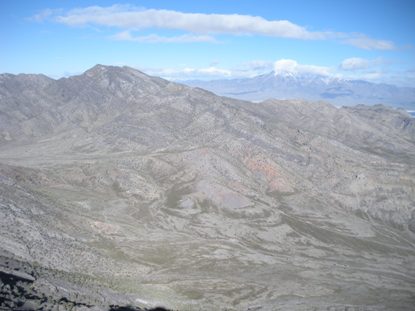 Mount Graham
West to Pilot Peak, Nevada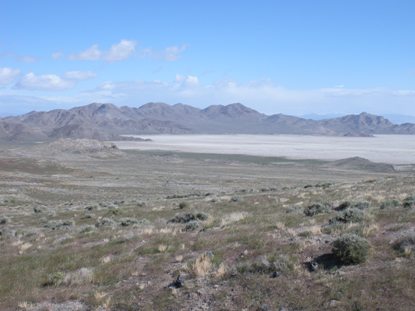 Rock thumb from below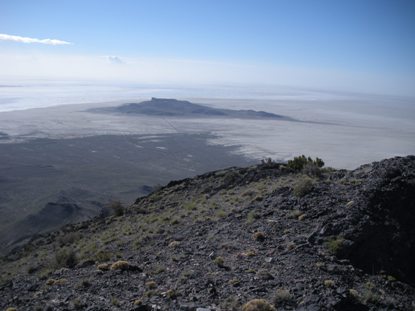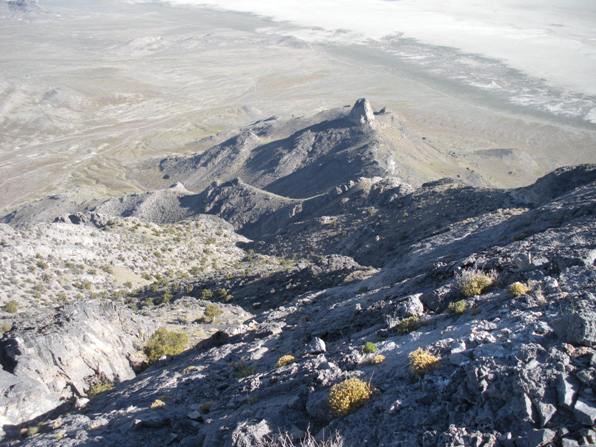 North ridge route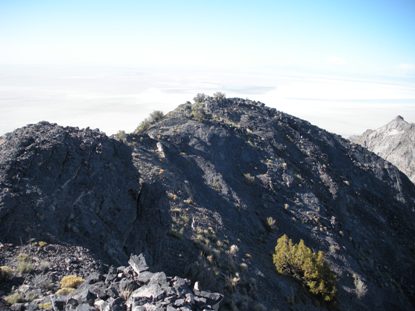 Summit area