One of the closest named mountains to over a million people is Cedar Mountain in Fairwood (East Renton). Cedar is a small wooded summit surrounded by new housing developments, shopping centers and older lakeside communities. Cedar Mountain is now part of McGarvey Park, a large reserve of open lands. The park is a result of King Countys "4 to 1" SmartGrowth Program. The program allows urban housing densities to cross into the rural area if the development occurs adjacent to the urban-rural line and provides four acres of permanent open space for every acre that is developed. The trail system is also linked to Petrovitsky Park and the Spring Lake/Lake Desire Park. Currently there is a view of Mount Rainier from the summit but as the trees grow, the view will go.

WillhiteWeb.com - Hiking, Climbing and Travel
McGarvey Park, Renton - Cedar Mountain
Distance: 1.2 miles
Summit Elevation: 896 feet
Elevation Gain: 400 feet
Access: Paved
Access:
Route:
There are many ways to access McGarvey Park. Hiking up from the southeast trailhead is about as short as you can make this hike. From Highway 167, take the Ikea/Valley Medical Center exit (first south of 405 interchange). Go east on 43rd St., becoming SE Carr Road, becoming SE Petrovitsky Road. Once past the Petrovitsky Park stoplight, continue around a bend to another stop light at SE 184th. Turn left, go two blocks, turn left again at 172nd Ave. SE. Go a short distance, turn right on West Lake Desire Drive SE. Follow a half mile to parking and a trail off the roadway.
Follow the trail down and over Peterson Creek. Shortly after the trail splits, go right. Follow this level trail until you hit a old road. Turn left and follow the road uphill. Avoid any side trails off the road until you see a sign on the right for the hiker only Summit Trail. Now follow the summit trail up to the top.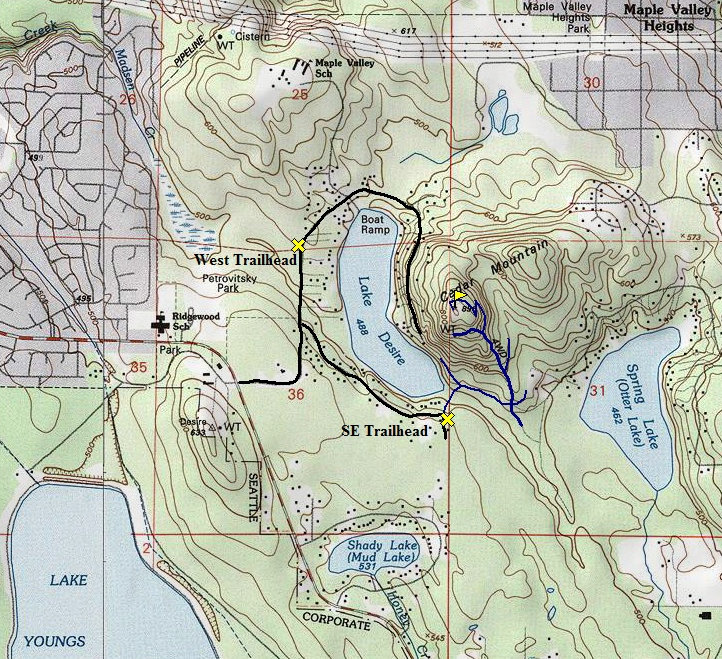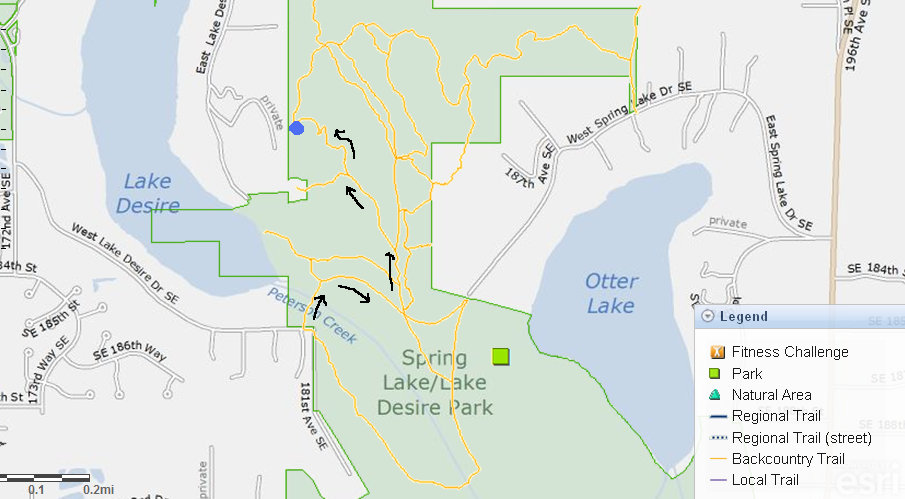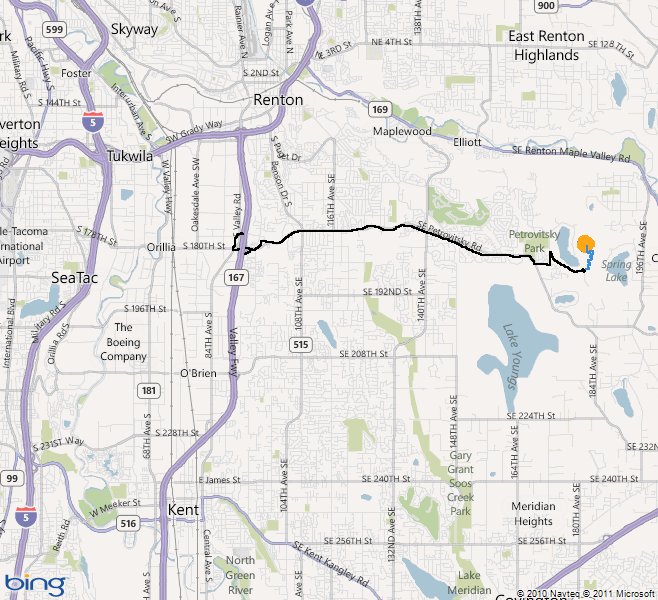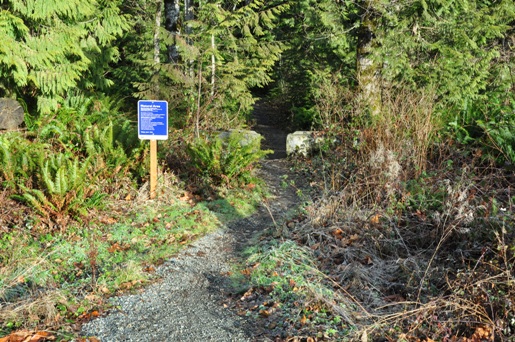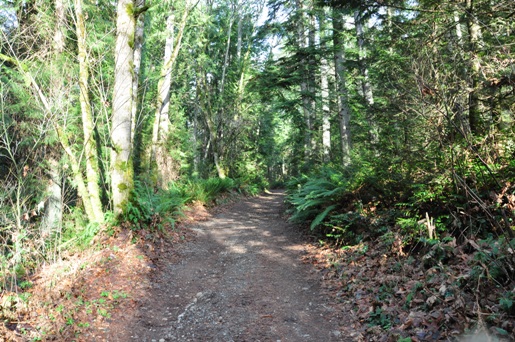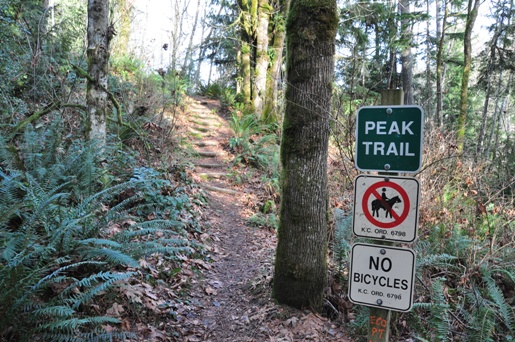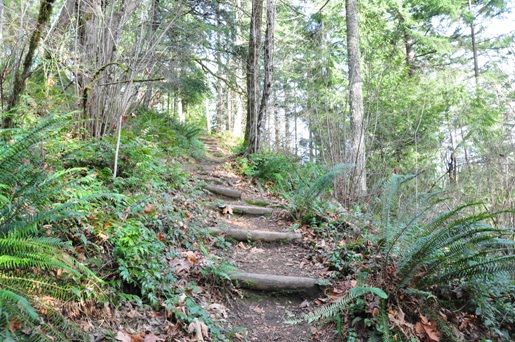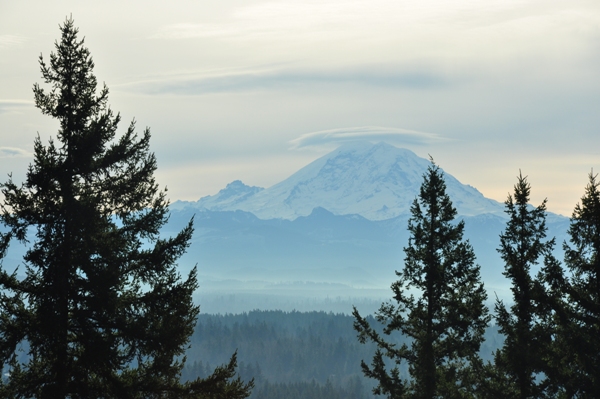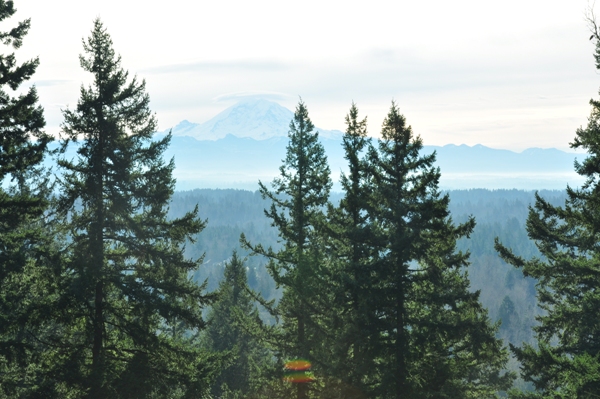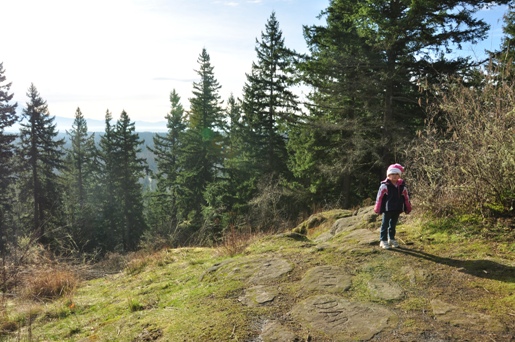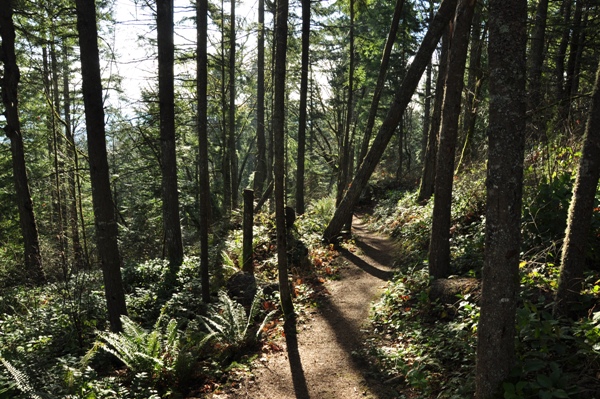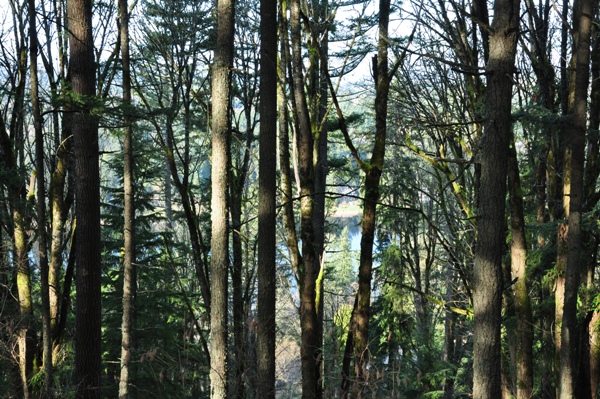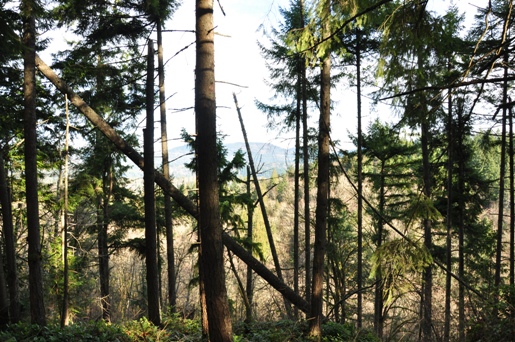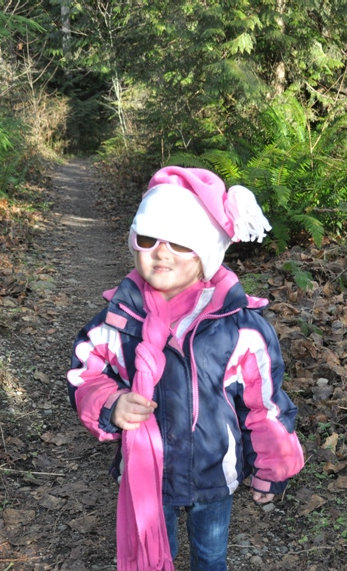 Topo map showing the route I took up Cedar Mountain
Ready for the trail
Access to the south end of McGarvey Park
Map showing the route I took. The summit is just inside the park, a private home is just below the summit.
Map showing all the pubilc king county parks land in the Lake Desire area
From nearby neighborhoods you see Cedar Mountain very well
Lake Desire from the summit area, hidden by trees
A few views between trees to Tiger and Taylor Mountains
On the summit of Cedar Mountain
The Cedar Mountain hiker only trail
Peak Trail
The non-zoom view of Mt. Rainier from the summit
Mount Rainier from the top of Cedar Mountain
Follow this hiker trail
The old road up the south ridge
The start of the trail off West Lake Desire Drive SE