Quartz Mountain
Just another Quartz Mountain, this one near the Canadian border. The Boundary Trail traverses the entire mountain just 400 feet below the summit. The open slopes just beg it to be climbed. Do it.
Elevation: 7,530 feet
Distance: 23 miles from Billy Goat Trailhead
Elevation Gain: 5,500 feet
Access: Good Gravel
Pasayten Wilderness
Access:
From Highway 20 just west of Winthrop, take the West Chewuch River Road north. Follow for 9 miles to a left on Eightmile creek road and turn left. Follow Eightmile Creek Road for 15 miles to the end at Billy Goat Trailhead. Any car should be fine.
Route from Billy Goat Trailhead:
Trail starts out on an old mining road but is pretty much trail now. Within a half mile is a trail junction, continue right. The trail steadily climbs all the way to Billy Goat Pass. Next drop 1,000 feet down the other side into Drake Creek Valley. 2.2 miles from Billy Goat Pass, keep right and now climb up a mile to Three Fools Pass. Beyond that, its another mile to a major Y intersection. Left is the main trail going to Larch Pass, follow it for 6.2 miles to Larch Pass avoiding any side trails. From Larch Pass, the trail traverses over into McCall Gulch and up to a high pass well above tree line. Another 3.7 miles of scenic hiking below Sand Ridge will take you to Peeve Pass. At the pass, it go west dropping to a trail junction with a trail to Park Pass. Keep going up to a ridge and around some knobs until a overgrown junction with the Quartz Lake Trail. Following the Boundary Trail another mile will get you onto the open south slopes of Quartz. At any point, just leave the trail and stroll up to the summit. Hidden camps exist, others areas in the meadows are flat enough for a tent.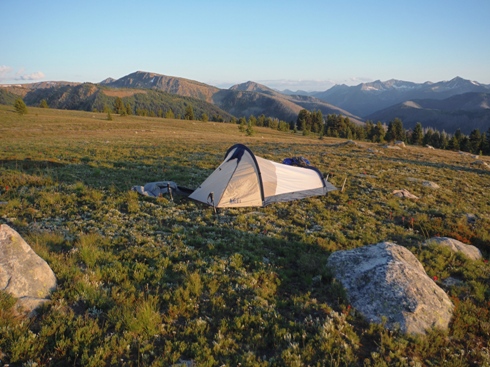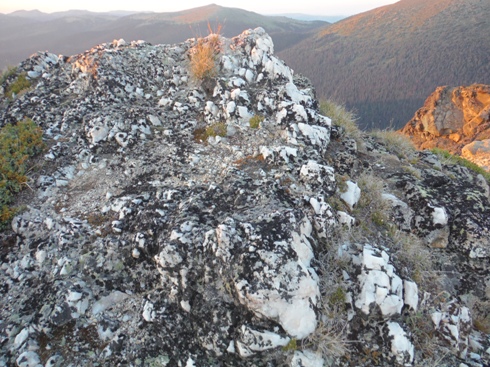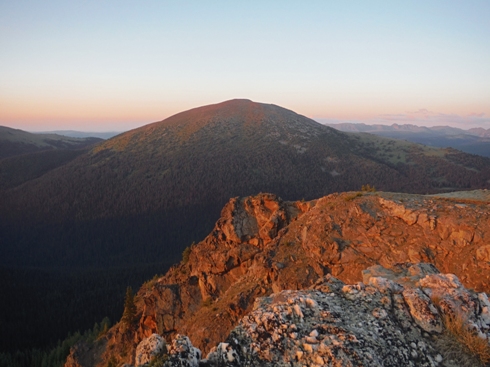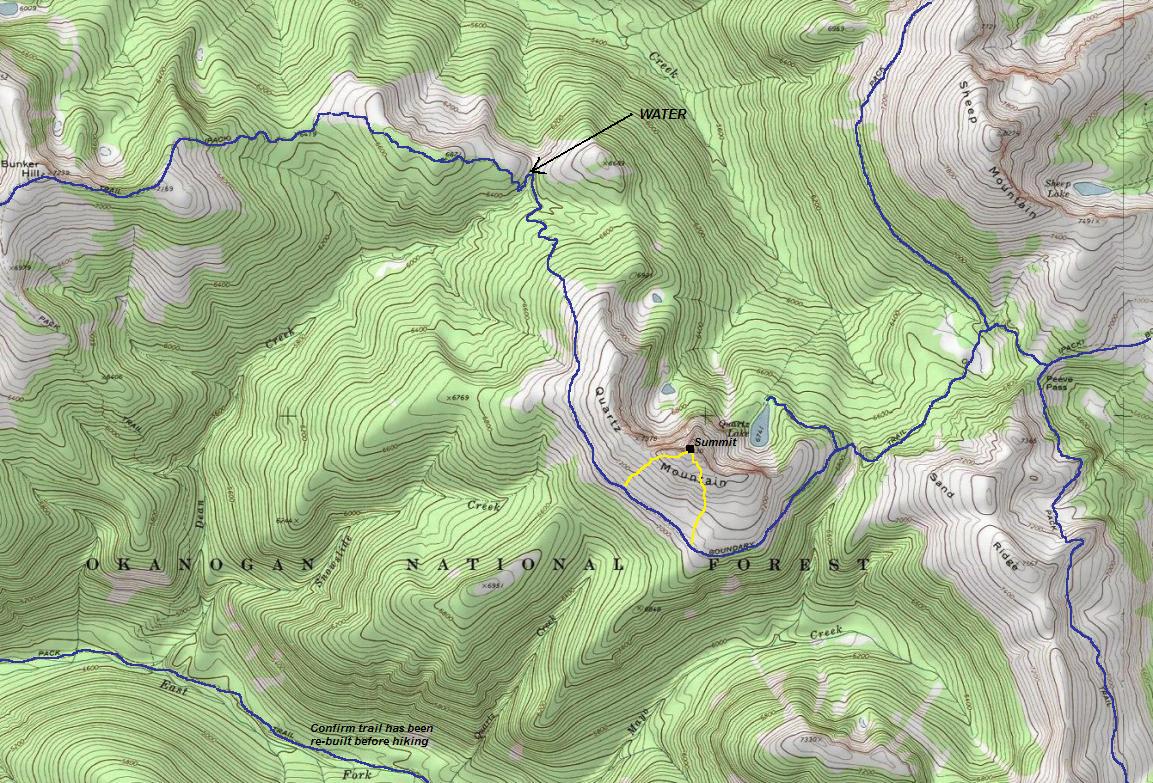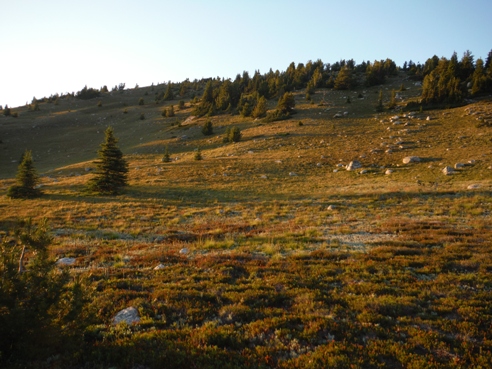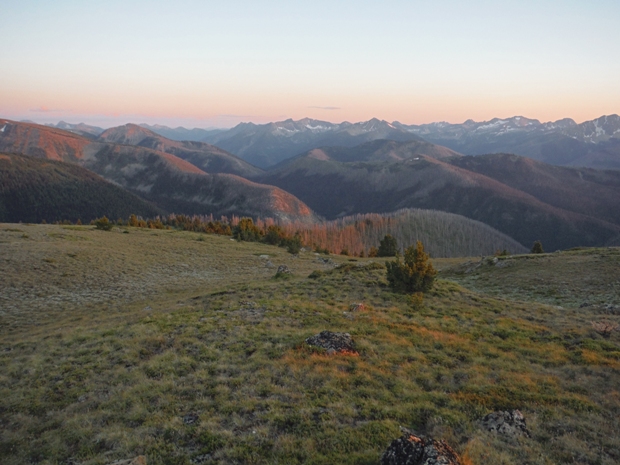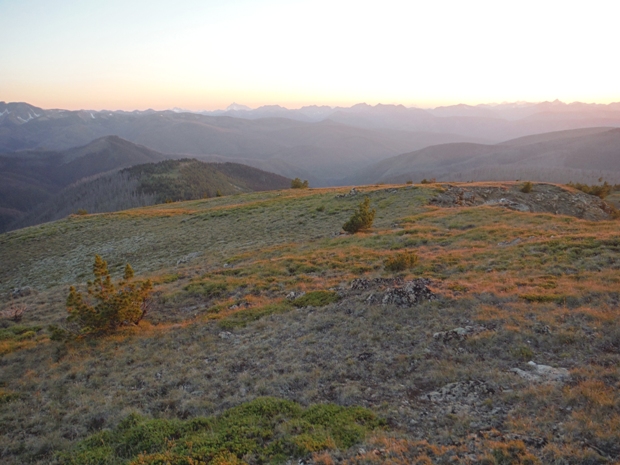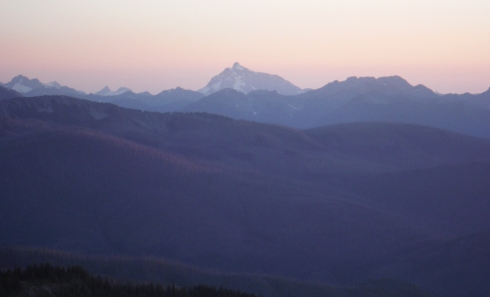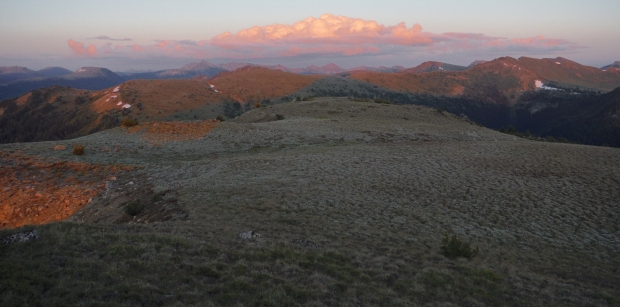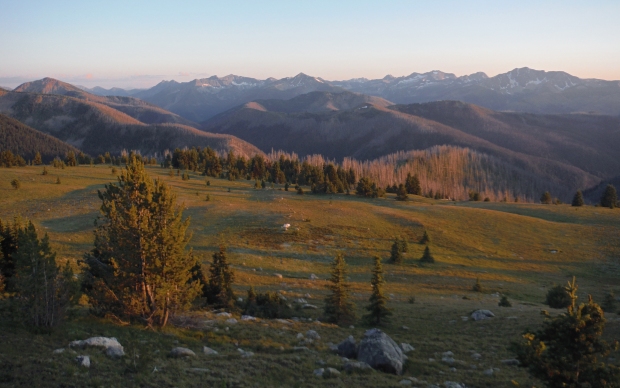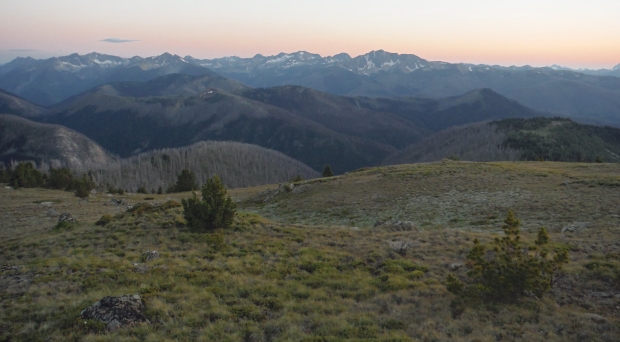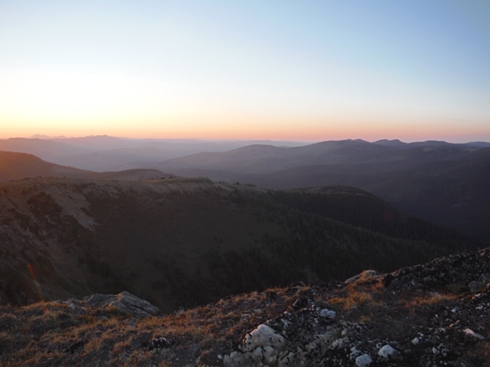 Easy slopes above the Boundary Trail up to the summit
Camped in meadow above the Boundary Trail
Looking down in route to the summit
Sheep Mountain from the summit of Quartz Mountain
Quartz on the summit of Quartz Mountain
Looking south
SW to Jack Mountain
Looking southwest
Looking east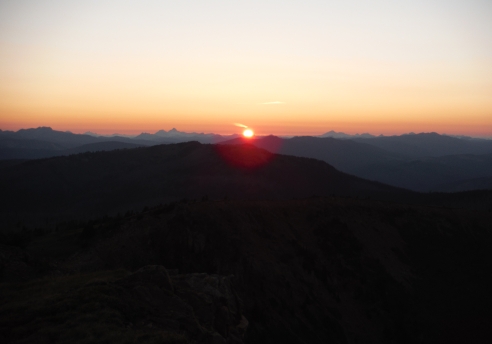 Looking northwest