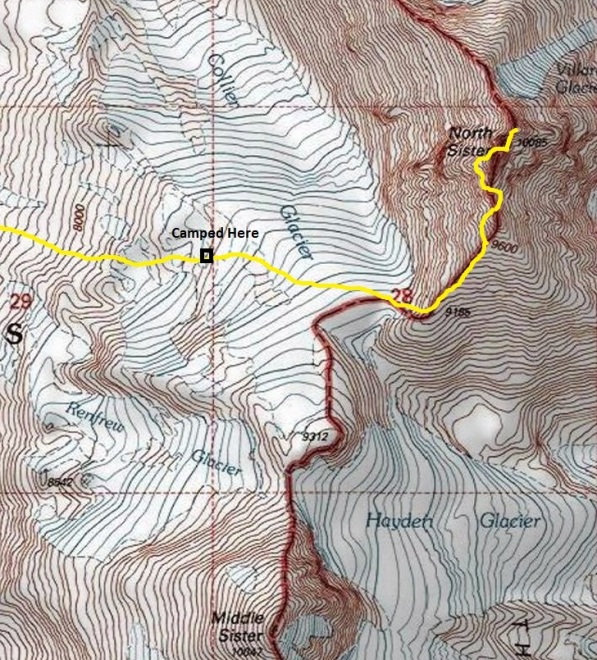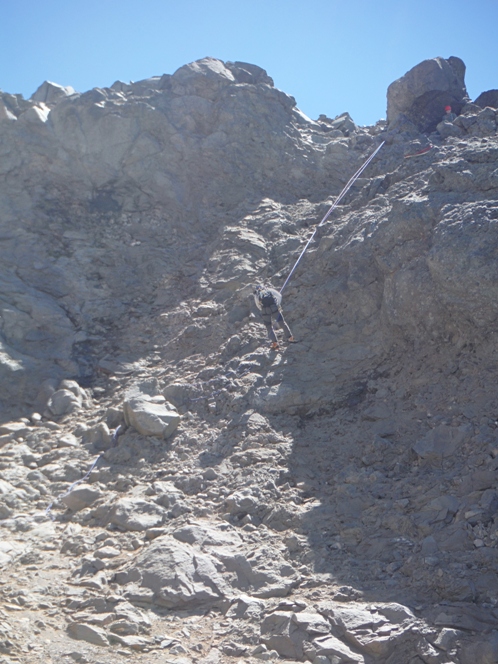 Of the Three Sisters in Central Oregon, North Sister is the hardest and least climbed. First ascent was by H. H. Prouty in 1910. The most common route is up the south ridge and is what is shown on this page. Depending on conditions, the route can be done with very little gear or it may require everything. There are two main approaches, one from the West via the Obsidian trailhead, and another from the East from the Pole Springs trailhead. Both approaches meet at the south ridge and the route is the same from that point. Plenty of information is available on the web, I'll just share my thoughts. The route up the south ridge is straightforward, although a nice trail has formed on the east side higher up the ridge. Once the ridge hits some rocks, look for a trail on the west side of the ridge. Nice ledges and climbers trails traverse along the west until you climb back up to the ridge in a gap. Now follow climbers trail on east side to another gap back on the ridge. Again on the west side, follow trails in scree to the Bowling Alley. There is a steep exposed snowfield to cross (terrible traverse) just before the Bowling Alley that doesn't melt until mid-summer. Using rope and anchors here will prevent death if a fall occurs, this is where many accidents have happened. We were able to access the moat for much of the crossing but I'm not sure if this is safe most years. The Bowling Alley needs to be done with care as to not drop rocks on party members, but the scramble is easy and no exposure. At the top of the alley is some class 4 rock. Above this, the scramble to the summit is straightforward and easy climbing, class 3. Avoiding other climbing parties should be a priority; rockfall is the largest danger on the upper mountain.
Permits
Probably a Northwest Forest Pass to park at the Pole Creek Springs trailhead. At Obsidian Trailhead, you need to get a special Limited Entry Permit, required for day and night trips into the area. They are free and available online before you go. There is some talk about paid permits for all entry into the Sisters Wilderness but it hasn't happened…yet.
Elevation: 10,085 feet
Hiking Distance: : Maybe 7 miles to summit, a guess really
Elevation gain: 5,000+ feet
Access: Good roads
Route: South Ridge
North Sister
Oregon Hiking & Climbing
Access
From the west, off Highway 242, 4 miles west of McKenzie Pass is a well-marked sign for the Obsidian Trailhead. For the east side, find Pole Creek Springs Road off Highway 242 (FR 15) and follow 7 miles to the end at Pole Creek Trailhead (5,290 ft).
"The conquest of this mountain is probably one of the most brilliant feats ever attempted in America."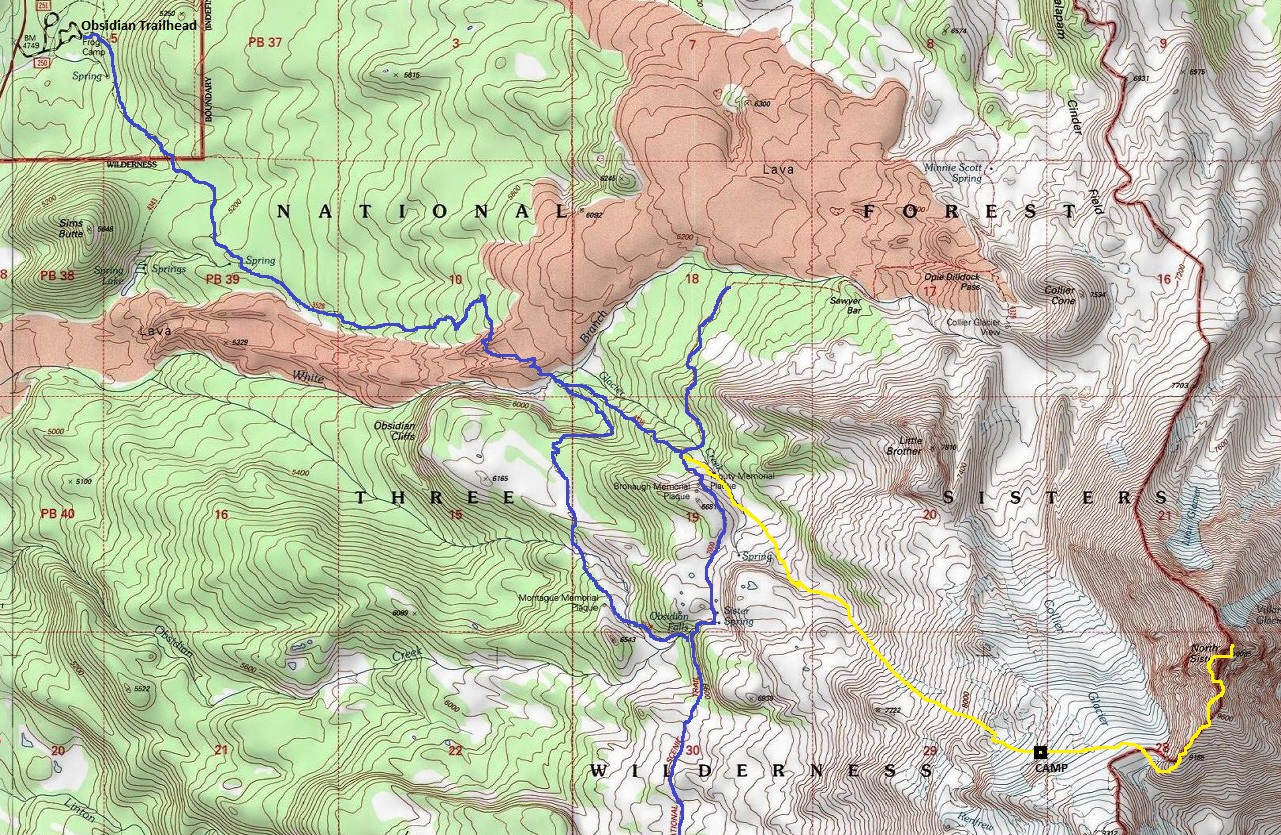 Photo caption in 1905 Mazama.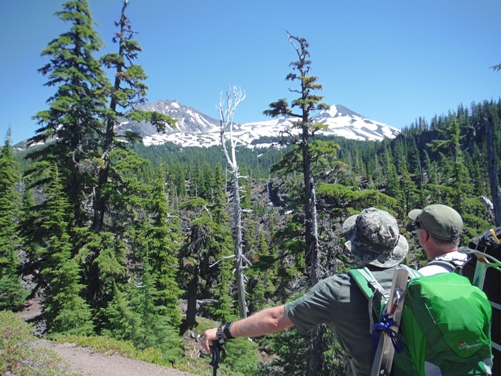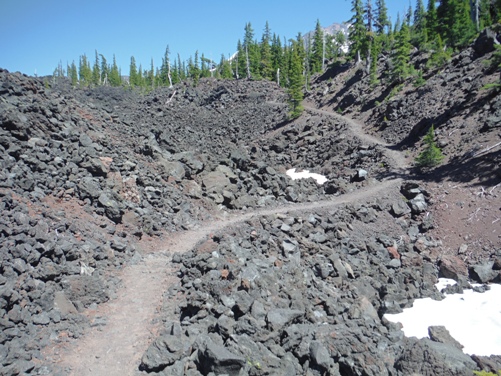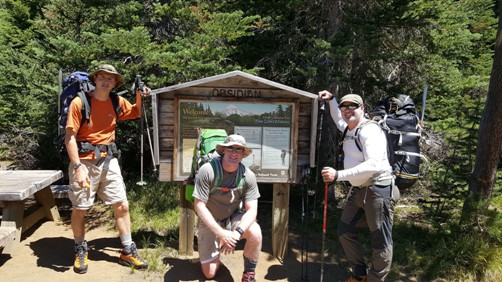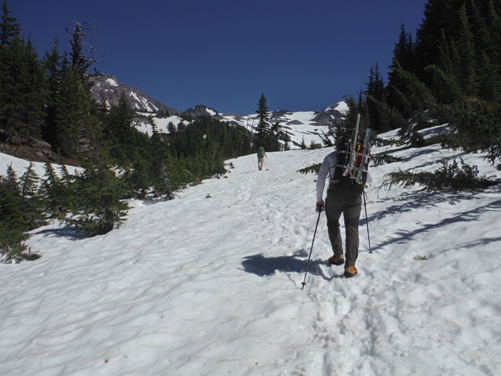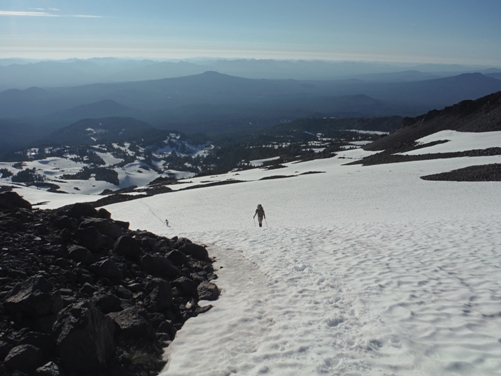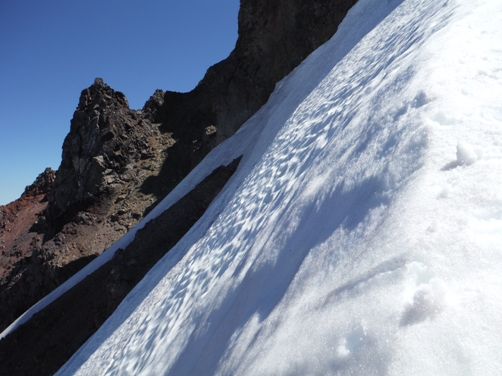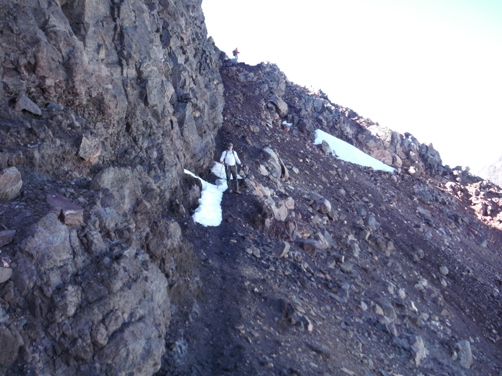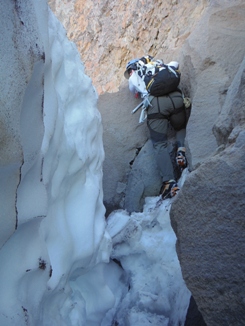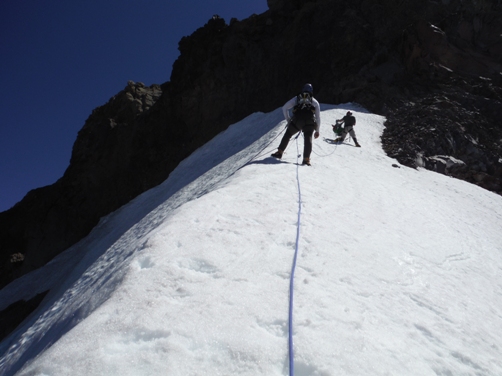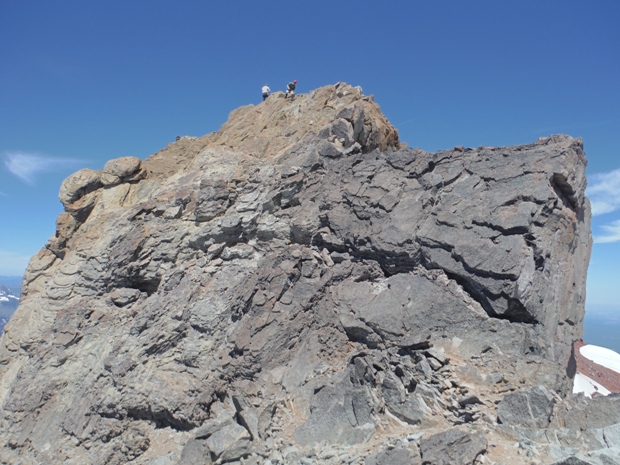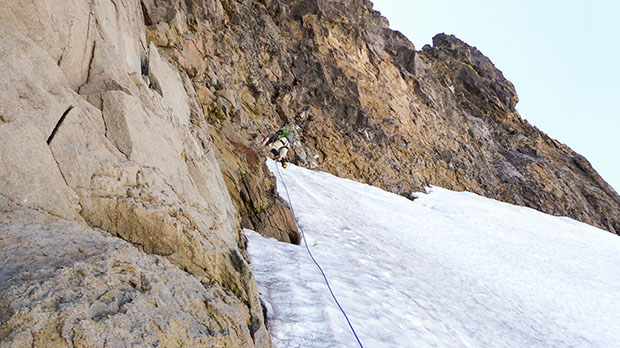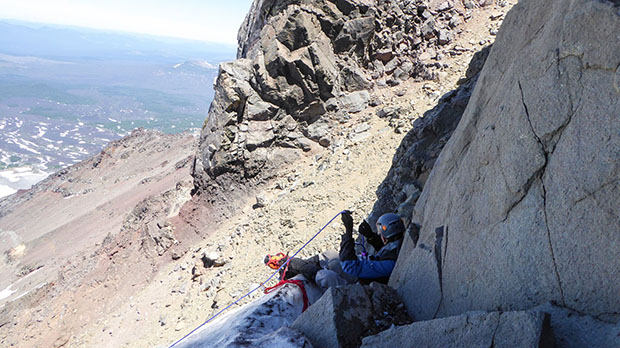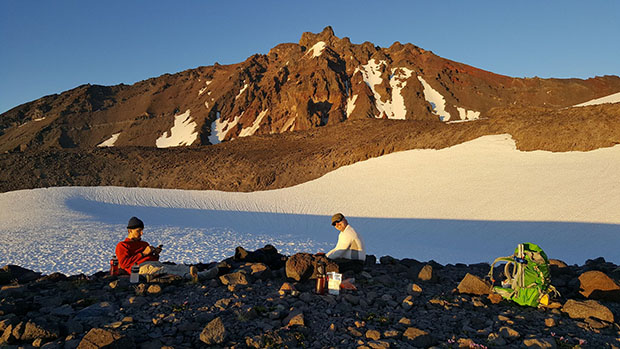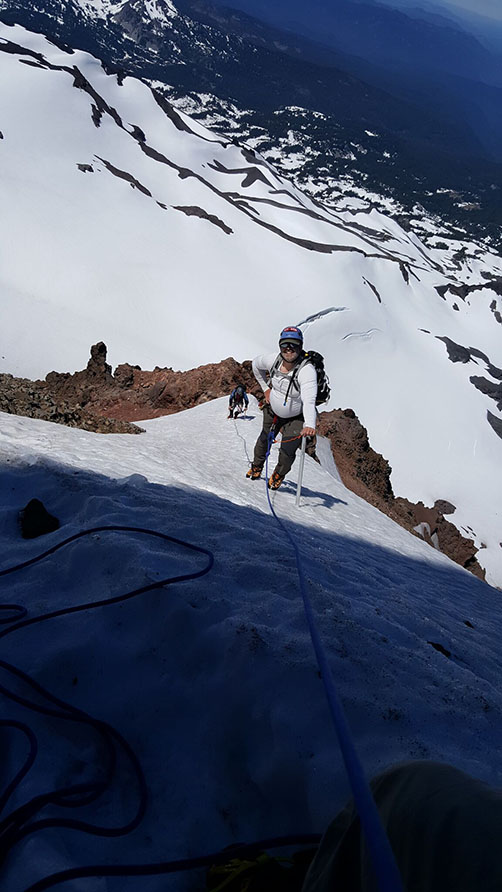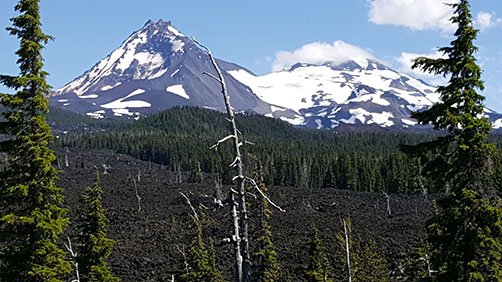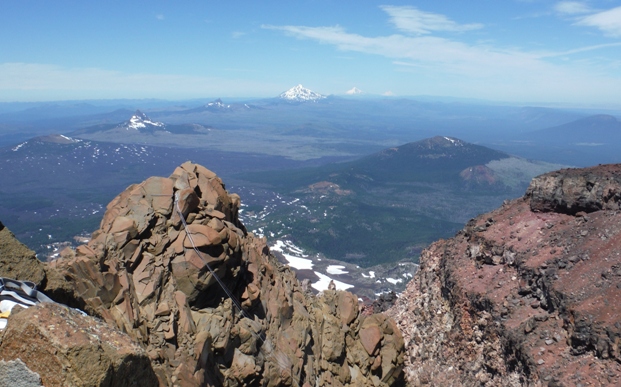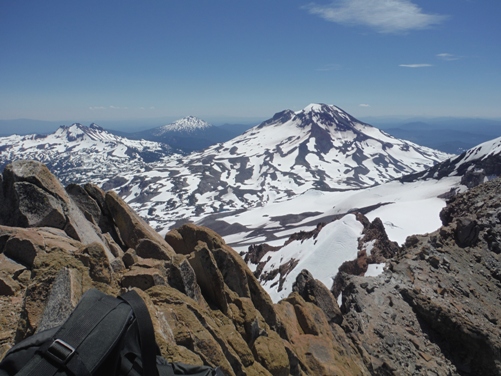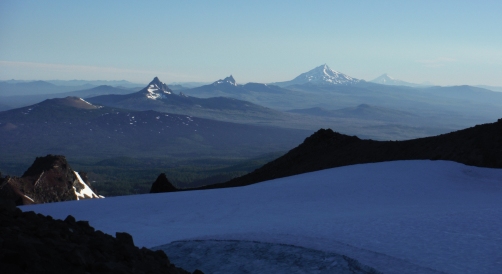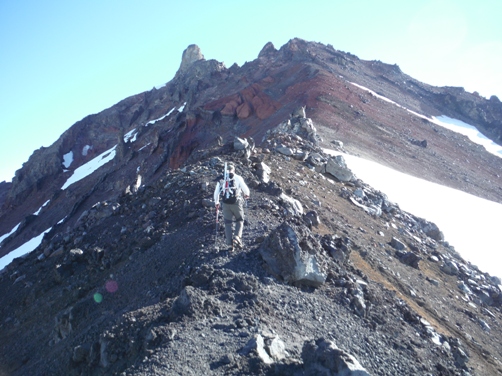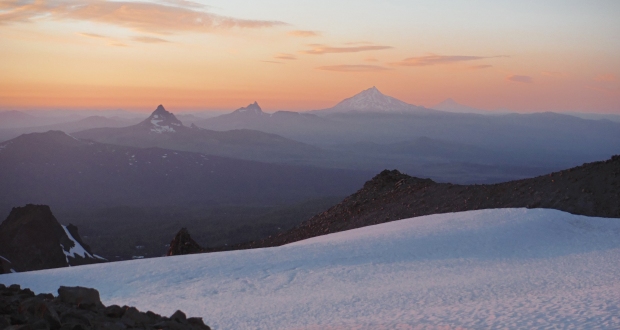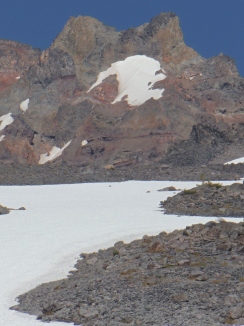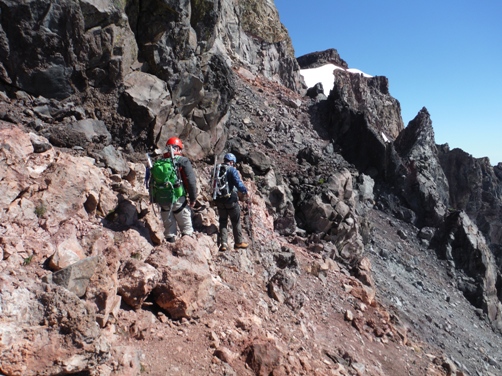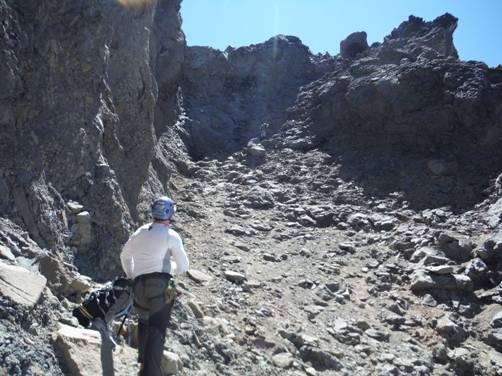 North and Middle Sister from McKenzie Pass
Obsidian Trailhead
First view of North Sister from the trail
Crossing the lava flow
Heavy snow year (July 8, 2017) with snow on the trail well below tree line
Lower slopes climb
From summit looking north to Belknap, Washington, Three Fingered Jack, Jefferson, Hood, Adams
Summit block is class 3 although it looks like more as you approach it
Belay down the snow
Downclimbing the snowfield
Evening in camp with North Sister above
Belknap Crater, Mt. Washington, Three Fingered Jack, Mt. Jefferson and Mt. Hood
Morning light on the Cascades to the north
Traversing on the ridge below cliffs
Climbing up to the moat
Looking down from the moat
Summit view of South Sister in center, Broken Top on left and Bachelor in
the far distance
The south ridge
Traversing the east side on the upper ridge
The snowfield is not melted out yet
A tough spot in the moat
The snowfield from below
In the Bowling Alley
Rapelling down the upper headwall of the Bowling Alley
South Ridge route from the West