Distance: 2+ miles
Summit Elevation: 1,960 feet
Elevation Gain: 400 feet
Access: Paved
Lookout Hill
The name Lookout Hill is about the most exciting thing about this forest covered hill outside of Squim. Although, the first 5 minutes of walking as through a young stand of trees that will afford some views for the next 8 years or so. After that, it just gets worse all the way until the summit is reached.
Olympic Mountains Hiking
On Highway 101 east of Sequim across from Sequim Bay State Park, turn south on Louella Road. Drive one mile to a T intersection. Turn left onto Palo Alto Road. Follow Palo Alto for a few miles until you come to a curve with a gated side road. See the map below.
Access:
Follow the road behind the gate as it traverses south to a viewpoint and sharp curve to the east. Now the road does a long gentle grade along the entire south side of Lookout Hill. Note that not too far past an overgrowing gravel pit on the left, is some nice forest. You could short cut here, or continue on. At the key intersection shown on the map, find an abandoned, hidden and bermed road on the left. Unfortunately, this road is bermed every few hundred feet making one put effort into a hill not worthy of such effort. Follow as it turns west, ignore one side road, and when you think you are on the highest contour, find the highest spot, call it good. A short-cut back is to drop directly down as shown on the map. The upper half of this short cut-route is good 3rd growth with little brush, the lower part is nice 2nd growth.
Route: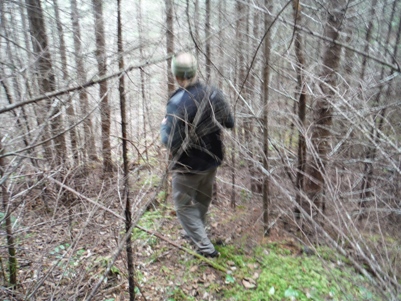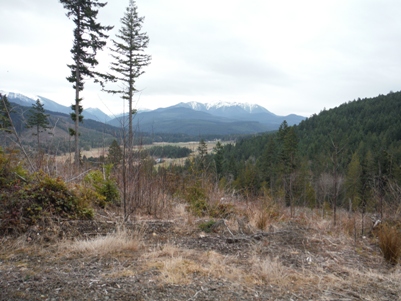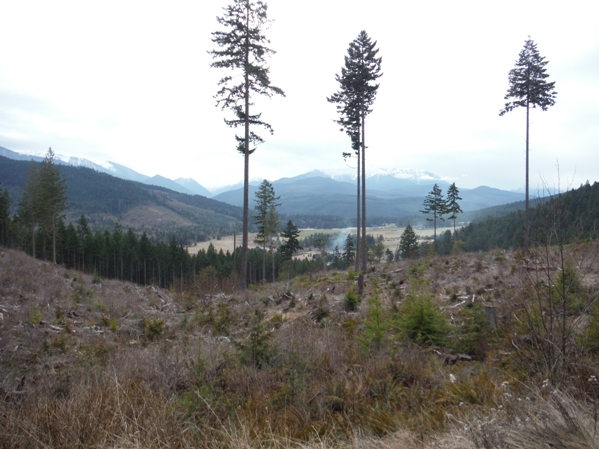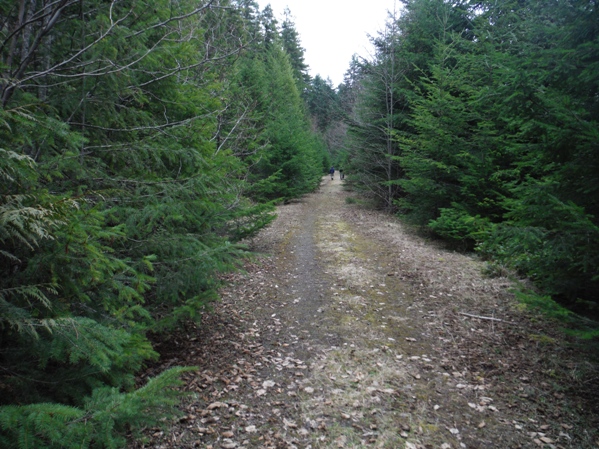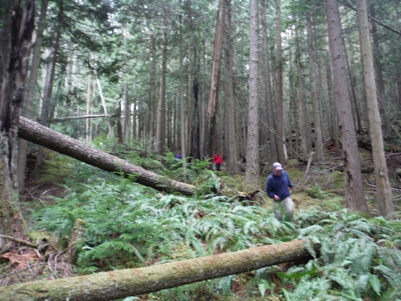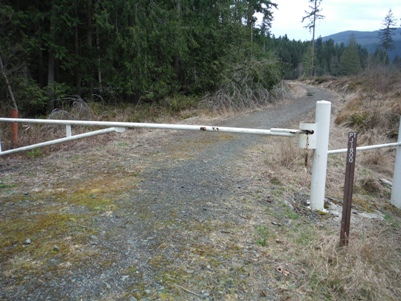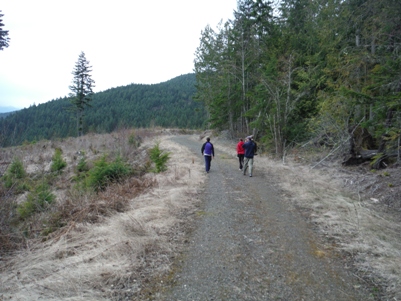 Lookout Hill Gate
Jimmycomelately Creek Valley
Shortcut: above is the third growth, below is the second growth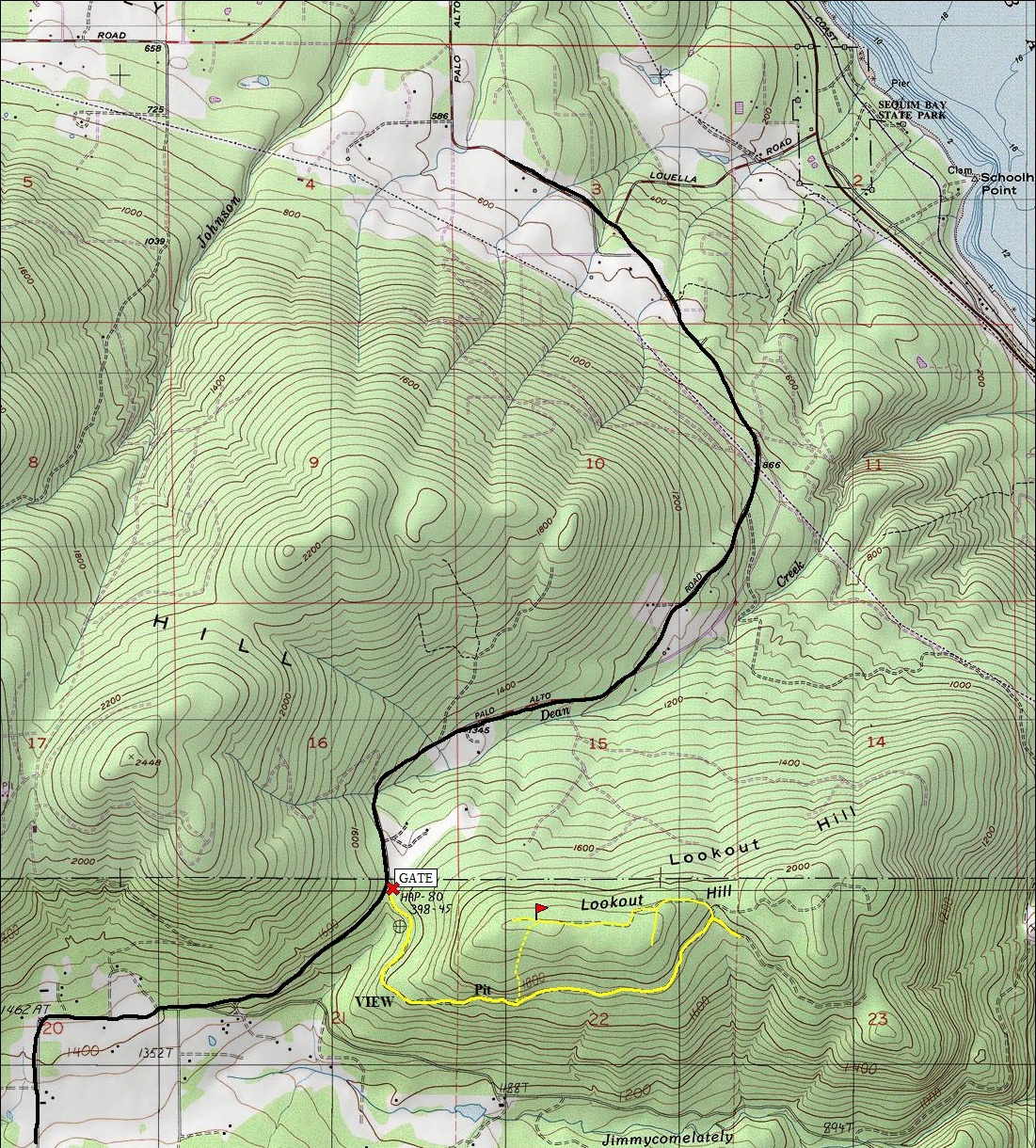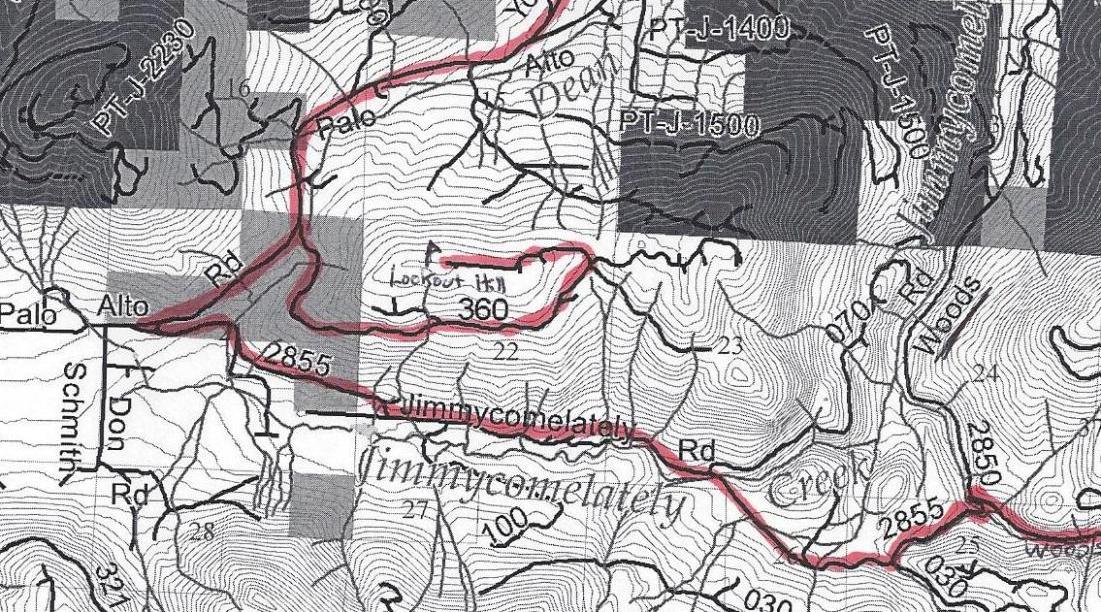 Jimmycomelately Creek Valley
Above: Don't be fooled by the incorrect contour line marked 2000 on the west peak. Below is a DNR roads map showing State Lands (shaded areas) and all roads (in 2006).