Silver Star Mountain
North Cascades Highway
Distance: 3.5 miles
Summit Elevation: 8,876 feet
Elevation Gain: 6,000 feet
Difficulty: Class 3+ near the summit
Access: Paved
As drivers cross Washington Pass on the North Cascades Highway, Silver Star Mountain lies to the east with ridges extending north and south full of towering rock spires. Amazingly, this rugged peak can be climbed without too much technical knowhow. Silver Star Mountain is #24 of Washington's highest peaks. There are two summits, with the highest summit being the east peak, just slightly higher than the west peak. This route utilizes the Silver Star Glacier, the largest in the Cascades at such a eastern longitude.
Take Highway 20 for 4 miles past Washington Pass where there is a broad shoulder with plenty of parking. (Near milepost 166) The climbers trail leaves the parking area more toward the north end.
Access:
This route takes advantage of the Burgundy Col climbers trail. After dropping down 200 feet to the river, find the best log to cross or ford. The trail continues on the other side gently at first but soon hits the slope and relentlessly climbs 3700+ feet to Burgundy Col. At 6,400 feet is The Bench with several campsites. A bit past The Bench, the trail climbs a drainage but several other minor trails have formed in the brush to the right as well. Generally, the trail will eventually skirt to the right toward another drainage but look for the trail sticking to the prominent rib between these drainages. At Burgundy Col, a few more camps exist. Now descend 200 feet on snow or loose rock. Traverse east across the glacier just below the rock tower of Burgundy Spire. When the main glacier is reached, climb up snow toward the upper col between the east and west summit. The final rock section from the upper col is best to begin a bit east of the summit col. Scramble easy, unexposed ledges up the rock toward the upper right skyline. When class 3 rock seems to stop just below the summit block, look for some large granite flakes to make a few rock moves, up and to the right. Skirt around an exposed corner or drop down 15 on ledges, then scramble class 3 rock 40 feet up a small gully to the summit.
Route: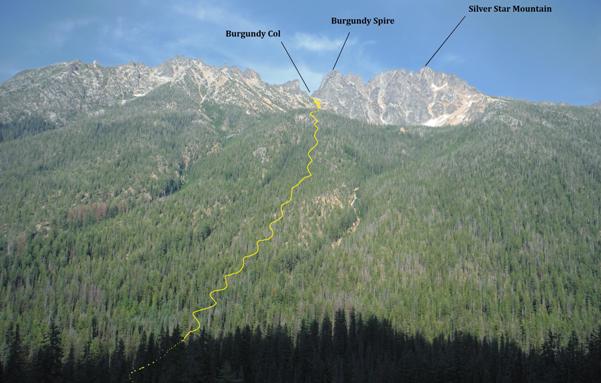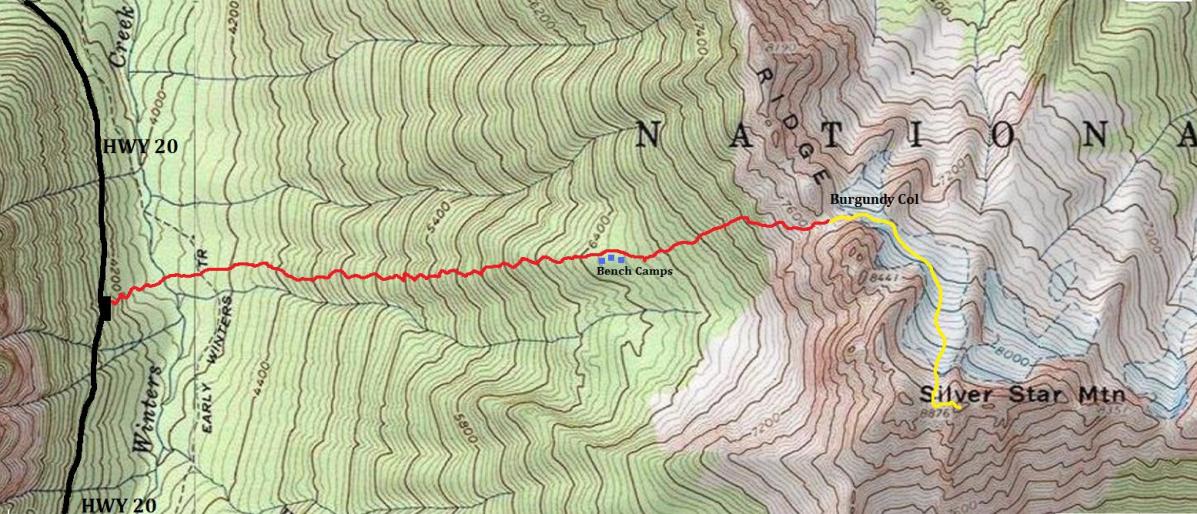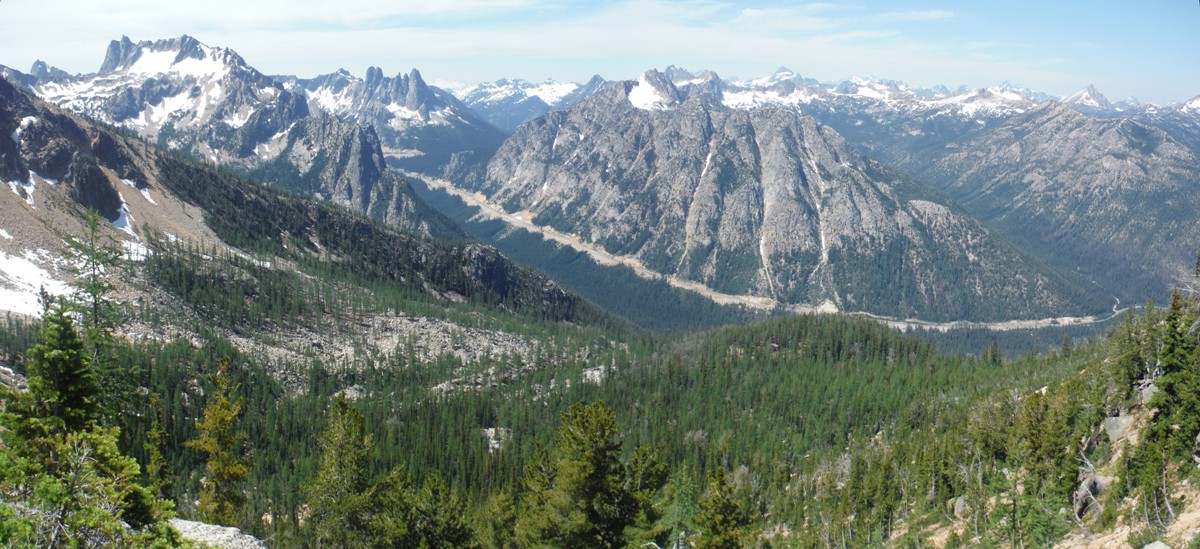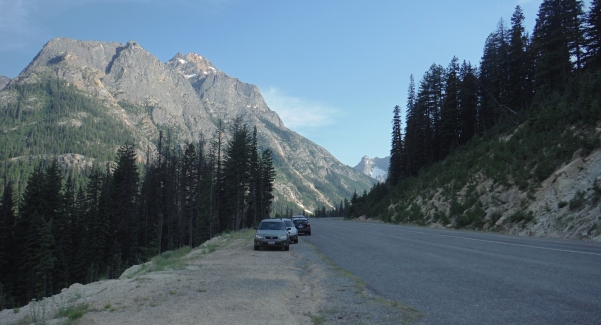 View of the route from the pull-out and trailhead on Highway 20
Pull-out on Highway 20
Views from route to Burgundy Col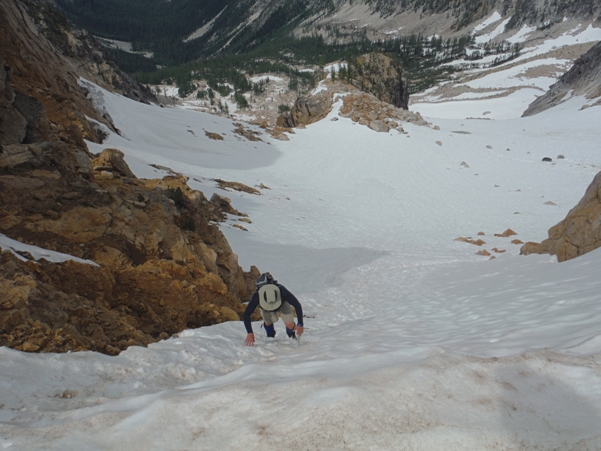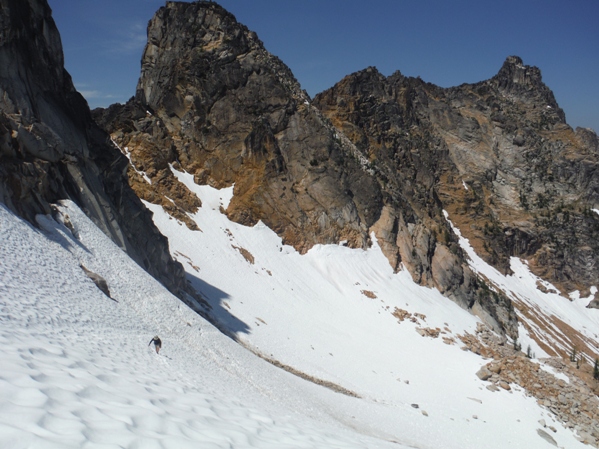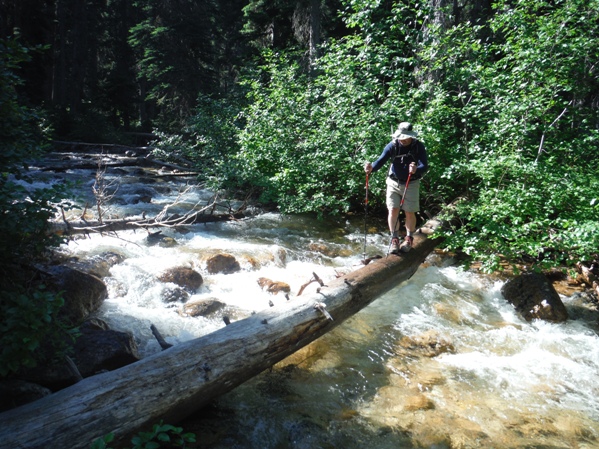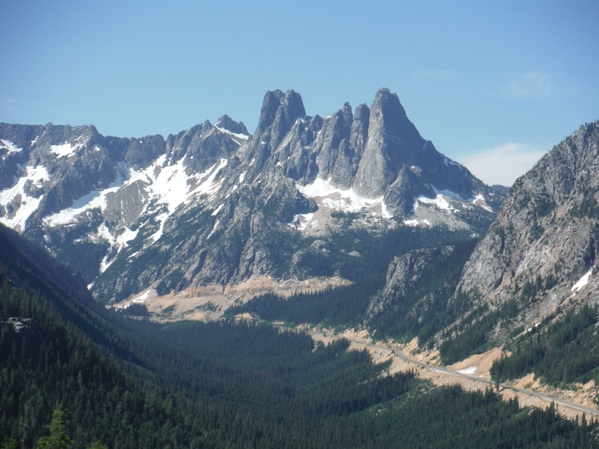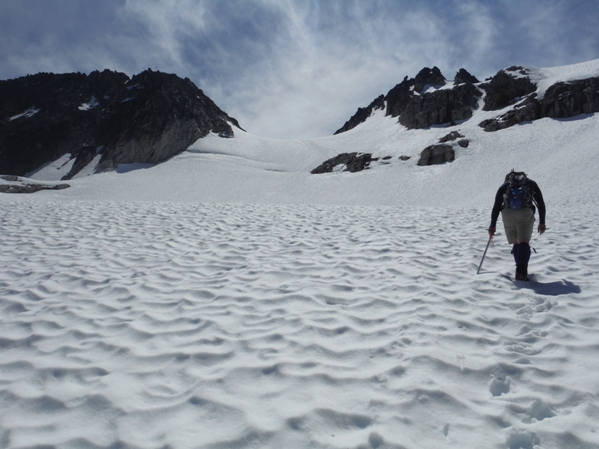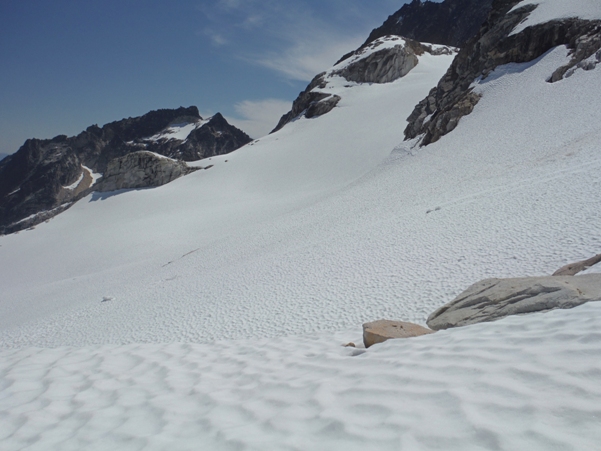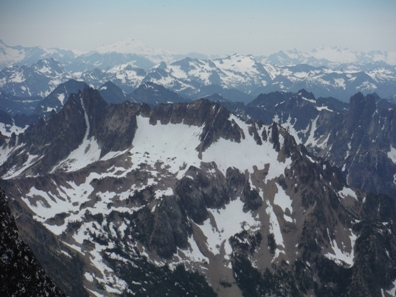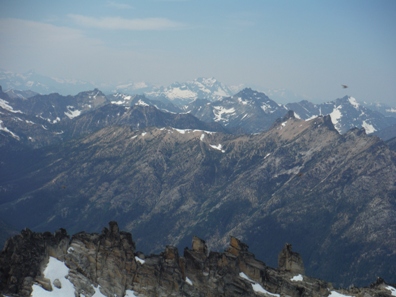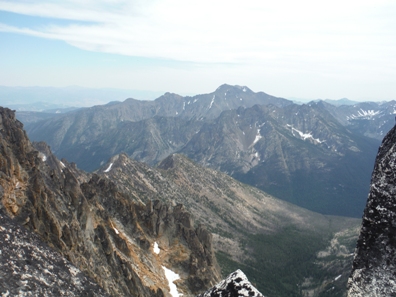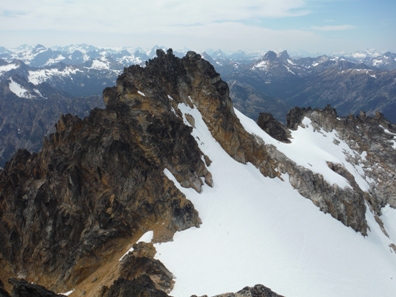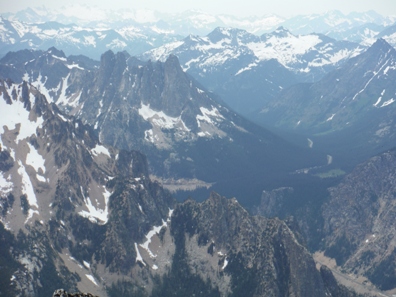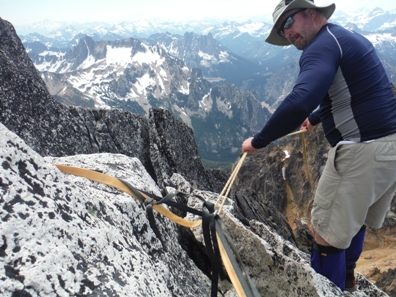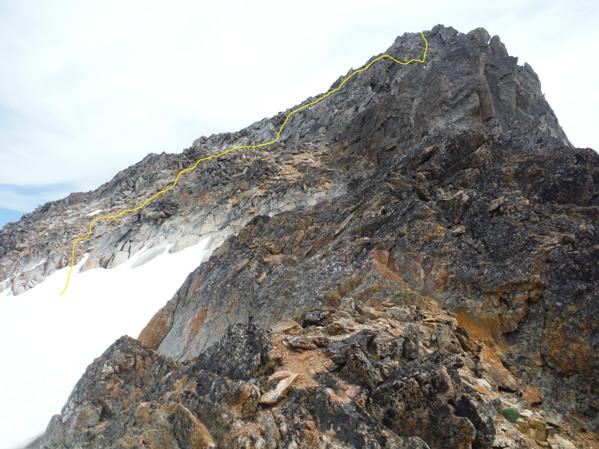 Crossing Early Winters Creek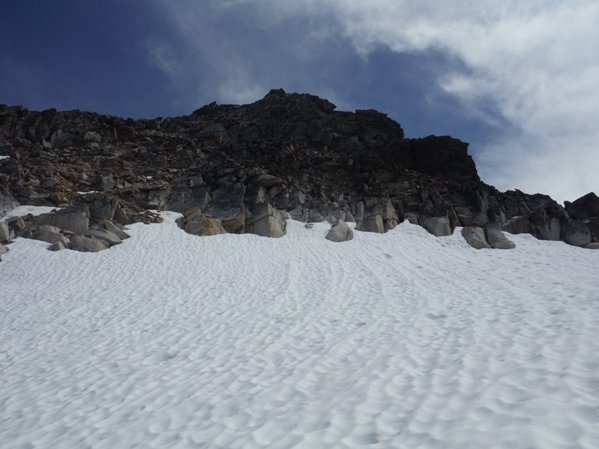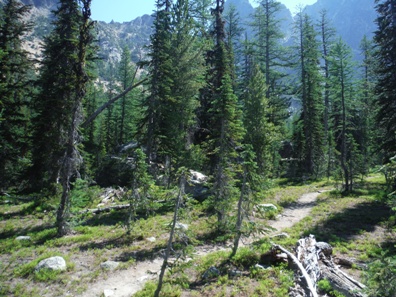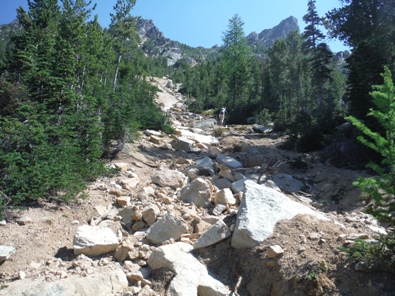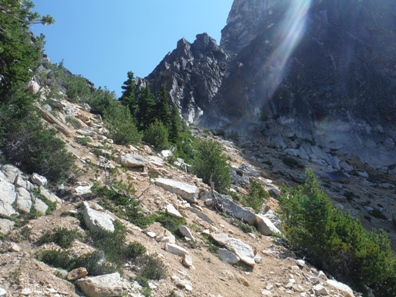 The trail at The Bench campsites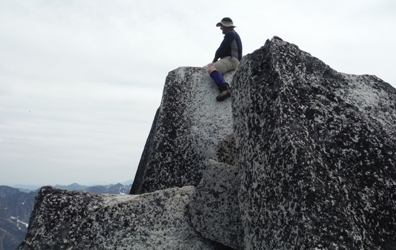 Liberty Bell group at Washington Pass
Washington Pass
Going up the drainage above The Bench
Nearing Burgundy Col
East side of Burgundy Col
Looking back toward Burgundy Col (left at shadow)
Traversing the Silver Star Glacier
Climbing up the Silver Star Glacier to the saddle between East & West Peaks
Route to the summit from the saddle between East & West Peaks
Looking up to the summit from the top of the glacier
Mount Gardner
Big Kangaroo
Jack Mountain
Summit rap anchors
Sitting on the summit
West Peak