North & South Lookout Mountain
Washington Hiking & Climbing
This particular Lookout Mountain is located just West of Mount Baker, not to be confused with the Lookout Mountain near Bellingham, or the one near Marblemount. The south summit would make a good ski destination while the forested north summit is more of a peakbaggers destination. Views along the road much of the way provide good motivation for continuing higher and higher. For snowshoers, this would be a long trek without the assistance of a snow grooming machine and snowmobile tracks. The snowmobile tracks are a near guarantee in this road accesses the slopes of Grouse Ridge, a popular destination.
Take the Mount Baker Highway just past the town of Glacier. Turn right on the signed Glacier Creek Road #39. Depending on the snowline, there are different parking locations. In winter, it may be as high as 3,500 feet at the Road 36 junction. The next lower winter trailhead is at the quarry site at 3,080 feet. (This trip report and map start from this location.) In a heavy snow year, I would guess the road starts out toward the highway. I believe in summer, you can drive roads nearly to the summit of Lookout Mountain.
Access
Elevation: North: 5,080+ feet, South: 5,076 feet
Distance: 10 miles RT
Elevation Gain: 2,000 feet, +500 for North Summit
Road Access: Mostly paved with good gravel near end
From the quarry parking, walk up the road under a mile to the Road 36 turn. Follow Road 36 up to the base of the south summit, following the roads shown on the map. Generally, all uphills and the junctions. The road will end on a shoulder of the summit, just west of the highpoint. From there, just follow the ridge back to the highest point. Views
South Summit Route
Just drop down the north ridge of the South summit, veering to the east a bit to avoid very steep slopes. The more east-southeast you go the easier the terrain. Intersect a wide road and follow to the saddle between the two summits. Continue on the road as it slowly ascents the side of the north peak. Pick a location to leave the road and climb through young trees or follow the road to its end, ascend a minor gully, and then traverse into the old-growth for the remainder of the climb. No views at summit.
North Summit
The south summit was said to have a 1930's lookout camp where a telephone was nailed to a tree. Reportedly abandoned in the 1940's.
A Lookout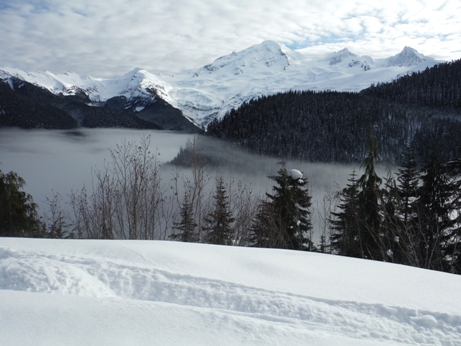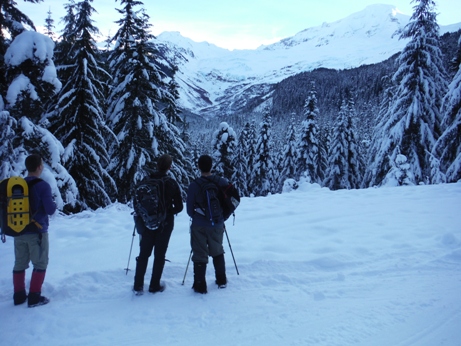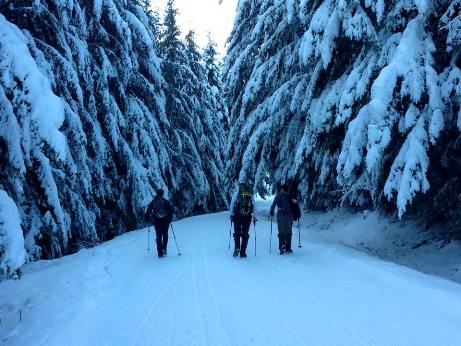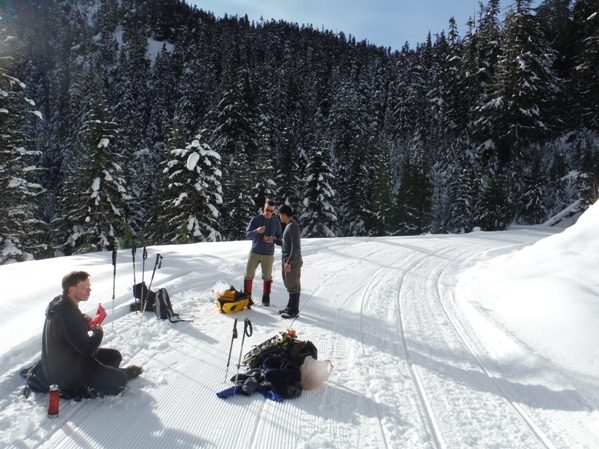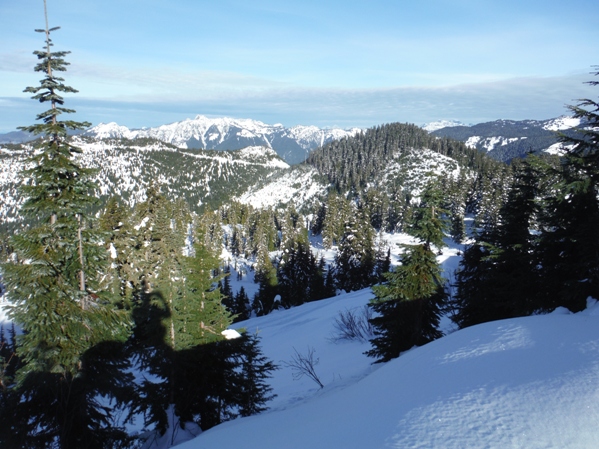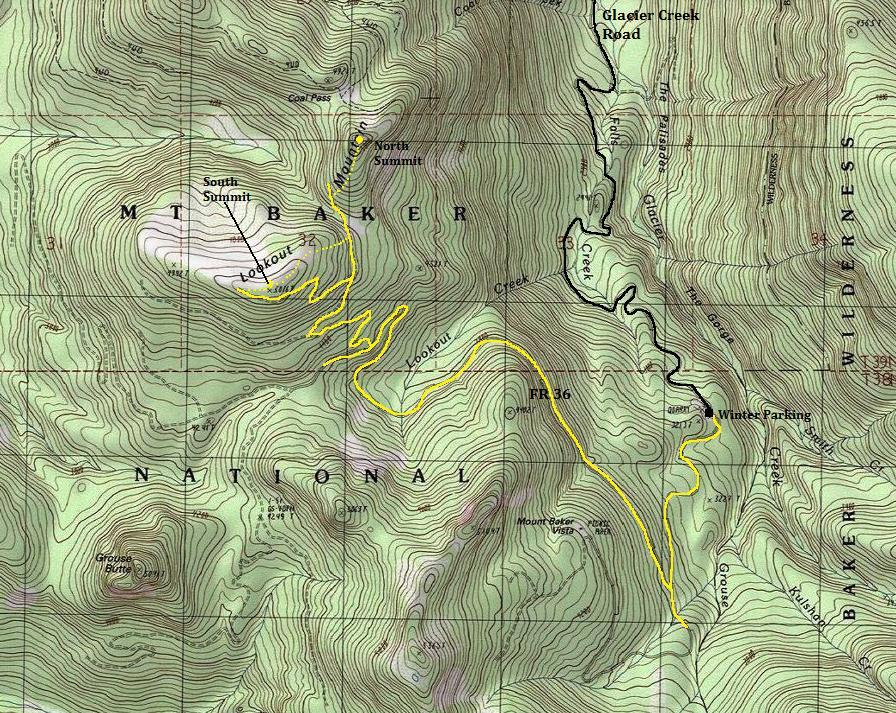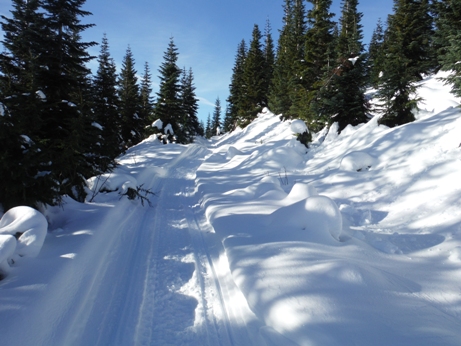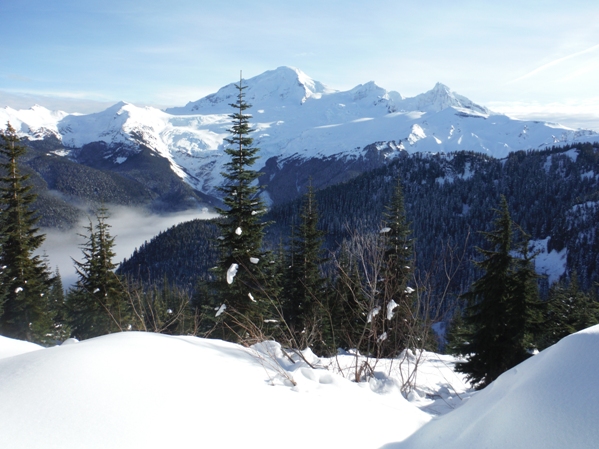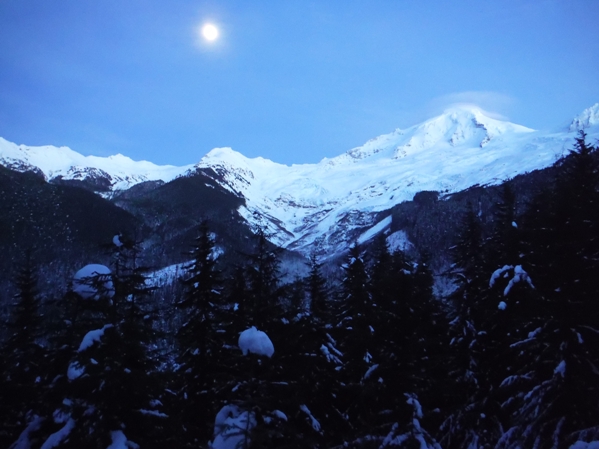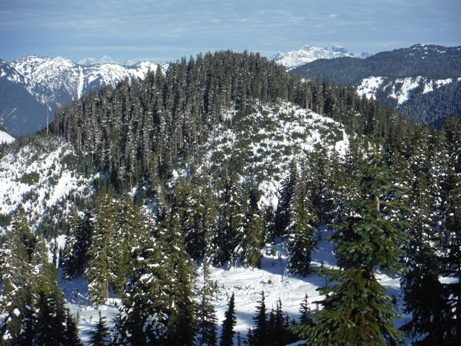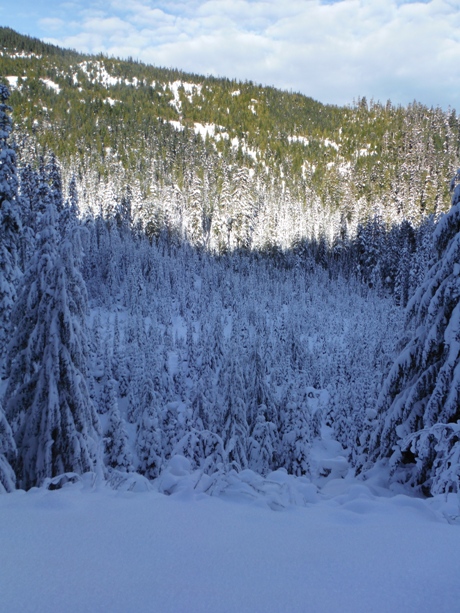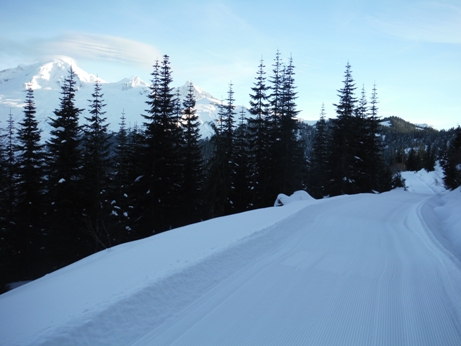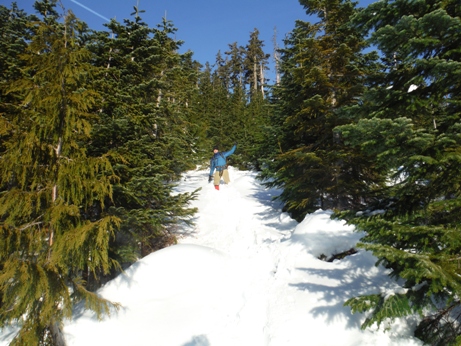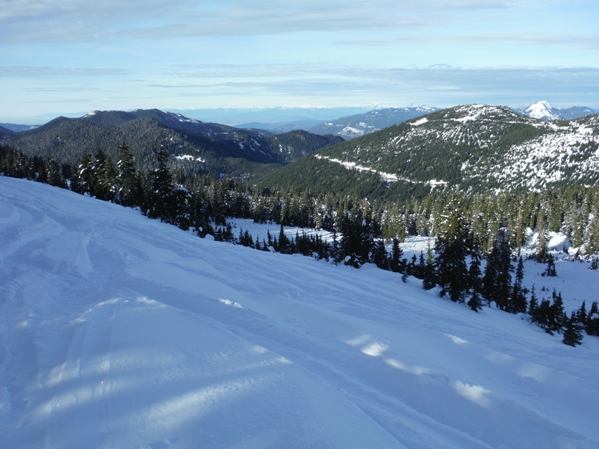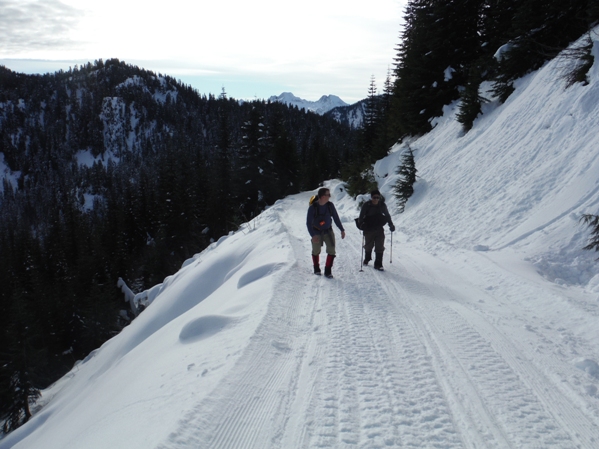 Starting up the road
First views of Baker from the junction with FR 36
Heading up there where the sun is shining and melting the snow from the trees
Some clouds came up the valley, then quickly disappeared
Nearing the summit of South Lookout Mountain
Baker from around 4,800 feet
Looking NW from the summit
North Lookout Mountain from South Lookout Mountain
Doing the Penguin shuffle - snowshoeing without poles
Walking down the road
Looking north from near summit of South Lookout Mountain
Walking out in the moonlight