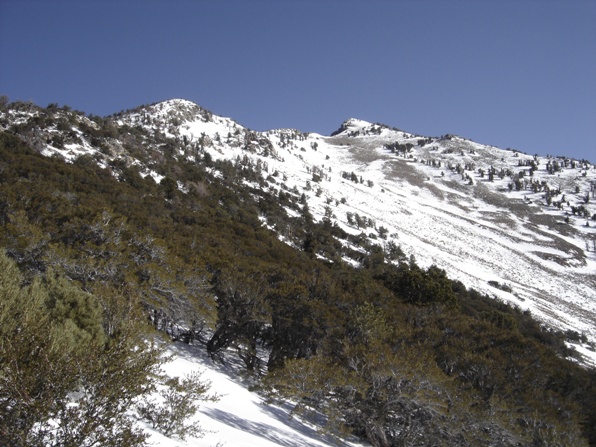 Pilot Peak from Silver Island Mountains road
View of peak upon approach
4X4 road goes into canyon above road
First of two boulder fields
Shot of second leg of trip, up ridge on left, traverse below knob on left and up to summit
Second boulder field
Summit mailbox and flag just above the snow
View from summit west into Nevada ranges
View east over the Silver Island Mountains and the Bonneville Salt Flats
Looking north to the lower summits of Pilot Peak
Start of route, top of 4X4 road
A final view on my way out
Pilot Peak Access:
Pilot Peak
Distance: 2.2 miles (Miners Canyon Route)
Elevation Gain: 4,400 feet
Summit Elevation: 10,716 feet
Access: High clearance
Pilot Peak Route:
Nevada Hiking & Climbing
Just west of the Bonneville Salt Flats on the Utah/Nevada boarder is Pilot Peak. As you approach the peak from any direction, it stands alone dominating the skyline. Few venture out to the middle of nowhere to climb it so you're likely to be alone. In realty, access is pretty good, just off a major interstate, you'll have cell reception most of the upper mountain. Plus, after you summit, your only 20 minutes from the buffets at the casinos in Wendover!
Take Exit 4 off I-80 (Bonneville Salt Flats Exit), turn north on a paved road for 1.8 miles. When the paved road takes a major turn eastward, look for a smaller paved road going left up into the hills. Follow this road about a mile up to a pass and some fenced building. Take a left at the Y at the pass (staying on the pavement) and continue 15 miles. The turn off for Miners Canyon is next to the second cattle guard. Turn left onto the dirt road which becomes 4WD at some point. At 4.5 miles, the road ends, start here.
From the end of the road, work your way up the hill on your right, go around any minor cliffs. When you hit a ridgeline, you'll see a long boulder field. Work your way up this long slog until you hit a major ridgeline extending southeast. At this point, 8,300 feet, you'll see the rest of the route to the summit. This involves a nice ridge climb, then traverse, followed by a final rock field to the summit. Take the traverse wherever you feel comfortable, somewhere between 9,200-9,600 feet. On top was once a heliograph station so you'll find odd junk scattered around. This particular summit has amazing views, probably because the salt flats below are such a contrast to the many mountain ranges. On a clear day you can see all 4 ranges back to Salt Lake (Cedar, Stansbury, Oquirrh, and Wasatch). South are Ibapah Peak and the Lost Creek Mountains; west is range after range in Nevada.