Mount Moriah
Mount Moriah is the 5th highest mountain in Nevada, a bit overshadowed by its neighbor Mount Wheeler, the highlight of Great Basin National Park. Moriah is just 73 feet shy of having 5,000 feet of prominence making it onto the Ultra 57 list. Still, it is #59 if you wanted to reach the top 100 prominent peaks in the lower 48. Mount Moriah is located in the Mt. Moriah Wilderness area, near the border of Utah near Ely. Its remoteness pretty much guarantees you will be alone on the summit.
WillhiteWeb.com - Nevada Hiking
Access:
Hikers have approached from several canyons, but only Big Canyon Trailhead is described here as it is the easiest. From the Utah border crossing on Hwy. 6, go 21 miles to a gravel turnoff. From Ely it is 42.5 miles. The mainline road heads east at first then goes north. Follow this road about 11.8 miles to Forest Road 469 on the right. Now heading into the mountain range, follow FR 469 for 11.4 miles to its end. This is the Big Canyon trailhead and should have a trail sign and wilderness sign. The road is maintained but can get rough in places. 4WD is needed because of the steepness and high clearance in places depending on the last road grading. Stay on what looks like the main road. At 10.4 miles is a road split that is the only difficult choice. Left is to a primitive camp area, go right. Park in a half mile at a closed road sign or follow the road higher to the official trailhead for Big Canyon. The road ends on an open plateau bordered by aspen groves at almost 10,000 feet elevation.
Route:
From the Big Canyon Trailhead, hike up the ridge to some obvious rock obstacles. Find a nice game trail in the woods on the right side of the ridge. Follow the trail as it traverses upward heading in the correct direction. Eventually reach the ridge top and continue to the east side where the terrain is easier. Follow the ridge area as it connects with the main bulk of Mount Moriah. Soon the way steepens and eventually you are at the treeline. Minor climbers trails work up through the talus slopes but the route is all class 2, easy scrambling. The map below also shows a variation of the route that is a touch shorter but starts a bit lower down on the road.
Distance: 3 miles
Elevation Gain: 2,200 feet
Summit Elevation: 12,067 feet
Access: Rough Road, 4WD needed, high clearance prefered
Yellow ball showing route to the summit from the lower parking area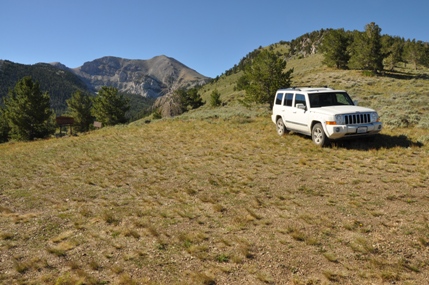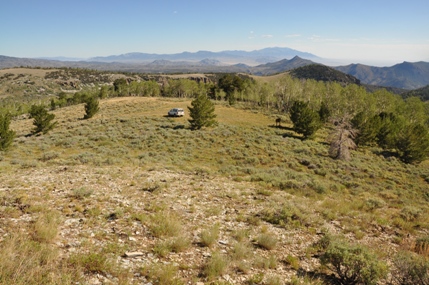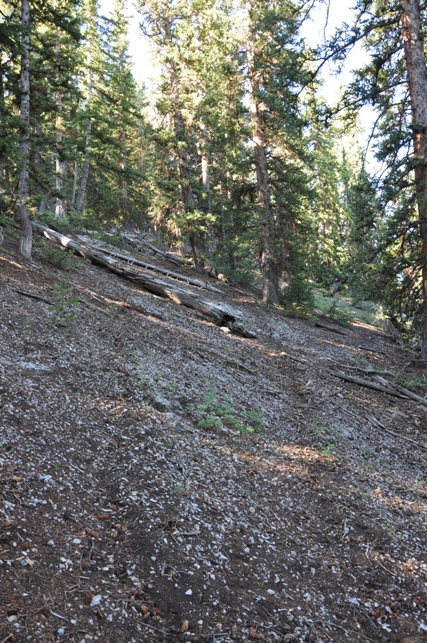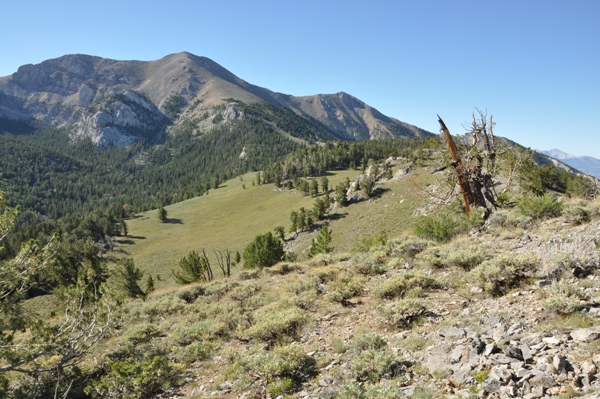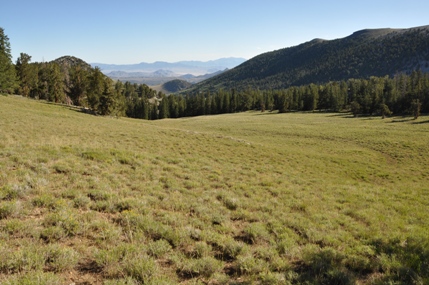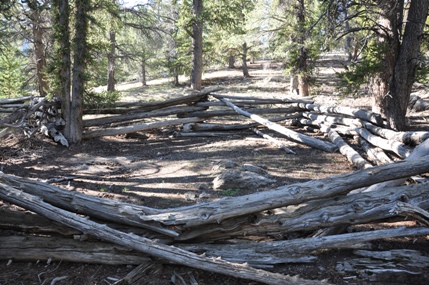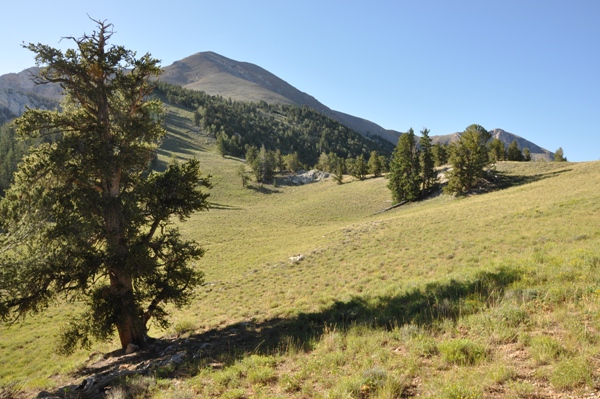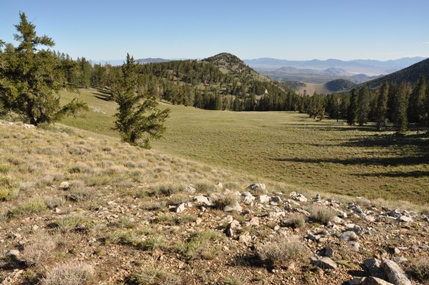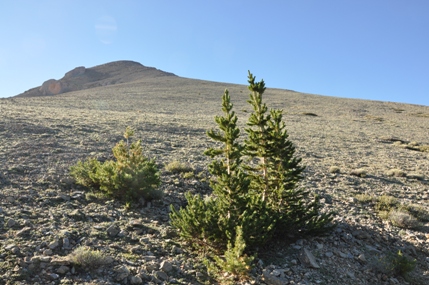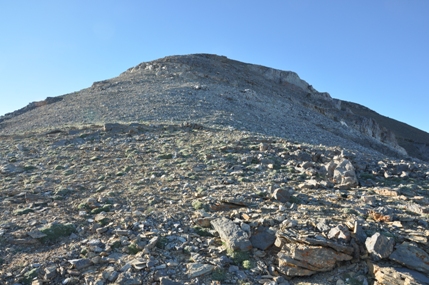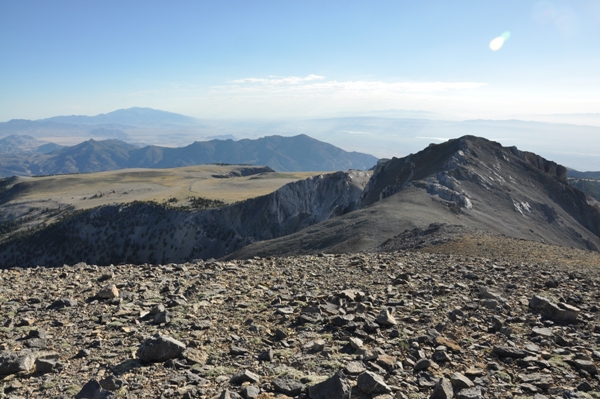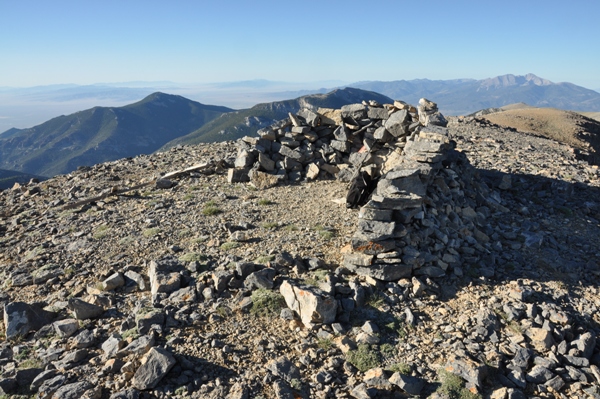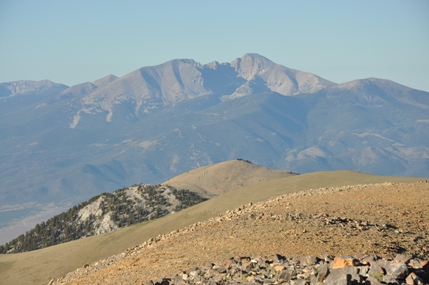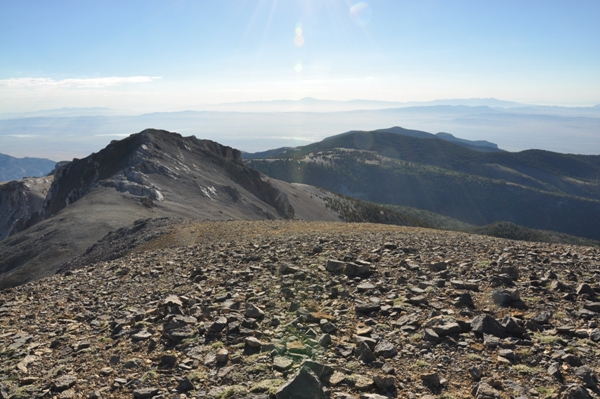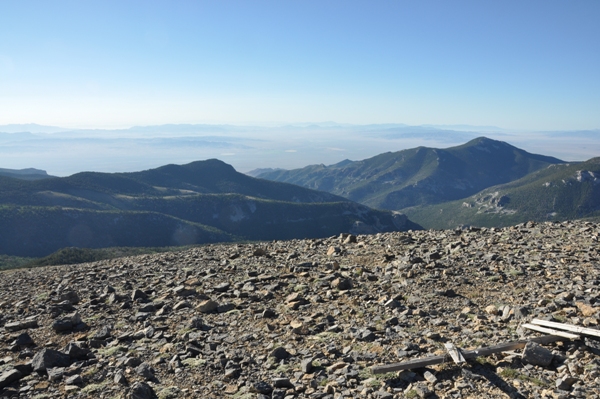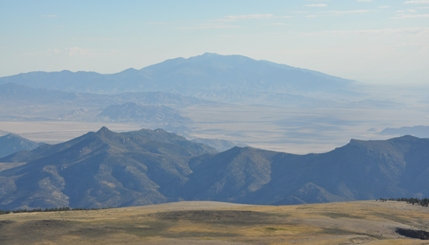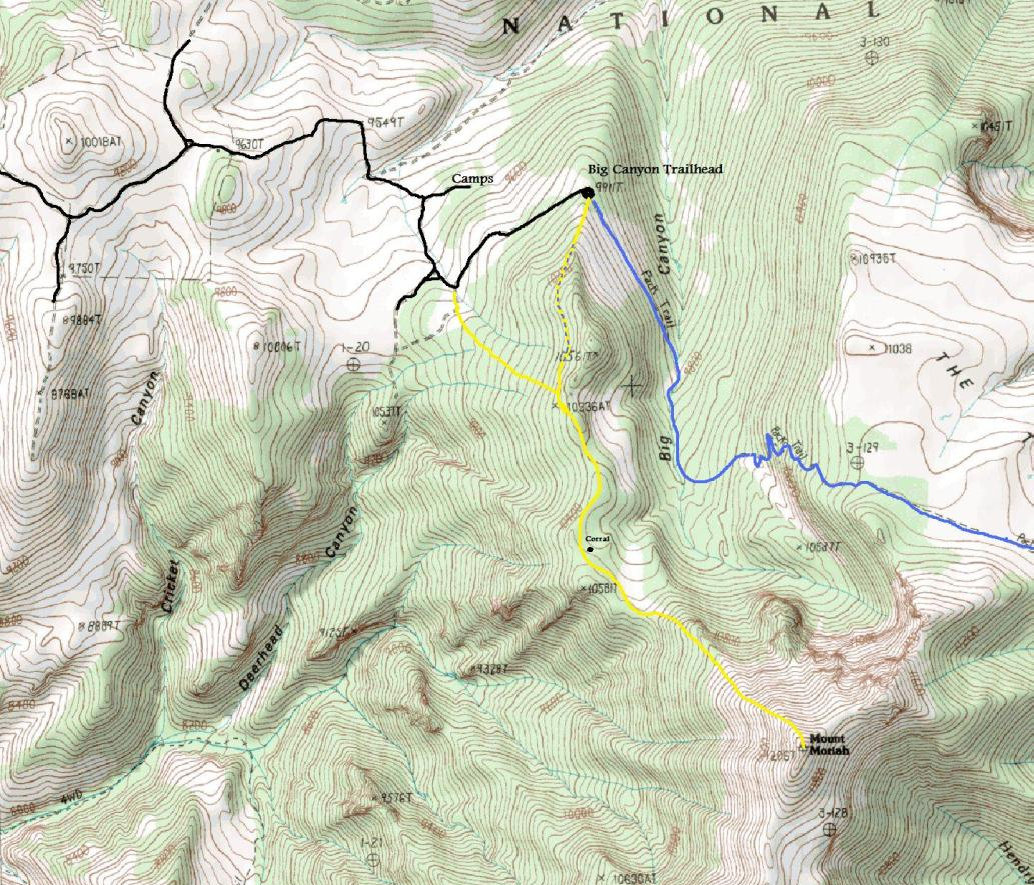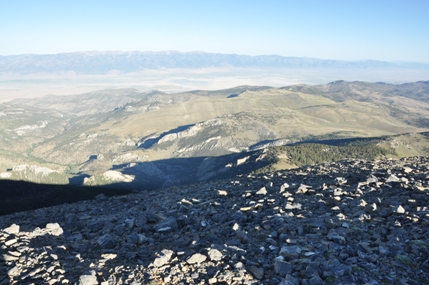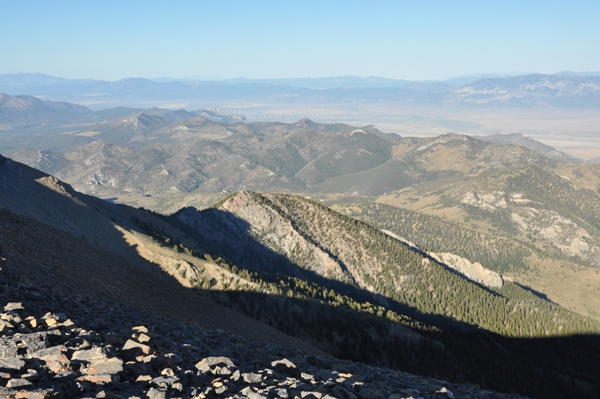 Big Canyon Trailhead - follow ridge up until you hit the summit
Looking down at the Big Canyon Trailhead
The trails in the woods near the start
On the ridge heading to the peak
Meadows along the way
Summit wind break
Old corral in route
Last tree and shade
View NE from the summit
Looking east from the summit
Looking south from the summit
Mount Wheeler from Moriah
View NW from the summit
View SW from the summit
Deep Creek Mountains in Utah