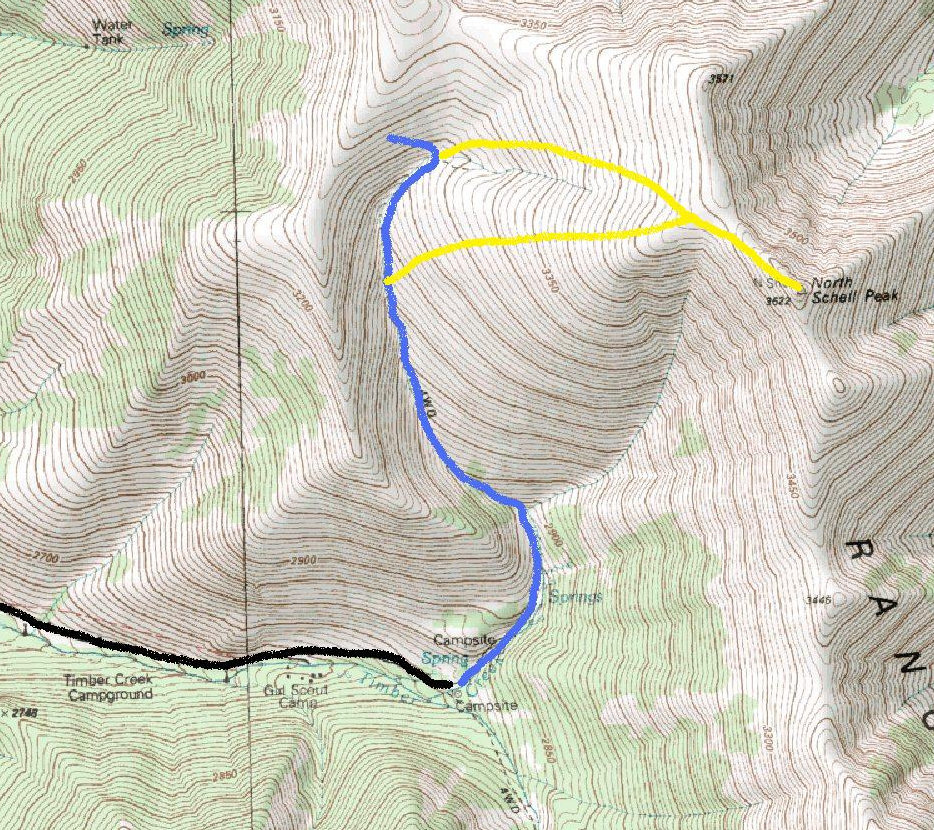 North Schell Peak, the highest point in the 142 mile Schell Creek Mountains, is an easy day trip if you somehow find your self in Ely, Nevada. It also makes a good outing from Timber Creek Campground located at the trailhead. North Schell Peak is an Ultra Peak, one of 57 peaks in the lower 48 with over 5,000 feet of prominence. The views of the Great Basin region and local mountains are incredible....assuming you get some good weather.
Access:
North Schell Peak
The Route:
Start up the trail in aspens until reaching an open meadow where you see two drainages. The trail crosses the creek a few times and continues up the easier drainage to the left. Soon you are in a narrow high valley above most of the trees. As the trail works its way north, you are traveling from the south side to the north side of North Schell. Many (including myself) decide enough with it and start climbing open slopes to the right to make a more direct route up to the top (see map). If you stay on the trail until it wraps into a northern drainage from the summit, there is less talus and you won't have any brushy areas to work around. The final 1,000 feet on either route is a scenic but lackluster slog up open slopes. Once on the ridgeline, it is a quick and easy scramble over and up the summit pyramid (on climbers trails).
From Ely, drive north on US 93 through McGill to a sign for Hwy 486 that may just say "Duck Creek National Forest Access". Follow Hwy 486 east then south about eight miles to a sign for Timber Creek Campground. Go left (Forest road 425) for around 4 miles to the Timber Creek Campground. About a half mile beyond is a large turnaround and a trailhead. This last half-mile and trailhead parking has been graded recently (2009) and is much better than reports from past.
WillhiteWeb.com: Nevada Hiking
From Highway 486
Trailhead for North Schell Peak
First real views on the trail
Upper valley
Looking back to views south
The ridgeline north of the peak, ascend anywhere here
This is all you see the last 1,000 feet
Walking the north ridgeline toward the summit
Looking NW from the summit
Looking south toward South Schell Peak and Taft Mountain
Looking north
SE to Wheeler Peak
Black is road to trailhead, blue is the trail and yellow are options for the off-trail section.
Distance: 3 miles
Elevation Gain: 3,600 feet
Summit Elevation: 11,883 feet
Access: Good Gravel