High Rock Lookout
Washington Hiking & Climbing
Distance: 1.5 miles
Summit Elevation: 5,685 feet
Elevation Gain: 1,365 feet
Road Access: Good Gravel but potholes in places
One of Washington's easiest to reach lookout buildings is High Rock Lookout, located just south of Mount Rainier National Park. The short 1.6 mile hike attracts the novice and experienced hikers because the views are superb and there is a lookout. High Rock is also a prominence peak at #45 in Washington with over 3,000 feet of it. Notice at the trailhead parking you can look in the distance to see the destination, such a rare thing in WA. The trail is extra fun because it follows along a forested ridge much of the way. Most of the way is shaded but being a ridge, there is no water. Although the road gets high, the hike still requires many steeper sections that the novice hikers get to suffer on. But, being a short trail, almost everyone seems to make it.
From Elbe, take SR 706 toward Mount Rainier for 10 miles, then turn right on Kernahan Road (Skate Creek Road FR 52). Now you have two ways to get to the trailhead at Towhead Gap.

The most popular way is to follow Kernahan Road for 1.4 miles then turn right onto Osborn Road, followed by an immediate left onto FR85. Follow the paved but deteriorating FR85 6.5 miles to a junction. Go left (onto gravel FR 8440) following for 5 miles to Towhead Gap and the trailhead parking.

An alternate access is shown on the map below, follow Kernahan Road for 4.7 miles, then turn right on gravel FR 84. Follow this for 6.8 miles bearing right onto FR 8440, continue 2.7 more miles to trailhead at Towhead Gap. This route is all gravel with minor potholes in places if it hasn't been graded in awhile.
Access:
Take the signed trail from Towhead Gap, as several leave the area. Just follow the trail until you reach the lookout, expect some moderately steep sections of trail and a bit of sloped rock walking near the lookout building. Hold onto dogs and kids near the top, cliffs are everywhere. There once was cables to protect you from a sheer vertical drops but they are gone. There are a few viewpoints on the way up but the panorama doesn't reveal itself until the lookout building.
Route
The cabin was built in 1925, but is now totally gutted. Sleeping inside is discouraged because there is no lightning protection. Years after the forest service stopped using it, the lookout was restored really well, enough that the forest service was using it again. But, today it is in pretty rough shape again and will need to be given lots of care to fix.
History
From the south near Purcell Mountain
High Rock Lookout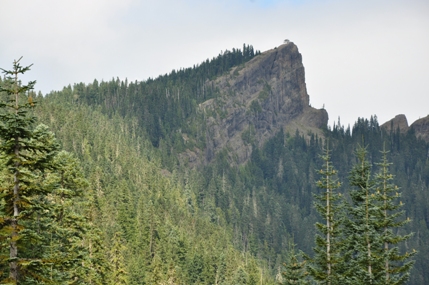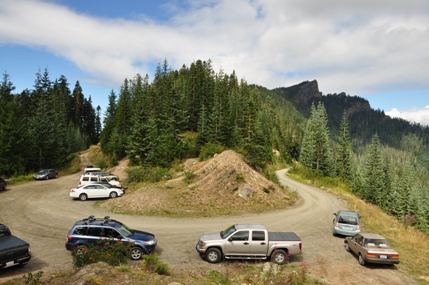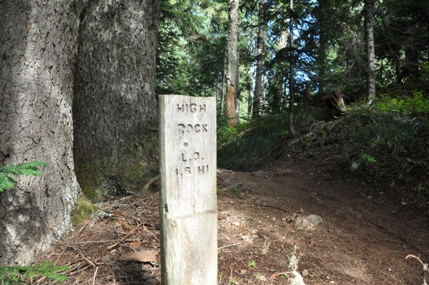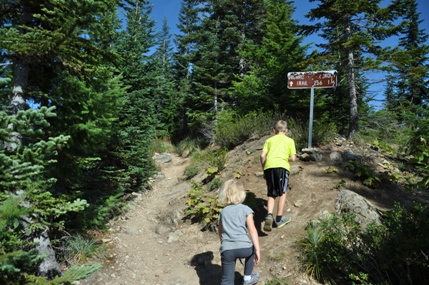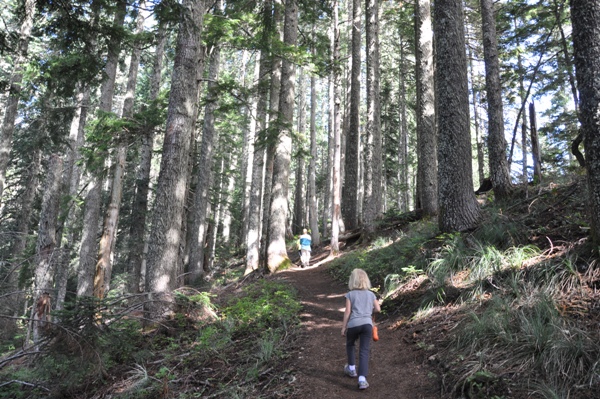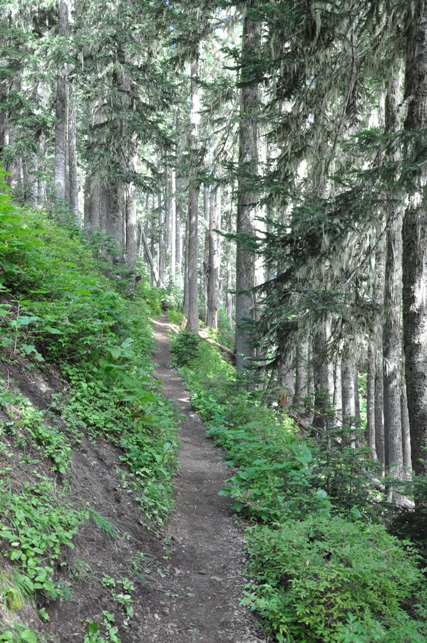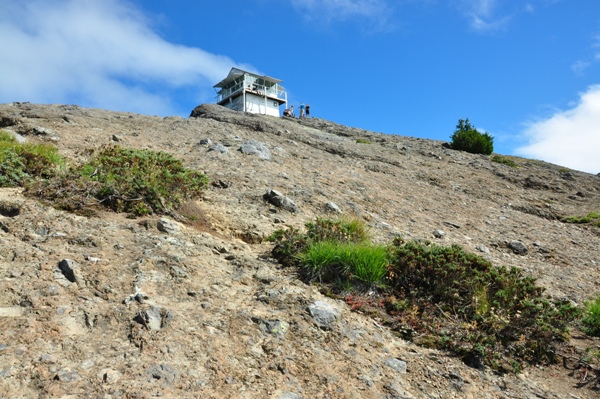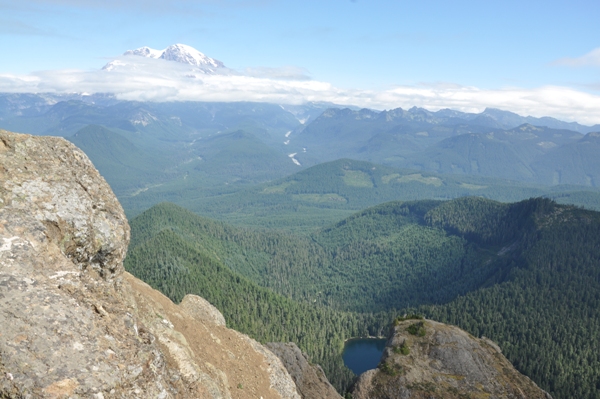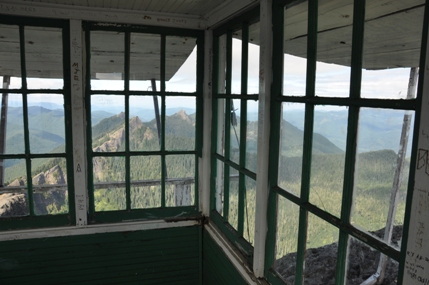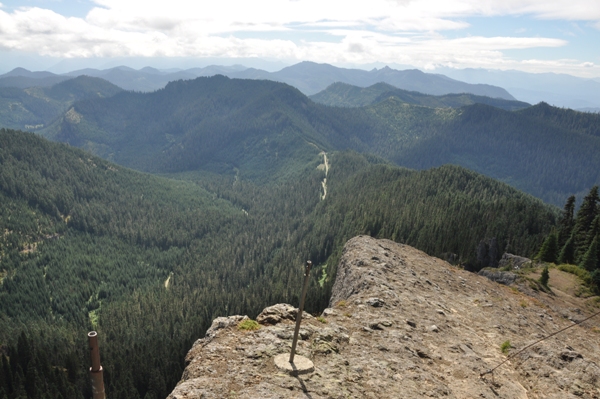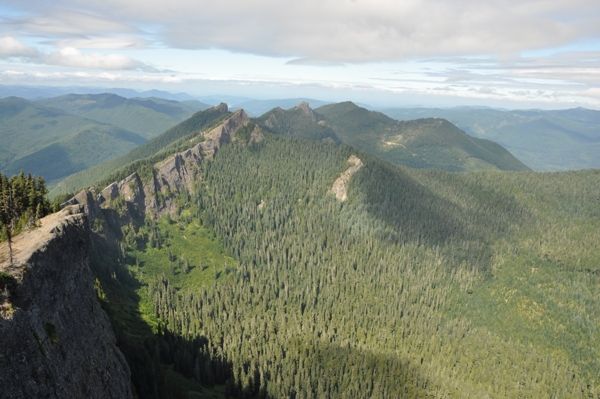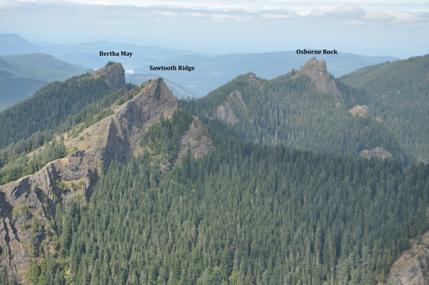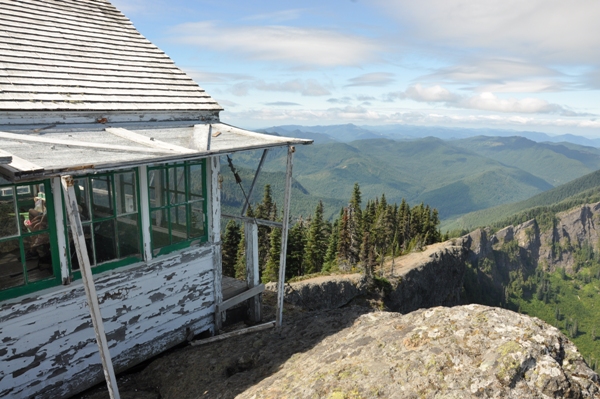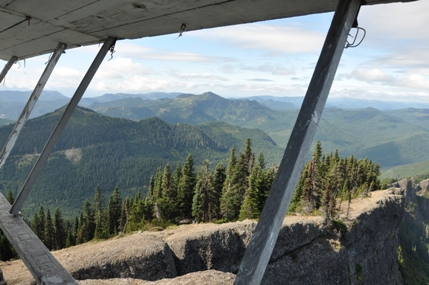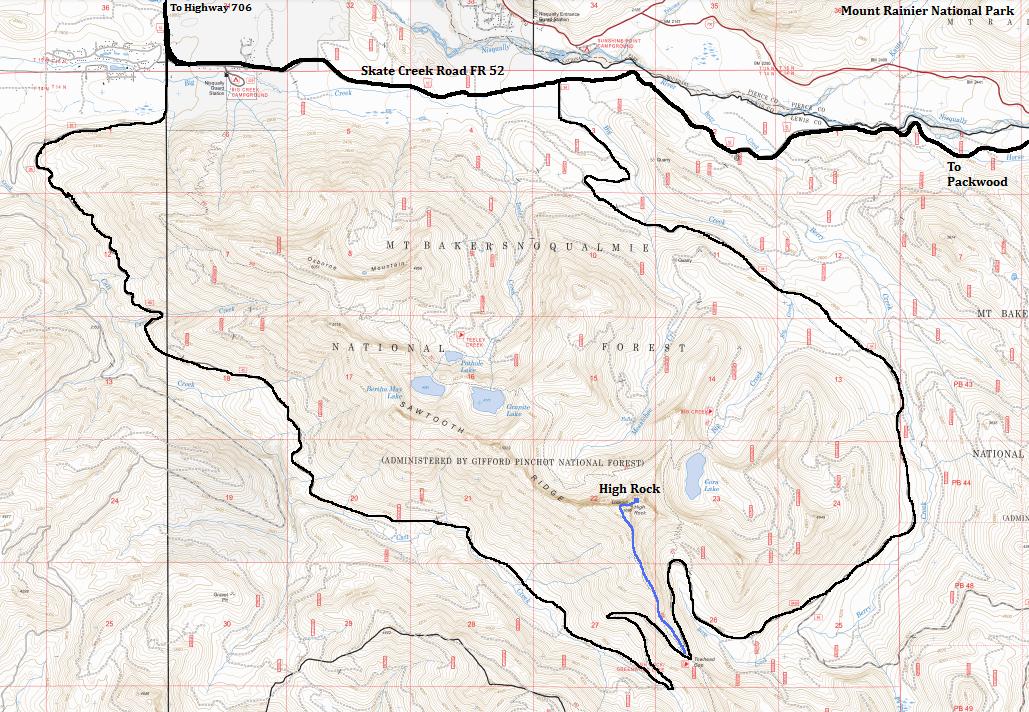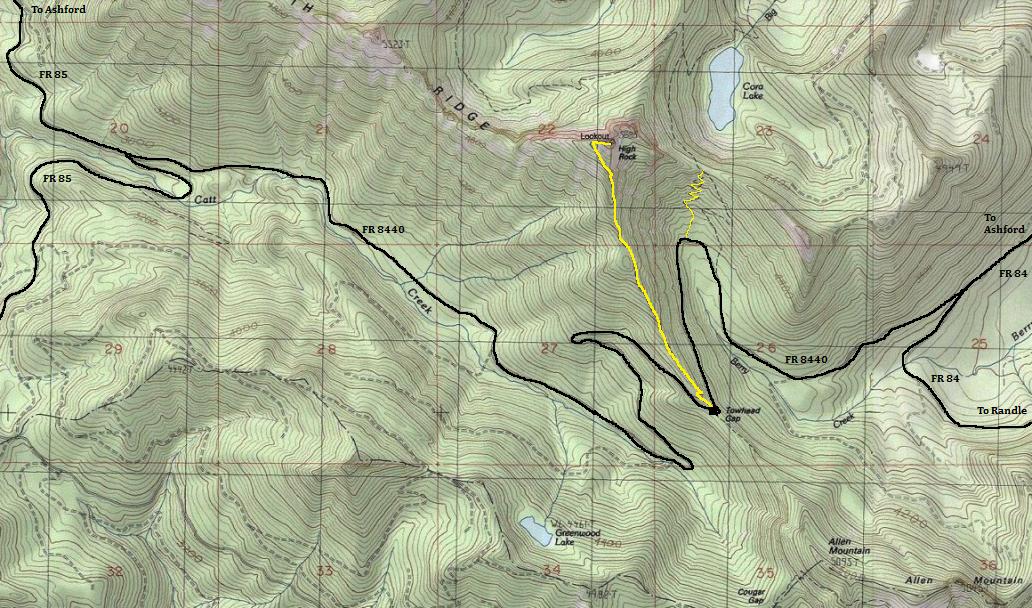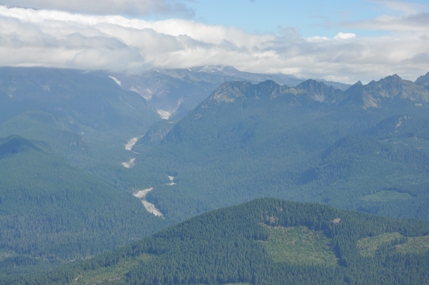 Trailhead sign
Towhead Gap trailhead with High Rock in view
High Rock Lookout from the trailhead
The final climb to the lookout
Hiking the trail
Second sign for High Rock L.O.
Looking west
Other Sawtooth Ridge Peaks
Looking up the Nisqually River with the Tatoosh Range on the right
Looking to Mount Rainier with Cora Lake below
Looking down to Towhead Gap
Trailhead
Looking west along Sawtooth Ridge
High Rock is saying paint me please
Above: Map showing the two access points to Towhead Gap
Below: Trail map for the High Rock Trail