WillhiteWeb.com
Carne Mountain
Thanks to an old lookout station, a nice trail leads hikers to a high peak in the Entiat Mountains. Carne Mountain is just south of some of the big boy mountains of Washington. Enjoy views of Maude, 7 Finger Jack, Dumbell, Chawawa, Fortress, Buck, Clark and Glacier Peaks.
Access:
Distance: 4 miles
Summit Elevation: 7,085 feet
Elevation Gain: 3,600 feet
Access: Rough gravel but accessable by all
Take U.S. 2 to Coles Corner. Follow Highway 207 north for 3.8 miles. Turn right on the Chiwawa Loop Road. Follow for a few miles looking for a signed left turn onto the Chiwawa River Road (FR 62). Follow it for 22 miles until a final right turn on FR 6211, the Phelps Creek Road. It goes 2.5 miles to a parking area at the end.
Route:
Hike the Phelps Creek Trail for 5 minutes to a signed trail split. Turn right up the hill onto the Carne Mountain Trail. The trail first switchbacks up through forests, then an open slope before it eventually reaches Carne Basin at 6100 feet. In the basin are several different camping spots, all with nice views of the basin. A bit further, the trail splits again. Going right will take you south over a saddle toward Old Gib Mountain. Go left as it climbs to the south ridge of Carne. From there, the views open and it is a enjoyable stroll up to the summit.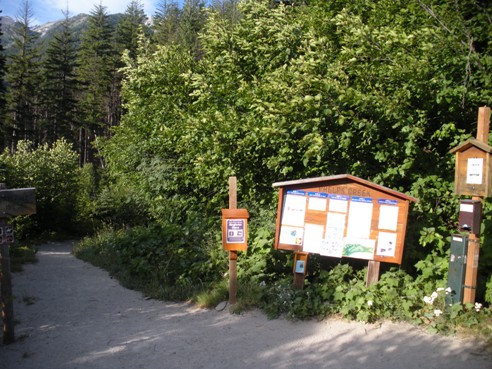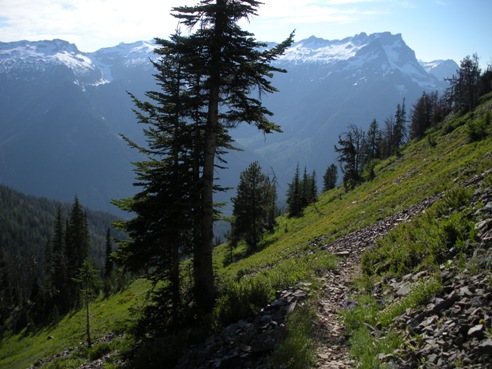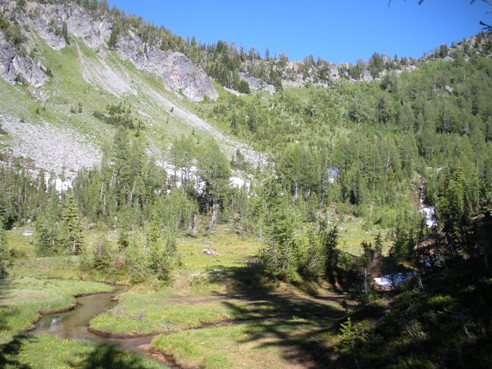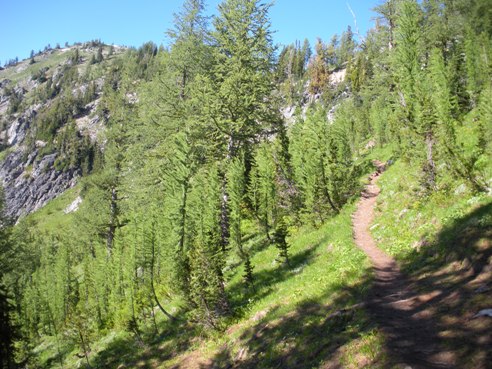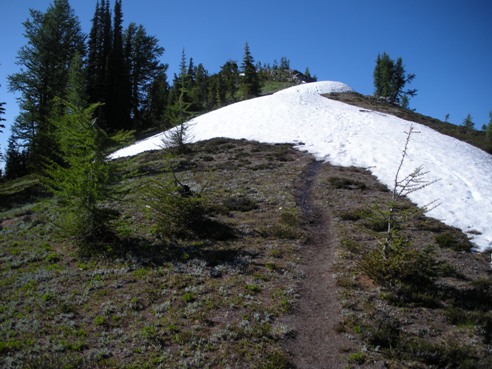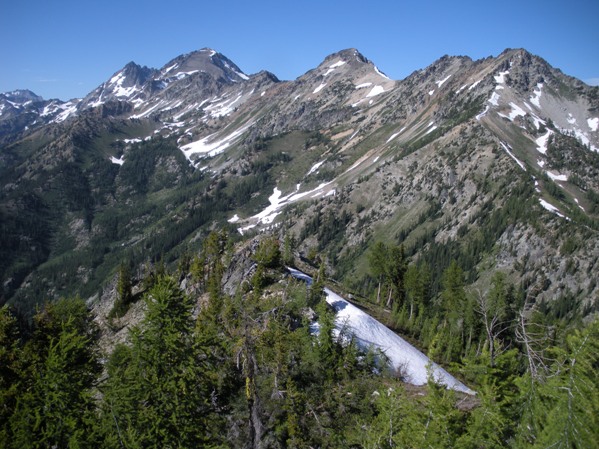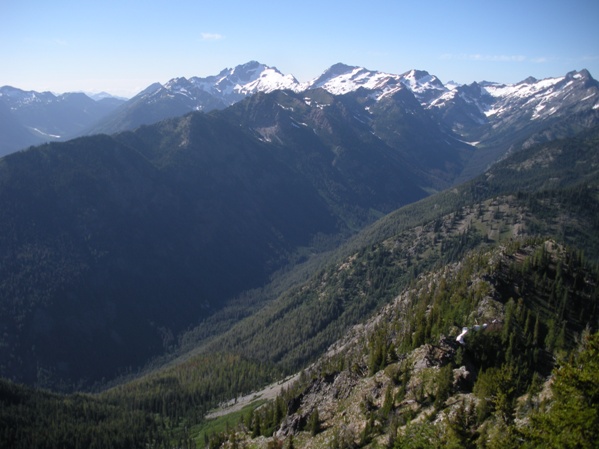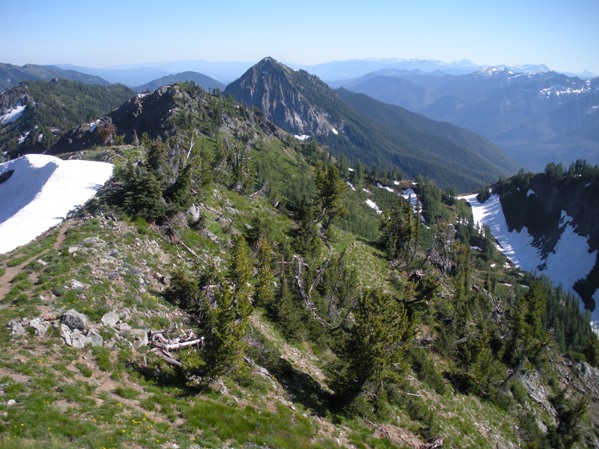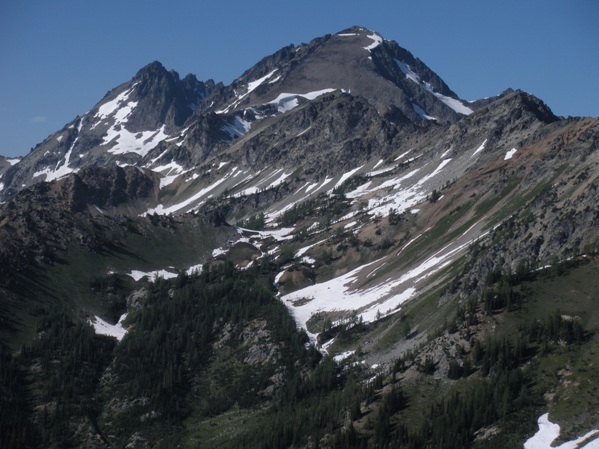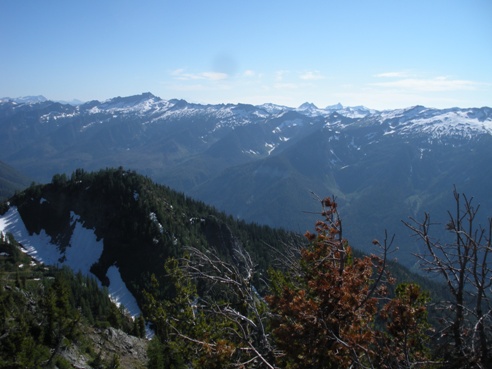 Looking south to Old Gib Mountain
Phelps Creek with Fortress and Chiwawa Mountains in center
7 Finger Jack, Mount Maude and Ice Box Peak
On the trail up Carne with Buck Mountain in distance
Phelps Creek trailhead
Carne Basin
Carne Mountain from the trail as it nears the ridgeline
Carne Mountain trail near the summit
7 Finger Jack on left with Mount Maude in center
Looking southwest from the summit
Lookout History:
Developed about 1915 with a log cabin, this L-5 cab replaced it in the 1930's. It was destroyed in the 1960's.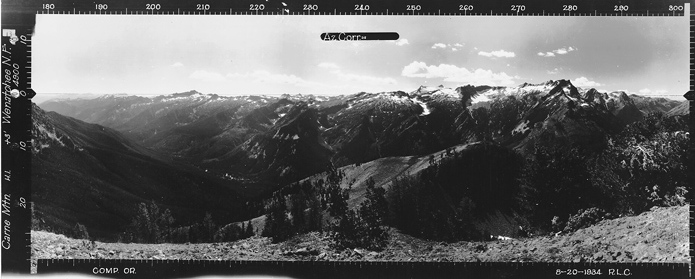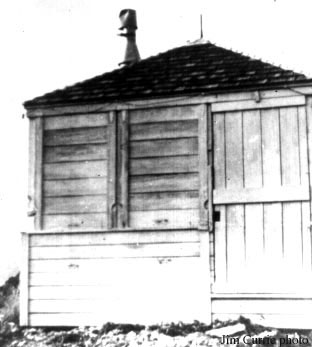 Carne Lookout 1944
Looking North 8-20-1934
Looking Southeast 8-20-1934
Looking Southwest 8-20-1934